When preparing the chicken, to avoid the crispy tasty outside and bloody raw inside, prick each chicken until it reach the bones with a bamboo stick or a toothpick 3 to 5 times before frying it. And if you can't find five spice powder, you can make your own by combining equal amounts of ground anise, ground black peppercorns, ground cinnamon, ground cloves and ground fennel seeds. Mix them thoroughly or shake them in a bottle until well mixed.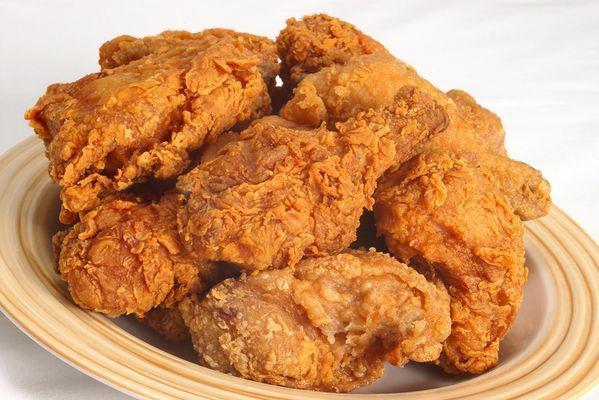 Ingredients
2 kilos chicken, your choice cuts
Salt and pepper for coating
Cooking oil for deep frying
For the breading:
1 cup all-purpose flour
1 cup cornstarch
1 tbsp. garlic powder
1 tbsp. five spice powder or ngohiong powder
1 tsp. fine salt, adjust if necessary
Instructions
Rub and press each chicken pieces with salt and pepper until all is evenly coated.
To make the breading, combine flour, cornstarch, five spice powder, garlic powder and salt in a bowl/container.
Stir the dry ingredients using a fork until evenly mixed.
Coat each chicken pieces with the breading inside and out. Coat underneath the skin as well.
Heat the oil in a deep fryer or deep frying pan.
Fry the chicken pieces for about 15 to 20 minutes in medium fire. (Don't overcrowd the fryer to avoid the fried chicken to become soggy and loose it's crispiness.
Put the chicken in a plate with paper towel to drain excess oil.
Serve hot and enjoy your Fried Chicken ala Jollibee Chicken Joy!