Sweet Potato Rolls are soft, dense, buttery rolls that melt in your mouth and have a hint of salt in every tasty bite. Try my Baked Sweet Potato for another delicious way to enjoy sweet potatoes.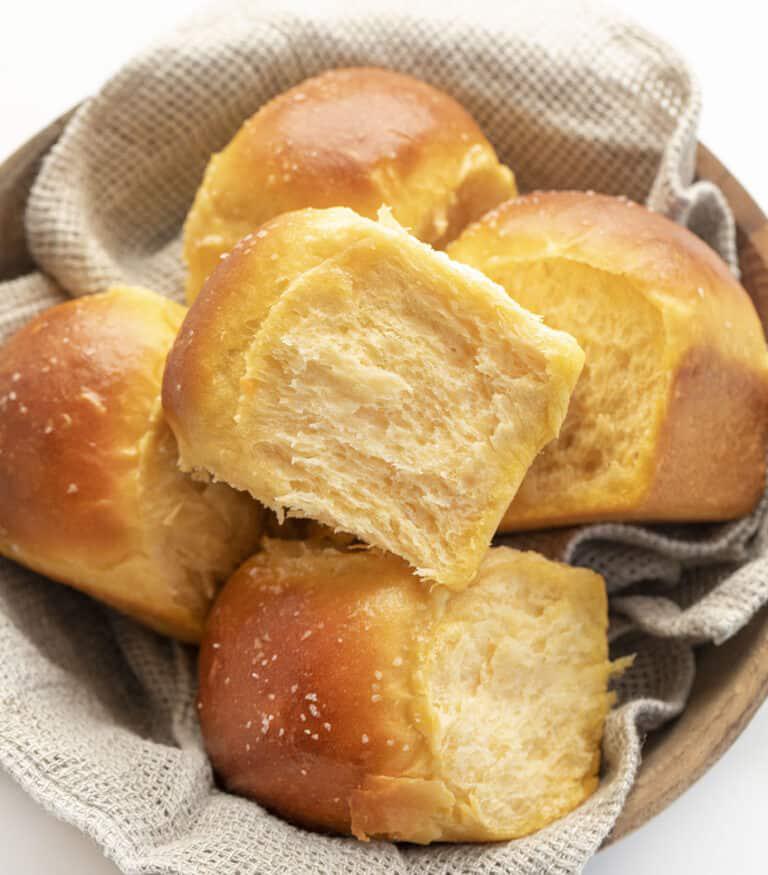 SWEET POTATO ROLLS
This recipe starts with a mashed sweet potato and ends with one of the best dinner rolls you will ever taste! This has to be one of my favorite recipes that includes sweet potatoes. Even if you are not a fan of sweet potatoes, you will be a fan of these rolls. You will definitely want to serve them with anything you are making!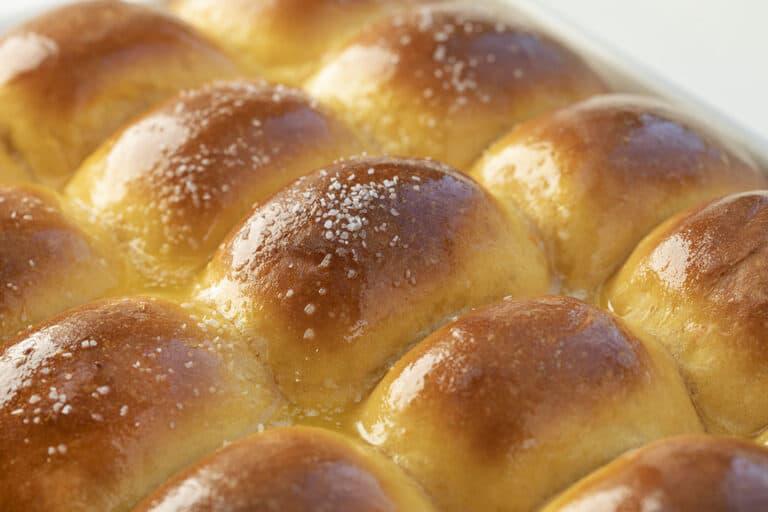 SWEET POTATO ROLLS RECIPE
These rolls are better than any roll you can buy at the store, so get out a stand mixer and the following ingredients to get started.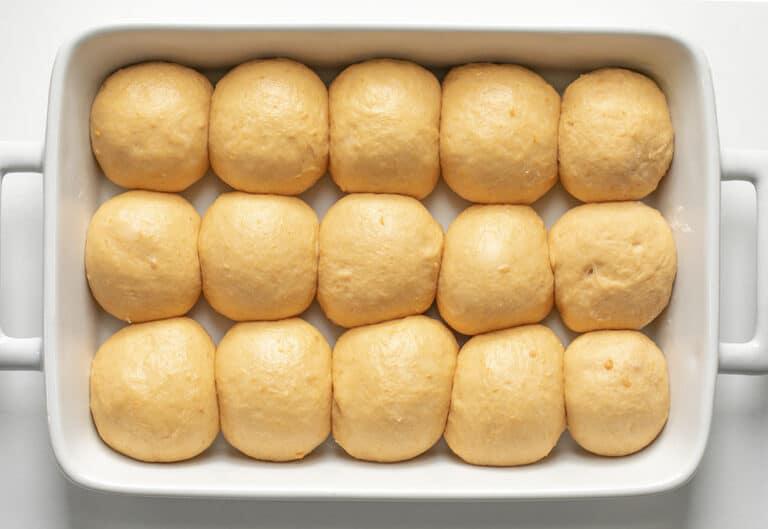 PREPARING THE SWEET POTATO
These dinner rolls are well worth the effort. With one batch, you can have fresh rolls for dinner, buns for sliders, and something delicious to sandwich your lunch meat.
To make the sweet potato dough, begin by washing, peeling, and cutting the potato into 1/2-inch pieces. Add the sweet potato pieces and the milk to a saucepan and bring to a boil over medium-high heat. Reduce the heat to medium-low, cover the saucepan, and cook the potato pieces until they are very soft (20-25 minutes).
Remove the potatoes from the heat and mash the pieces with the milk. Transfer the mashed potato to a bowl to cool before continuing with the dough. This will take about 30 minutes.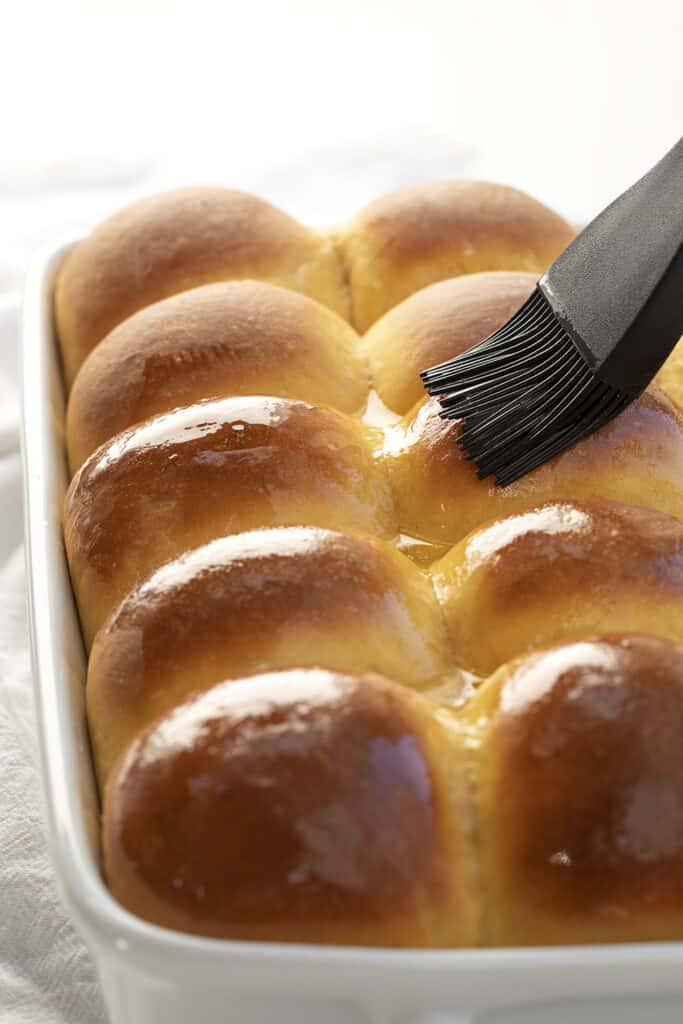 SWEET POTATO ROLLS DOUGH
After the mashed sweet potato has had time to cool, combine the lukewarm water, yeast, and sugar, and set this aside to proof. "Proofing" is a term is used by bakers, in this case, it basically means, we are letting the yeast fully dissolve. This usually takes about 5 minutes.
Meanwhile, get out your stand mixer. You will use the paddle attachment and the dough hook attachment to make the dough. In the bowl of the stand mixer, add the mashed sweet potato, yeast mixture, eggs, melted butter, and remaining 3 tablespoons of sugar. Beat on low with the paddle attachment until combined.
Next, switch to the dough hook attachment. Continue mixing on low while gradually adding the bread flour and kosher salt. Beat on low for about 4 minutes, or until the dough is smooth. If you don't have a dough hook attachment, you could use some elbow grease and knead the dough by hand.
Once the dough is smooth, turn it out onto a lightly floured work surface. This is your chance to knead the dough by hand, whether you used a dough hook attachment or not! Knead it for about 5 minutes, adding up to 1/2 cup of flour, as needed, if the dough is too sticky.
Transfer the dough to a greased bowl (I simply sprayed a bowl with nonstick spray) and cover (loosely) with plastic wrap. Let that rise for 60-90 minutes in a dark and warm environment, until it has doubled in size.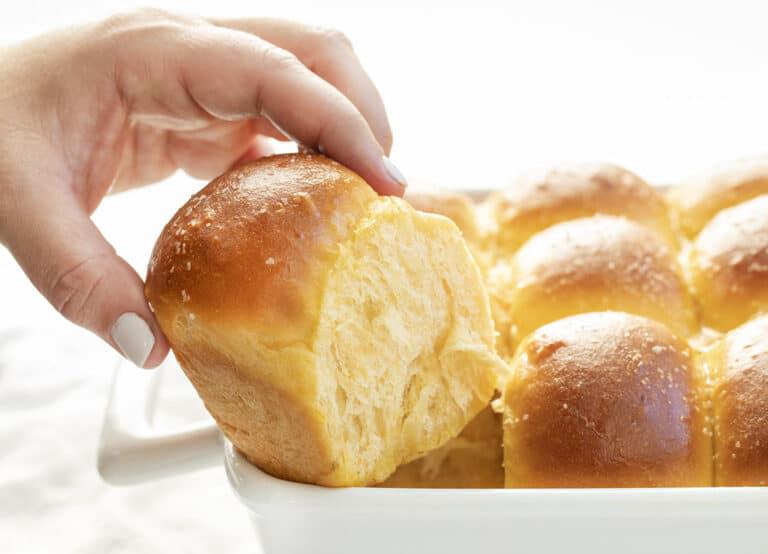 HOW TO MAKE SWEET POTATO ROLLS
After the dough has had time to rise, punch the dough, turn it out onto a floured surface, and divide the dough into 15 equal-sized pieces. If you have a kitchen scale, now would be a wonderful time to use it to get the rolls as similar in size and weight as possible.
To roll the pieces of dough, simply roll them in your hands. Then, place a ball of dough on a clean work surface. Cup your hand around the ball of the dough and gently roll the dough. Continue to go around and around with the dough ball until you have a smooth top. Repeat with the remaining balls of dough.
Place the dough balls into a greased 9×13-inch baking dish. Cover the rolls with plastic wrap and let them rise again, until double in size. This will take 45 minutes to an hour. When ready, bake the rolls for about 22 minutes at 375°F. They will be dark golden brown when done. You could even go so far as to check the internal temperature of the rolls, which should be 190°F.
Top the rolls with melted butter and kosher salt. Serve hot. If you want a sweeter roll, brush the tops of the baked rolls with a mixture of 2 teaspoons maple syrup and 2 teaspoons water in place of the butter. They are best piping hot out of the oven but will hold for days, that is, if they make it that long.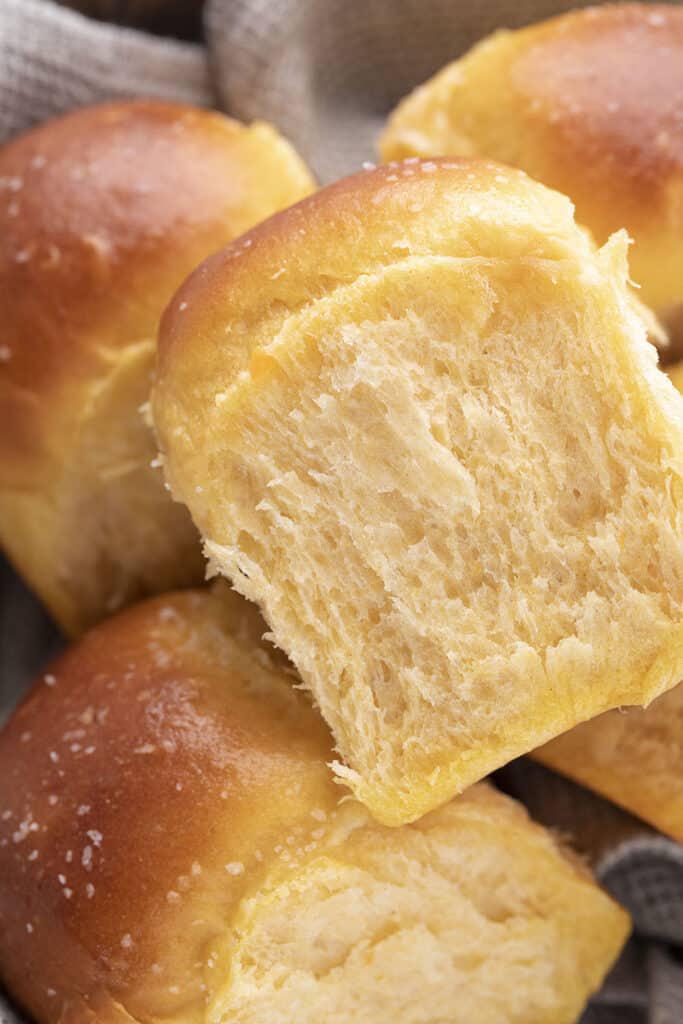 Ingredients
Dough
1 large sweet potato, peeled and cut into 1/2-inch pieces (about 2 1/2 cups)
2/3 cup whole milk
1/4 cup warm water
1 packet (2 1/4 teaspoons) active dry yeast
3 tablespoons granulated sugar, plus 1 teaspoon, divided
2 large eggs
4 tablespoons butter, melted
5 cups bread flour, plus more for kneading
1 1/2 tablespoons kosher salt
Topping
2 tablespoons butter, melted
1 teaspoon kosher salt
Instructions
Rinse and peel the sweet potato. Then, cut the potato into 1/2-inch pieces.
In a small saucepan over medium-high heat, bring the sweet potato pieces and milk to a boil.
Reduce heat to medium-low. Cover the saucepan and cook the potato pieces for 20-25 minutes, or until they are very soft, stirring occasionally so the milk does not scald.
Remove from heat and mash the sweet potato with the milk until smooth. Transfer to a medium bowl to cool (about 30 minutes).
After the mashed sweet potato has cooled, combine the warm water, yeast, and 1 teaspoon of sugar in a small bowl. Let stand about 5 minutes, or until foamy.
In the bowl of a stand mixer with a paddle attachment, add the mashed sweet potato, yeast mixture, eggs, 4 tablespoons of melted butter, and the remaining 3 tablespoons of sugar. Beat on low until combined.
Switch to a dough hook attachment and continue mixing on low while gradually adding the bread flour and kosher salt. Beat on low for about 4 minutes, or until the dough is smooth.
Turn the dough out onto a lightly floured work surface. Knead the dough by hand for about 5 minutes, adding up to 1/2 cup of flour, as needed, if the dough is sticky.
Spray a large bowl with nonstick spray. Place the kneaded dough into the bowl, and cover with plastic wrap.
Let the dough rise in a warm, draft-free area until doubled in size, about 1 to 1 1/2 hours.
When you are ready, spray a 9×13-inch baking dish with nonstick spray.
Punch the dough, turn it out onto a floured surface, and divide the dough into 15 equal-sized pieces.
Push down slightly (but firmly and evenly) on the dough pieces and roll the ball under your palm in a circular motion. Use the cupped sides of your hands to keep the dough centered in your palm. You may have to work the dough for a while, but eventually, it will come together and most of the lines and folds should have incorporated into the dough, forming a smooth dough ball.
Place the dough balls into the prepared baking dish. Cover with plastic wrap and let rise until doubled in size, about 45 minutes to an hour.
Preheat the oven to 375°F.
When ready to bake, uncover the rolls and bake for 22 minutes, or until a dark golden brown. (The internal temperature of baked rolls should read 190°F.) When the rolls are almost done, melt the butter for the topping.
Brush the baked rolls with the melted butter and evenly sprinkle the kosher salt (or flaky sea salt) over the hot rolls and serve immediately. You could also let the rolls cool on a wire rack before serving. (Note: If you want a sweeter roll, brush the rolls with a mixture of 2 teaspoons maple syrup and 2 teaspoons water to replace the butter.)