A perfectly Baked Sweet Potato is easier than you think! Learn how to bake sweet potatoes quickly and easily with my foolproof method! Sweet and fluffy on the inside with a delightfully crispy skin, these baked sweet potatoes make the perfect side dish for every occasion.
If there ever was a perfect side dish to any and every meal, the baked sweet potato would have to be it. Unlike a traditional baked potato, the sweet potato has the option of going sweet or savory (more on that below), packs a ton of vitamins and nutrition, and is arguably the most kid-friendly vegetable on the planet.
Whether you're serving this up with your Thanksgiving feast, or simply tonight's ordinary dinner, you've just got to love a baked sweet potato.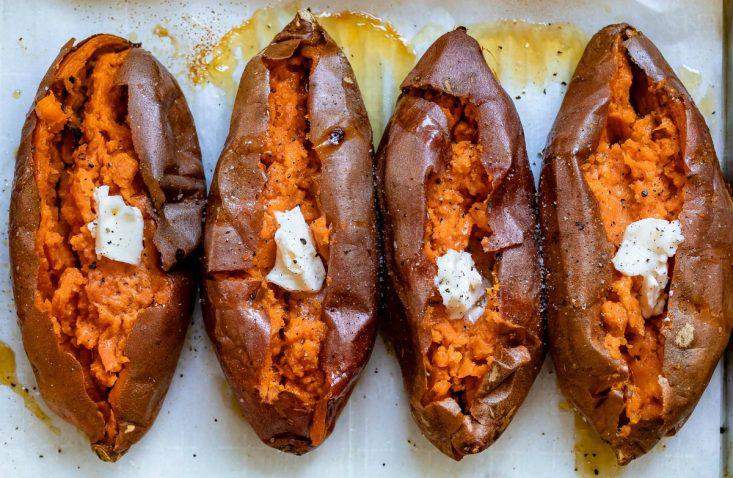 How To Bake Sweet Potatoes
This easy baked sweet potato recipe is my very favorite way to enjoy this kid-friendly vegetable. Whether you take them the savory route with a sprinkle of salt and pepper and a slice of butter OR go the sweet route and top them with a little brown sugar and cinnamon AND of course a little butter, you really can't go wrong.
Baking sweet potatoes is incredibly easy but each step is important, so don't skip!
Wash AND dry the sweet potatoes. Drying is super important because we want the skin to crisp up nicely during baking. Can you eat sweet potato skin? YES! And it's super good for you. Can dogs eat sweet potato skin? YES! So even if you don't finish your potato, you can give the leftovers to your pup, if that's your kind of thing.
Poke holes all over the sweet potato. I do 4 fork pricks up one side, flip the sweet potato over, and do it again. So 8 pricks total.
Drizzle the sweet potatoes with olive oil and sprinkle with sea salt or kosher salt.
Give the potatoes a good rub making sure the entire surface is covered with oil and seasoned properly. (I don't use pepper on the outside of my potato because if my sweet tooth kicks in and I decided to cover and smother the sweet potatoes with brown sugar, butter, and cinnamon, I'm in a pickle.)
Bake the potatoes on a baking sheet. Line the baking sheet with parchment paper or foil to avoid the clean up. Sweet potatoes make a MESS. No joke. See the pictures below if you doubt me.
Serve and enjoy!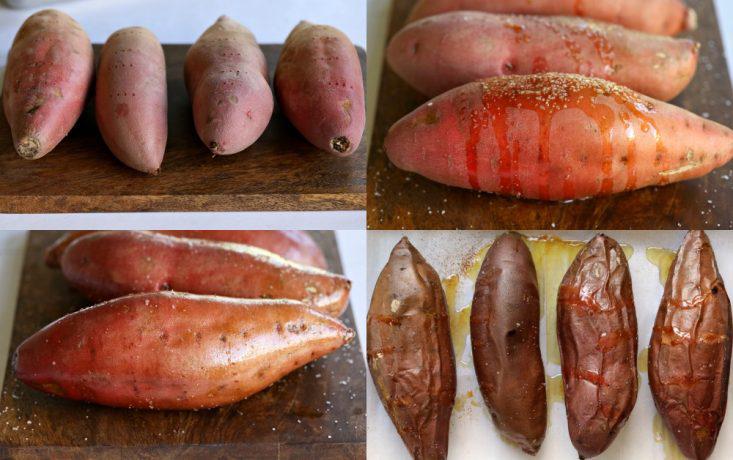 How Can You Tell When a Sweet Potato Is Done?
Sweet potatoes cannot keep a secret. When they're done, the whole world will know it.
They start to ooze out their sweet caramelized juice, wrinkle up a bit, and if you want to for sure make sure, just stab one with a fork or knife. The knife should slide in easily when a sweet potato is fully cooked.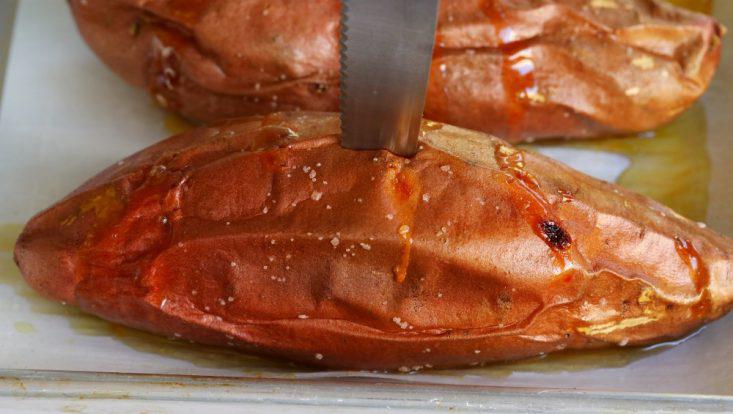 How Long To Bake Sweet Potatoes?
How long do you bake sweet potatoes? It depends on two factors:
the size of your sweet potato
and oven temperature
I like to bake my sweet potatoes at 400F for about 45 minutes.
The range tends to be between 40 minutes and 1 hour depending on the size of the sweet potato.
I really do try to make sure all of my potatoes are roughly the same size and shape when making oven baked sweet potatoes. This means they will all get done at the same time and we can eat dinner together – winning!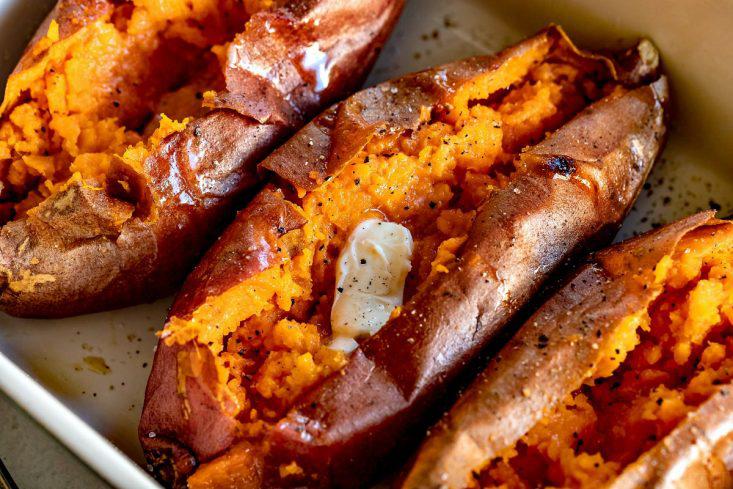 How To Bake Sweet Potatoes In Foil
There is only one distinct difference between this baked sweet potato recipe with and without foil – the skin.
The skin tends to not crisp up when it's wrapped in foil. The rest of the process remains the same though. Just wrap the sweet potatoes in foil before placing in the oven. You will still want to use a baking sheet because the juices tend to find their way out of the foil.
A baked sweet potato microwave style?
Yes, this too can be done.
Wash and dry the sweet potatoes
Pierce several times with a fork
Wrap in a damp paper towel
Microwave on high for 5 to 10 minutes on a microwave safe plate (flip potatoes halfway through)
Tips and Trick for the Best Sweet Potatoes
Choose sweet potatoes that are roughly the same size and shape so cooking time will be the same.
Line your baking sheet with parchment paper or foil for easy clean up.
Let potatoes cool for about 5 minutes before serving.
Baked sweet potato calories? 143. So feel free to load these babies UP!
Top with butter, salt and pepper or sour cream and chives for a savory sweet potato.
Top with butter, brown sugar, and a sprinkle of cinnamon for a lovely sweet version.
Ingredients
4 sweet potatoes medium size, long and thin
1 tbsp olive oil
1 tsp sea salt or kosher salt
Instructions
Preheat oven to 400F.
Line a large baking sheet with parchment paper or foil. Set aside.
Wash and thoroughly dry sweet potatoes. Poke several holes in each potato with a fork – I do 8 pokes.
Drizzle sweet potatoes with olive oil and sprinkle on salt. Gently rub the olive oil and salt onto the sweet potato skin making sure to cover the entire potato.
Place sweet potatoes on the prepared baking sheet and bake for 45 minutes or until the potatoes easily yield to an inserted fork or knife.
Let cool for five minutes before splitting open and topping with your favorite toppings.