Shrimp Ziti is a savory pasta dish that is loaded with shrimp, tomatoes, and lots of flavor for an easy to make dinner. Try my Shrimp Pasta with Tomatoes for another smart dinner choice.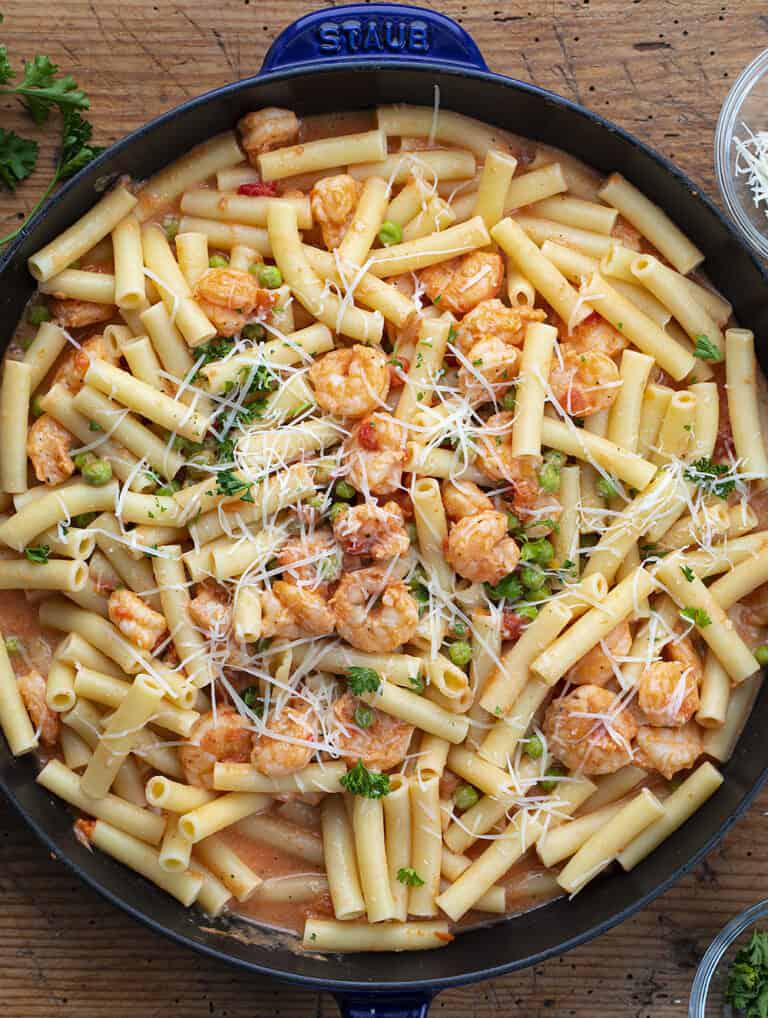 SHRIMP ZITI
You don't always have to use ziti pasta noodles for baked ziti. This dish is made entirely on the stovetop, so you don't even have to turn on your oven. In fact, boiling the noodles probably takes the most time in this recipe. It is a wonderful meal to make on the weeknights or when you don't have a lot of time.
SHRIMP ZITI INGREDIENTS
The ingredients in this recipe are pretty simple. In fact, you probably have most on hand.
Ziti pasta noodles: I like to use tubular pasta like ziti for this recipe. It goes well with light sauces like tomatoes and olive oil, as used in this recipe. Of course, you could use any pasta you have on hand.
Shrimp: I prefer the frozen shrimp that is peeled, deveined, and tails removed. Let them thaw before adding them to the sauce. However, if you do use fresh shrimp, it's not too hard to peel and devein shrimp. To peel the shrimp, start underneath.
To devein, make a slit (not too deep) along the back of the shrimp, pulling out the black vein with the tip of a knife. It's really not as intimidating as it would seem. So, if already peeled and deveined shrimp are not an option for you, don't skip on the recipe–try the fresh stuff!
Half and Half: Half and half is just what the title states–half whole milk with half cream. It contains about 10-18% fat (as compared to heavy cream that is more than 36% fat).
Pasta water: In this recipe, you will notice that after boiling the noodles you should reserve a cup of pasta water. Why? Well, the added water (about a tablespoon at a time) is added to the sauce until your desired consistency of the sauce is reached. I ended up using about 1/4 cup.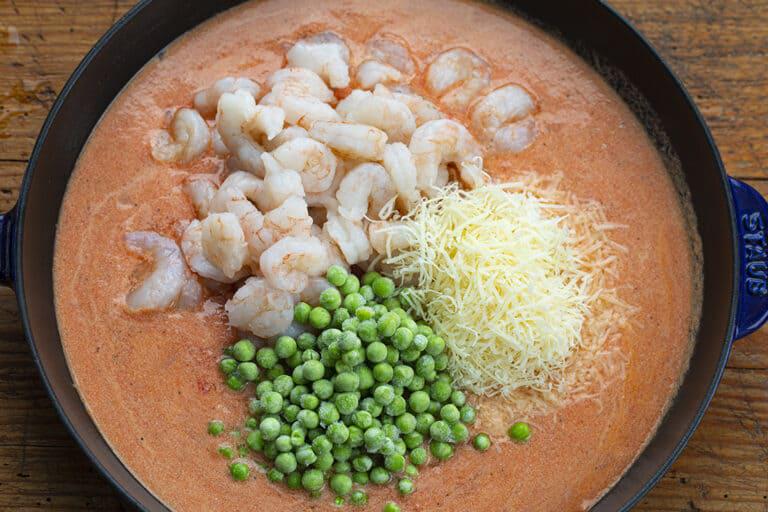 HOW TO MAKE SHRIMP ZITI
To get started making this delicious shrimp ziti, cook the noodles per package directions. Be sure to reserve a cup of the pasta water to add to the dish later. Drain and rinse the noodles and set them aside as you prepare the sauce.
To make the sauce, heat the olive oil in a large skillet and add the garlic, cooking a minute. Next, add the tomatoes and the half and half. Heat this to a simmer. Then, add the shrimp, peas, parmesan cheese, salt, and pepper. Cook for about 5 minutes. The shrimp is cooked when it is opaque white with some pink and red.
Here is where the reserved pasta water comes in. Add the water a tablespoon at a time until you reach your desired consistency of the sauce. Finally, add the cooked ziti pasta noodles and mix it all together. Garnish with parsley and serve immediately.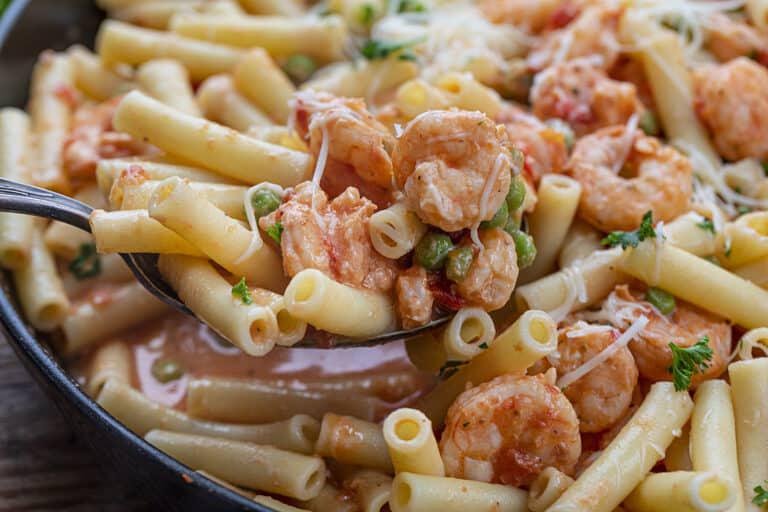 VARIATIONS OF THE RECIPE
This dish is easy to make according to your tastebuds. Add a variety of vegetables (in addition to, or without peas). You could also use another type of protein if shrimp is not your thing. You could also add mozzarella cheese for a cheesier dish. And again, any pasta will do. Serve this dish with:
Garlic and Parmesan Roasted Asparagus
Green Beans with Bacon
Texas Roadhouse Rolls
Garlic Breadsticks
Store any leftovers in an airtight container in the refrigerator for up to 2 or 3 days.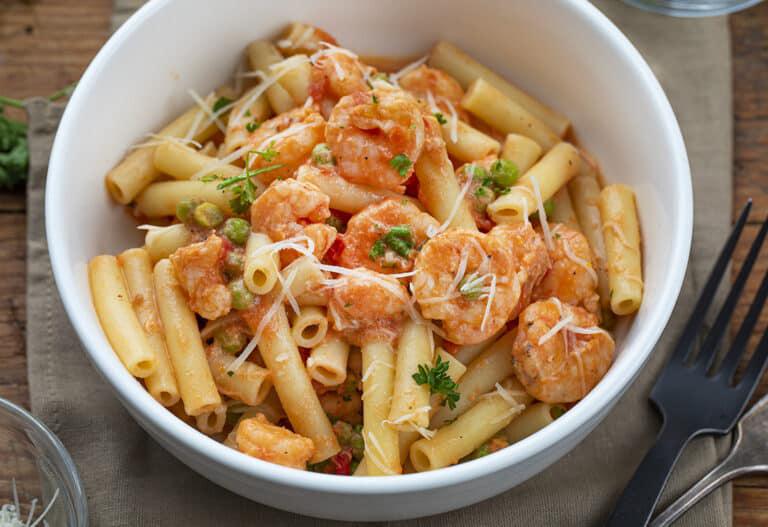 Ingredients
8 ounces ziti noodles, cooked al dente per package instructions
1 tablespoon olive oil
3 teaspoons garlic, minced
1½ cups crushed tomatoes
1 cup half-and-half
1 pound (31-to 40-count) shrimp, peeled, deveined, and thawed
1 cup peas, frozen
½ cup parmesan cheese, grated
1 teaspoon salt
½ teaspoon black pepper
parsley, for garnish (optional)
Instructions
Cook pasta al dente, according to package directions.
Reserve 1 cup of pasta water, and then drain and rinse the remaining noodles. Set aside.
In a large skillet over medium heat, add oil and heat until sizzling. Add garlic and cook 1 minute, or until fragrant.
Add tomatoes and half-and-half. Heat to a simmer.
Add shrimp, peas, parmesan cheese, salt, and pepper. Continue to cook for about 5 more minutes.
Pour in 1/4 cup of the pasta water (or more, as needed) until it reaches the desired consistency.
Pour sauce over noodles. Stir to combine.
Garnish with parsley and serve immediately.