One bite of this Tomato Spinach and Chicken Spaghetti and you will never buy jarred tomato sauce ever again. Spaghetti is tossed in a fresh and flavorful sauce with pieces of juicy chicken. Fresh spinach adds a boost of nutrients, but feel free to use other vegetables to customize to your family's liking.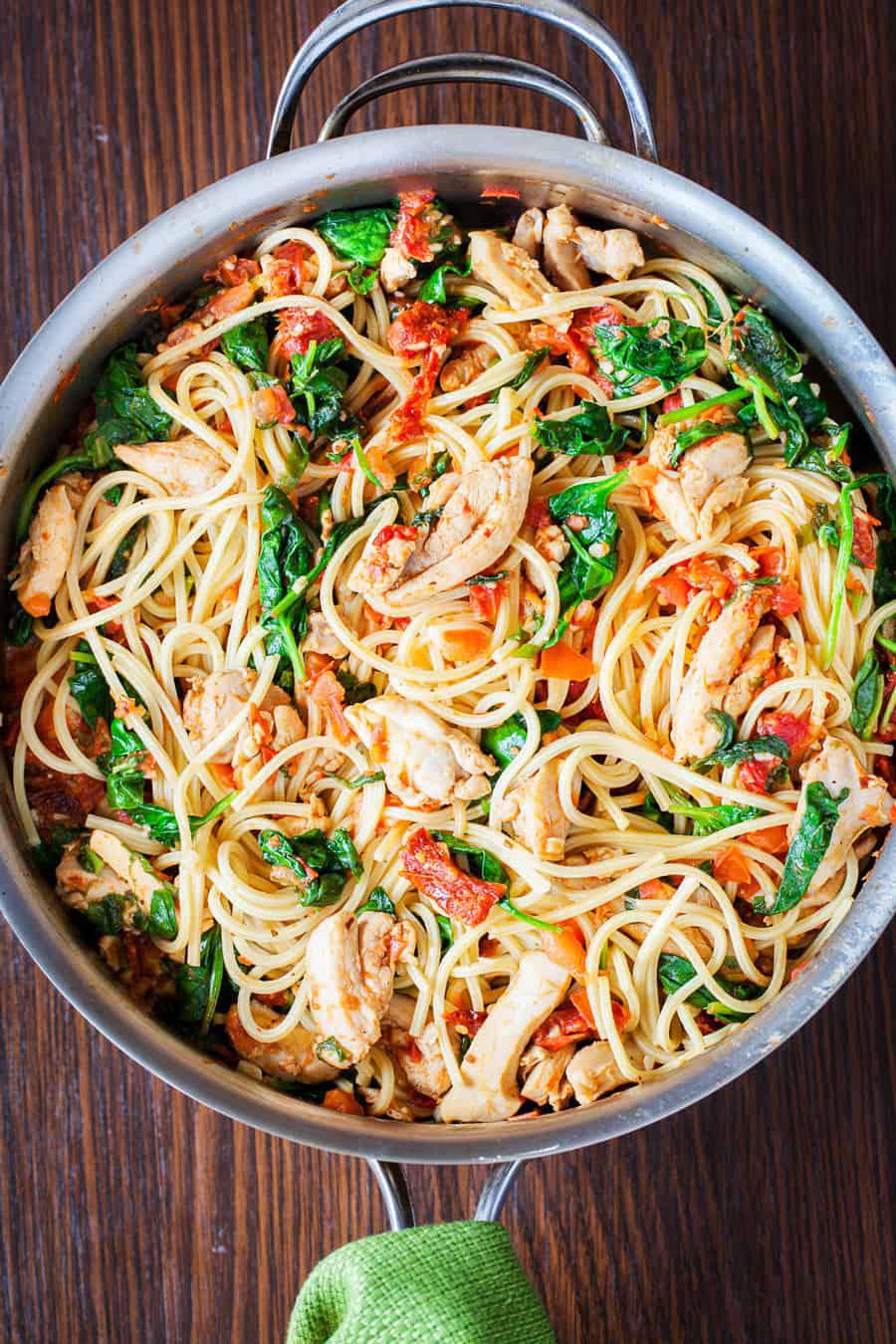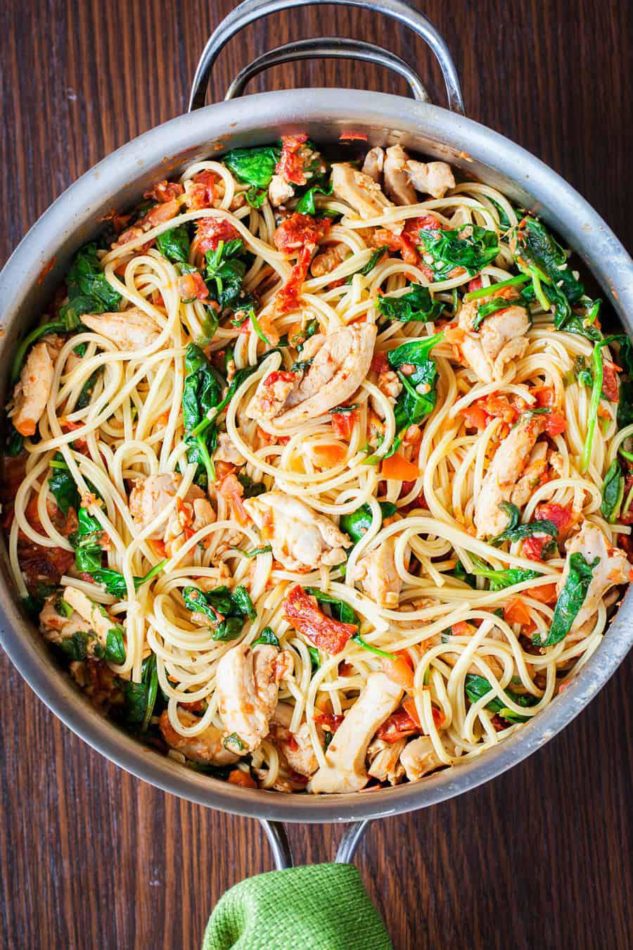 TOMATO SPINACH CHICKEN SPAGHETTI
There are literally thousands of spaghetti combinations that you could think up. Everyone has their tried and true spaghetti noodle, hamburger, red sauce recipe. Heck, you probably don't even need a recipe for that one. That's the one that we make over and over again, the go-to spaghetti recipe. However, if you are anything like me, I just love to mix things up in our kitchen. I get tired of the same things over and over, so I like new takes on classic pieces. This variation does not disappoint! You wouldn't believe the flavor punch that you get when you add spinach and chicken to this recipe. Fresh veggies are my favorite thing to work with. I try to add them into anything and everything for a few reasons. Number 1, vegetables are good for your body. Number 2, we garden so we have an abundance and sometimes using them up is easier than canning or preserving them for later:) . Trust me, we do that too!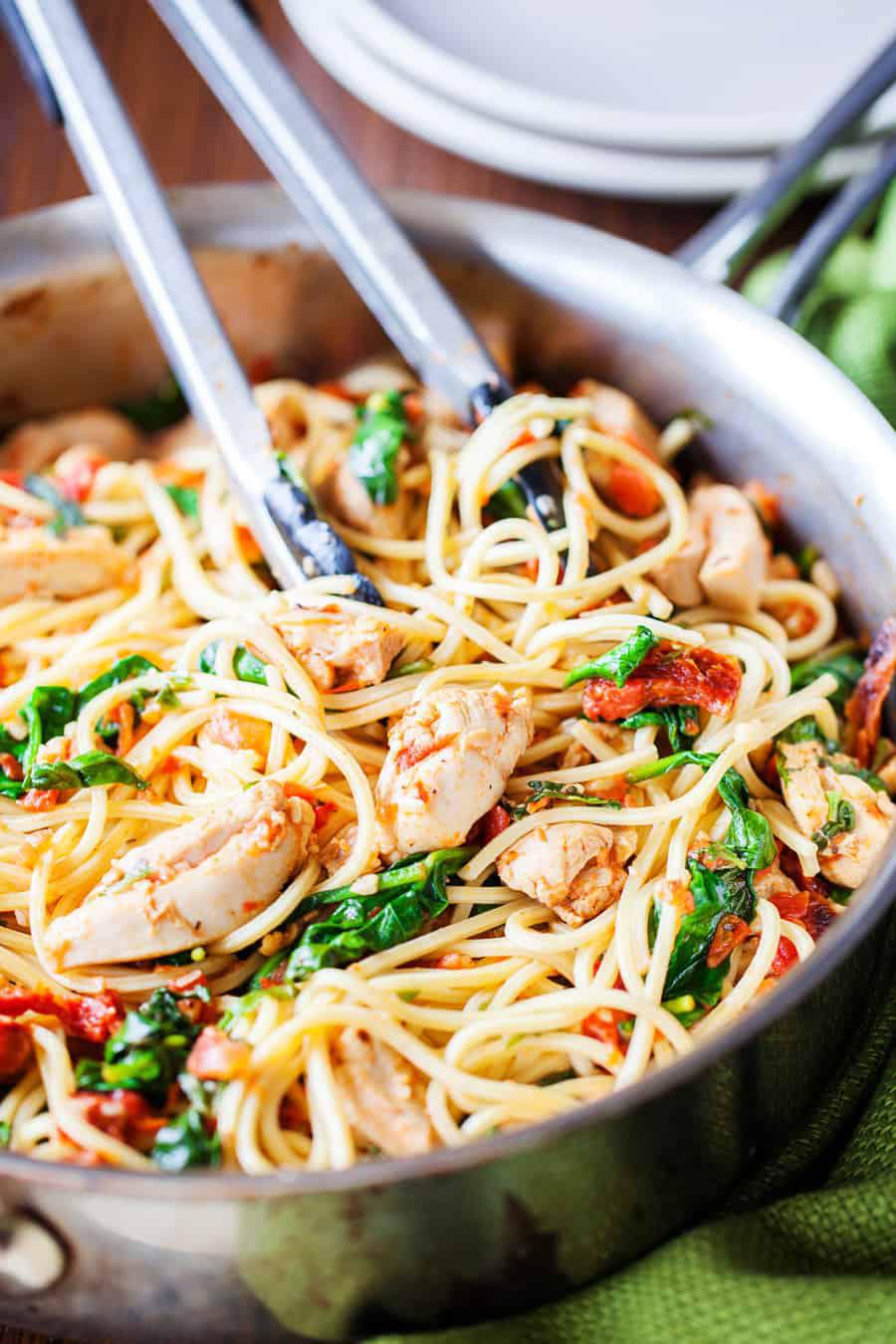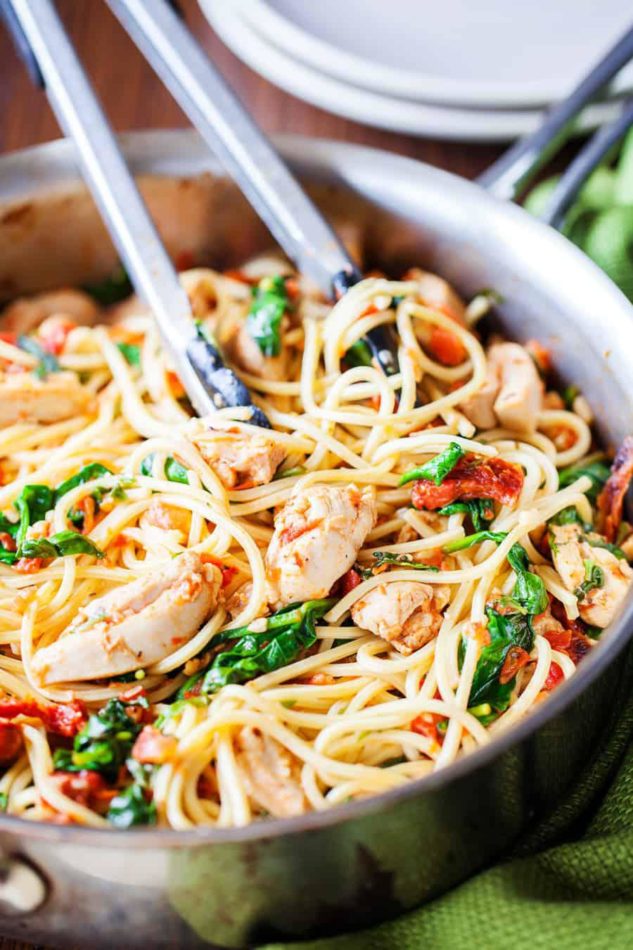 HOW TO MAKE CHICKEN SPAGHETTI
When you think of spaghetti you probably don't envision chicken. Just run with me on this one. It works. To throw this easy recipe for tomato spinach chicken spaghetti together, you just need to follow a few simple steps! Cook the spaghetti and set it aside. Put the sun-dried tomatoes into a medium bowl and mix in 2 tablespoons of the oil, the red pepper, and the salt. Put this into a skillet and once it begins to sizzle, add the chicken. Add the Roma tomatoes, basil, and garlic and cook this for about 30 more seconds. Reduce the heat and add the spinach. Youll cook that just until it starts to wilt. Add the noodles and toss everything together. Serve and enjoy!
Pro tip: Prepare all the ingredients while the spaghetti is cooking. Having the ingredients ready ahead of time streamlines the cooking process and makes whipping up the sauce a breeze.
Pair this with some of our favorite (and super easy)  breadsticks. I would boost up the garlic on this recipe. It is such a nice compliment to tomato spinach chicken spaghetti! We also have zucchini cheesy breadsticks if you need a little something more. Also, this recipe calls for boxed spaghetti noodles, but you could always make your own. Here is a recipe for our homemade egg noodles. Just make them a little thinner and you have what you need for a true home cooked meal!
Ingredients
1/2 pound spaghetti
1/4 cup julienned sun-dried tomatoes
1/4 teaspoon red pepper flakes
1/4 teaspoon salt
1/2 pound boneless skinless chicken thighs, cut into 1-inch cubes
4 roma tomatoes seeded and chopped
1/4 cup fresh basil leaves julienned
6 garlic cloves minced
8 ounces fresh spinach leaves
Instructions
Cook the spaghetti according to package directions. Drain and rinse under warm water. Set aside.
Remove the sun-dried tomatoes from oil (reserve the oil) to a medium bowl. Add 2 tablespoons of the reserved oil, followed by the red pepper and salt.
To a large skillet over medium-high heat, add the sun-dried tomatoes mixture. Once the mixture begins to sizzle, add the chicken and cook until cooked through.
Add the roma tomatoes, basil, and garlic. Cook until fragrant, about 30 seconds. Reduce the heat to medium-low and add the spinach.
Cook until spinach has wilted.
Add the spaghetti and toss to coat. Continue heating until heated through. Serve immediately.