Making Pizza at home is a breeze with this super easy homemade thin crust Pizza Dough Recipe! With just a few simple ingredients and 30 minutes, you will be enjoying restaurant-quality pizza from the comfort of your home! Make sure to try this recipe with Homemade Pickle Pizza for a real show stopper!
When we go out for pizza we typically order a thin crust. My entire family likes the thin texture so much more than a thick crust. I always thought that making this at home would be difficult, but it's actually extremely easy and quick too! With just five simple ingredients, you can do this too! Here is what you will need to get going.
flour
active dry yeast
honey
salt
water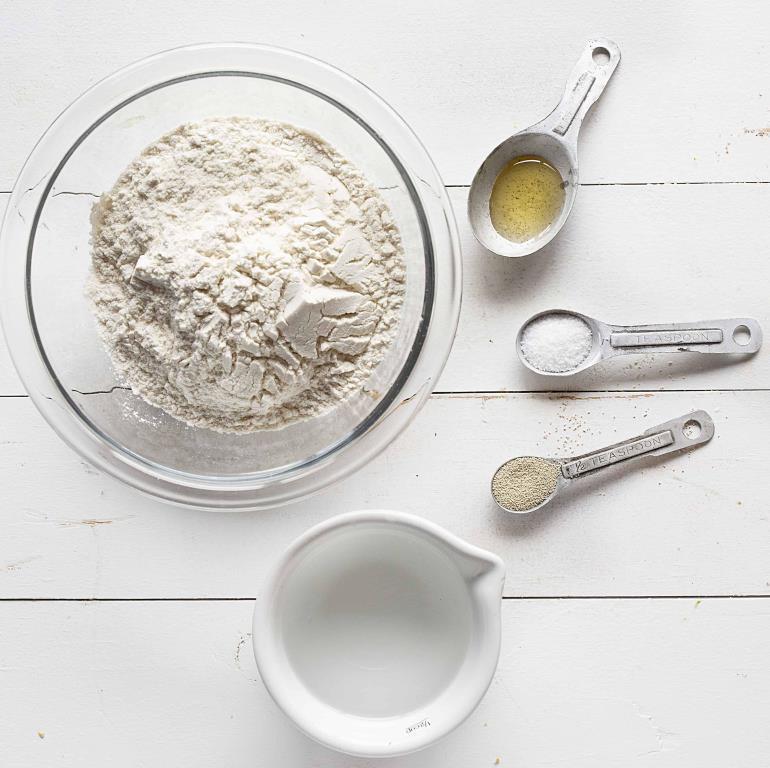 Quick and Easy Pizza Dough Recipe
To make this thin crust pizza dough add the yeast and honey to the lukewarm water and let it sit 5 minutes to allow the yeast to activate. It might start to bubble a bit, and that is expected and ok. After 5 minutes slowly add the flour and salt and stir to combine. I started off with a wooden spoon but eventually had to switch to my hands. This is where you have to use your judgment a bit. I keep extra flour and extra water handy just in case I need it. If the dough is too sticky, add 1 tablespoon of flour at a time until you have a dough ball. If the dough is too dry, add 1 tablespoon of water at a time until you have the consistency right.
Next, lay a large piece of parchment on your work surface and add a light sprinkle of flour on top. Drop your dough ball on top and knead it a few times. Let it sit for 5 minutes and then begin to stretch the dough. The goal is to get about a 10-inch circle. You can use a rolling pin at first, but more than likely you will end up using your hands. If the dough keeps springing back, let it sit for 5 more minutes and then try again. You can add the dough right on the parchment to the top of the pizza pan or stone. (Or you can use cornmeal.)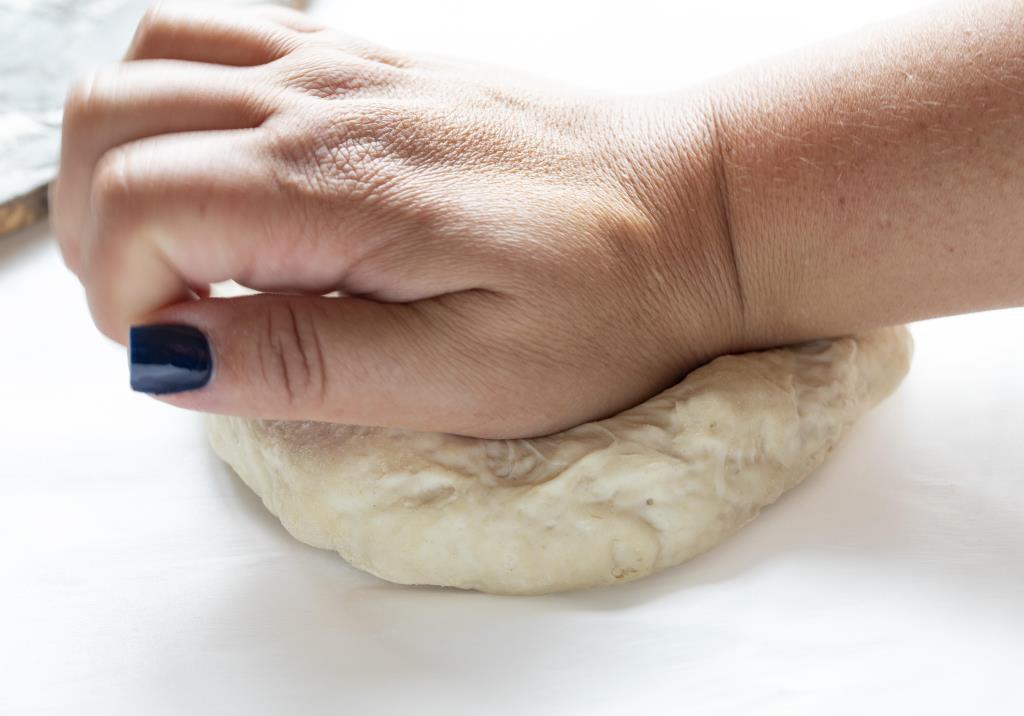 Tips for Getting a Crispy Crust
This took a little trial and error. If you want that perfectly crispy crust, here are some things you can do before you add your toppings.
If you are using a pizza stone, add it to the oven when you are preheating so that the stone is hot and ready when you are ready to put the pizza in. When you are ready to transfer the pizza into the oven you can transfer the pizza right on the parchment to the hot stone. Use a pizza peel if you have one or take the stone out of the oven and carefully transfer on the countertop.
Another method is to prebake the crust for 5 minutes. Remove the crust from the oven and carefully add the toppings and then cook according to the recipe directions.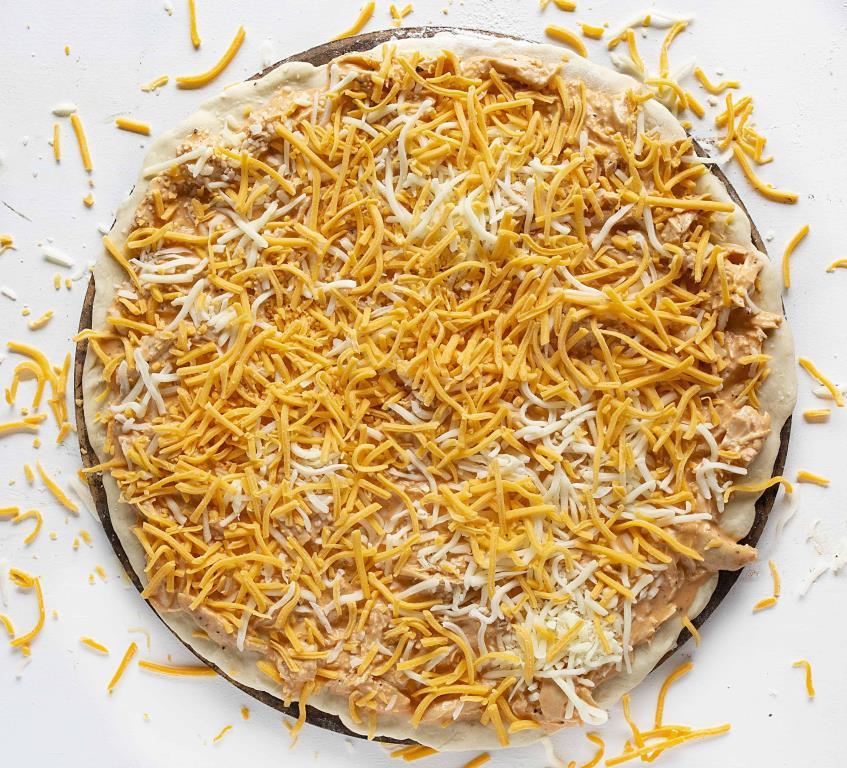 INGREDIENTS
1/2 cup lukewarm water
1/2 teaspoon active dry yeast
1/2 teaspoon honey
1 1/2 cups all-purpose flour
1/2 teaspoon salt
INSTRUCTIONS
Preheat your oven to 475° F.
In a large bowl, mix together the water, yeast, and honey. Let that sit for 10 minutes.
Add the flour and salt into the yeast mixture and stir to combine. Start with a spoon and move to your hands once the dough starts to form. You may need to add more water if the dough is too dry, or more flour if the dough is too sticky. Stick to a teaspoon at a time, as needed.
Lay out a piece of parchment, add a light layer of flour, and top with the dough. Knead the dough a few times with your hands. Let it sit for 5 minutes.
Roll or stretch the dough out as thin as possible, but make sure it is at least 10 inches wide.
Transfer the parchment and the stretched dough onto a pizza stone or other pizza baking pan.
Bake dough for 5 minutes and then remove from oven.
Add your toppings and bake for 10-15 minutes, but keep an eye on it since baking times can differ.
It will be done when the crust is crispy and cheese is golden.
Let the pizza cool for a few minutes before slicing.