Lechon liempo takes the tastiest portion of the swine—the belly—and gives it the slow-roasted treatment that results in succulent meat and crackling skin. It's enough to just roll up a piece of belly and put it on the spit, but I took the extra step of seasoning the inside with garlic paste.
This lechon belly is an oven roasted pork belly rolled and stuffed with herbs and spices. Unlike the tradition cooking of lechon using a bed of charcoal, roasting it in an oven would make the cooking easier and simpler.
Another technique on cooking this pork belly is brining the meat. Brine is a salt solution that is use to brine meat by skilled chef to enhance the flavor and moisture of the meat. Although brine is only composed of water and salt, which is enough to make the meat more savory and moist, adding herbs and spices to the brine will make it even more savory and delicious! Try it I'm sure you will love it.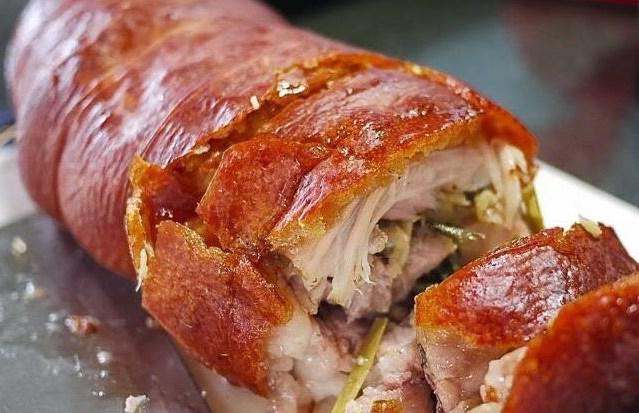 Ingredients
1.5 kg pork belly slab, skin on
3 whole garlic bulbs, peeled and roughly chopped
½ cup oregano leaves, washed then chopped
3 red onions, peeled and chopped around 4 – 5 lemongrass stalks, sliced the zest from 1 lemon
juice from 1 lemon
a little over ⅛ cup salt, plus more for an even rub around the pork
4 tablespoons crushed black pepper
Instructions
Combine all the aromatics in a bowl and mix well.
Lightly mash everything together with the back of a spoon.
Alternatively, use a food processor to bring everything together with only around 2-3 pulses.With the skin side down, rub the mixture all over the meat.
Roll the slab, carefully invert the meat and secure it with butcher's twine.
It's okay if there are a few pieces of herbs that fall off, you can place it back later.
Rub coarse salt all over the meat, including the skin.
With a paring knife or fork, poke the skin of the meat. This will ensure a nice crackling.
Transfer it to a roasting fitted with a rack and the bottom lined with foil.
Place it in the refrigerator to chill overnight. This will dry the skin, which helps the crackling form.
Preheat the oven to 160 C. Just to be sure, pat the skin of the pork dry with a paper towel. Roast the pork for 5 hours.
Afterwards, increase the temperature to 220 C, and allow the pork's crackling to form. This will take another 30 minutes to an hour.
When done, remove from the oven and allow to cool a bit before slicing. Enjoy!