Italian Pasta Salad is light and tangy and loaded with fresh crisp vegetables, noodles, and your favorite variety of meats and cheeses. This is the perfect dish to bring to a bbq or a potluck! I love to make this as a side dish when I make magic meatloaf.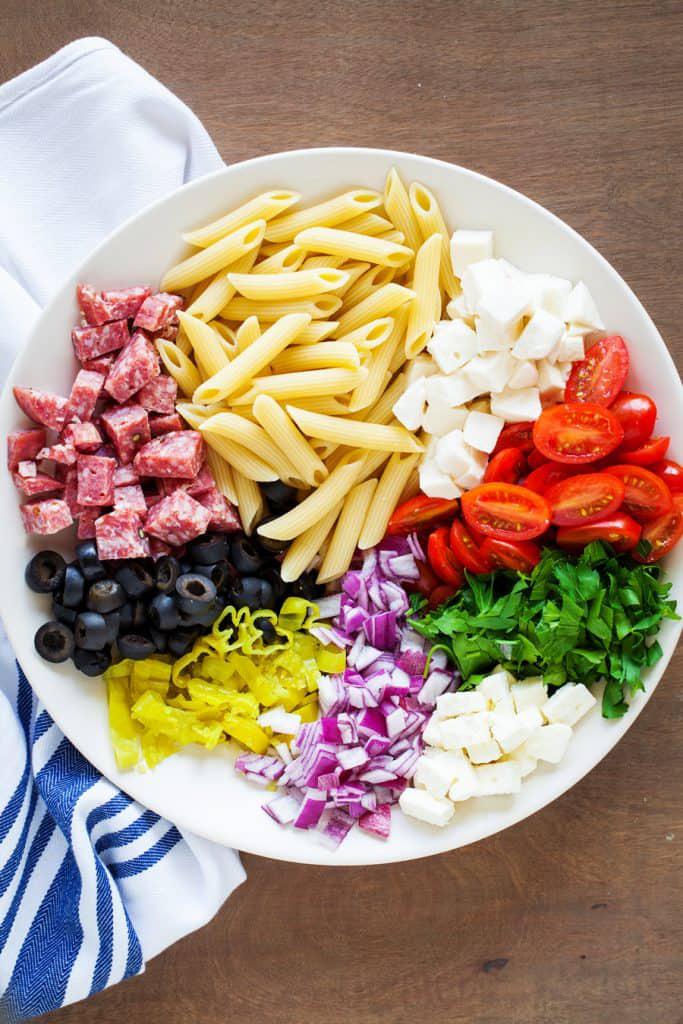 ITALIAN PASTA SALAD
This time of year, the sun gets hot. I mean that in the most obviously unscientific way possible. On scorching hot days, you still need to eat, but you want it light and fresh. I will be honest, I crave this meal 24 hours a day during the summer. Usually, I make a big batch of it with the intention of having snack food around throughout the week. The reality is that I make a big batch, "taste test" a full bowl and it is gone in a day or two. The rest of the family is a fan too, which makes it even more difficult to keep a running supply steady.
Italian Pasta Salad is always a hit at gatherings like barbeques and potlucks. It is so easy to throw together in a pinch and can be prepared in advance. The flavor gets better the longer it marinates anyway, but good luck keeping it around long enough. You might want to hide it to be sure. The ingredient amounts in the recipe below are just a guideline. Feel free to add or omit based on your family's preferences.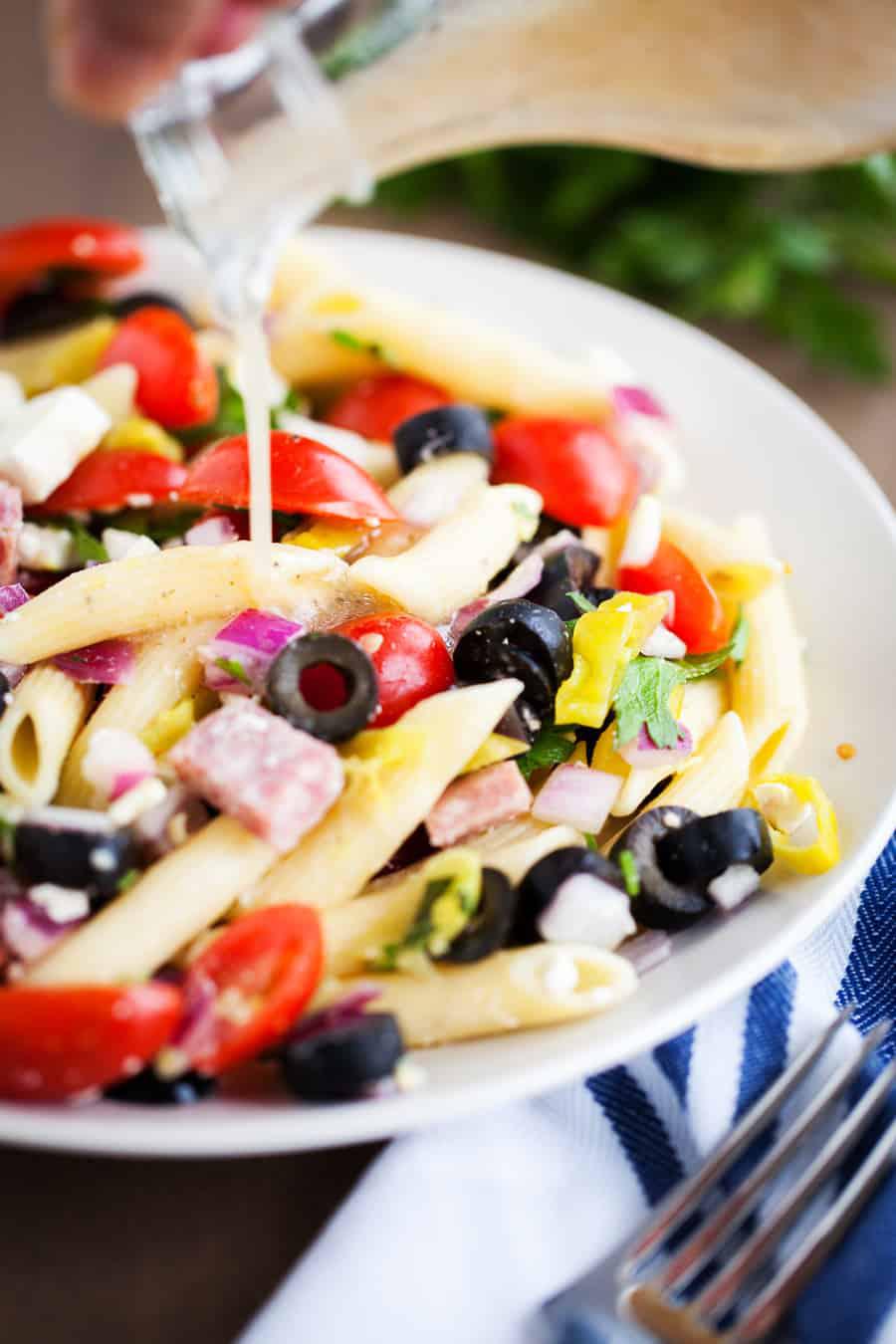 HOW TO MAKE ITALIAN PASTA SALAD
Let's get real for a second. Cooking a hearty and healthy meal for your family three times a day can be a chore. Now, I am not saying that this recipe is a lazy one, but it is EASY and that is attractive. The hardest part about making Italian Pasta Salad is the chopping. Everything has to be chopped. So, let's walk through the steps:
Prepare the Noodles: For this recipe, I chose to use Penne, It is a hearty and sturdy noodle and you want that with all of the extras. That being said, you could use shells, or bowtie, or even a spaghetti noodle. If you can find it at your local grocery store, I love using Mafalda pasta. It is like a tiny little lasagna noodle.
Chop: So much chopping:). Now, you can probably get pre-chopped versions of all of these things to save you a little time but, we all know, they mark that stuff up so much. You will save money if you chop it yourself, so get out your trusty cutting board and sharpen your knife. You will need to chop the salami, pepperoncini, onion, parsley, black olives, and cherry tomatoes.
Toss: The rest is easy, combine every single ingredient in a large bowl and toss to combine. You want to make sure that the Italian dressing coats the entire dish.
This salad is often a meal in itself! We have substituted chicken and ham as well as doubling the cheese or swapping out the noodle. I will sometimes serve the peppers on the side so hubby can add a lot and I can add none.
Ingredients
1 pound penne
1/4 cup pepperoncini sliced
1/2 cup crumbled feta cheese
1 red onion sliced
1/4 cup fresh parsley chopped
2 cans 4.25 ounces each sliced black olives
3 cups cherry tomatoes halved
1/2 pound dry salami log cut into chunks
8 ounces fresh mozzarella balls diced if using large balls, halved if using small balls
1 1/2 cups Italian dressing
Instructions
Cook penne according to package directions. Drain and rinse under cold water. Set aside.
In a large bowl, add the salami, tomatoes, olives, parsley, onion, cheese, and pepperoncinis. Add the pasta and toss.
Right before serving, drizzle on the dressing.