Making Skillet French Onion Chicken needs to move to the top of your to-do list. This chicken recipe boasts perfectly seasoned chicken, pan-fried to perfection and smothered in melty cheeses and a caramelized onion gravy. Pair this with my Garlic Roasted Asparagus for a date night meal no one will forget!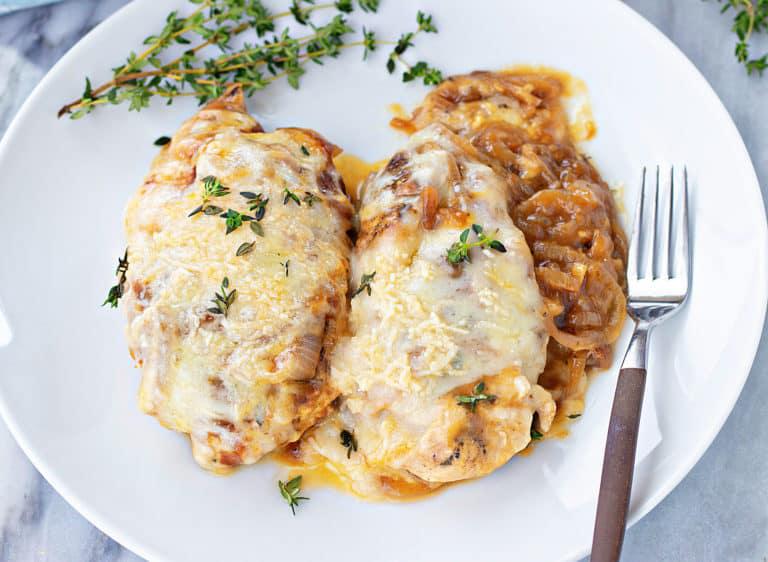 Skillet French Onion Chicken
French Onion Soup is a favorite around here, so french onion chicken was a natural choice for us. Even our kids love the flavor of the caramelized onions. And this easy recipe is one that can dress up any dinner table! We like to serve this for special nights when we have a little extra time to prepare. The caramelizing of the onions takes a little while and you don't want to rush through it.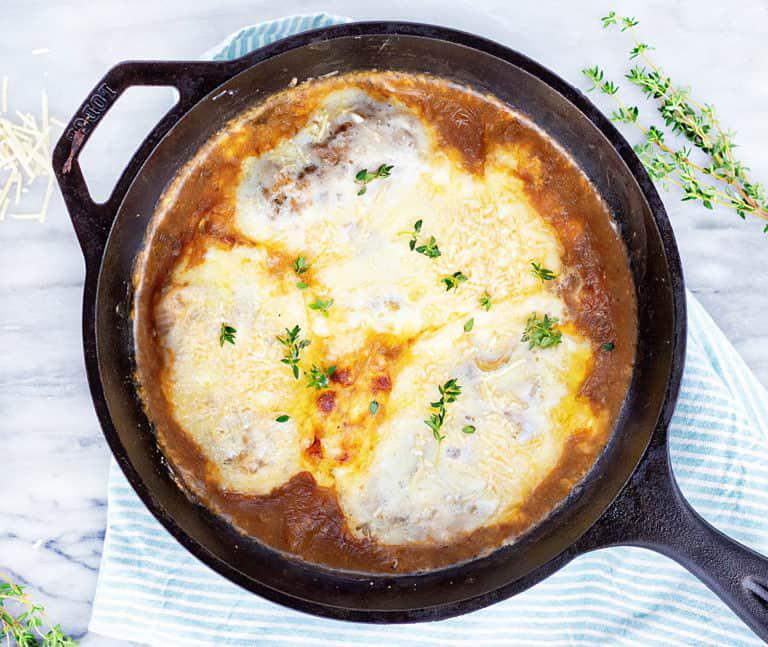 French Onion Chicken Recipe
This recipe has all of the classic components of French Onion Soup. A beautifully caramelized onion, beef stock, seasoning, and piles of glorious cheese. Instead of putting that into a stock pot, we decided to use those wonderful ingredients with a chicken breast! I have tried it with chicken thighs and that was wonderful too!
The most important part of this is the onions. You want to make sure you take the time to caramelize them to perfection!
How to Caramelize Onions
Start by choosing a great onion. We opted for yellow onions. They are a great option for frying, in recipes like onion rings or soups. More often then not, when you are slicing onions it's the yellow onions that will make you cry. When choosing onions in the store the best ones will be firm, have a crackly outer skin, and have a mild scent. If their scent is overwhelming it might be a sign that the onion is starting to spoil.
You want the onions to somewhat hold their round shape, so don't cut them in half before chopping, as we often do for recipes that call for onion. Slice it just like you would a tomato. Then pick up the slice and separate the rings.
Once your onions are chopped, add the onions and beef broth to a 12-inch skillet and cook until they are browned and tender. (Approximately 20-25 minutes. This is when I prepare the chicken.) Transfer cooked onions to a bowl and tent to keep warm while preparing the rest of the recipe.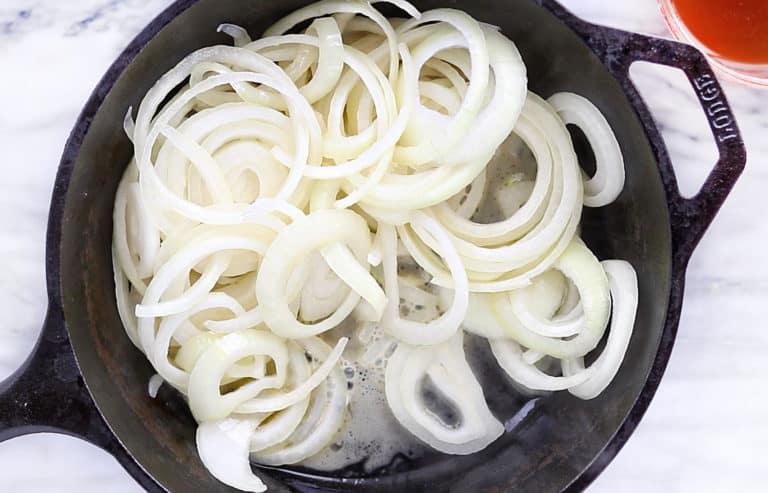 How to Make Skillet French Onion Chicken
Preparing the chicken is easy enough, you simply need a few traditional ingredients to flavor it perfectly.
salt
pepper
dried basil
dried thyme
dried oregano
Add the seasonings to a bowl and stir to combine. Lay chicken on a cutting board and then sprinkle with half of the seasoning mix. Rub in with your hand and then flip the chicken breasts over and cover with the remaining seasoning.
I have made this with fresh herbs and found that while pretty, we preferred a good quality dried herb instead.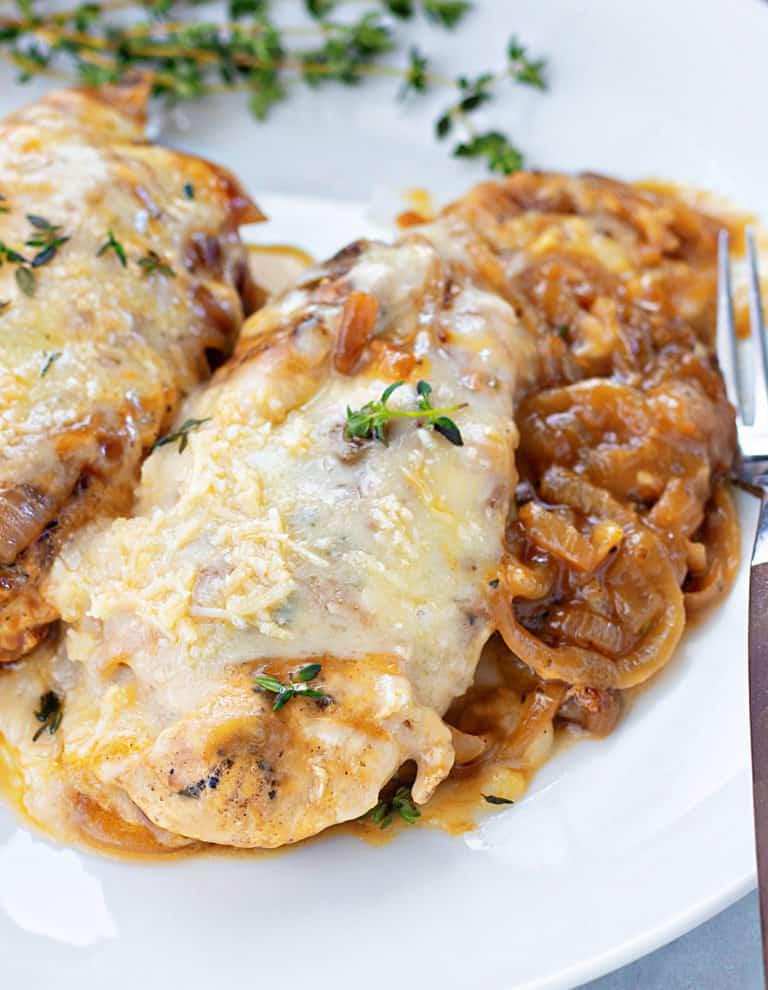 Best Cheese for French Onion Chicken
We did not skimp on the cheese for this recipe! There are thick slices of provolone, Swiss, and parmesan. You could use less, but I don't recommend it. ? The combination of those cheeses perfectly melted over your chicken that is simmering in the caramelized onions is a sight to behold!
Ingredients
ONIONS
3 tablespoons butter
2 yellow onions, thinly sliced
4 tablespoons beef broth
CHICKEN
4 boneless skinless chicken breasts, pounded to even thickness
2 tablespoon extra virgin olive oil
1/4 teaspoon salt
1/4 teaspoon pepper
1/4 teaspoon dried basil
1/4 teaspoon dried thyme
1/2 teaspoon dried oregano
GRAVY
2 tablespoons flour
1 cup beef broth
4 slices provolone cheese
4 slices swiss cheese
3/4 cup parmesan cheese
Instructions
ONIONS
In a large oven-safe skillet over medium-high heat, melt butter.
Add onions and beef broth and cook until the onions are browned and tender (approximately 15-20 minutes). Transfer cooked onions to a bowl and tent to keep warm.
CHICKEN
In a small bowl, combine oil, salt, pepper, basil, thyme, and oregano. Rub over both sides of each chicken breast.
In the skillet used to cook the onions over medium heat, and add seasoned chicken and cook for 4-5 minutes on each side until browned on both sides.
Transfer chicken to a plate and tent to keep warm.
GRAVY
Add the onions back into the pan over medium-high heat. Sprinkle flour over the top and stir until evenly coated. Add beef broth and stir until mixture comes to a boil.
Return chicken to pan and top chicken with one slice of provolone and one slice of swiss, then 1/4 of the parmesan cheese.
Transfer skillet to the oven and cook for 8-10 minutes or until cheese is melted and bubbly.
Spoon some of the gravy over the top of the chicken, serve.