Steak Fajitas Roll Ups are a tasty staple on the dinner table! Take your steak fajita game up a notch with this mouthful of tender marinated steak, grilled veggies, and melted cheese. These steak fajita rolls are a little tasty package that everyone will love to devour.
I don't know what it is exactly about food that is wrapped up in other food that makes it taste so much better than food that is simply thrown on top of other food. But it is definitely something. Maybe it's the feeling that somebody cared enough about your food to make sure it would be comfortable and safe. Like being tucked into your bed burrito style at night.
Or maybe it is just that wrapped food tastes good! It's got so many layers of flavor, how could it not? Take these Steak Fajita Roll Ups for example. They consist of seasoned grilled veggies and loads of melty cheese all rolled up in marinated thinly sliced sirloin steak. Top with a squeeze of fresh lime and serve on a bed of rice and beans, this meal screams love and flavor. Maybe that should be the rolled foods motto. Love and Flavor! And toothpicks.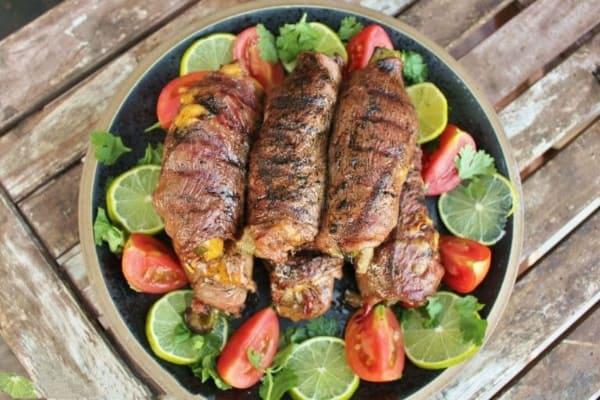 Grilled Steak Fajitas
I grilled my veggies up in a grill basket to prevent any of those perfectly sliced peppers and onions from falling through the grates. Grill baskets have been one of my best investments to date, I use them for everything from veggies to shrimp. Anything small enough to slip through the grate goes straight in a basket. All the grilled flavor, none of the lost food sacrificed to the grilling gods.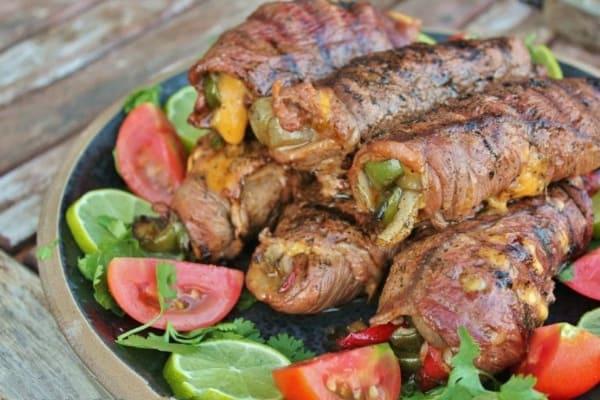 How to Make Steak Fajita Roll Ups
There are a couple of steps to make this recipe all come together:
MARINATE THE STEAK.
The thin sliced steak takes on all of the yummy marinade flavors in just 2 hours.
GRILL THE VEGETABLES.
This gives you the perfect tender crisp bite inside the roll ups.
ASSEMBLE THE ROLL UPS.
Veggies and cheese on the inside, yummy steak on the outside.
GRILL THE STEAK FAJITA ROLLS.
Start your roll ups on the grill with the seam side down to hold everything together.
ENJOY!!
Serve hot off the grill with tortillas, rice, beans, and all of your favorite fajita fixings.
These steak fajita rolls were such a hit come dinner time. It's like taco night on freakin' steroids without the thick neck and anger issues. We all ate them different ways. One person rolled them up inside a tortilla for the ultimate steak burrito with the perfect portions of steak and onions/peppers/cheese in every bite. Another went traditional with a fork and knife, and an extra sprinkle of SOB Rub. And yet another used the steak as the taco shell and just ate them street food style leaning over a napkin.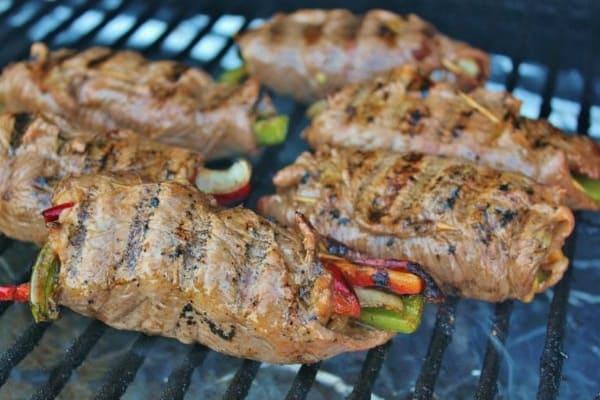 INGREDIENTS
2 lbs thinly sliced sirloin tip steaks
1 yellow onion (sliced into strips)
1 green bell pepper (sliced into strips)
1 red bell pepper (sliced into strips)
2 cups colby jack cheese (shredded)
FOR THE MARINADE
½ cup fresh lime juice (about 4 limes)
¼ cup olive oil
6 cloves garlic (finely diced)
2 teaspoons salt
2 teaspoons chili powder
1 teaspoon cumin
1 teaspoon black pepper
½ teaspoon cayenne pepper
INSTRUCTIONS
Marinade the steak. Combine all of the ingredients for the marinade in a large zip top bag or other container. Add the steak to the marinade and stir well to be sure the marinade in covering all of the slices. Allow the steak to marinate in the refrigerator for at least 2 hours or up to 4.
Grill the vegetables. Preheat your grill to medium high heat (about 400 degrees F). Place the onions and peppers in a grill basket and grill for 5-6 minutes, or until the edges of the onions are starting to brown and the peppers begin to soften.
Assemble the roll ups. While the vegetables are grilling, remove the steak from the marinade and shake off any excess. Lay the steaks flat on a large work surface and top each with about 1/3 cup of the shredded cheese. Remove the vegetables from the grill (leave the grill on) and divide evenly among each of the roll ups. Roll each steak around the cheese and vegetables and secure each roll with a toothpick.
Grill the Roll Ups. Place each steak roll on the grill, seam side down, and grill for 3-4 minutes per side (about 12-15 minutes total.
Rest and serve. Remove from the grill and allow the steak rolls to rest for 4-5 minutes before serving with your favorite fajita toppings and sides.
NOTES
Grill Used: Any grill works great with these! Gas, charcoal, pellet grill, or a grill pan.