Chicken and Velveeta Cheese Dip is a skillet dip that pulls together the flavors of rotisserie chicken, cubes of Velveeta cheese, and fresh veggies for an amazing game day appetizer! We also love Bacon Ranch Cheese Ball Bites and Bacon Jalapeno Poppers!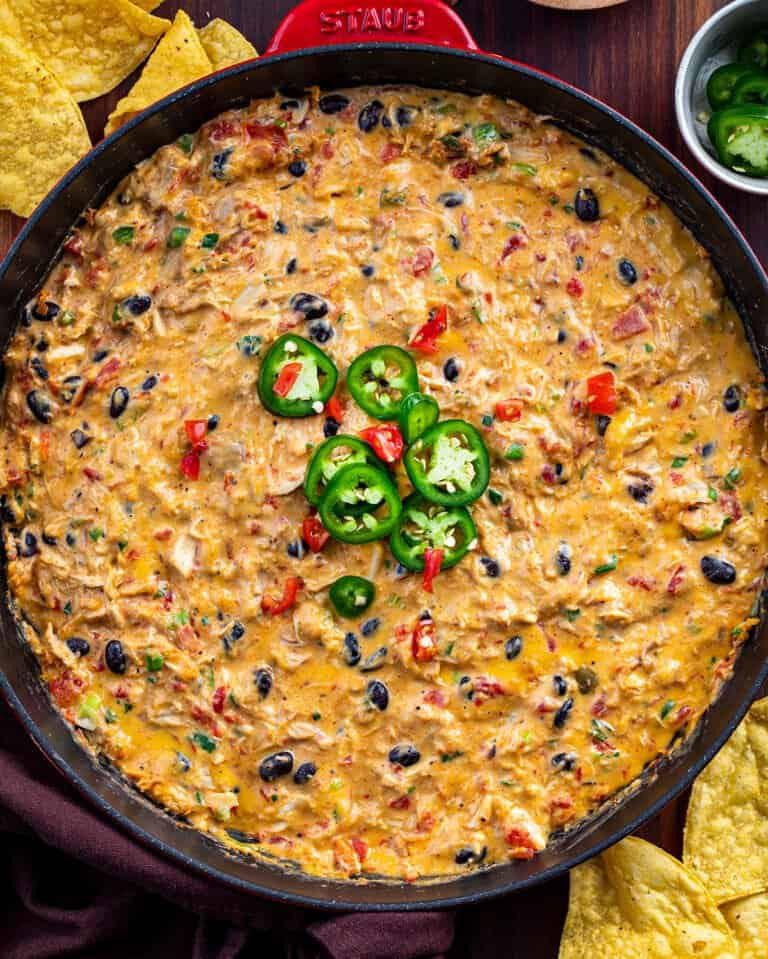 Chicken and Velveeta Cheese Dip
Football is upon us and that means it is appetizer season! Chicken and Velveeta Cheese Dip is one of my family's favorite additions to our appetizer arsenal, but especially around the Super Bowl. I love it because it is a simple dump dip, meaning, I literally just dump everything into the skillet and bake it. There is a tiny bit of chopping with the chicken, the cheese, and the green onions but I can handle that. I also love it because it is absolutely delicious and my family devours it.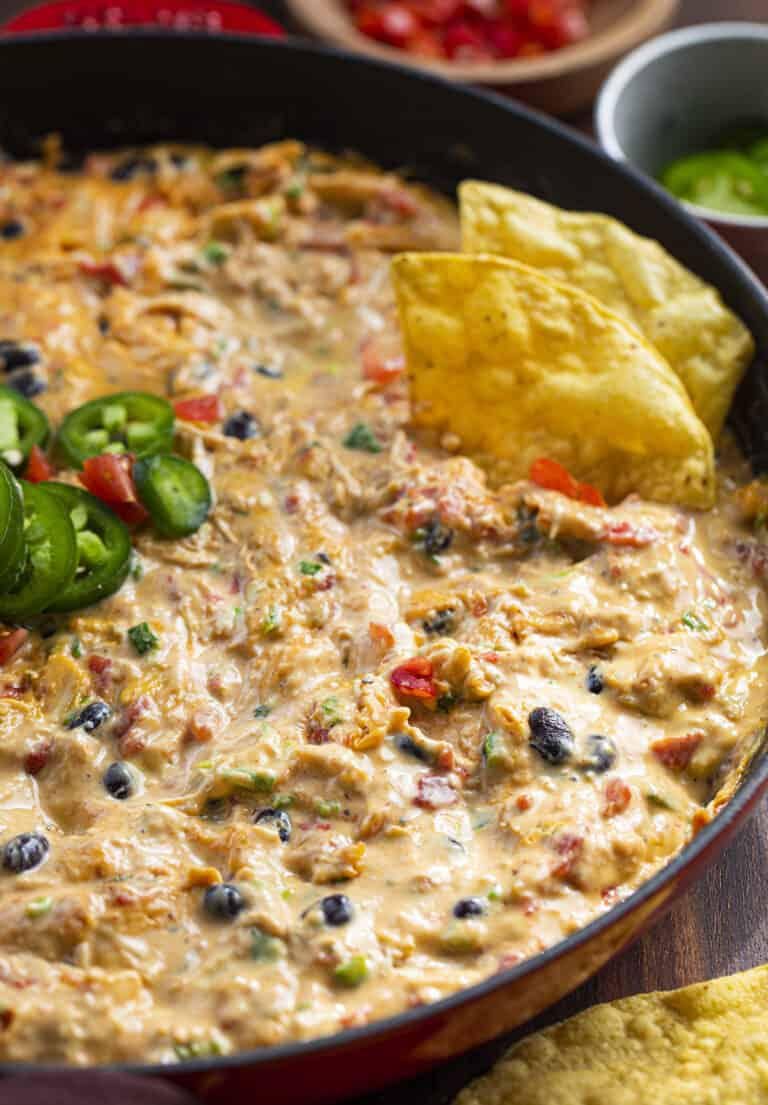 Chicken and Velveeta Cheese Dip Ingredients
Cheese: I used Velveeta cheese in this recipe. Velveeta cheese is processed cheese, but it keeps its smooth consistency when melted, which is perfect for a dip!
Tomatoes: Use a can of diced tomatoes with green chile peppers in the dip. I also like to add some freshly diced tomatoes to the top of the dip after it has baked.
Chicken: This Chicken and Velveeta Cheese Dip calls for rotisserie chicken. You can go to the store, or use my slow cooker rotisserie chicken recipe. Either way, I love how the flavor of the chicken really pops through the cheese and veggies. Once you have your chicken you will need to shred or chop up the chicken. I learned the hard way to make sure that however you slice it, you do it small. The smaller the pieces of chicken the better.
Black Beans: Canned black beans need to be drained and rinsed well before eating. When you open the can, you will notice a liquid in there that doesn't look too appetizing. It's simply a combination of salt and water and the starch from the beans. Rinsing the beans actually does more than just remove that murky substance, it lessens the sodium of the beans.
Taco Seasoning: If you don't have any seasoning on hand, make your own taco seasoning! Homemade seasonings pack more flavor than storebought seasonings.
Jalapeno Pepper: You don't have to add the pepper if you don't want to, but if you are adding it, get it minced for the dip. I also like to add some diced jalapeno on top of the dip.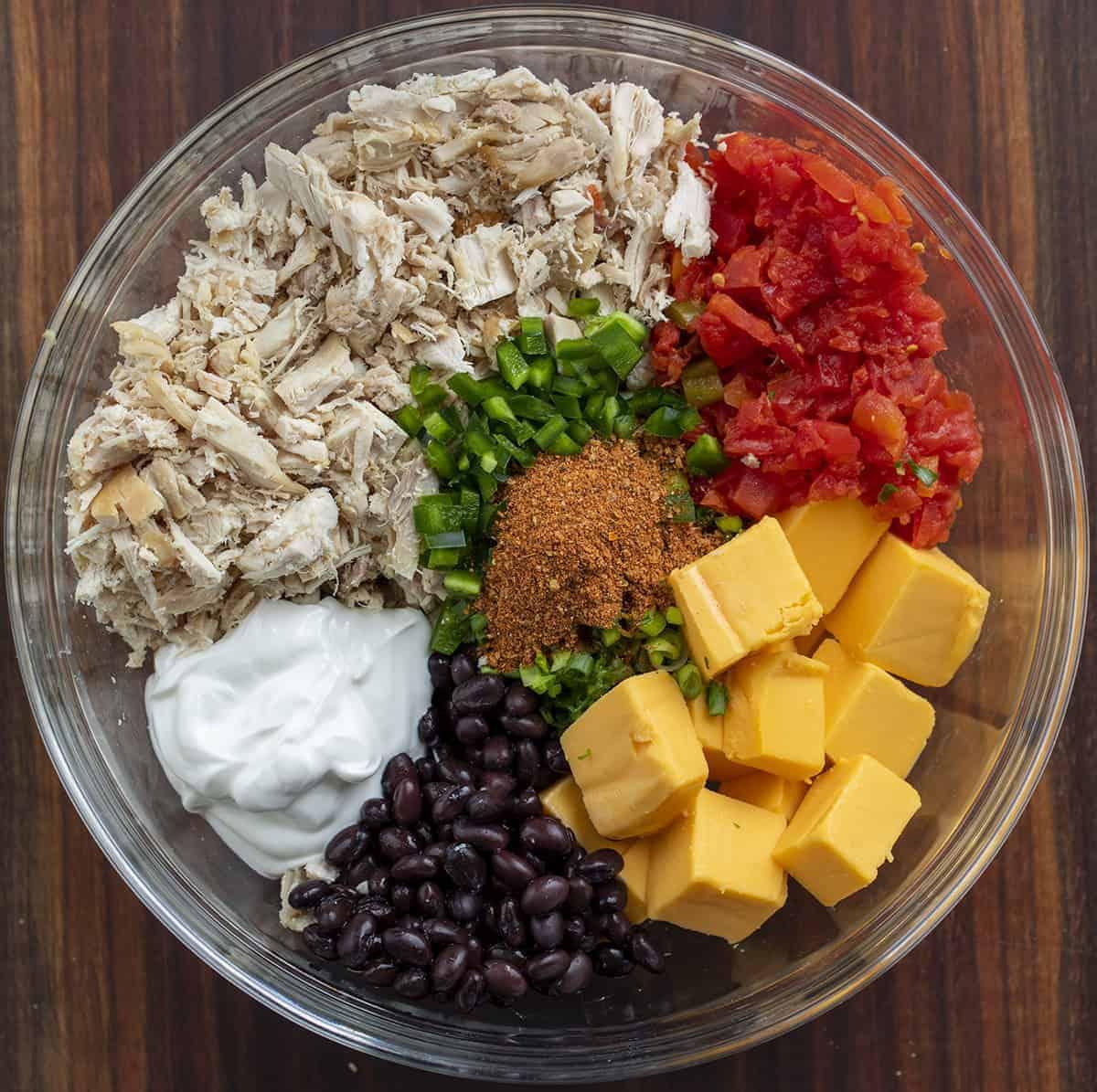 How to Make Chicken Cheese Dip
There are just a few steps in this recipe. Get out your biggest skillet. I use a 13-inch and I fill it. Put all of your ingredients in the skillet and give it a good stir. Bake the dip for 25 minutes, stirring halfway through. Serve it with some salty, sturdy tortilla chips or toasted baguettes. This last step is important. This dip needs a sturdy chip because the cheese and the chicken and tomatoes get heavy.
Other Alternative Ingredients
I would wait and add these after you have pulled the dip out of the oven, but some other ideas for things you could add to the Chicken and Velveeta Cheese Dip are:
Jalapenos
Diced Fresh Tomatoes
Sour Cream
Refried Beans
Lots of extra chips for dipping!
Can I Make this Dip in a Slow Cooker?
Yes! I personally just love cooking in a skillet, but this is the perfect recipe for throwing in a slow cooker as well. Since all of the ingredients just basically need to melt together, you can follow the directions below for Skillet Chicken and Velveeta Cheese dip, but switch to your trusty crock-pot. This one will need an hour on high or 2 hours on low to completely blend together. Don't forget to stir it a few times so the cheese doesn't stick to the sides and burn!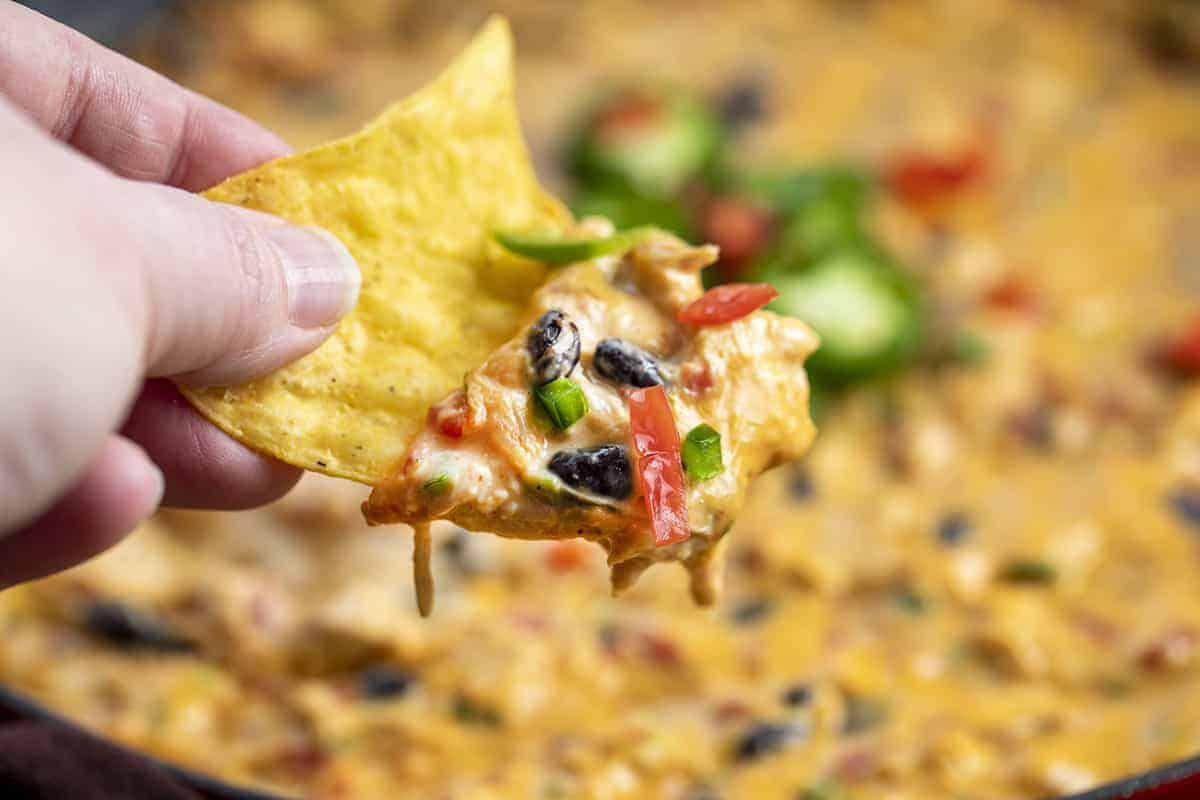 Ingredients
1 pound processed cheese (such as Velveeta®), cubed
1 can (10 ounces) diced tomatoes with green chile peppers, drained
3 cups rotisserie chicken, shredded or cubed
¼ cup green onion, diced
1 cup black beans, rinsed and drained
1 tablespoon taco seasoning mix
2 tablespoons jalapeno pepper, minced
⅓ cup sour cream
jalapeno pepper, diced for garnish
tomato, diced for garnish
Instructions
Preheat oven to 350°F.
In a large oven-safe skillet, add all of the ingredients. Stir to combine.
Place in oven and cook for 25 minutes, stirring halfway through.
Serve, garnished with jalapenos and tomatoes, with tortilla chips for dipping.
Notes
Dip can be reheated in the skillet as needed.