Zucchini Banana Cake with Whipped Cream Cheese Frosting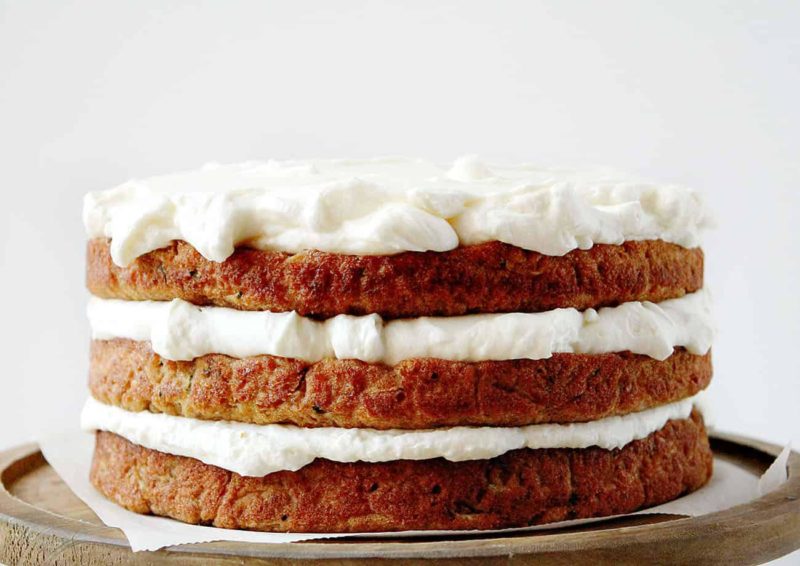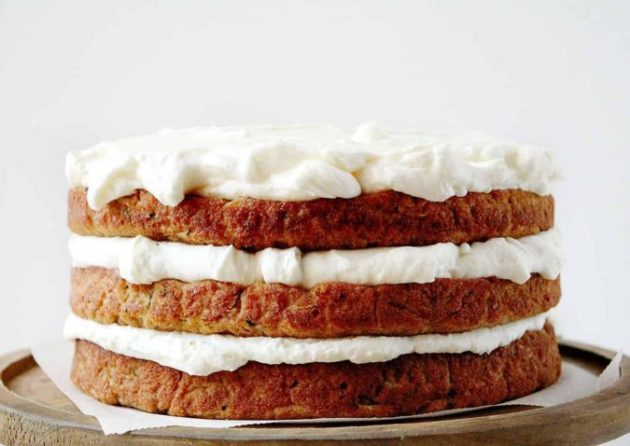 Banana Zucchini Cake with Whipped Cream Cheese Frosting
There is something utterly refreshing about walking out to the garden and choosing a vegetable that I can turn into a cake. So often when I think about cake and baking I think sugar, sweet, over-the-top decadence.
Sometimes, however, it is nice to enjoy the beauty of a layer cake while still using wholesome and fresh ingredients. Covered in massive amounts of sugary frosting of course. More on that in a moment.
As per most recipes that I get my hands on, I had to turn it into a cake. Because everything should be turned into a cake, right?
Here is the dilemma. When I eat banana bread, I don't want frosting! I know, I know, that is just crazy talk. The bread itself is so darn good, there is no need for a frosting. But whoever heard of a layer cake without frosting? Somethings should just never be done.
So I spent a good deal of time thinking about frostings and their consistency and flavors and tried to develop and frosting that would not only compliment the flavor of the banana zucchini cake, but also the texture.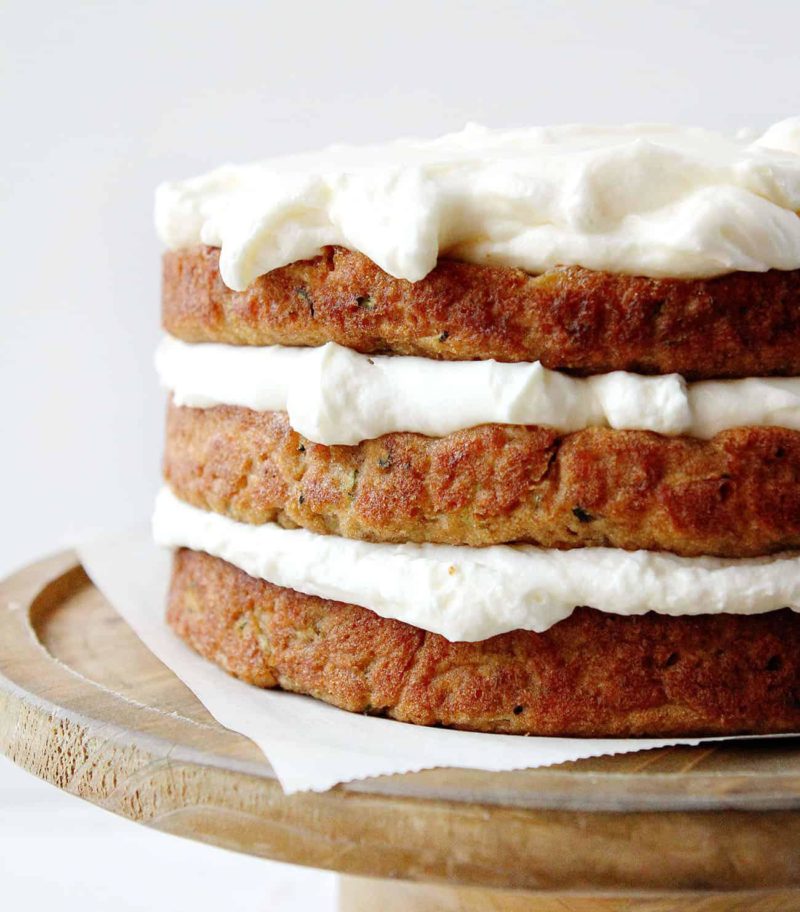 I think I have found a winner.
Just look at that thick beautiful cream cheese whipped deliciousness. It is light enough that it works with the zucchini banana cake, is a complimentary flavor, and delicious enough to make you lick your fingers. Speaking from experience.
Our zucchini season is finally winding down and I will be sharing some fall favorites soon. If you have special requests feel free to let me know!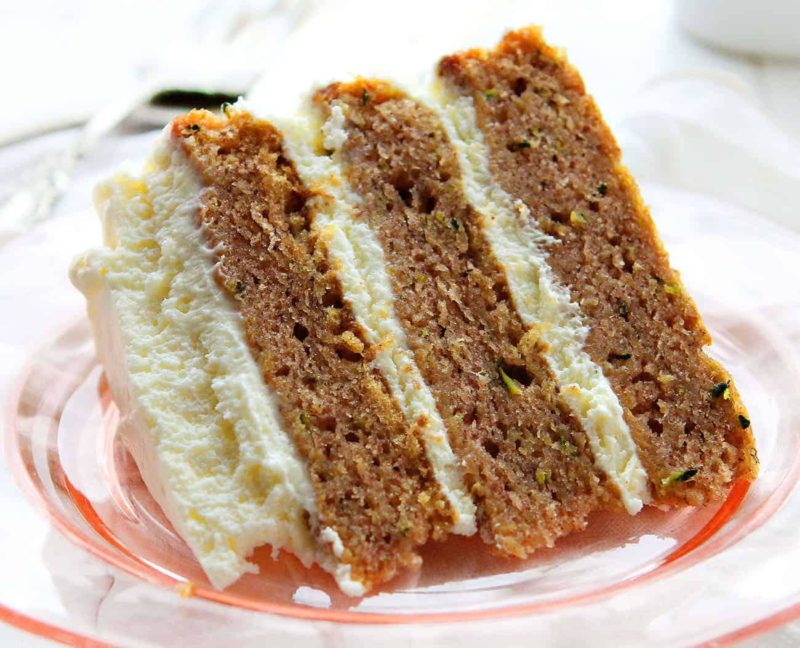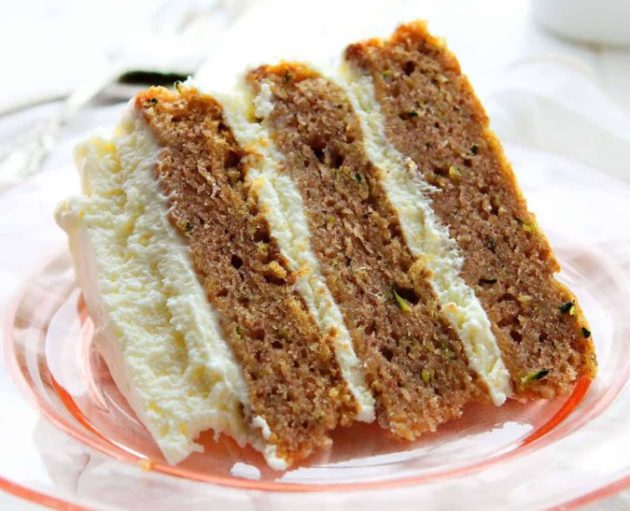 INGREDIENTS
BANANA ZUCCCHINI CAKE
2 cups all purpose flour
1/2 teaspoon baking soda
1 teaspoon baking powder
2 teaspoon ground cinnamon
½ teaspoon salt
1 cup sugar
2 large eggs, room temperature
1 cup vegetable oil
2 teaspoons vanilla extract
2 ripe bananas
2 cups shredded zucchini drained
WHIPPED CREAM CHEESE
8 ounces (1 package) cream cheese, room temperature
1 cup white granulated sugar
1/8 teaspoon table salt
1 teaspoon vanilla extract
1 1/2 cups cold heavy whipping cream
INSTRUCTIONS
FOR THE CAKE
Heat oven to 350 and prepare three 8-inch round cake pans.
In a large bowl sift together the flour, baking soda, baking powder, cinnamon, and salt.
In a stand mixer on low speed add in the sugar, eggs, oil, vanilla, and banana. Mix on medium speed for about 1 minute, or until fully combined.
One cup at a time add the flour mixture into the sugar mixture. Mix until just incorporated and remove bowl from mixer.
Stir in the drained and shredded zucchini.
*I prefer to not peel the green skin off on my zucchini, but you certainly can. If you have a very large zucchini, remove any seeds prior to grating.
Bake for 22-26 minutes, or until inserted toothpick is removed mostly clean.
WHIPPED CREAM CHEESE
In the bowl of a stand mixer, beat whipping cream on medium high until stiff peaks form; about 3 minutes.
Place whipped cream into a separate bowl and clean out stand mixer bowl.
In clean stand mixer bowl whip cream cheese with whisk attachment until light and smooth. Add in sugar, salt and vanilla and beat until fully incorporated.
Remove bowl from stand mixer and gently fold in whipped cream to cream cheese mixture.
Can be used immediately. You can store in refrigerator until ready to use, just be sure to bring to room temperature before piping or spreading.