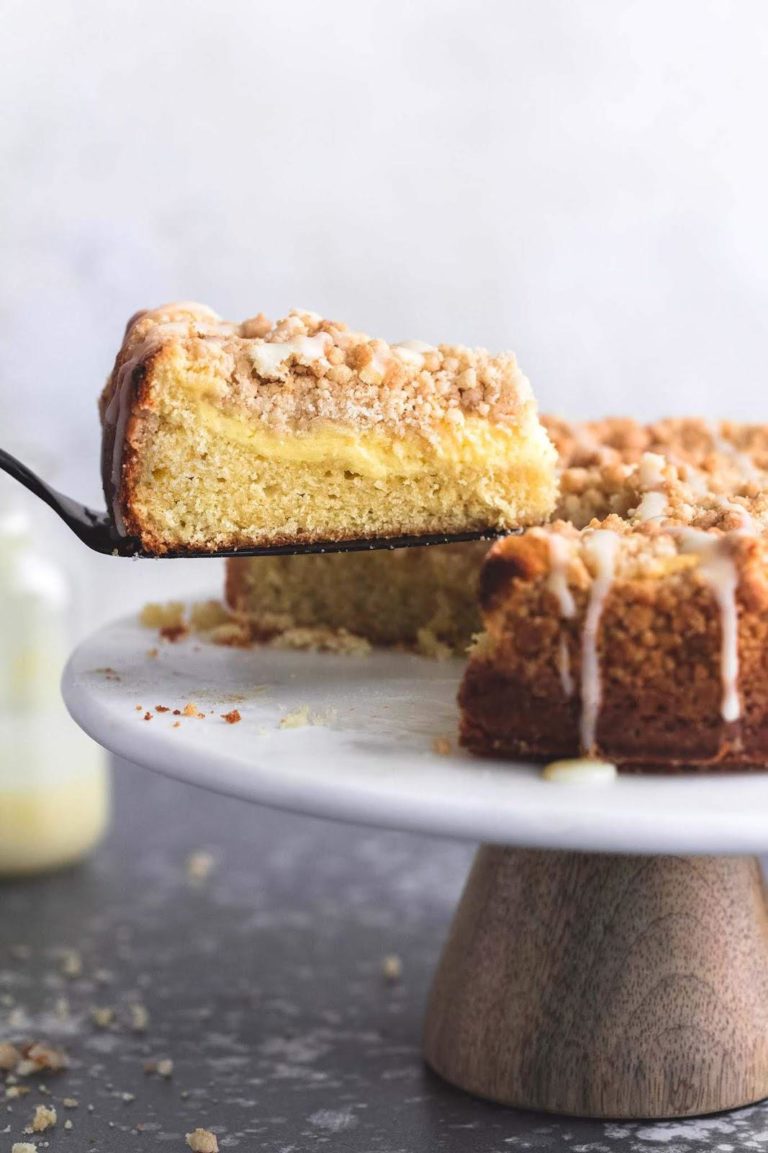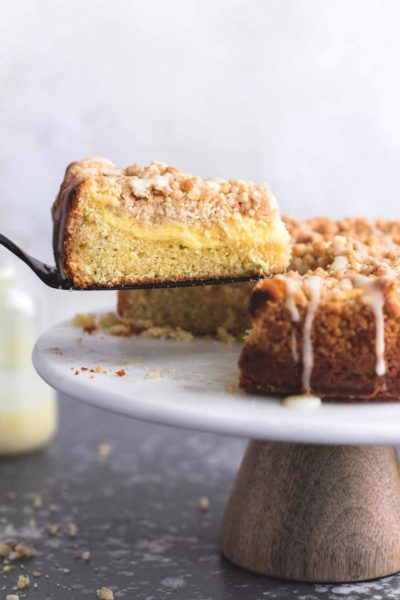 Ingredients :
Cake Batter
1 1/4 cup flour
1/2 cup + 2 tablespoons sugar
1/4 teaspoon baking powder
1/4 teaspoon baking soda
1/2 teaspoon salt
8 tablespoons butter, softened
1 teaspoon vanilla
2 large eggs
2 tablespoons fresh squeezed lemon juice (about 1 small lemon)
1/4 cup fat free half and half (or other milk)
Cream Cheese Layer
8 ounces cream cheese, softened
1/3 cup sugar
1 large egg + 1 egg yolk
1 teaspoon lemon zest (about 1 small lemon)
Crumb Topping
1/2 cup butter, melted
1/2 cup sugar
1/4 cup brown sugar
1 1/2 cup flour
1/2 teaspoon lemon zest
Lemon Glaze
2 cups powdered sugar
juice and zest of 1 small lemon
1 ounce cream cheese, softened
2-3 tablespoons milk as needed
Directions :
Preheat oven to 325 degrees. Grease and flour a 9-inch springform cake pan.
Prepare the cake batter first. In a large bowl whisk together flour, sugar, baking powder, baking soda, and salt. In a medium bowl cream together butter, vanilla, eggs, lemon juice, and half and half/milk for 3-4 minutes until fluffy and smooth. Combine wet ingredients and dry ingredients and mix until combined and there are no more streaks of flour. Pour into prepared cake pan.
Prepare the cream cheese layer. In a medium bowl cream together cream cheese, sugar, egg and egg yolk, and lemon zest until smooth. Pour into the center of the cake pan, spreading evenly with a spatula over the cake batter BUT be sure to leave a 1/2 inch between the cream cheese layer and pan sides so that the cream cheese mixture is not touching the pan and not quite covering the cake batter.
Prepare the crumb topping. Mix together butter, sugars, flour, and lemon zest until mixture resembles large crumbs. Spoon crumb mixture into the cake pan, covering both the cream cheese layer and the cake batter completely.
Bake for 40-45 minutes in preheated oven until an inserted toothpick comes out clean. Allow to completely cool on a cooling rack before releasing the springform latch and removing the ring.
Prepare the glaze by mixing together powdered sugar, lemon juice and zest, cream cheese until combined, then mix in milk one tablespoon at a time until smooth and pourable. Drizzle over cooled cake and serve. If making ahead, store cake in airtight container or cover in plastic wrap and wait to drizzle glaze over the top until just before serving.
ENJOY!