These Turtle Thumbprint Cookies are a delicious melt-in-your-mouth cookie combining the flavors of almond, pecan, caramel, and chocolate.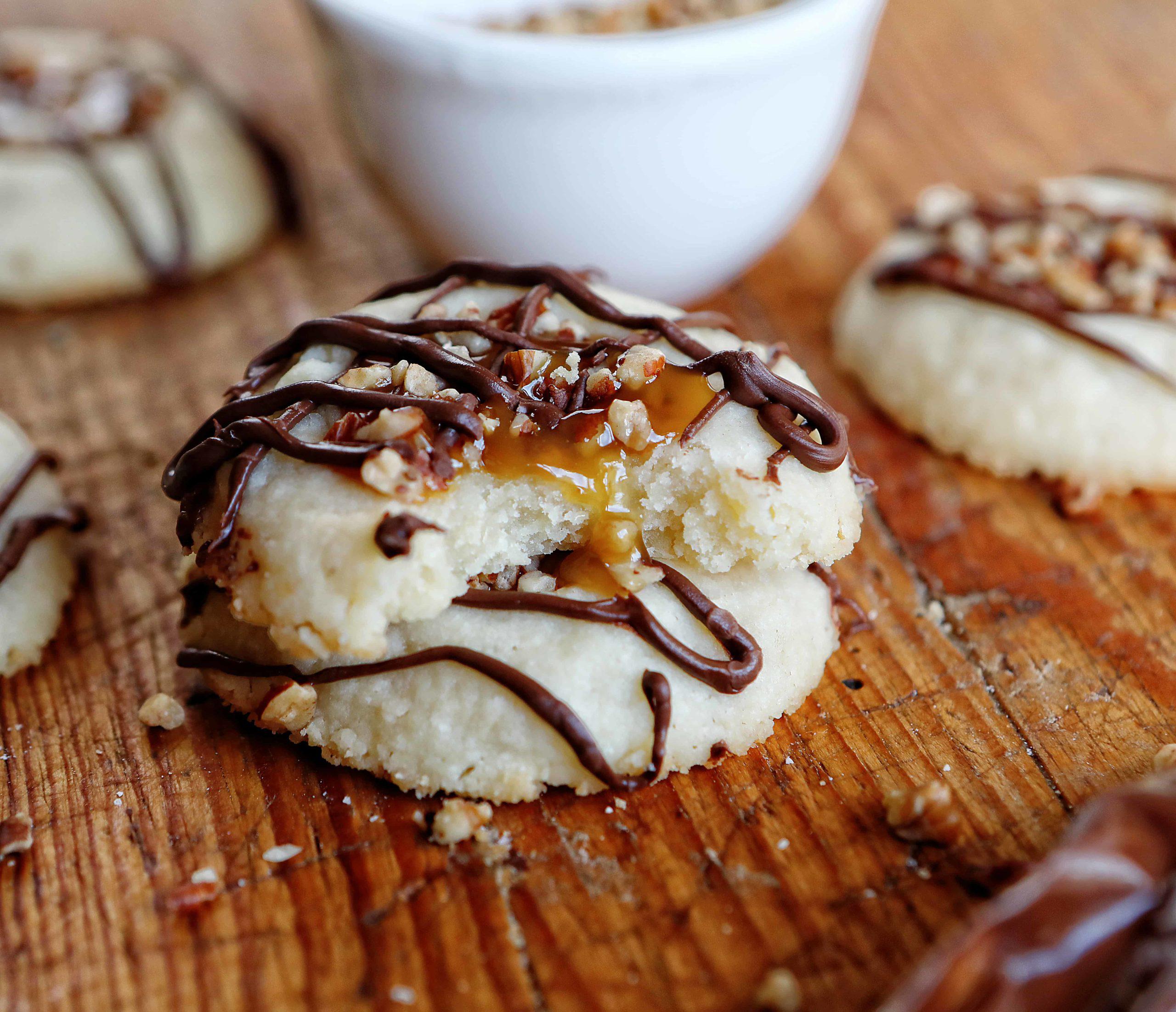 There are quite a few variations of turtle cookies on the market. This interpretation is my absolute favorite! The base is a chewy shortbread cookie, filled to the brim with ooey gooey caramel and then topped with chopped pecans and drizzled with milk chocolate. These are the kind of cookies that after your very first bite pure bliss overcomes your entire body. They are so delicious! Perfect for a holiday cookie exchange or just to have around the house to satisfy a sweet tooth.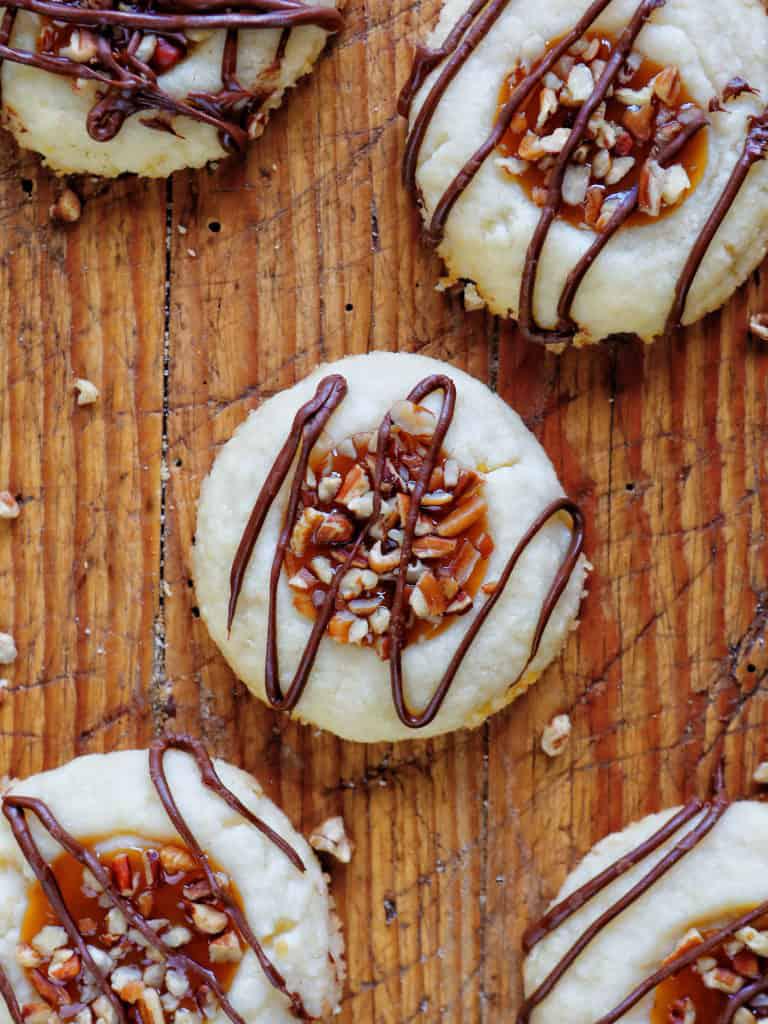 How to Make Turtle Thumbprint Cookies
These cookies are impressive. They look like they take quite a bit of effort. Spoiler Alert! They don't. These cookies are so simple and whip together in just minutes! To make this Turtle Thumbprint Cookie recipe you simply cream together butter and sugar, add in some almond extract, and some flour. Roll this out into 1 1/2 in cookie balls and the hard work is done! You bake the base for about 14 minutes and then fill in the indentations with caramel, pecans, and chocolate. I like to use crushed pecans, but I know some people like to put a whole pecan in the center. That will work too. For the chocolate, I know some prefer dark chocolate to milk chocolate. Feel free to experiment with the flavors, you really can't go wrong with this cookie! I've even heard of people using dark chocolate and throwing some sea salt on top!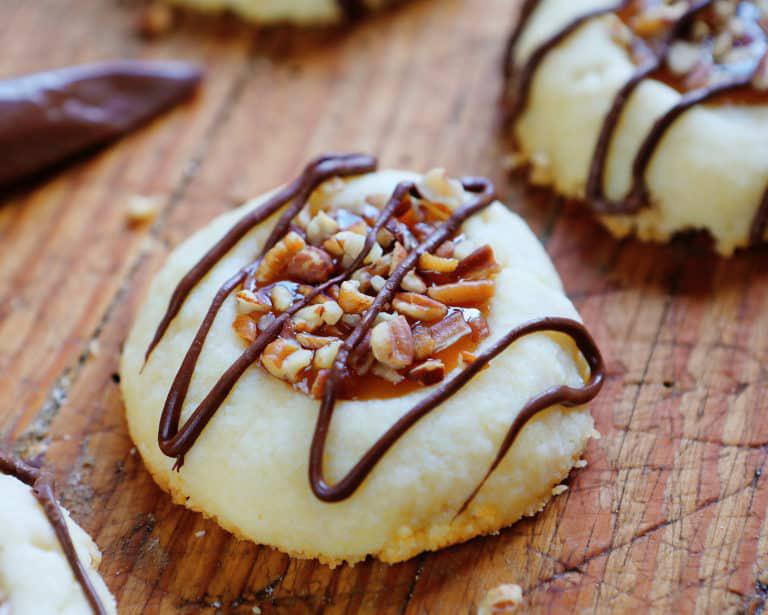 The trick to making the perfect thumbprint is not to use your thumb. Shh, don't tell anyone. I like to use the edge of my spoon. I keep a small plate of flour out and dip the spoon in to prevent sticking and then lightly press to make your circular center. Now, using your thumb will work too. I don't want to upset anyone:). The other tip I will give you on these cookies is to actually roll out the ball with your hands. If you use a cookie scoop you will get the right size, but don't skip out on the hand rolling. This motion seals the cookie dough together and prevents the base from cracking under heat.
Can I store a Thumbprint Cookie?
Are you really worried about having extra? Just kidding. Yes, you can freeze and store Turtle Thumbprint cookies. You might not want a whole batch laying around the house for fear or devouring them all. After baking, allow the cookies to cool completely, and then place them in a freezer safe container. I would suggest setting them flat and then adding a layer of parchment paper on top. Some cookie recipes can just be thrown in a bag, but that will not work with this turtle thumbprint recipe. Since the caramel needs to freeze to harden, if you just throw them in a bag it will spill out everywhere and make a huge mess (It will still taste amazing though).
Side note about storage: If you are planning to use these in a cookie exchange, freezing them will be your best bet! Transporting these cookies might prove to be a bit of a challenge due to the caramel center. Another alternative would be instead of using the caramel topping, you could melt down a few caramel candies instead. These will harden as they cool, unlike the caramel topping.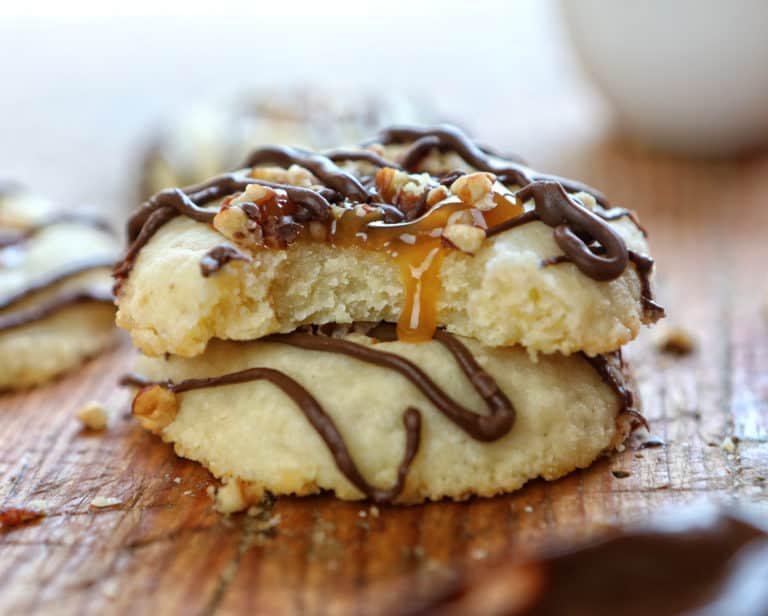 INGREDIENTS
THUMBPRINT COOKIE
1 cup (226g) salted butter, softened
2/3 cup (150g) granulated sugar
1/2 teaspoon almond extract
2 cups (256g) all-purpose flour
1 egg yolk
TOPPINGS
1/4 cup chocolate chips, melted
1/2 cup caramel topping
1/2 cup pecans, chopped
INSTRUCTIONS
THUMBPRINT COOKIE
Preheat oven to 350°F.
In a medium bowl, cream together butter and granulated sugar until smooth, 1-2 minutes. Mix in almond extract, flour, and egg yolk until dough comes together.
Roll dough into 1 1/2 inch balls and place on a cookie sheet lined with parchment paper. Using a spoon, (I used a teaspoon) make a small impression in the center of each ball.
Bake for 14-18 minutes in preheated oven, or until lightly browned.
Cool completely before filling.
TOPPINGS
Once the cookies have cooled, fill each impression with caramel sauce, and top with pecans.
In a small saucepan, melt the chocolate chips. Drizzle the melted chocolate over the top of each cookie. Alternatively, you can melt the chocolate in a plastic bag in the microwave. Just be sure to massage it between heating cycles to make sure it heats evenly.