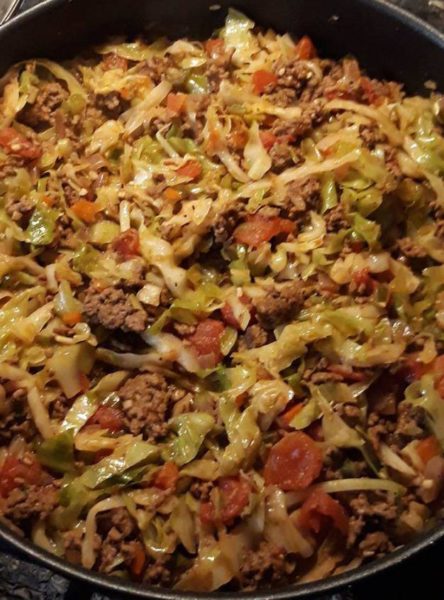 Serves: 4
Ingredients
Rice
2 cups brown jasmine rice
1 cup water
1 Roma tomato
½ cup water
1 tablespoon extra light olive oil
1 teaspoon smoked paprika
¼ teaspoon Himalayan/sea salt
⅛ teaspoon cayenne pepper
A pinch of red pepper flakes
Other Ingredients
1 tablespoon extra light olive oil
2 cups chopped cabbage
2 cloves garlic
1 teaspoon ground mustard
1 teaspoon coriander powder
¼ teaspoon Himalayan/sea salt
A pinch of red pepper flakes (more if you want it hotter)
½ cup frozen peas
1 tablespoon low sodium soy sauce
1 teaspoon onion powder
1 teaspoon smoked paprika
A few sprinkles ground pepper
½ sprigs Cilantro/parsley (for garnish)
Instructions
Rice:
Combine 2 cups of brown jasmine rice with a cup of water and let it sit for about an hour with the lid on.
After about an hour or two, chop the Roma tomato into rough pieces and toss it in the blender with ½ cup of water. Blend until it becomes a smooth puree, then pour it in the saucepan with the rice.
Add the olive oil, paprika, salt, cayenne pepper and red pepper flakes to the rice and stir until it's mixed evenly.
Bring the rice to a boil, which can take about 4-5 minutes. Turn the heat to medium low (3) and simmer for about 28-30 minutes. Be sure to stir the rice after it's been cooking for 15 minutes so the spices don't clump together.
Stir Fry:
Slice the cabbage into small pieces and put it in the frying pan. Peel and dice the garlic and also toss that in too. Add the extra light olive oil, ground mustard, coriander powder, salt and red pepper flakes to the frying pan and turn the heat to medium high (6, or just under, stove should not be red).
Fry the cabbage for about 6 minutes, stirring a lot, then add all the rice and peas.
Stir and fry for about a minute, then add the rest of the spices, including the soy sauce, onion powder, smoked paprika and ground pepper. If you like it so spicy that it burns, add some more red pepper flakes. Stir and let it cook for a final 3 minutes.
Garnish with fresh cilantro or parsley leaves.