Simple syrup is a baker's secret weapon. I use it on cakes, cupcakes, cookies (on the rare occasion) and even in my cocktails! The recipe for simple syrup is easy and can be modified in a million ways. I also have a Chocolate Simple Syrup that works best on chocolate cake and red velvet cake!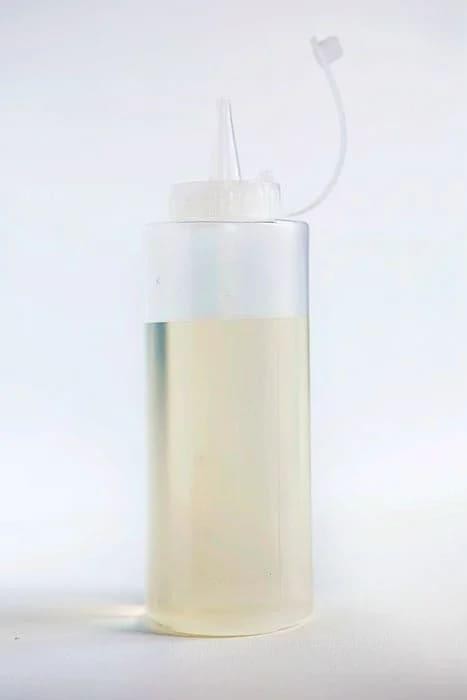 How to Make Simple Syrup
The equation stays the same no matter how much you make. I have made a large batch and used 3 cups sugar and 3 cups water. It is a basic 1:1 ratio.
I like to store my simple syrup in a plastic bottle that has easy pouring and can close. If you do not have a bottle you can spoon it over the cake or even brush it over the cake with a pastry brush.
I use about 1-4 tablespoons per layer, depending on the size of the layer.
This was a 12-inch layer of cake so I used almost 1/4 cup! (or 4 tablespoons)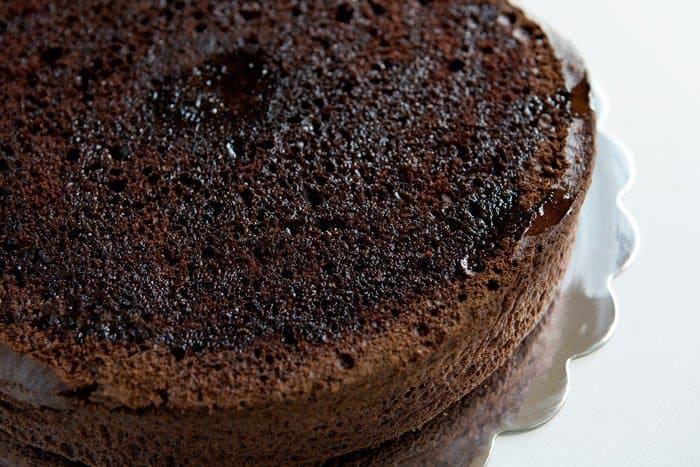 After I pour the simple syrup over the cake I will wrap it in plastic wrap then store in the refrigerator for up to 2 weeks.
If I am freezing cake I will soak layer with simple syrup, wrap in plastic wrap, then place the cake in a sealable plastic bag or air-tight container. (I have seen it written that you can store up to 3 months.)
Now for the "why" of simple syrup:
Simply put it keeps the cake moist throughout every stage of assembly and decoration. Not only does it help keep your cake moist, but it also helps to add sweet flavor which is always good!
Questions about Simple Syrup
Will it make my cake too sweet?
No. It will enhance the sweetness in your cake but not alter the flavor.
Can I use simple syrup with fillings and frostings?
Yes, definitely. You should use simple syrup on your cake layers and then fill/decorate as you normally would.
Can I make it different flavors?
Absolutely! Simple syrups can be quite diverse. Mix in spices, extracts, fruit—and you have instant flavored sweetener!
INGREDIENTS
1 cup (200g) granulated sugar
1 cup water
INSTRUCTIONS
Pour sugar into a medium saucepan and then immediately add water.
Bring to a boil and stir until all sugar has dissolved. (1-2 minutes)
Allow cooling then place in an airtight container. Store in the refrigerator for up to 2 weeks.