When my friend Autumn showed me this recipe of her Grandma Evie's I was totally intrigued. The method is completely different than anything I had ever seen! She actually calls it No-Fail Chocolate Cake. So I made it that day, thinking to myself, "How different can it really be?" Well, I was pleasantly surprised at just how AMAZING this chocolate cake is.
Imagine my shock when I tried a piece the next day and it was EVEN BETTER. If at all possible, I recommend saving yourself a slice so that you can see just what a few hours will do to this crazy good recipe!
This recipe uses coffee (one of my favorite additions to a chocolate cake), but you can certainly use hot (and cold, see recipe) water if you prefer to leave the coffee out.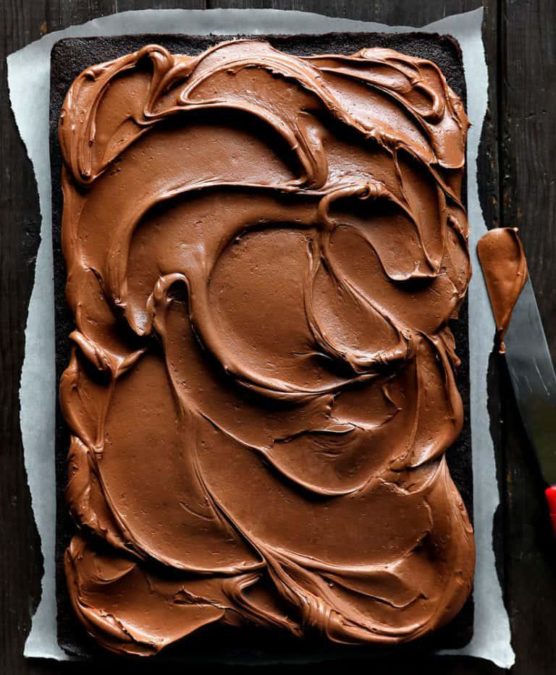 Chocolate Frosting
But first, let's talk frosting. This is a basic Chocolate Frosting done right. I used dutch process cocoa so that my frosting would be a bit darker, but you can certainly use regular unsweetened cocoa powder. (it will be lighter in color) I also added 1 tablespoon of corn syrup to my frosting in hopes that it would achieve a nice glossy sheen. I thought it worked beautifully, but then I made the frosting again the next day, did not add corn syrup, and found the frosting to still be shiny. I still can't get over how luxurious this frosting looks and tastes!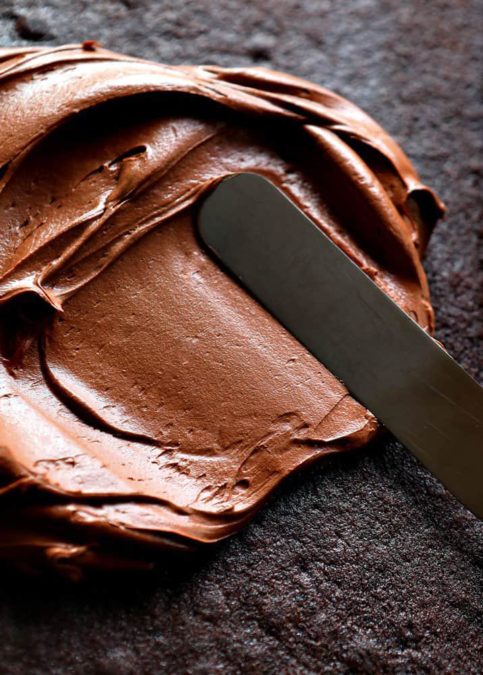 Best Chocolate Cake Recipe with Coffee
I have many recipes on my site for chocolate cake and most of them use coffee. Coffee will enhance the flavor of the chocolate, not overpower it. If your recipe is good (and this one is) you will not taste the coffee at all, you will only taste the richest chocolate cake you have ever had.
This recipe utilizes brewed hot coffee in the first steps and then cooled coffee in the second part. Some recipes will call for instant coffee crystals or espresso coffee.
You may substitute WATER for the coffee if you prefer, but the chocolate flavor will not be as intense.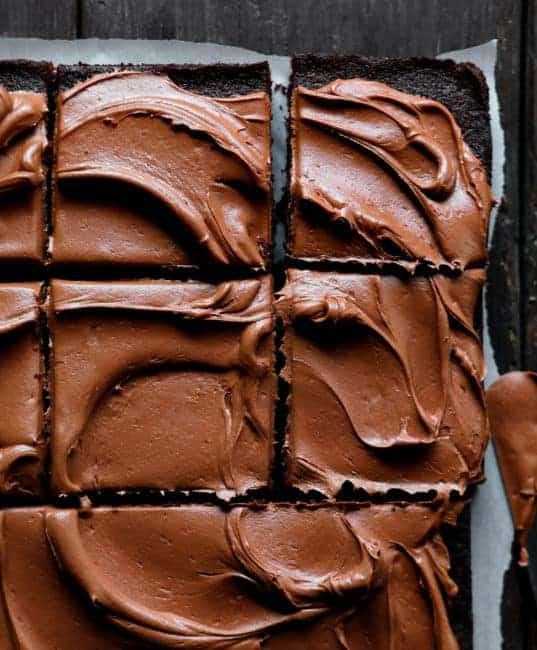 Chocolate Sheet Cake
While I love the perfect height and frosting:cake ratio of this sheet cake, I also like this cake as a layer cake. It will make a 2-layer cake (using 8-inch rounds) and the chocolate frosting recipe below will cover that if you do not use too much between the layers.
I have not made this recipe as cupcakes but if you do you will want to fill each liner 2/3 full with batter and bake for 16-22 minutes at 350°F. Start checking at 16 minutes as you do not want to overbake the cupcakes. Cool and frost with chocolate frosting recipe. If you want to pipe pretty designs on the cupcakes you can add a bit more confectioners sugar for a thicker consistency.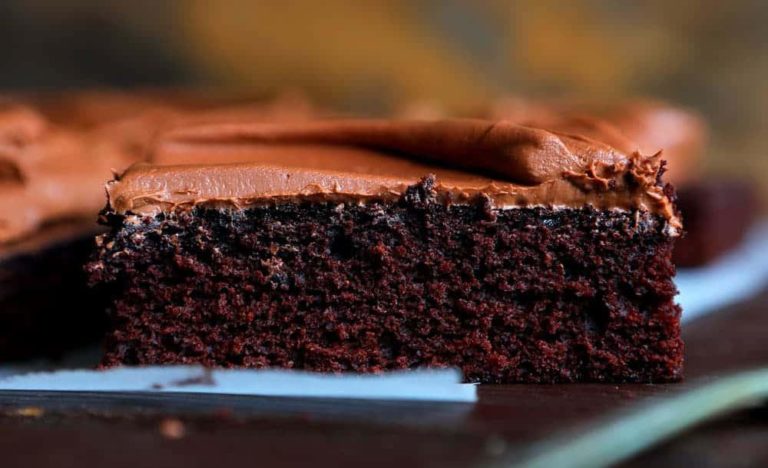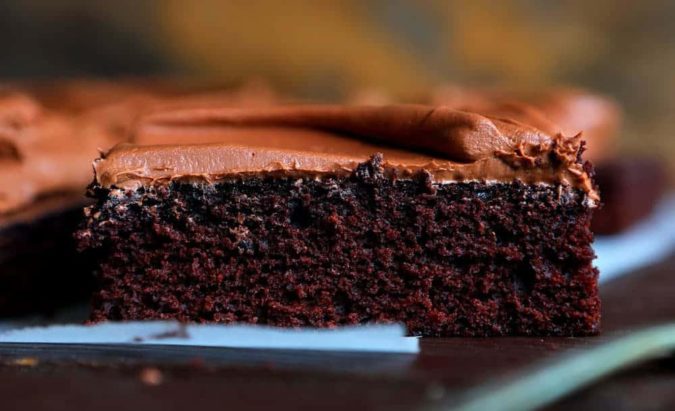 INGREDIENTS
CHOCOLATE CAKE
FIRST PART
⅓ cup brown sugar
⅓ cup strong coffee
½ cup dutch process cocoa
1 tablespoon butter
1 teaspoon vanilla
SECOND PART
1½ cups (192g) all-purpose flour
½ teaspoon baking powder
1 teaspoon baking soda
½ cup (1 stick, 113g) salted butter, warm but not melted
½ cup (100g) granulated sugar
½ cup (100g) packed brown sugar
2 large eggs, room temperature
½ cup cold coffee
1 teaspoon vanilla
CHOCOLATE FROSTING
3 cups (384g) confectioners' sugar
6 tablespoons (90g) Dutch Process cocoa powder
6 tablespoons salted butter room temperature
3-5 tablespoons heavy whipping cream
1 teaspoon vanilla extract
INSTRUCTIONS
CHOCOLATE CAKE
FIRST PART
Place all ingredients in the first part into a saucepan over low heat. Stir until they are fully incorporated, 5-7 minutes. Remove from heat and allow to cool a bit. It should be a little thick and similar to custard.
SECOND PART
In a medium bowl, sift flour, baking soda, and baking powder together.
Add 1/2 cup warm butter, sugars, eggs, cooled coffee, and vanilla to the flour mixture and mix with a hand-held mixer until fully combined. (or stir by hand)
Add the chocolate mixture from the FIRST PART to the ingredients from the SECOND PART. Stir by hand until all ingredients are well combined.
Pour onto a prepared (sprayed or lined with parchment) baking sheet (I used a 10x15in baking sheet). Smooth out the batter and gently tap on the counter.
Bake in a 350°F oven for 16-22 minutes, or until the center no longer appears wet and an inserted toothpick is removed with a few crumbs.
Allow to cool before frosting.
CHOCOLATE FROSTING
In a medium bowl, sift together the confectioners' sugar and cocoa, and set aside.
In a large bowl, cream butter until smooth, then gradually beat in sugar mixture alternately with heavy whipping cream. Blend in vanilla. Beat until light and fluffy. If necessary, adjust consistency with more whipping cream or sugar.