This Poutine Recipe is a plate of seasoned fries loaded with gravy, mozzarella cheese, cheese curds, and bacon that is sure to satisfy those late-night, or anytime, cravings!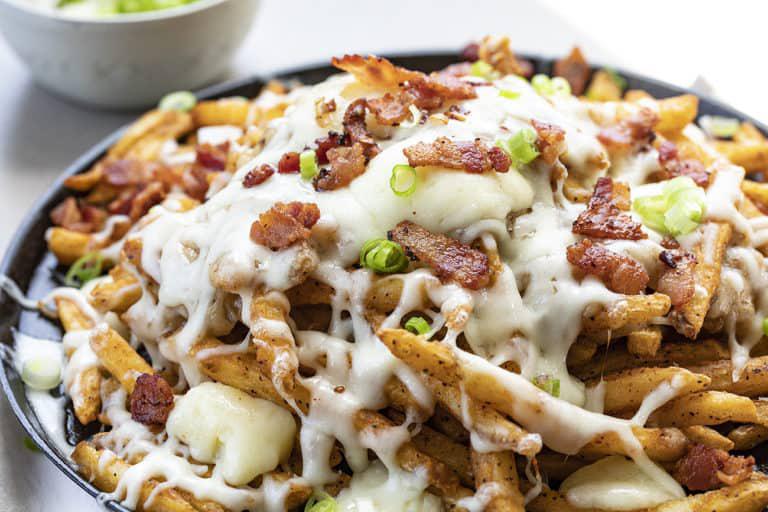 POUTINE RECIPE
Poutine is a dish that originated in Quebec, the Canadian Province. The idea started when a customer at a restaurant asked for his cheese curds to be added to his bag of fries. And eventually, the gravy was added to these two ingredients on a plate to keep them warm. From there, more ingredients have been added or substituted but no matter how you pile all the ingredients, it remains a hearty and greasy comfort food. After all, poutine is slang for 'mess', and you can't be afraid to get a little messy when you dig into this savory dish!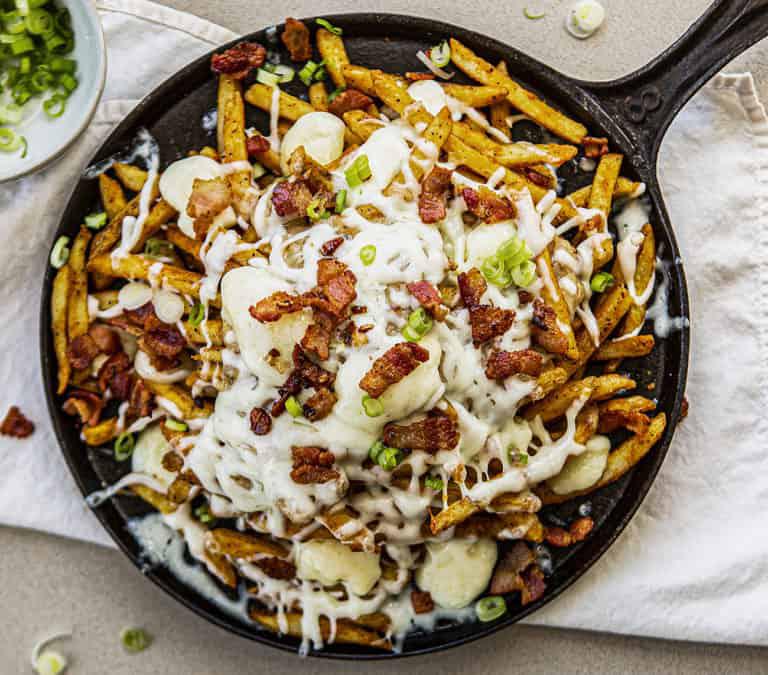 POUTINE RECIPE INGREDIENTS
I stuck to most of the traditional toppings with this classic poutine recipe. But, the options are endless when it comes to additional toppings you may want to add!
Ingredients (full recipe below)
Frozen seasoned fries (or homemade Roasted Potato Wedges)
Bacon
Shallot
Garlic
All-purpose flour
Chicken broth
Salt
Pepper
Worchestershire sauce
Mozzarella cheese
White cheddar cheese curds (or more mozzarella cheese if you don't have cheese curds)
CHEESE VS. CHEESE CURDS
What is the difference between cheese and cheese curds, you may wonder? Well, if you are not from the midwest, where cheese curds are almost a staple at fairs and bars, it is understandable you may be wondering about the difference.
When milk is heated up, it curdles. This takes place about halfway through the milk to the cheese process. The curds are the pieces of cheddar cheese (white or orange) that don't make it into the mold and allowed to age and form (which are the flavorful blocks of cheese you buy at the grocery store). A little salt is added to the curds to make it a squeaky snack. Because of this, cheese curds are only fresh for about a day and can be hard to find other than cheese factories.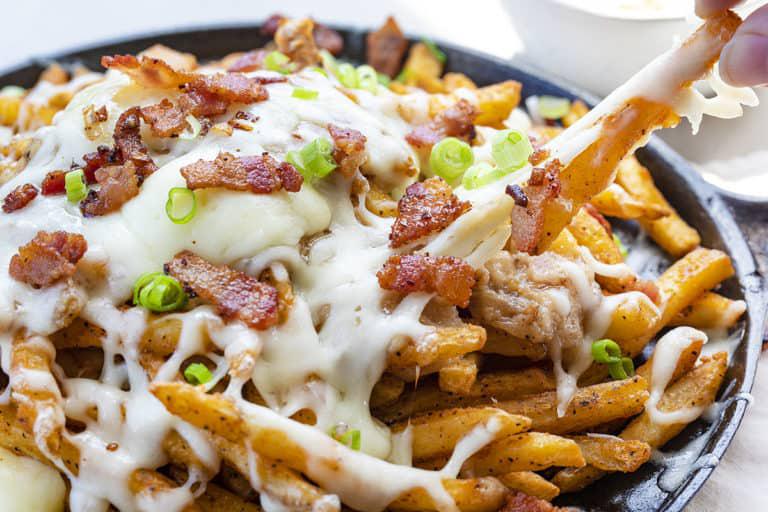 HOW TO MAKE BACON POUTINE
To make this poutine recipe, start by baking the seasoned fries, following the package directions. But, think about making your own roasted potato wedges for this recipe! Once you have the fries baking, prepare the bacon and the all-important gravy that will cover the fries. Before cooking the bacon, cut it up into pieces and then cook it in a medium skillet until crispy. Set the bacon aside to use as a topping.
To make the gravy, use the same skillet that you just cooked the bacon, without wiping out the skillet. Add the shallot and stir until the pieces become soft. Next, add the garlic and cook for about a minute. Then, add the flour, stirring constantly until it becomes a golden brown. Finally, pour in the chicken broth, continue stirring and add the salt, pepper, and Worchestershire sauce. Stir this for up to five minutes, or until the gravy thickens and comes to a simmer.
ASSEMBLING THE POUTINE RECIPE
With the fries baked, bacon cooked, and gravy ready to go, it's time to get all the ingredients piled high! But, don't turn off the oven just yet. Once the fries are done baking, take them out of the oven. Add the cheese curds, gravy, mozzarella cheese, and bacon pieces on top of the fries and put it all back into the oven to bake for about 5 minutes, or until the cheese melts. You can also broil it until the cheese melts as well. Dig in and enjoy!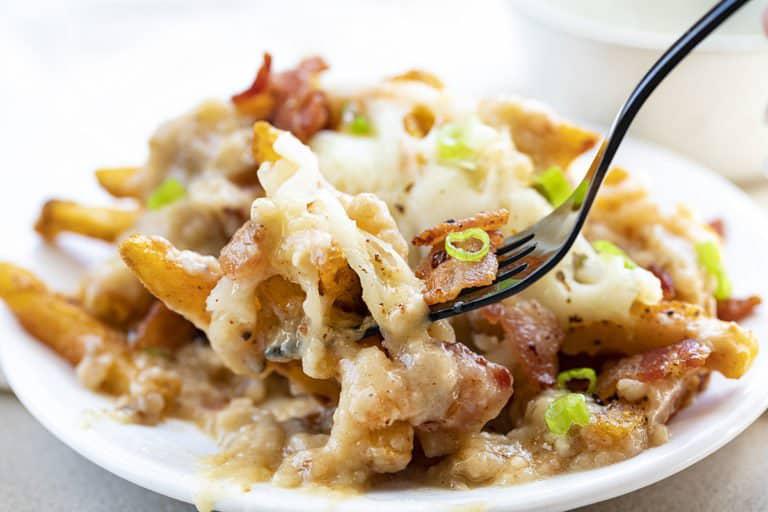 OTHER TASTY POUTINE OPTIONS
Although I stuck with the traditional recipe for poutine, there are many ways to tweak it to make it satisfy your taste buds!
Use sweet potato fries
Add turkey and cranberry sauce to the gravy for your next holiday feast
Top with beef or chicken
Use baked potatoes in place of french fries
Ingredients
1 bag (28 ounces) frozen seasoned fries, baked per package instructions
5 slices bacon, chopped
1 medium shallot, minced
1 clove garlic, minced
3 tablespoons all-purpose flour
1 1/2 cup chicken broth
1 1/2 teaspoon salt
1/2 teaspoon pepper
1 tablespoon Worchestershire sauce
1 cup mozzarella cheese, shredded
2 cups white cheddar cheese curds
Instructions
Bake seasoned fries per package instructions.
While fries are baking, add chopped bacon to a medium skillet and heat over medium heat until crisp. Remove from pan and set aside.
In the same pan (don't wipe out bacon grease), add the shallots, stirring until soft.
Add garlic and cook for one minute.
Add flour, stirring constantly, until the flour becomes a golden color.
Slowly pour in the chicken broth, continuing to stir constantly. Add the salt, pepper, and Worchestershire sauce and continue stirring until the gravy thickens (3-5 minutes) and comes to a simmer.
Top the baked fries with cheese curds, gravy, mozzarella cheese, and cooked bacon pieces. Transfer the fries back into the oven for about 5 minutes, or until the cheese melts.