Cajun Shrimp Pasta is fettuccini noodles cooked al dente and tossed with Cajun-seasoned shrimp and a creamy, Cajun-seasoned sauce.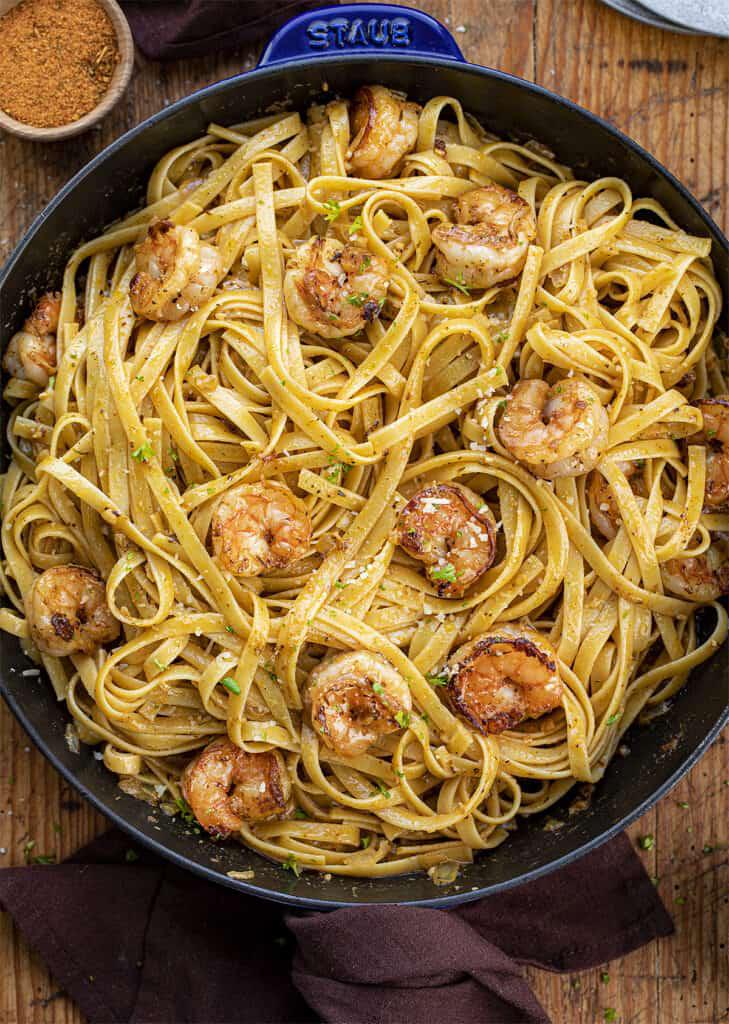 CAJUN SHRIMP PASTA
It's all about the shrimp and creamy sauce with a kick in this recipe. Both are seasoned with Cajun seasoning for just the right amount of spice in each bite. The first time I tested the recipe, the sauce wasn't quite creamy enough for my liking. So, after testing it a couple more times, we have a solid Cajun Shrimp Pasta recipe.
PASTA INGREDIENTS
Pasta: Fettuccini pasta seemed to complement this dish the best. We tried some other varieties, but the size of the fettuccini worked because the noodles can handle a creamy, heavy sauce. If you are feeling motivated, make your own homemade pasta to use! Be sure to reserve about a cup of pasta water before you drain the noodles. I will explain more about that below.
Shrimp: For this recipe, I used large uncooked shrimp that was peeled, deveined, and had the tail removed. If you are buying fresh shrimp, it is up to you if you decide to devein the shrimp. Deveining is actually based on looks, not any other reason. To peel the shrimp, start underneath. Remove the tail for this recipe.
To devein, make a slit (not too deep) along the back of the shrimp, pulling out the black vein with the tip of a knife. It's really not as intimidating as it would seem. So, if already peeled and deveined shrimp are not an option for you, don't skip on the recipe–try the fresh stuff!
Cajun Seasoning: I added Cajun seasoning to both the shrimp and the sauce. If you don't have any on hand, make your own Cajun seasoning.
Heavy Cream: Heavy cream adds creaminess to the sauce. We tried substituting whole milk and were not happy with the results. However, if you don't want the sauce quite as thick and rich, you could use a little less cream.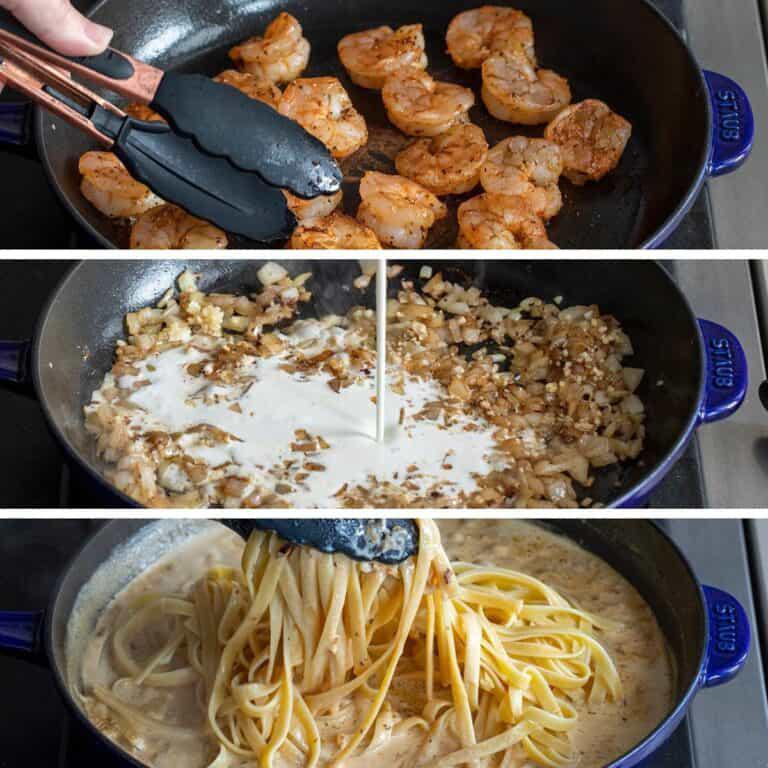 BOILING THE NOODLES
The first thing to do in this recipe is to cook the noodles al dente. (Check the package instructions for the cooking time.) Once the salted water has come to a boil, cook the noodles. After they are cooked, but before draining the noodles, reserve a cup of pasta water and set it aside. Drain the rest of the water, rinse the noodles, coat them in olive oil, and set them aside.
HOW TO COOK SHRIMP
The next step in the recipe is to cook the shrimp. First, season each shrimp with Cajun seasoning, salt, and pepper. Heat up oil in a large skillet and when hot, add the seasoned shrimp. Cook the shrimp for 1-2 minutes per side. Shrimp is cooked when it is no longer gray and is firm, with a hint of pink color. Remove the cooked shrimp from the skillet and tent them to keep warm.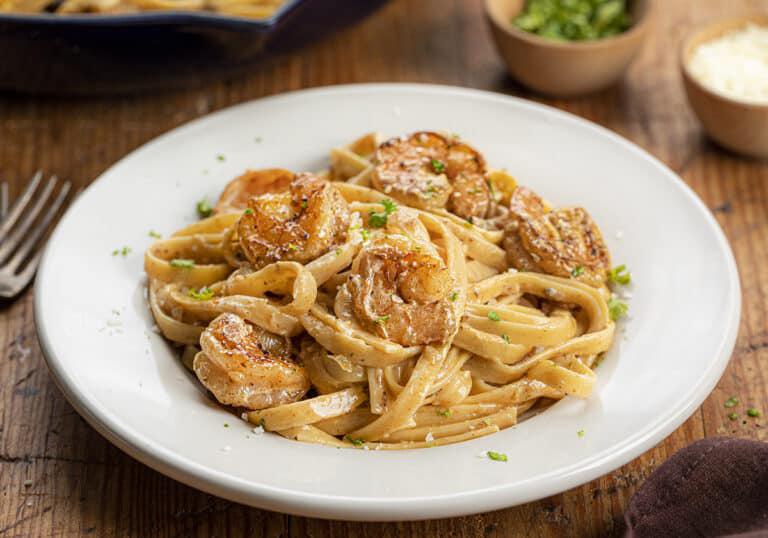 HOW TO MAKE CAJUN SHRIMP PASTA
With the noodles and shrimp both cooked, it's time to make the sauce and mix all the ingredients together. To the same skillet as you cooked the shrimp, melt butter over medium heat and cook the onions. Next, add garlic and cook for a minute.
Then, add heavy cream, 1/2 cup of the reserved pasta water, parmesan cheese, and Cajun seasoning. Stir to combine and then add the cooked noodles to the skillet. If you think the sauce is too thick at this point, add a little bit of reserved pasta water until it reaches your desired consistency.
Finally, add the shrimp, tossing to combine. Add salt and pepper to taste, and serve garnished with parsley and parmesan cheese. This rich dish works well with a side of asparagus, green beans, or your favorite vegetable.
WHY RESERVE PASTA WATER?
There are a few pasta recipes I have that recommend reserving pasta water for the sauce (Vodka Sauce and Spicy Gnocchi Bread Bowl). But, is it important? Yes! The pasta water is added to the sauce and cooked noodles. The starch from the pasta water also helps bind the sauce and pasta together rather than simply coating the noodles. This gives you a full-flavored taste in every bite!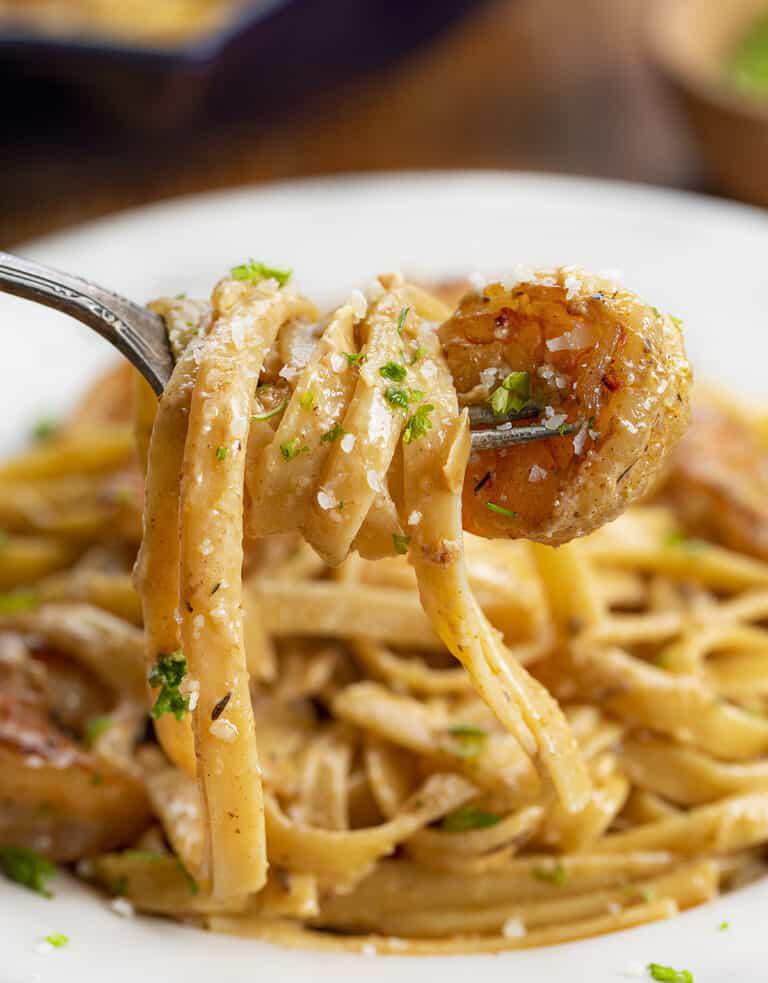 CAN I USE FROZEN COOKED SHRIMP?
Yes, you could use frozen cooked shrimp. If you do, let the shrimp thaw; then, toss them in Cajun seasoning, salt, and pepper. (You would not need the oil, since you won't be cooking them.) Once tossed in the seasonings, add the shrimp to the sauce when you add the noodles.
Ingredients
Noodles
8 ounces fettuccini noodles
1 teaspoon kosher salt
1 tablespoon olive oil
Shrimp
1 pound large shrimp, uncooked, tail off, deveined
1 teaspoon Cajun seasoning
½ teaspoon kosher salt
¼ teaspoon fresh ground black pepper
2 teaspoons olive oil
Sauce
2 tablespoons unsalted butter
1 small yellow onion, diced
4 teaspoons garlic, minced
1 cup heavy cream
½ cup parmesan cheese, grated (plus more for garnish)
1 tablespoon Cajun seasoning
salt and pepper, to taste
fresh parsley, chopped for garnish
Instructions
Noodles
In a large pot filled with water, add salt. Bring to a boil over medium-high heat.
Add noodles and cook al dente, according to package directions.
Reserve 1 cup of pasta water; drain the rest.
Rinse the noodles, add oil, and toss to coat evenly. Set aside.
Shrimp
Season the shrimp on all sides with Cajun seasoning, salt, and pepper.
To a large skillet over medium heat, add oil, and heat until oil is sizzling.
When the oil is hot, add shrimp and cook 1-2 minutes on each side (until each is opaque white with a hint of pink coloring).
Remove shrimp from the skillet and set aside. Tent to keep warm.
Sauce
To the same skillet over medium heat, add butter. Once the butter has melted, add onions and cook until softened (8-10 minutes).
Add garlic and cook for 1 minute.
Add heavy cream, ½ cup pasta water, parmesan cheese, and Cajun seasoning. Stir to combine.
Reduce heat to low and add noodles to the skillet. (If you want a thinner sauce, add more reserved pasta water until desired consistency is reached.)
Add shrimp. Toss to combine.
Salt and pepper to taste.
Served topped with parsley and parmesan cheese for garnish.