Black Bean Soup is a low calorie, high protein soup mixed with fresh pico de gallo that will warm you up on a chilly day. This vegetarian dish can be served as a meal or as a companion to a sandwich.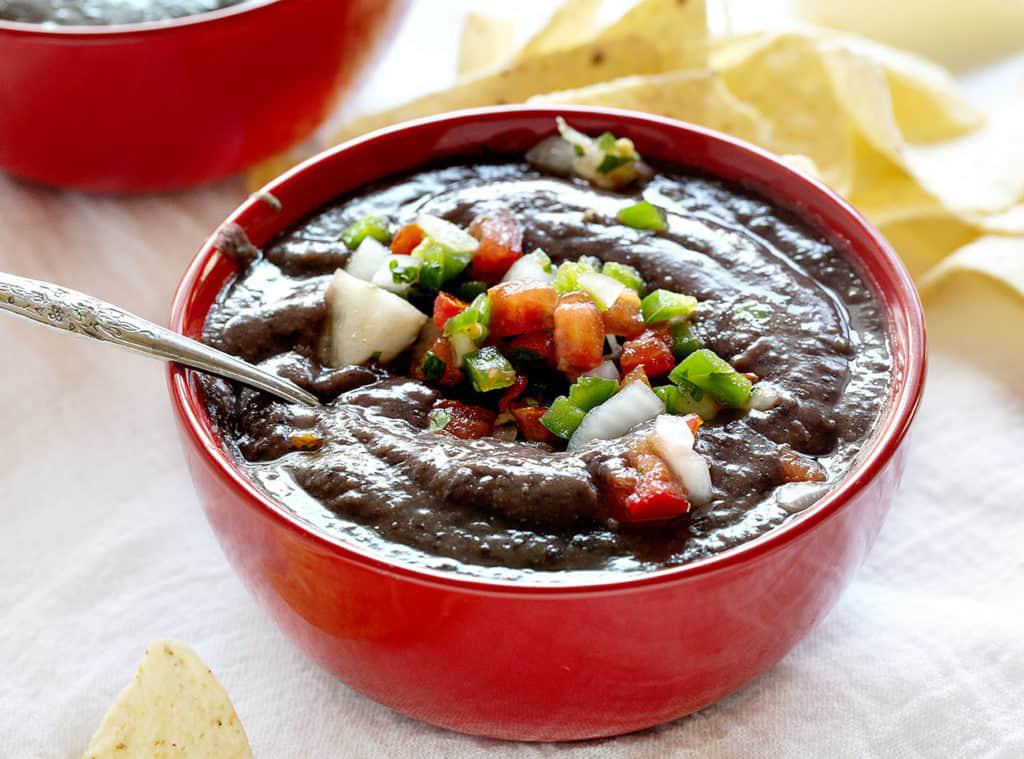 BLACK BEAN SOUP
I have always been a fan of black beans, and I love Black Bean Soup for the taste and the nutrients it provides. Black beans are part of the legume family, along with peanuts, peas, and lentils. There are many health benefits of black beans, including being high in protein and fiber. They are also known to help strengthen bones and lower blood pressure.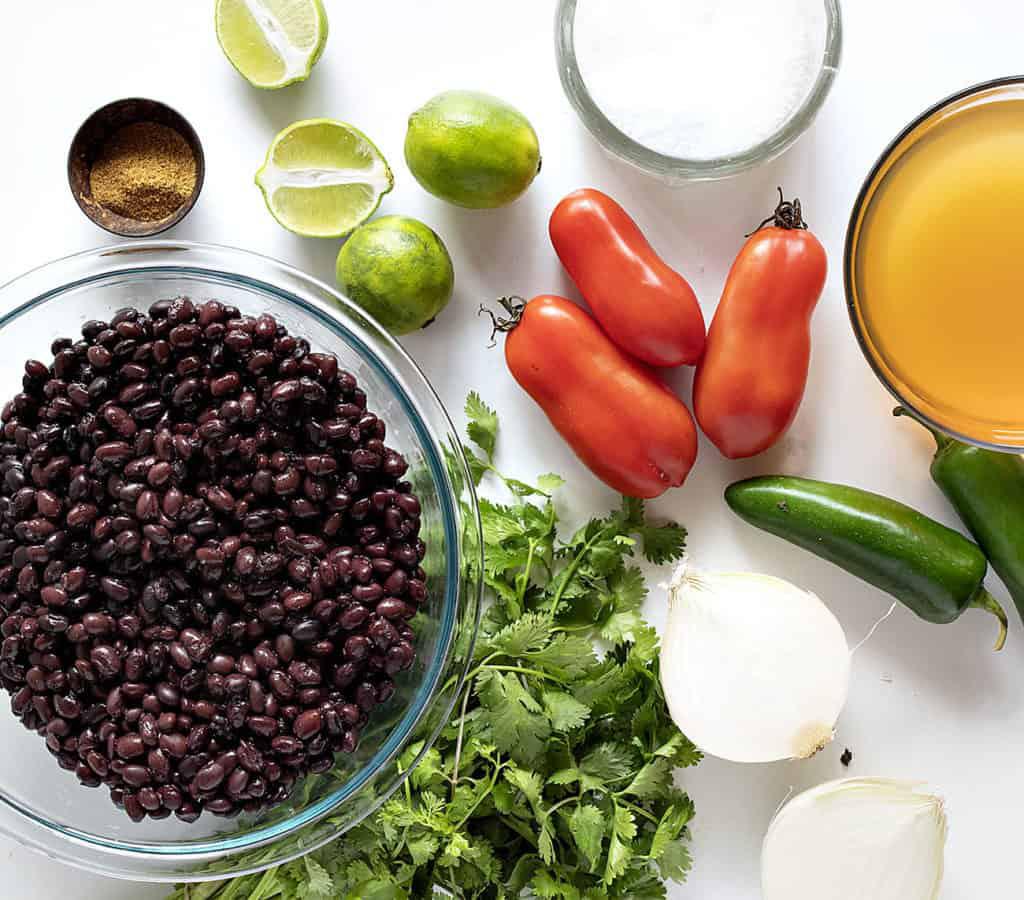 BLACK BEAN SOUP RECIPE
This simple recipe is not going to blow your taste buds away. However, it is a satisfying, healthy soup that is packed with protein and fresh pico de gallo. I actually loved the soup with tortilla chips! I tried the soup with tortilla chips broken into the soup to give it some salty crunch. Then, I took some tortilla chips and dipped them in the Black Bean Soup as a dip! I would not say this soup is a main course, but it is definitely worth making for a lighter lunch or appetizer. Plus, the recipe is so simple to make, requiring just a few ingredients. You will need to make the pico de gallo a little bit ahead of time. I suggest making a little extra for your next Taco night!
Pico de Gallo Ingredients
Roma tomatoes: Choose Roma tomatoes for any type of salsa or pico de gallo you make. They have few seeds, and they are not too juicy.
Jalapenos: I like a little spice to my pico de gallo, but it is easy to switch out the jalapenos for a different chili, either hotter or not as hot.
Onion: Most pico de gallo recipes call for white onions, and that is what I used. They have sharper taste but don't worry about that because it is offset by the tomatoes.
Lime juice
Sea salt
Cilantro
Black Bean Soup Ingredients
Black beans: I used canned black beans for the recipe. If you use dry beans, you must prepare those ahead of time.
Vegetable broth
Water
Cumin
Cilantro
Salt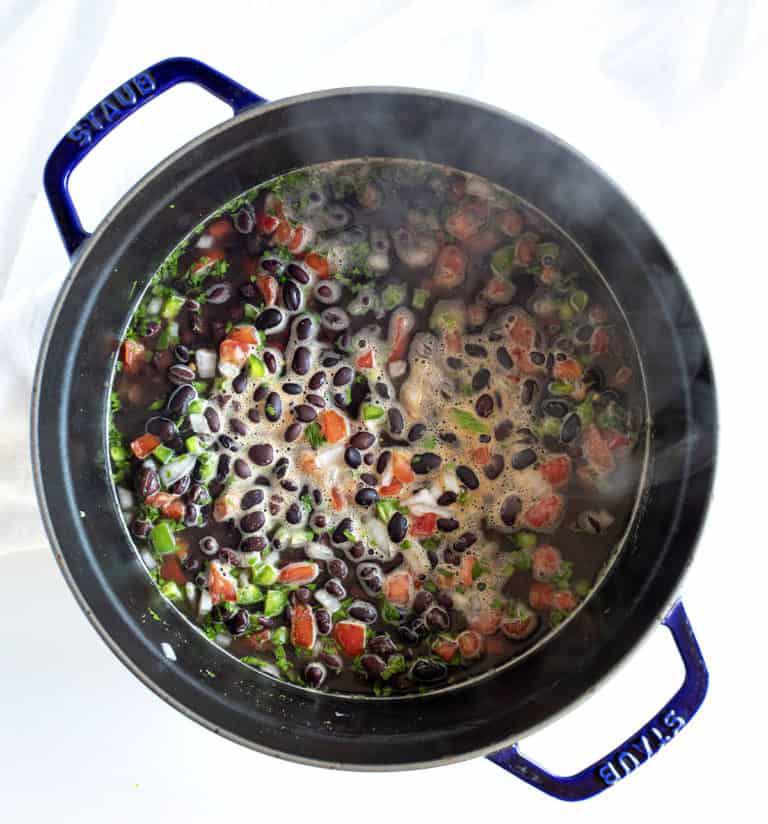 CANNED BEANS VS. DRY BEANS
With dry beans costing a few cents less than canned beans, it may be tempting to purchase the dry beans. However, be aware that dry beans require a major cooking commitment. In fact, it can take anywhere from 3-24 hours to prepare dry beans for use in your recipe. On the other hand, you can always make a large amount of dry beans and freeze them to use when needed. In addition, dry beans are way lower in sodium than canned beans, if that is a concern.
Canned beans, which is what I used in my Black Bean Soup, are ready to go, but you need to make sure to drain them and rinse them well! When you open the can, you will notice a liquid in there that doesn't look too appetizing. It's simply a combination of salt and water and the starch from the beans. Rinsing the beans actually does more than just remove that murky substance, it lessens the sodium of the beans.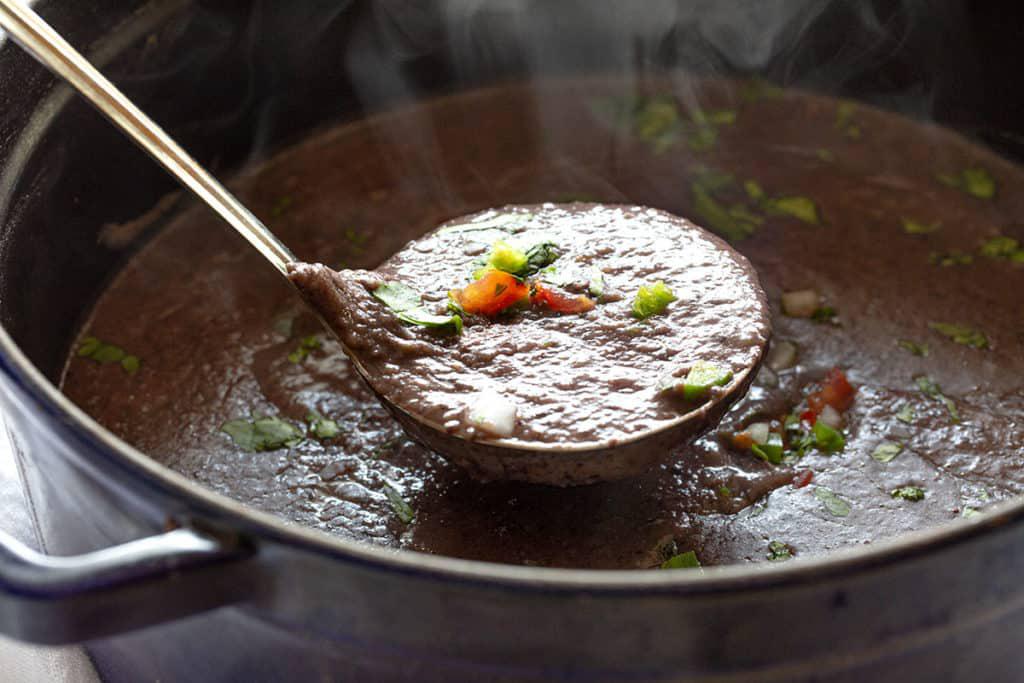 HOW TO MAKE BLACK BEAN SOUP
First, mix together all the ingredients of the Pico de Gallo. Let it chill in the refrigerator as you make the Black Bean Soup. For the soup, use a Dutch oven to heat up the beans, broth, MOST OF the pico de gallo (leave about half a cup to top the soup), water, and cumin. Bring these ingredients to a boil over medium heat. Once it is boiling, reduce the heat to low and simmer for about 5 minutes. Puree the soup using an immersion blender and serve, topped with the remaining pico de gallo and cilantro. As a bonus, throw in some crushed tortilla chips!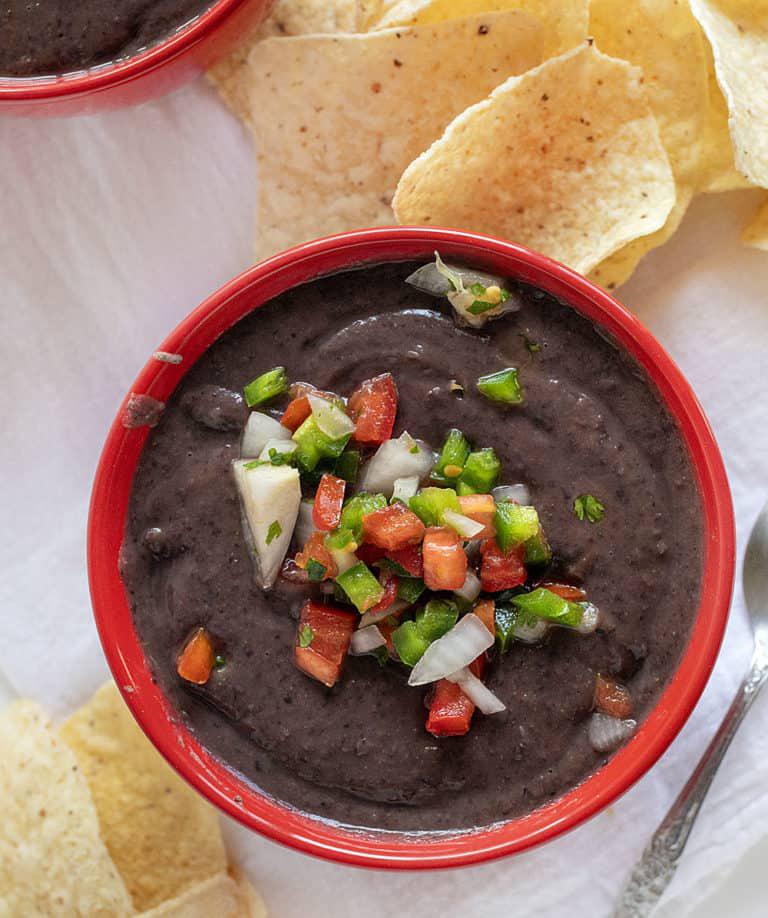 WHY USE A DUTCH OVEN?
A Dutch oven is a versatile soup pot that can handle being put in the oven, cooked on the stovetop, or used on the grill. It is heavy and thick enough to retain heat which makes it ideal for stews and chilis. In this Black Bean Soup recipe, I didn't use the oven, so don't fret if you don't have a Dutch oven. Just use any heavy deep pot. Then, go get yourself a Dutch oven for next time.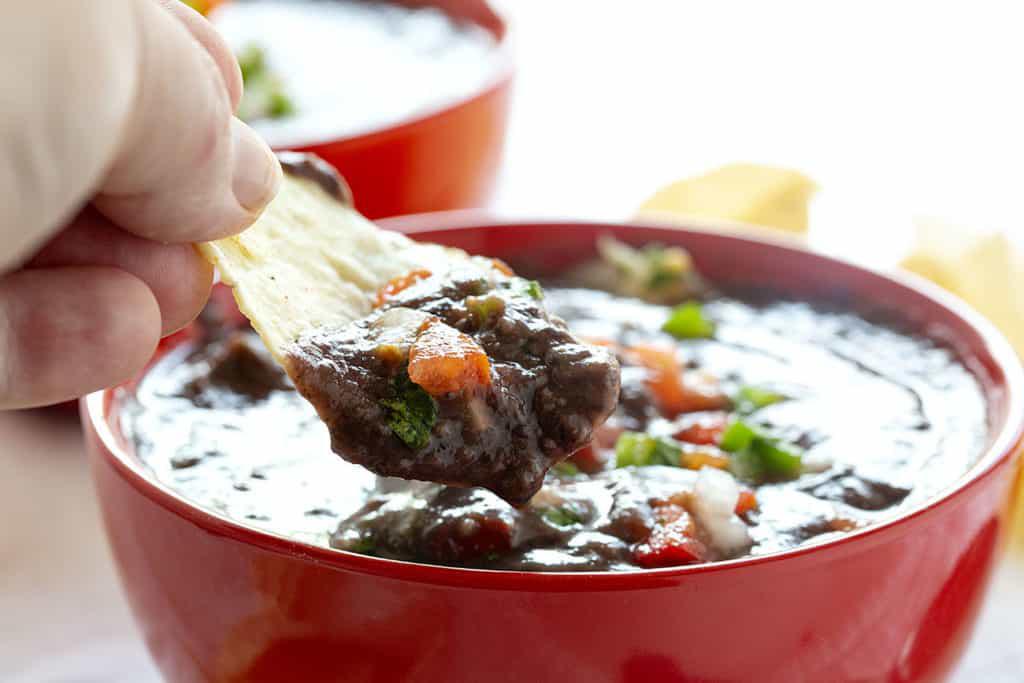 Ingredients
Fresh Pico de Gallo
4 Roma tomatoes, chopped
2 jalapeños, ribs and seeds removed, diced
½ cup white onion, diced
¼ cup lime juice
¾ teaspoon fine sea salt, more to taste
¼ cup cilantro, finely chopped
Black Bean Soup
4 cans (15 ounces) black beans, rinsed
2 cups vegetable broth (or more depending on how runny you want the soup)
½ cup water
3 teaspoons cumin
Cilantro
1 teaspoon salt
Instructions
Fresh Pico de Gallo
In a medium bowl, combine tomatoes, jalapenos, white onion, lime juice, sea salt, and cilantro. Stir to combine and refrigerate for 30 minutes.
Black Bean Soup
In a Dutch oven over medium heat, add beans, broth, Pico de Gallo (reserve ½ cup for topping), water, and cumin. Bring to a boil.
Reduce heat to low and simmer for 5 minutes, stirring occasionally.
Using an immersion blender, puree the soup.
Top with cilantro and more Pico de Gallo. Salt to taste.
Serve with tortilla chips.