Easy Glazed Honey Balsamic Chicken is your 4 ingredient answer to busy weeknights. Tender, juicy chicken coated with a simple and delicious honey balsamic glaze that is ready to go in just about 20 minutes. It just doesn't get any better or easier than this.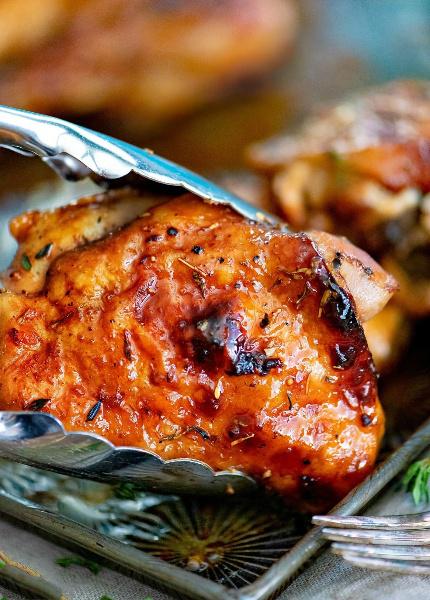 It recently occurred to me that I may have slightly over scheduled our fall. Both boys are in soccer. That's two, 90 minute practices each week plus games on Saturday. On completely opposite sides of the city. Fall swim starts next week. That's three, one hour practices each week. Reece is trying out water polo which is one practice per week (30 minutes away) and one match a week. And then let's not forget about guitar lessons, school, etc.
Someone recently asked me how I was enjoying my break. They were referring to swim season finally being over after 5 months of 5 practices a week plus meets.
I just laughed. We never have an off season. I know many of you might think that this is all too much, but as Chris and I have figured out over the years, this is how our family thrives. On any nights we don't have practices, you can find us at a local park, kicking a soccer ball around and playing catch. Maybe just taking a leisurely walk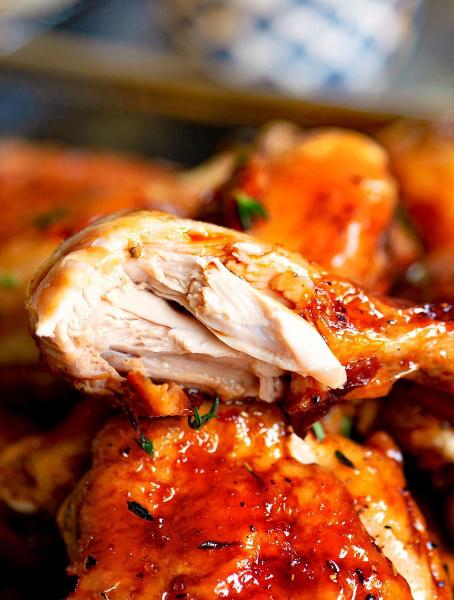 We try to make time for things that are important to each of us and family dinners is that "thing" for me. Believe it or not, we eat dinner together every.single.night. And I'm doing the cooking 5+ nights a week.
I'm fortunate to have a family that enjoys trying out new recipes. One, because that is obviously my job, and two, because I get bored of the same old things. Sure, we have our favorites that frequently find their way onto our menu plan.
This easy balsamic chicken recipe is a crowd pleaser for sure. The combination of honey and balsamic is classic and delicious. The added sweetness is enough to peak the boy's interest and I'm a sucker for any recipe with balsamic vinegar.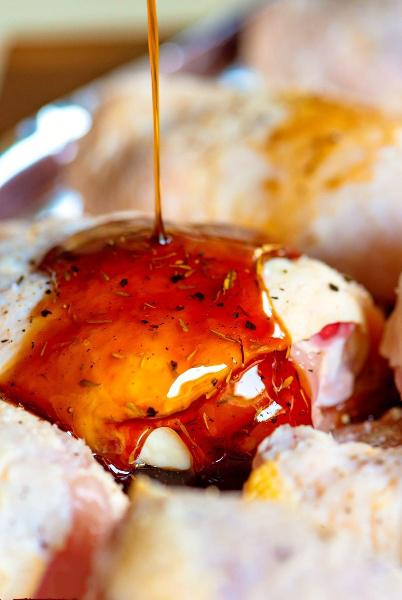 This honey balsamic chicken recipe has the added bonus of being incredibly easy and FAST. It takes all of one minute to whisk together the glaze, another to brush it onto the chicken and by then, the oven may have preheated.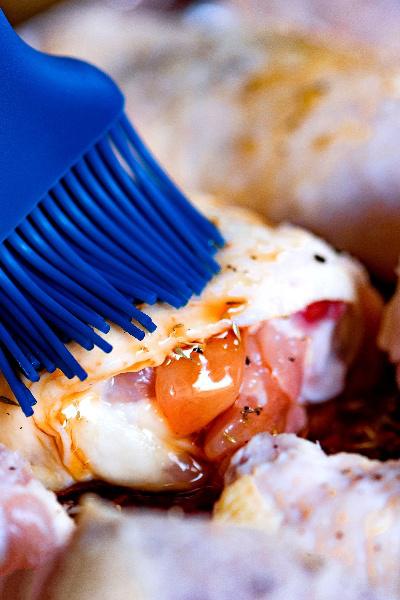 I like to use only about one third of the glaze to start and brush on more glaze as the chicken cooks. Two more times usually does the trick and then I just let it go and give the honey a chance to caramelize and get all delicious.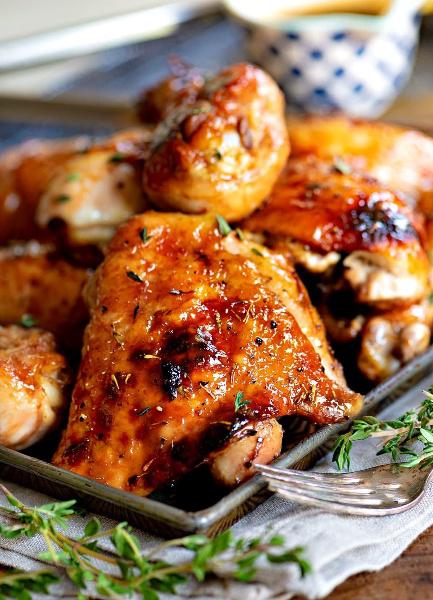 I do like to reserve a tablespoon or so to drizzle over the top when the chicken is fresh from the oven, or, alternatively, just spoon some of the cooking juices over the chicken after plating. It's amazing. If I'm serving this chicken with rice, that juice is my kids favorite part. Rice and a quick garden salad are about all I can manage most nights ?
The chicken is so flavorful and juicy, thanks in no small part to the chicken thighs and drumsticks that I used in this recipe. You can, of course, use chicken breasts if you prefer.
Ingredients
1/3 cup honey
1 tbsp balsamic vinegar
2 tsp dried thyme
salt and pepper to taste
3 lbs chicken , thighs and drumsticks preferred
Instructions
Preheat oven to 475F.
Line a large, rimmed baking sheet with foil or parchment paper. Set aside.
Place chicken pieces on the baking sheet and season with salt and pepper. Give it a good rub to really work those seasonings into the chicken.
In a small bowl or measuring cup, whisk together honey, balsamic vinegar, and thyme.
Drizzle a small amount of glaze onto each piece of chicken and using a brush to coat the chicken.
Roast for 20 to 25 minutes, or until chicken is cooked through, brushing the glaze on two more times during roasting. Serve immediately.