Jalapeno Popper Dip is a cheesy, spicy, addicting dip that will add a kick to your selection of dips. I recommend putting some aside for you since this will probably be gone before the other dips have even been touched!
Jalapeno Popper Dip
Dippity Doo Dah-Dippity-ay, My oh My, perfect dip for game day! Yes, you need to have the 'Zippity doo dah' tune going in your head for that to work. Try it again… What I am trying to say is that this Jalapeno Popper Dip is so addicting and good that you have to have it available to share! Whether you are into football or not, this dip is great for the upcoming fall weather and a super yummy appetizer for any occasion!
I have ordered jalapeno poppers at restaurants, and I have also made some on the grill, and I love the flavor! However, either the bacon isn't quite crispy enough for my liking, or there just isn't enough of the cream cheese filling to satisfy me. The solution to getting all the flavor of the traditional jalapeno popper is in this Jalapeno Popper Dip! Plus, it's easy to make and serve. Buy enough jalapenos so you can also try my Jalapeno Corn Dip!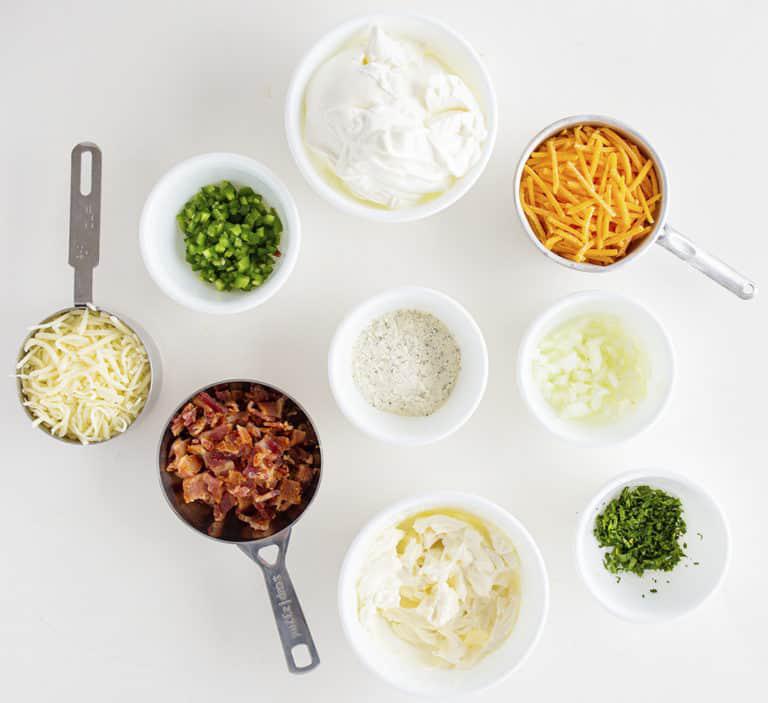 Jalapeno Popper Dip Recipe
Who doesn't love an ooey-gooey, warm dip in the fall? But really, I could eat this dip year-round. It's comfort food with a kick!
Dip Ingredients
Cream cheese
Sour cream
Cheddar cheese
Mozzarella cheese
Ranch seasoning mix
Jalapeno peppers
Bacon
Onion
Parsley
Topping
Cheddar cheese
Bacon
Chives
Once you have all your ingredients, make sure you have the prep work completed before you put it all together.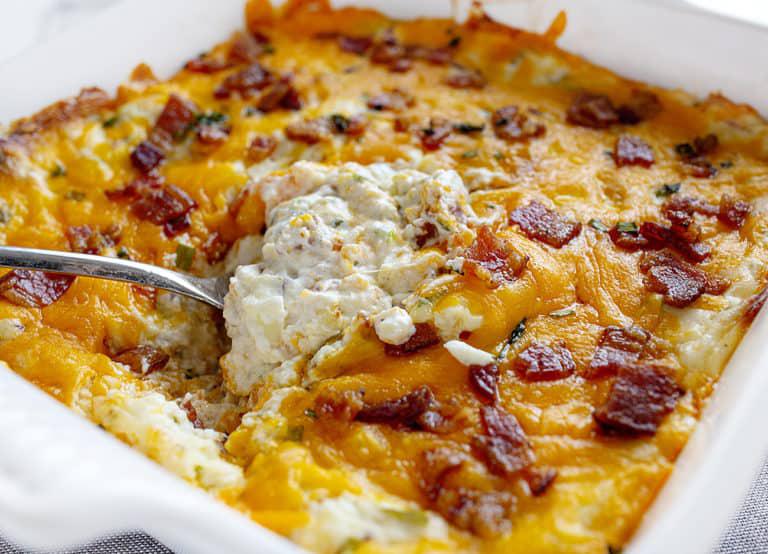 How to Bake Bacon
When I cook bacon, I do it in the oven. I set the temperature to 415°F and while it is preheating, I lay out the individual slices of bacon on a foil-lined rimmed baking sheet. (Yes, right on the pan! No rack needed.) They are perfectly crispy in 18-20 minutes. No flipping and easy cleanup! Then, crumble the strips of bacon into little pieces.
How to Cut and Seed a Jalapeno Pepper
Jalapeno peppers are hot peppers, so be careful when you cut them! If you have any cuts on your hands, I would suggest to wear food-safe gloves, or be prepared to feel some pain if some oil gets in those cuts! If you don't have gloves, just be sure to wash your hands with white vinegar and cold water when you are done with the jalapenos. Anyway, there are a couple of ways you can cut and seed a jalapeno. One way is to simply slice the jalapeno down the middle, vertically, and carefully remove the seeds with a spoon. Another way to remove the seeds is to hold the jalapeno up by the stem–you can always cut across the bottom of the pepper so it can stand a little flatter– and slice along the sides of the pepper, hopefully leaving the seeds attached to the core. Then, simply stack the pepper strips and chop them into pieces, throwing away the core and seeds, of course. Remember, the capsaisin (what makes the pepper hot) will be on your hands, so don't touch your fingers to your mouth or eyes until you wash your hands.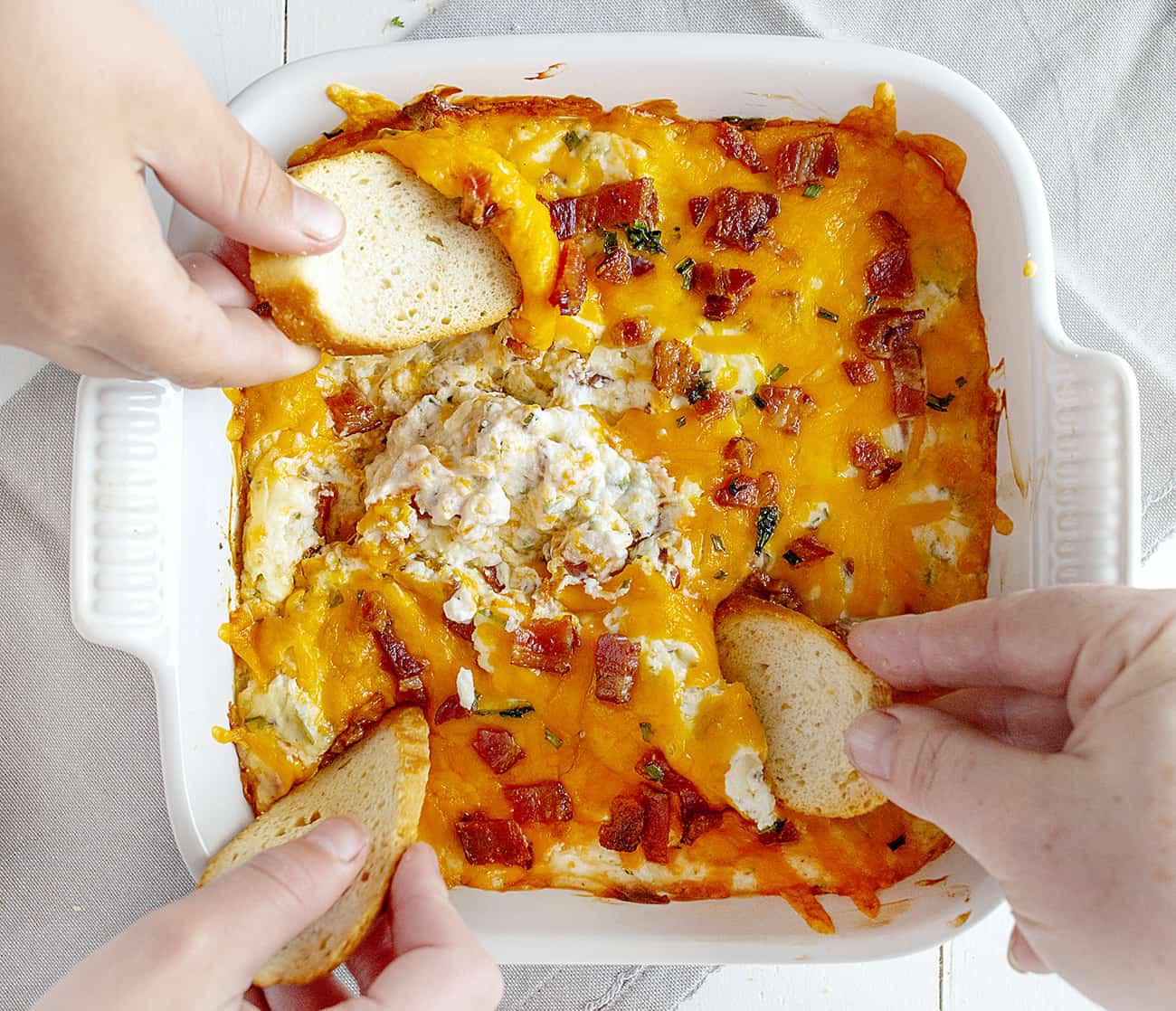 How to Make Jalapeno Popper Dip
After you have cooked the bacon and diced the peppers, onion, and parsley, it's time to mix it all together and get your delicious dip on the table! Preheat the oven to 350°F while you stir together the cream cheese, cheddar cheese, mozzarella cheese, ranch seasoning mix, jalapenos, bacon, onion, and parsley until combined. Did somebody say cheese??? Spread it all into an 8×8 inch baking dish and bake for about 20 minutes. Remove the dish and add more cheese and bacon–oh, yeah!!!!! Cook it for another 5 minutes or so. You can add the chives when it's all done. I like to serve the dip with crackers, baguettes, or tortilla chips.
INGREDIENTS
DIP
8 oz. cream cheese, room temperature
2 cups sour cream
1 cup cheddar cheese, shredded
1 cup mozzarella cheese, shredded
2 tablespoons dry ranch seasoning mix
2-4 jalapeno peppers, seeded and diced
1/2 cup bacon, cooked and crumbled
2 tablespoons onion, diced
1 tablespoon parsley, finely diced
TOPPING
1/2 cup cheddar cheese, shredded
2 tablespoons bacon, cooked and crumbled
1 teaspoon chives, diced
INSTRUCTIONS
Preheat oven to 350° F.
Stir together cream cheese, sour cream, cheddar cheese, mozzarella cheese, ranch seasoning mix, jalapenos, bacon, onion, and parsley until combined.
Evenly spread into an 8×8 baking dish.
Bake uncovered for 20 minutes, top with the remaining cheese and bacon, return to oven for 5 additional minutes or until cheese is completely melted.