Green Chile Chicken Enchiladas are a classic American family favorite! This recipe is easy to make and is ready for the oven in less than 15 minutes.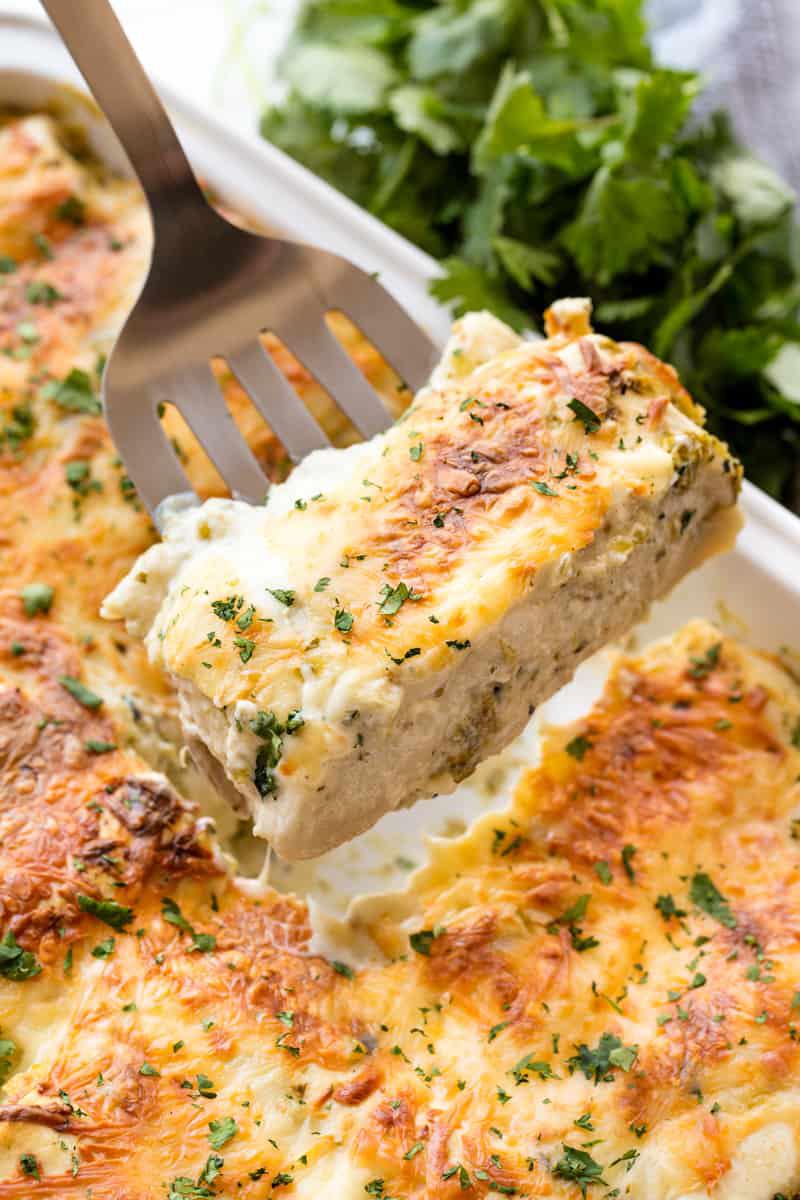 HOW TO FREEZE CHICKEN ENCHILADAS:
Chicken enchiladas can easily be frozen and reheated for later enjoyment. Simply assemble the enchiladas as instructed in the recipe. Instead of baking, freeze. You can freeze them in a 9×13 disposable aluminum pan, or in individual portions. Once frozen, you'll want to protect them from freezer burn by placing them into a resealable plastic bag, or wrapping them in plastic wrap. When ready to eat, preheat an oven to 375 degrees. Remove any plastic, and bake for 45 minutes until cheese on top is melted and centers are heated through.
CAN I USE CORN TORTILLAS INSTEAD?
Yes, you can use corn tortillas in place of the flour tortillas called for in this recipe. Be sure to warm your corn tortillas to make them easier to work with and to prevent tearing. Because corn tortillas are smaller, you'll need 12 to 15 corn tortillas for this recipe.
PRE-COOKED CHICKEN OPTIONS:
When a recipe calls for pre-cooked chicken, there are several great options. You can use leftover chicken, but depending on the seasonings and flavors added, that may not work well in just any recipe. Check out some of these easy options instead.
Rotisserie Chicken – many American grocery stores sell cooked rotisserie chickens that you can buy and shred. Many stores are also now offering the rotisserie chicken pre-shredded and packaged too!
Frozen Cooked Chicken – check out the freezer section of your grocery store for pre-cooked chicken strips and chunks.
Bake Your Own Chicken – lay chicken breasts out into a lightly greased 9×13 pan. Season with salt and pepper. Bake at 350 degrees for 25 to 30 minutes until cooked through. Chop into chunks and use right away, or freeze for later use.
Boil Your Own Chicken – place chicken breasts into a large pot of boiling water or chicken broth. Boil 15 minutes, until chicken is cooked through. Shred or chop.
Quick Skillet Chicken – heat a large heavy skillet over medium high heat. Add in 1 tablespoon vegetable oil. Place chicken breasts into skillet. Season with salt and pepper. Cook 5 to 7 minutes per side.
INGREDIENTS
8 ounces cream cheese softened
7 ounces diced green chiles
1 tablespoon lime juice
1/4 teaspoon salt
1/2 teaspoon ground cumin
1/2 teaspoon chile powder
1/2 cup freshly chopped cilantro.
3 cups diced cooked chicken
1 cup sour cream
16 ounces salsa verde
10 8-inch flour tortillas (or 12 corn tortillas)
2 cups shredded monterey jack cheese
INSTRUCTIONS
Preheat oven to 375 degrees. Lightly grease a 9×13 pan.
In a mixing bowl, beat cream cheese with a hand mixer until it's light and fluffy, about 60 seconds. Use a spoon or rubber spatula to stir in green chiles, lime juice, salt, cumin, chile powder, and cilantro until well combined. Fold in cooked chicken.
In a separate mixing bowl, whisk together sour cream and salsa verde until combined. Place a large spoonful of the salsa verde mixutre into the bottom of the prepared 9×13 pan and spread it out in a light, even layer, just enough to wet the bottom of the pan.
Assemble enchiladas by placing a big scoop if the chicken filling onto the center of a tortilla. Roll up the tortilla, tucking in the ends as you go. Lay it in the pan. Repeat with the remaining tortillas.
Pour the remainder of the sals verde mixture over the top of the assembled enchiladas. Sprinkle the monterey jack cheese over the tops of the enchiladas to cover.
Bake in the preheated 375 degree oven for about 30 minutes, until the cheese is bubbly and lightly browned. Place under the broiler setting for 2-3 minutes for extra browning. Garnish with more freshly chopped cilantro if desired.