This easy Slow Cooker Shrimp Boil is the perfect busy weeknight dinner recipe! Made with just a handful of ingredients and exploding with delicious, fresh flavor, it's sure to become an instant favorite with your family – it certainly was with mine!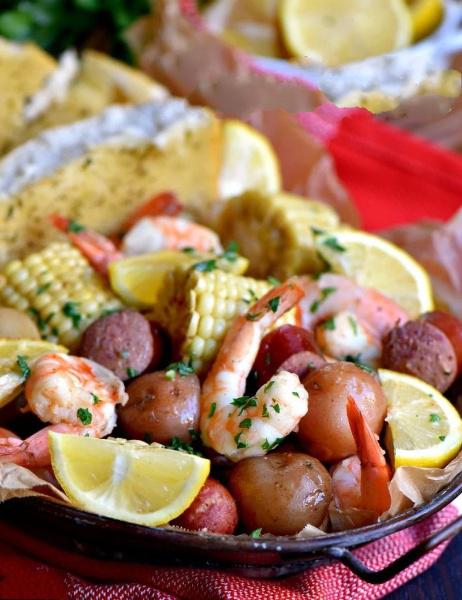 Shrimp Boil Ingredients
A shrimp boil recipe may seem intimidating if you haven't made one before. But honestly, it's about the easiest recipe in the world and I've made it even easier by using a slow cooker. There are just a few ingredients needed. How few ingredients you ask? I'm gonna tell you:
potatoes – you can really use any kind here but new potatoes are great and I prefer red
sausage – andouille or kielbasa are perfect
corn – about 4 ears does the trick
shrimp – a couple pounds of large shrimp
chicken broth or stock
Old Bay seasoning
HOMEMADE OLD BAY SEASONING RECIPE
Ingredients
2 tbsp celery salt
1 tsp ground bay leaf or bay leaf powder
1/2 tsp paprika
1/2 tsp fresh ground black pepper
1/2 tsp cayenne pepper more or less depending on how much heat you like
1 pinch pinch ground dry mustard
1 pinch ground mace or nutmeg
1 pinch ground cinnamon
1 pinch allspice
1 pinch ground cloves
Instructions
Combine all ingredients in a small bowl and whisk to combine.
Store in an airtight container for up to 2 months.
OPTIONAL for Shrimp Boil
cayenne – if you like a little heat
melted butter and fresh parsley to finish it off
lemons
cocktail sauce is great for dipping!
I'm guessing you have at least half of these ingredients on hand. Even better is the prep. Cut the larger new potatoes in half, quarter the corn, throw everything BUT the shrimp in the slow cooker and let 'er rip.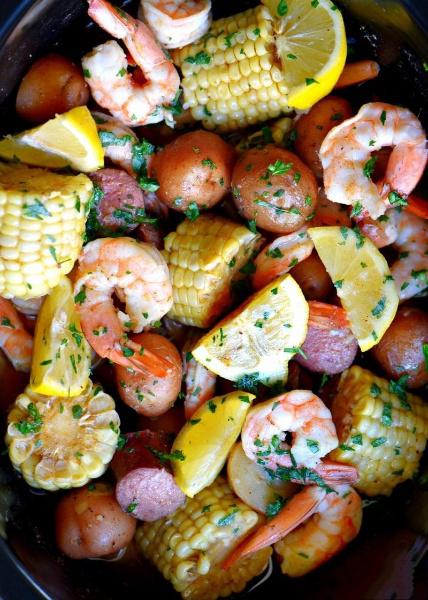 Super Kid Friendly
This easy Slow Cooker Shrimp Boil is sure to become an instant favorite! Here's my new measure of success: do either of the boys instantly request this to be on their birthday menu? Guess what? They both said this was the BEST dinner they had had in weeks (???) and that they wanted it again ASAP and of course, on their birthdays ?
Both had seconds. I had a feeling they were going to like it. They both love shrimp and the flavors are super simple and not overwhelming. It's easy to eat and fun too.
Winner, winner, shrimp dinner.
Is It Spicy?
I get this question a lot when it comes to shrimp boils. The great thing is that you can make it as spicy or mild as you like. Adjust the cayenne to suit your personal preferences.
I used a half teaspoon of cayenne. We can handle a bit of heat. If you like things more spicy, add up to 1 teaspoon of cayenne.
Ingredients
2 lbs small new potatoes red or yellow
4 cups low-sodium chicken broth or stock
1 lb andouille or kielbasa sausage cut into 1-inch pieces
4 ears fresh corn husked and quartered
2 tbsp Old Bay seasoning
1/2 tsp cayenne pepper more or less depending on taste
2 lbs large shrimp tails on
4 tbsp butter melted
2 tbsp chopped parsley
Optional
cocktail sauce for dipping
lemon wedges
Instructions
Cut larger potatoes in half, should be bite size.
Place potatoes in 6 or 7 quart slow cooker.
Add chicken broth.
Top with sausage and sprinkle on Old Bay seasoning and cayenne.
Add the corn quarters on top.
Cover and cook on low for 7 to 8 hours, 3 to 4 hours on high, or until the corn and potatoes are tender.
Turn the slow cooker to high and gently add the shrimp and stir into mixture.
Cover and cook for an additional 10 minutes or until the shrimp are opaque.
Use a slotted spoon to transfer the shrimp boil to a large bowl or serving container. Drizzle some of the cooking liquid over the top.
Combine the melted butter and parsley and drizzle over the top and toss gently.
Serve with lemon wedges and cocktail sauce.