This Easy Dinner Rolls Recipe is one that has been handed down for generations. I can still remember traveling to my aunt's house and seeing trays and trays and trays of these rolls, glistening and buttered to perfection. So glad I can finally share it with you!
In the original recipe, my aunt would make three small sections of dough and add them to muffin tins. We LOVED this as kids and would often finish the roll in three bites! As much as I love this tradition it took up a bit more time than I had in the kitchen so I opted to do one larger dough ball. My aunt never used a rapid rise yeast and the dinner rolls would be sitting out overnight the day before Thanksgiving, often covering her entire kitchen table. (She would make 12 dozen rolls at a time and often didn't have ANY left over!) But as you know about me, I am all about saving time and find that instant yeast works just as well.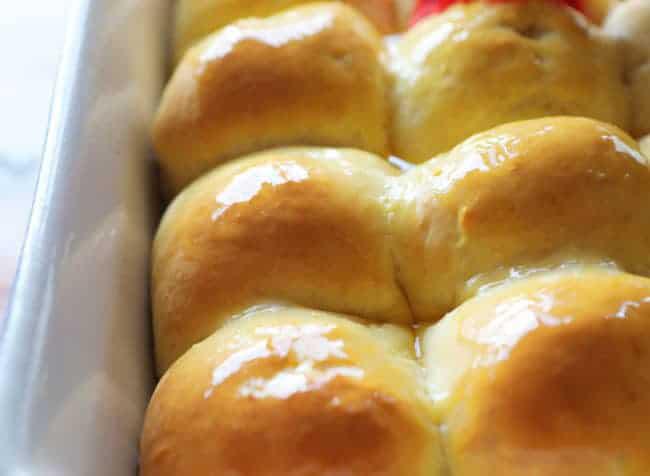 How to Make Easy Dinner Rolls
Start by adding the suggested ingredients to your stand mixer fitted with the dough hook. Add in warm milk and then more flour as needed. Knead until the dough appears slightly sticky, but is pulling away from the sides of your bowl.
Cover the bowl and let it rest for 30 minutes. (This is where I am making my green bean casserole or peeling potatoes for my mashed potatoes!) The above picture is how it looks after it has risen for 30 minutes.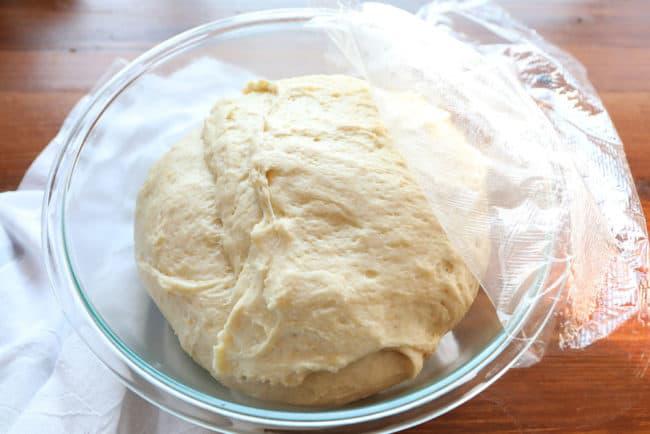 Punch down the dough and then start sectioning off the dough into dinner roll portions. I filled a 9×13 pan and then had 5 leftover so filled a small pie pan. Make sure you grease your pans so the rolls don't stick!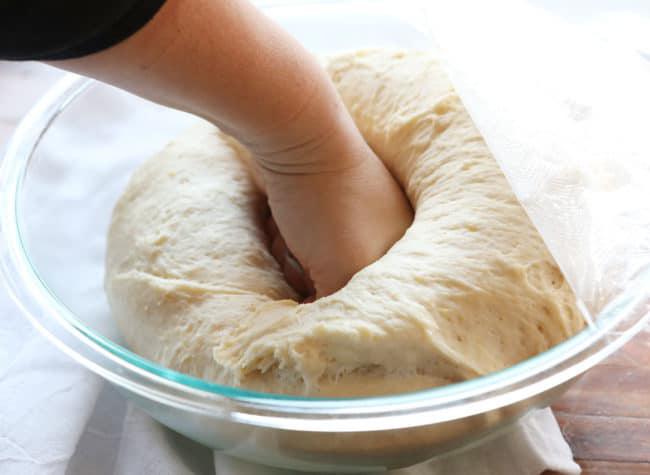 Let the dough balls rise in the pan. This is how they look after the second rising. As you can see, I didn't make "perfect" dough balls. If you want perfectly round and uniform dinner rolls you can sprinkle some flour on your counter and gently roll each ball using the cupped palm of your hand. It's a gentle and effective technique and works quickly when you master it.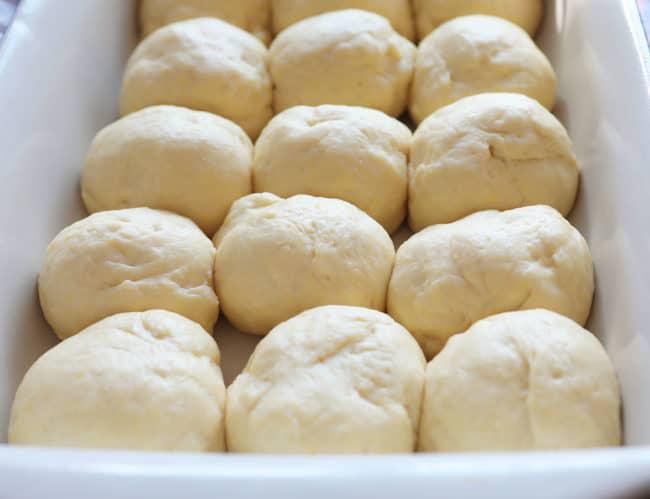 Remove dinner rolls from the oven when they are golden brown. This was 16 minutes in my convection oven, but you will want to keep a close eye on yours as every oven is different.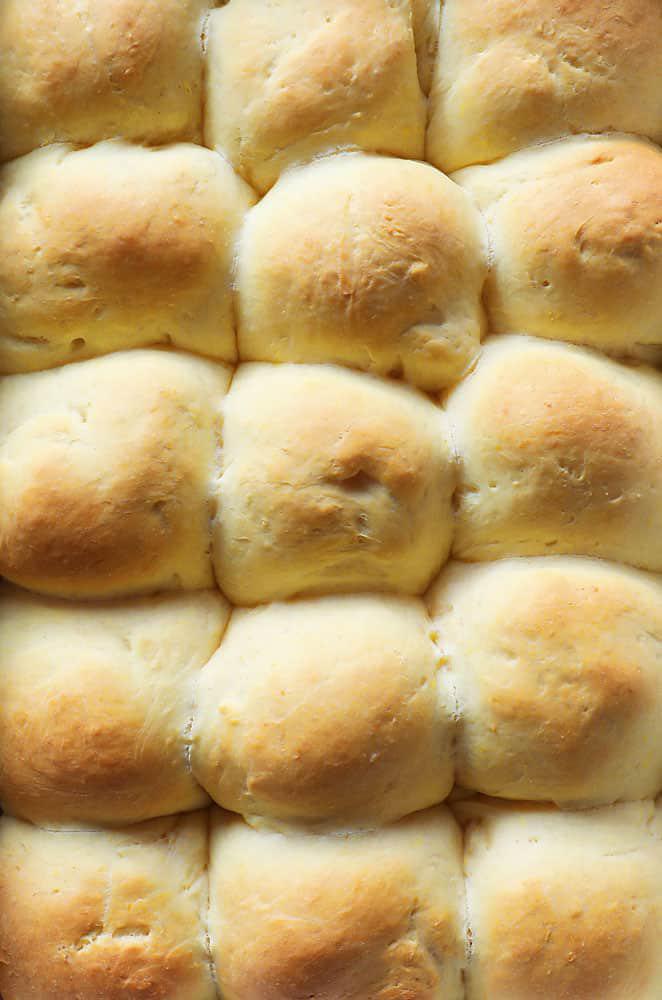 I like to serve my rolls right in the pan so I butter them right in the pan! Generously cover each roll with the melted butter and then sprinkle with kosher salt. This is something that my aunt never did but that my family LOVES. If you have never done that, try adding a pinch of salt to the next roll you make and see how it makes these sweet dinner rolls explode with flavor!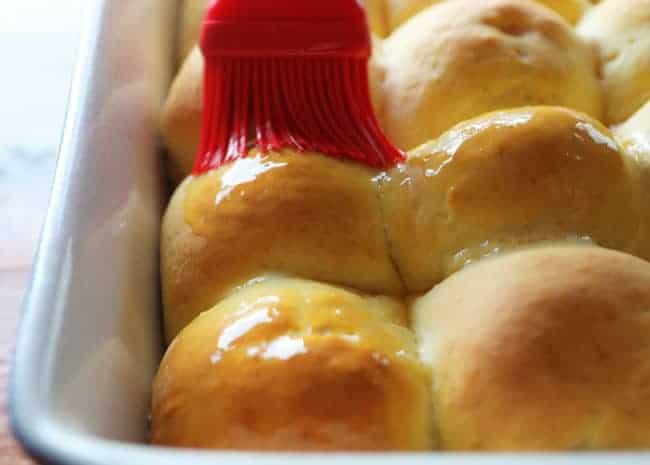 I will often double this recipe and make it in two batches. 20-24 rolls just never seems to be enough in a family of 7 and are definitely not enough when we are entertaining! Another option is to make a bunch ahead of time and freeze until you are ready to serve. I personally prefer to freeze fully baked rolls and this is how I do that!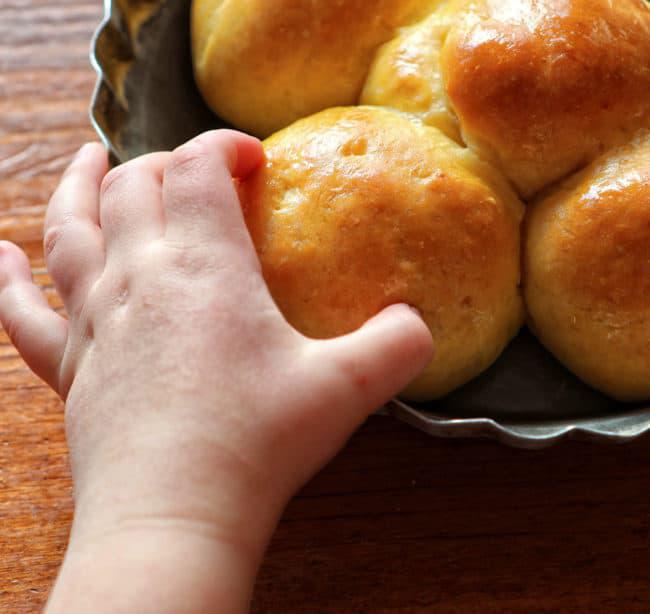 How to Freeze Baked Dinner Rolls
Bake the rolls according to the recipe below. Let them cool completely in the pan, then wrap them tightly in aluminum foil. (Do not use plastic wrap here, it could trap in condensation and make the rolls soggy.) Place the rolls in a freezer bag or storage container and freeze for 2-3 weeks. (I have frozen them for longer but noticed slight freezer burn.)
INGREDIENTS
4 cups (512g) all-purpose flour, or more if needed
2 envelopes (about 2 tablespoons) rapid rise or instant yeast
1/4 cup (50g) granulated sugar
1 large egg, room temperature
1 teaspoon salt
1 1/2 cups (367g) whole milk
2 tablespoons salted butter, melted
1 teaspoon kosher salt, optional
INSTRUCTIONS
Combine 3 cups flour, undissolved yeast, sugar, egg, and salt in a large bowl or in the bowl of your stand mixer fitted with dough hook.
Heat milk until very warm (110°F to 120°F).
Add warm milk to flour mixture. Knead 2 minutes at medium speed, scraping bowl occasionally if needed. Add 1/2 cup flour; knead 2 more minutes.
Add remaining 1/2 cup flour. The dough should be pulling away from the sides of the bowl and very soft. (If the dough seems too wet you may need more flour. Add in 1/4 cup increments until the dough has pulled away from the sides of the bowl while kneading.)
Cover with a clean towel and let REST 30 MINUTES.
Remove towel and punch down dough.
Divide dough into equal pieces and shape into balls. Place in greased 9×13 inch pan. Cover with plastic wrap and REST in a warm place – over 70°, preferably 75° – until doubled in size, about 30 minutes.
(I had 6 left over and added them to a greased 7-inch pie dish and baked as directed.)
Bake in preheated 375°F oven for 12-17 minutes or until golden brown.
Brush with melted butter while warm.
Sprinkle kosher salt on top if desired.