The foundation for this amazingly simple (yet delicious) cookie is shortbread. I have always loved shortbread cookies, but after some research, I have a new found appreciation for them! Shortbread dates many many years to 12th century Scotland. Shortbreads were a delicacy at that time and were reserved for only special events. So what makes a shortbread? Butter. Shortbread actually started out as a biscuit bread, but by adding in a large amount of butter the dish became crumbly. Back in the day, the term "short", meant "crumbly" (at least when it applied to baked goods). For this thumbprint recipe, we used a seedless raspberry jam as the centerpiece. However, you could swap in the preserve of your choice. An apple or a strawberry preserve would also taste amazing.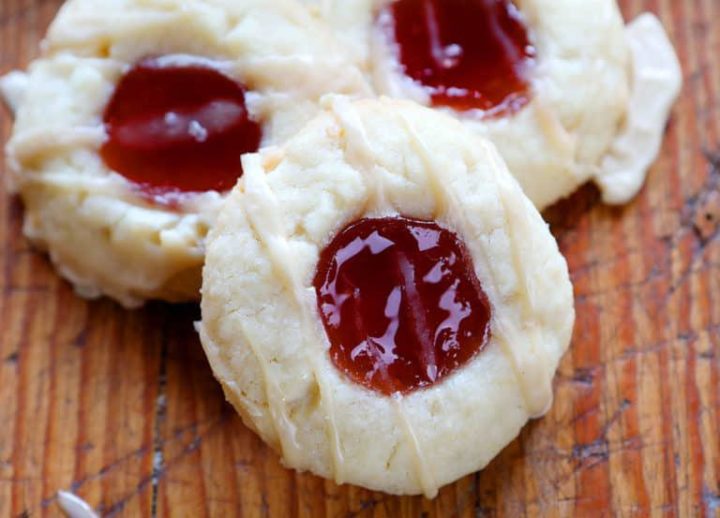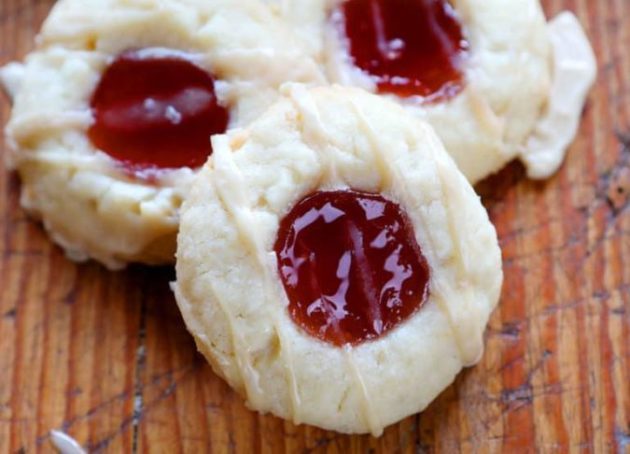 How to Make Raspberry Thumbprint Cookies
These cookies are impressive. They look like they take quite a bit of effort. Spoiler Alert! They don't. These cookies are so simple and whip together in just minutes! To make this Raspberry Thumbprint Cookie recipe you simply cream together butter and sugar, add in some almond extract, and some flour. Roll this out into 1 1/2 in cookie balls and fill with jam. The hard work is done! You pop them in the oven for about 14 minutes. While the cookies are baking you throw the glaze together. Whisk together confectioners sugar, almond extract, and milk. Once the cookies come out of the oven, you just lightly drizzle over the top. You can eat these raspberry thumbprint cookies warm or cold. I prefer the gooey warm version!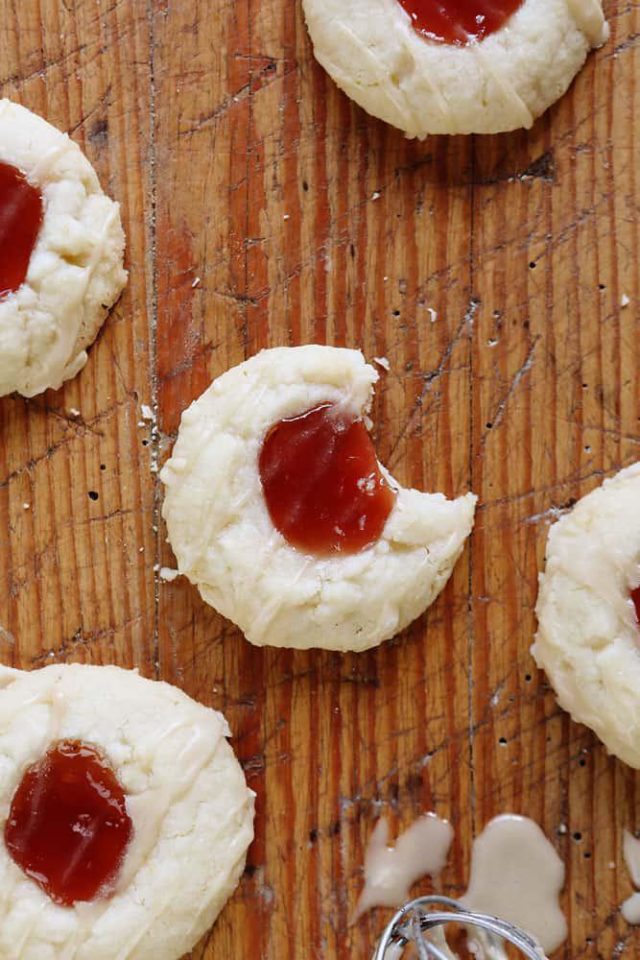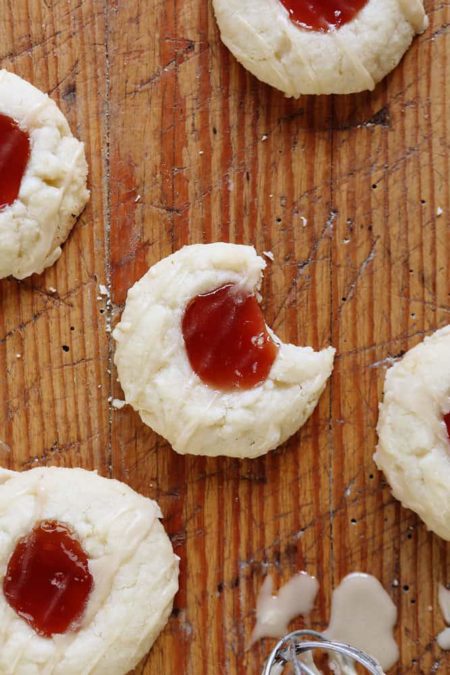 Thumbprint Cookies
The trick to making the perfect thumbprint is not to use your thumb. Shh, don't tell anyone. I like to use the edge of my spoon. I keep a small plate of flour out and dip the spoon in to prevent sticking and then lightly press to make your circular center. Now, using your thumb will work too, have no fear. The other tip I will give you on these cookies is to actually roll out the ball with your hands. If you use a cookie scoop you will get the right size, but don't skip out on the hand rolling. This motion seals the cookie dough together and prevents the base from cracking under heat.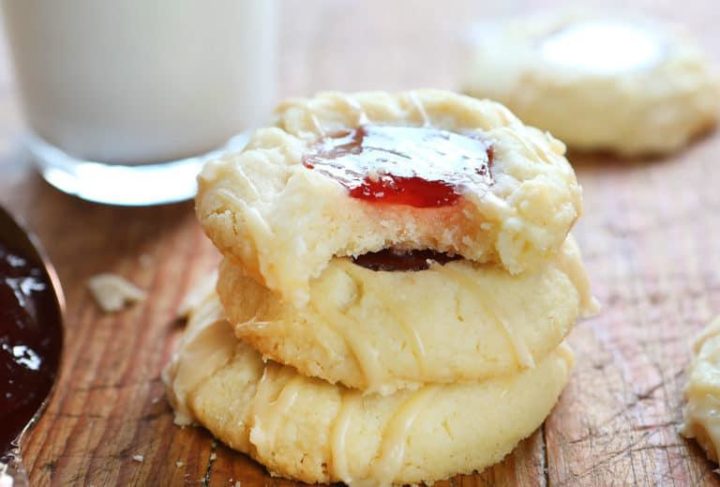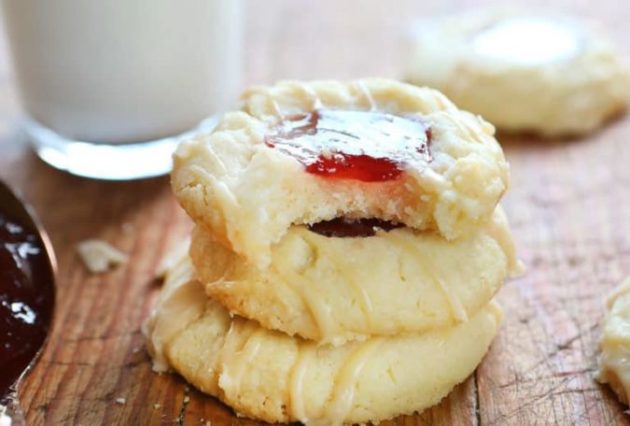 How to Store Thumbprint Cookies
Are you really worried about having extra? Just kidding. Yes, you can freeze and store Turtle Thumbprint cookies. You might not want a whole batch laying around the house for fear or devouring them all. After baking, allow the cookies to cool completely, and then place them in a freezer safe container. I would suggest setting them flat and then adding a layer of parchment paper on top.
Side note about storage: If you are planning to use these in a cookie exchange, freezing them will be your best bet! Transporting these cookies might prove to be a bit of a challenge due to the jam center.
INGREDIENTS
THUMBPRINT COOKIE
1 cup (226g) butter, softened
2/3 cup (150g) granulated sugar
1/2 tsp almond extract
1 large egg yolk
2 cups (256g) all-purpose flour
TOPPINGS
1/2 cups seedless raspberry jam
1/2 cup (63g) confectioners sugar
3/4 tsp almond extract, optional
1 teaspoon milk
INSTRUCTIONS
Preheat oven to 350°F.
In a medium bowl, cream together butter and white sugar until smooth. Mix in 1/2 tsp almond extract, egg yolk, and flour until dough comes together.
Chill dough for 15-30 minutes.
Roll dough into 1 1/2 inch balls and place on a cookie sheet lined with parchment paper. Using a spoon, make a small impression in the center of each ball. Fill impression with jam.
Bake for 14-18 minutes in preheated oven, or until lightly browned.
In a medium bowl, mix together confectioners sugar, 3/4 tsp almond exact and milk until smooth.
Drizzle over warm cookies.