Inspired by the Philippine national dish, this Easy Chicken Adobo uses a simple blend of garlic, vinegar, and soy sauce to give chicken a zingy boost. This is the perfect dinner recipe to spice up your usual routine.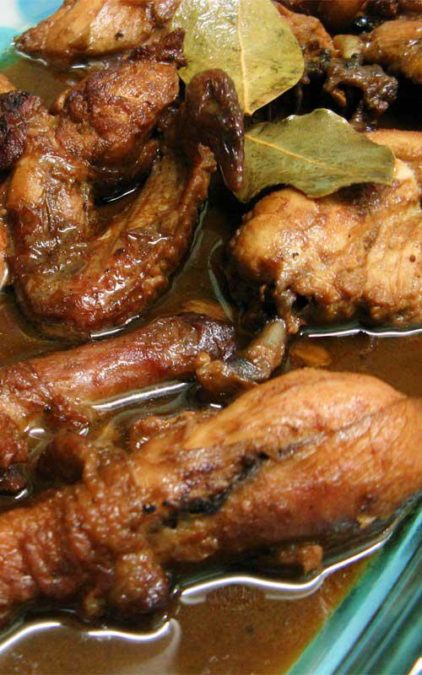 Ingredients
1 cup white vinegar
1/4 cup soy sauce
1 whole garlic bulb, smashed and peeled
2 teaspoons kosher salt
1 teaspoon coarsely ground pepper
1 bay leaf
2 pounds bone-in chicken thighs or drumsticks
1 tablespoon canola oil
1 cup water
Instructions
Combine the first six ingredients. Add chicken; refrigerate, covered, 20-30 minutes.
Drain, reserving marinade. Pat chicken dry.
In a large skillet, heat oil over medium-high heat; brown chicken.
Stir in water and reserved marinade. Bring to a boil.
Reduce heat; simmer, uncovered, until chicken is no longer pink and sauce is slightly reduced, 20-25 minutes.
If desired, serve chicken with cooking sauce.
Nutrition Information
Yield 6
Serving Size 8 oz.
Amount Per Serving
Calories 386
Total Fat 25g
Saturated Fat 7g
Trans Fat 0g
Unsaturated Fat 18g
Cholesterol 213mg
Sodium 1569mg
Carbohydrates 1g
Fiber 0g
Sugar 0g
Protein 40g