This Birthday Cake Puppy Chow tastes exactly like cake! Just four simple ingredients and you have an easy snack the kids will beg you for! If you love easy birthday treat ideas, be sure to check out my No-Bake Birthday Cake Lasagna.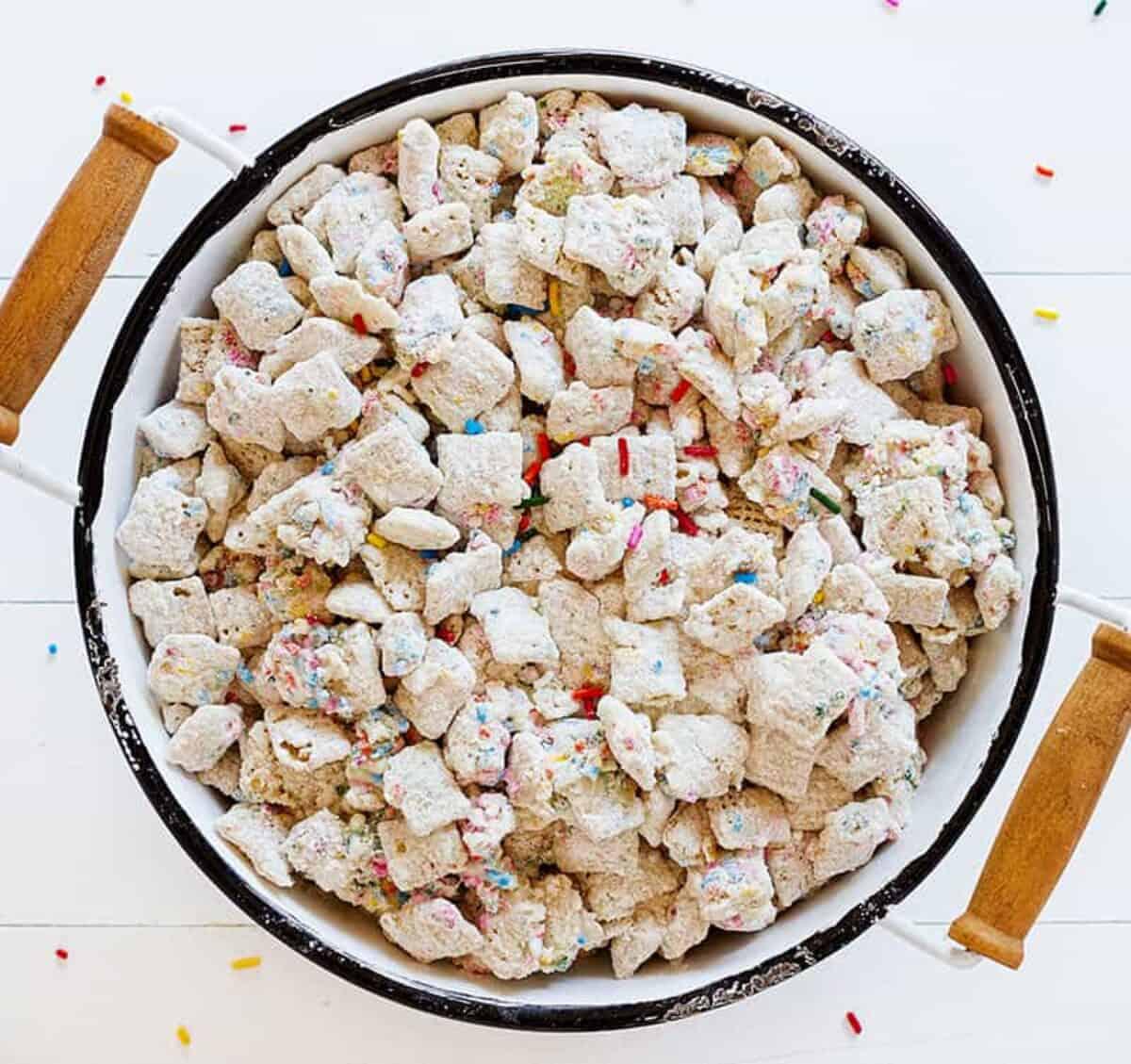 So you might be wondering what the heck this crazy creation is? Let me break it down for you. Chex cereal coated in almond bark that has been flavored with dry vanilla cake mix and rainbow jimmies. It tastes exactly like cake! But now the real test begins… can you stop with one handful? Doubtful.
Puppy Chow is what we call this in the Midwest. Other folks refer to it as Muddie Buddies or Monkey Munch. They are all the same thing and are meant for humans, not animals.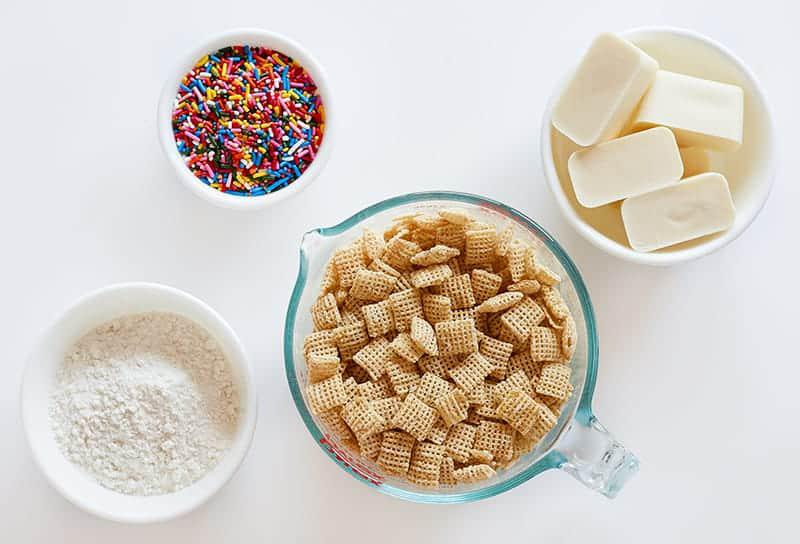 How to Make Birthday Cake Puppy Chow
Four simple ingredients make up this treat!
Chex cereal
almond bark
dry cake mix – you can heat this in the oven for 5 minutes at 200°F if you have any concerns.
rainbow jimmies (aka sprinkles)
IMPORTANT: I don't recommend using white chocolate morsels in this recipe as it will produce a different flavor. It won't be bad, but you are missing the fresh almond flavoring component. If you have vanilla candy coating you can use that and add in 1 teaspoon of almond extract. (That doesn't work with white chocolate morsels as it will seize and be a mess.)
You can use most flavors of cake mix but we prefer vanilla, white, or yellow cake mix. Just to be clear, you simply measure out the DRY cake mix, you do not prepare the mix according to directions. It is sprinkled over the coated cereal just like confectioners sugar.
Start by melting the almond bark. Once it is fully melted and smooth, you can add the rainbow jimmies. Stir well. Now pour the almond bark over the cereal and stir with a spatula.
Pour the almond bark-coated cereal into a large sealable plastic bag and then add the dry cake mix. Shake shake shake.
Pour that onto a cookie sheet and spread into a flat layer so that every piece can dry. (We sometimes skip this step and eat right out of the bag)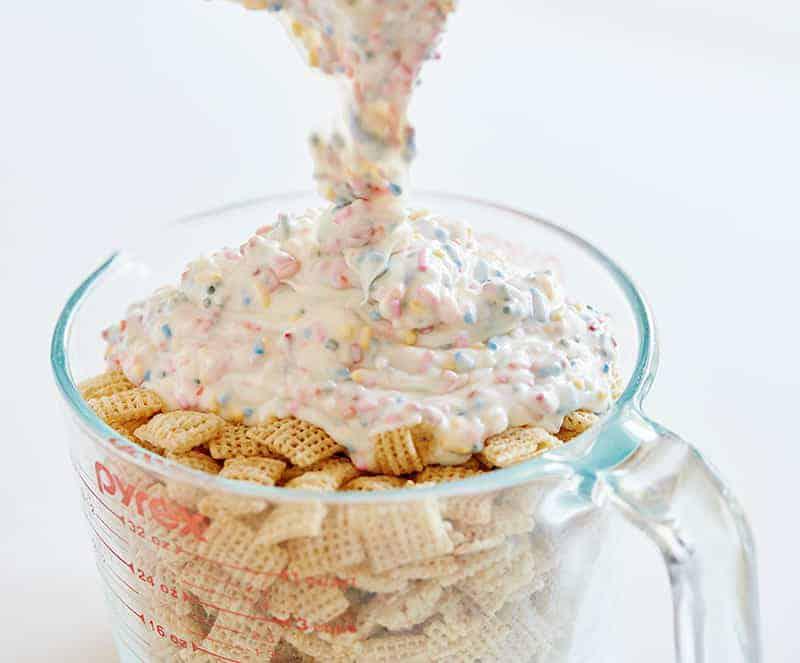 Can This Recipe Be Doubled?
Yes! You can easily double this recipe. Just make sure you have a large enough bowl to mix the ingredients in and that you can work in batches when coating the cereal with almond bark.
How Long Does Puppy Chow Last?
You can store the puppy chow in an airtight container (or in the bag you made it in) on the counter or in the refrigerator for up to 2 weeks, but I doubt it will last that long! (That is the official answer BTW, I have never refrigerated puppy chow.)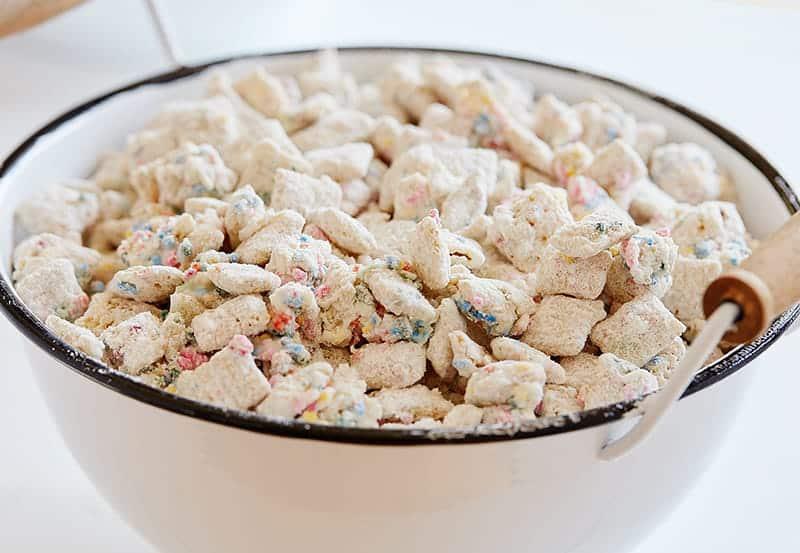 Ingredients
4 cups Rice Chex cereal
1 cup dry white cake mix
8 ounces almond bark
2/3 cup rainbow sprinkles (jimmies)
Instructions
Melt almond bark in the microwave in a small bowl. Melt in 30-second increments, stirring between.
After melted, stir in the sprinkles.
Pour the cereal into a large bowl and then pour the almond bark mixture over top. With a spatula, stir well, making sure every piece is coated.
Pour the cereal into a large plastic sealable bag and then sprinkle the cake mix over top. Close bag and shake until well coated.
Place mixture on a sheet pan and allow to set.
Notes
If you are opposed to eating "raw" cake mix, you can heat it in the oven at 200°F for 5 minutes.