Lasagna Stuffed Chicken is all the flavors you love from lasagna stuffed inside a chicken breast and it's smothered in cheesy, saucy goodness. What's not to love?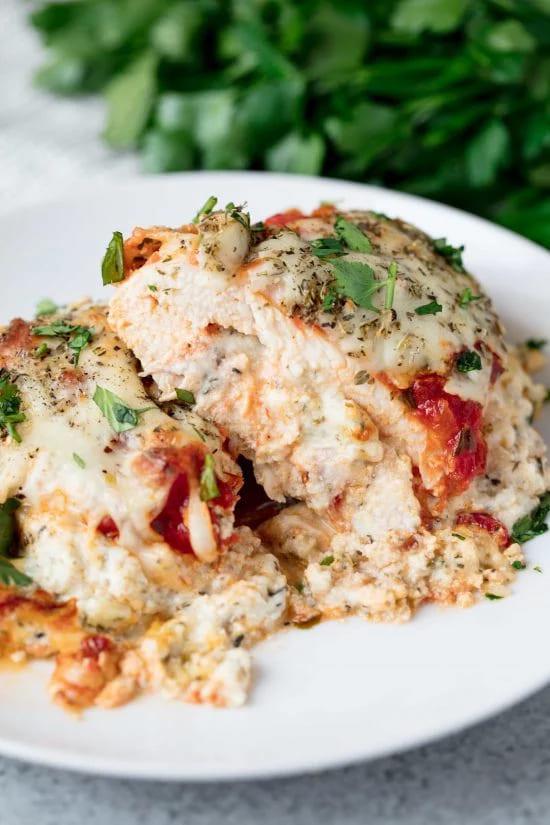 I've written this recipe to make two chicken breasts. Since chicken breasts nowadays are pretty big, this may serve four people, depending on the appetite. But this recipe can also be easily doubled or tripled for families with more people and bigger appetites.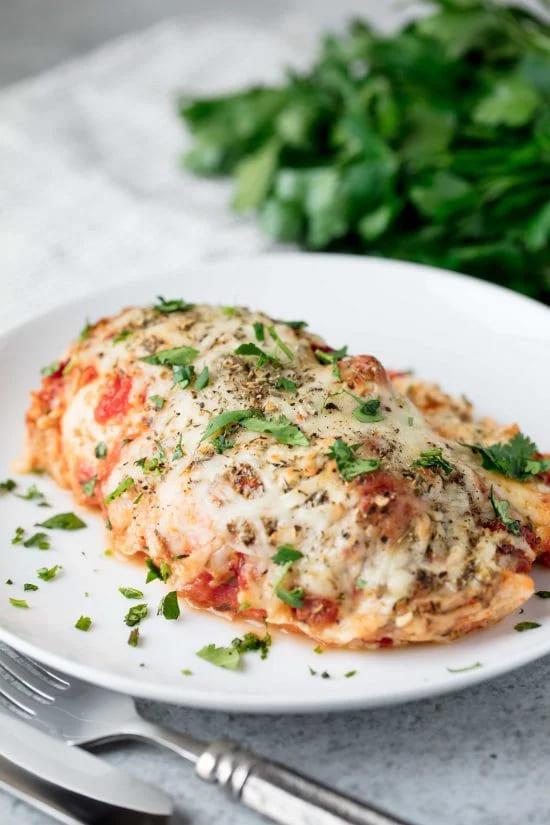 You can keep this dish low carb by serving it up with a salad, or serve it over some buttered noodles for a cheesy, saucy, carb overload. I won't judge you either way. It's so easy and so good, it makes the perfect weeknight dinner. And oh that cheese! I'm a huge fan.
INGREDIENTS
2 chicken breasts
1 cup whole milk ricotta cheese
1 large egg
3 teaspoons Italian seasoning divided
2 cloves crushed garlic
1/2 teaspoon salt
2 cups shredded mozzarella divided
1 cup marinara sauce
Additional salt and pepper to taste
INSTRUCTIONS
Preheat oven to 400 degrees Fahrenheit. Butterfly chicken breasts lengthwise and place into a lightly greased baking dish.
In a small mixing bowl, stir together ricotta cheese, egg, 2 teaspoons Italian seasoning, garlic, salt, and 1 cup mozzarella cheese.
Spoon about 1/4 cup of sauce onto one half of each chicken breast. Spread ricotta mixture on top of the sauce and fold chicken breasts over to close.
Drizzle remaining 1 cup marinara sauce over chicken. Top with remaining 1 cup shreddedcmozzarella cheese. Sprinkle with remaining 1 teaspoon Italian seasoning and season with salt and pepper to taste.
Bake in a 400 degree oven for 25-30 minutes, until chicken reaches an internal temperature of 165 degrees F.