Amp up tradition Seven-Layer Dip with an extra layer of amazingness! This Eight-Layer Dip is going to be the star of your next get together.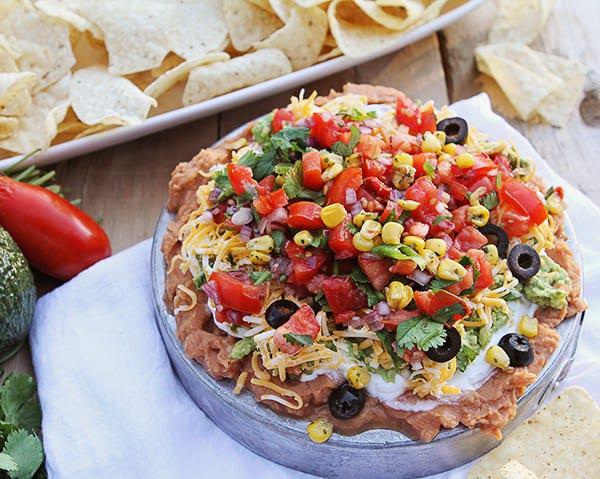 Eight-Layer Dip
7 just isn't enough! A traditional 7 layer dip has:
refried beans
sour cream
taco seasoning
cheddar cheese
guacamole
chopped tomatoes
green onions
black olives
What is that amazing 8th ingredient that will change how you make this dip forever and ever?
Roasted Corn! Seriously, it adds something pretty darn special to this already amazing dip.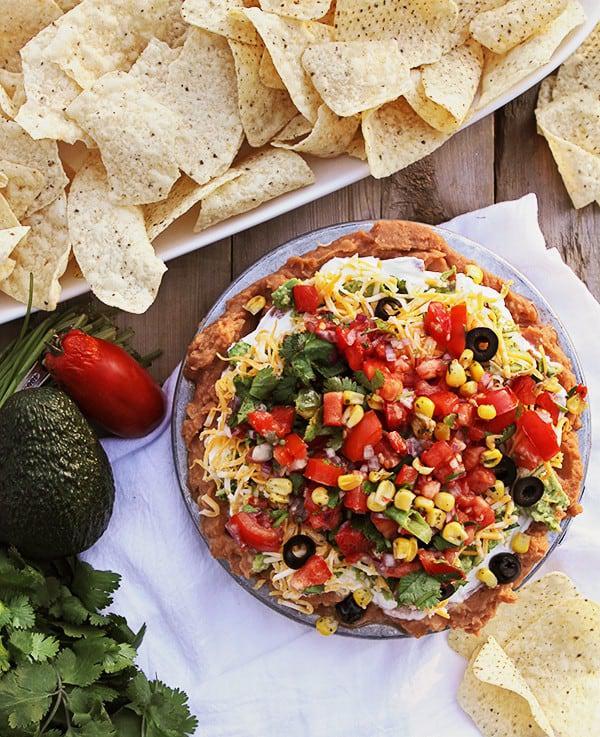 How to Roast Corn
Just a few simple ingredients will make your frozen or canned corn over-the-top amazing!
frozen or canned corn
oil
salt and pepper
Line a sheet pan with foil or parchment. Put frozen corn on the sheet pan, drizzle with oil and sprinkle with salt and pepper. Arrange corn in a flat layer and bake at 400°F for about 20-25 minutes. You want to corn to turn golden brown and be crispy. If you are using canned corn you can bake for 12-15 minutes. Keep an eye on the corn so it doesn't burn.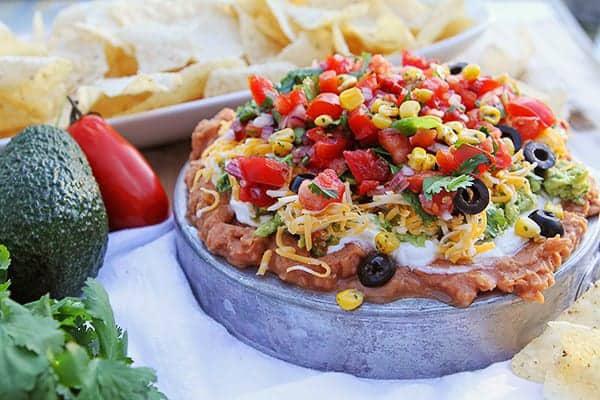 How To Make Eight Layer Bean Dip
Gather up all of your ingredients ahead of time and chop the ingredients that need to be chopped. Because we are taking care to layer this dip in a way that maximizes flavor, it's best to have all the ingredients well prepared before assembling.
Make sure that you don't skip the fresh lime juice! This helps the avocado stay green and fresh looking.
Serve this dip with a sturdy chip! With so many layers of goodness, you will want to make sure the chip is strong enough to hold all the ingredients.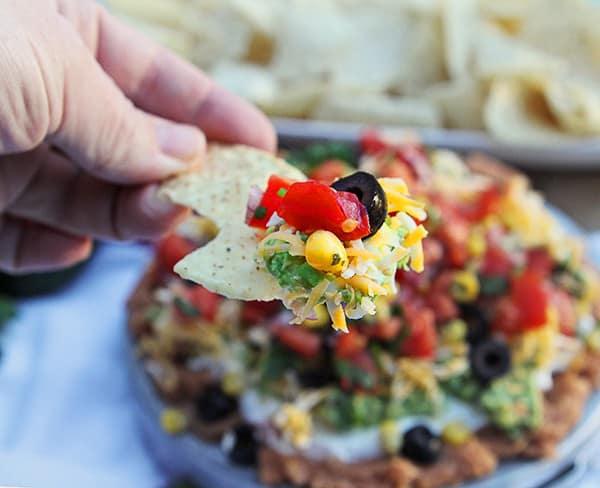 Variations for Eight-Layer Dip
If you don't like refried beans you could use rinsed black beans.
We occasionally omit the refried beans and use hamburger seasoned with taco seasoning.
I didn't add any taco seasoning to this dip, but if you would like to, add some to the beans and stir well.
You can also heat the beans and serve this dip in a skillet to keep it warm.
Feel free to double or triple the recipe for a big crowd!
Oh my word do I love this dip! I could eat it every single day of my life. The only difference is that I omit the beans and make a layer of taco seasoned ground beef. Which I can't believe I just shared with you because people usually react in horror when I tell them I don't like refried beans.
INGREDIENTS
6 Roma tomatoes, diced
1 medium onion, diced
1/4 cup cilantro, chopped (You can use less depending on preferences)
1 jalapeno, seeded and diced
2 limes, divided
pinch salt
2 avocados- pitted, peeled, and diced
1 can (16 ounces) refried beans
1 cup sour cream
1 cup black olives
3/4 cup Monterey Jack cheese, grated
3/4 cup Cheddar cheese, grated
1 1/2 cups roasted corn kernels
INSTRUCTIONS
Add chopped tomatoes, onion, cilantro, and jalapeno into in a medium bowl. Add the juice of 1 lime and pinch of salt.
Stir to combine, set aside.
Add diced avocado's to a separate bowl and mix in HALF of the tomato mixture. (reserve the other half for the corn)
Spread refried beans onto a serving platter in a flat smooth layer. (A small offset spatula works great here)
Add dollops of sour cream on top and carefully spread in an even layer over the refried beans.
Add the tomato/avocado mixture you have made in dollops and then spread in an even layer.
Sprinkles the olives and the grated cheeses over top.
Now add the roasted corn to remaining tomato mixture and stir to combine.
Add the tomato/corn mixture on top of cheese layer. Squeeze remaining lime. (Use a much or as little as you would like. If you want to use less, feel free to set extra lime to the side and offer to guests to use at their discretion.)