I know, once you wrap bacon around anything, it's bound (get it) to be tastier, but these really take the carrot! The sweetness of the maple syrup glazed over the saltiness of the bacon works beautifully with the cooked carrot. These would be a fantastic appetizer to share because they are so easy to make and they are a little different than your standard appetizers. I use bacon a lot with vegetables like my Bacon Wrapped Brussels Sprouts and my Bacon Stuffed Mushrooms. Hey, if that is the only way to get your daily dose of veggies, it's a start!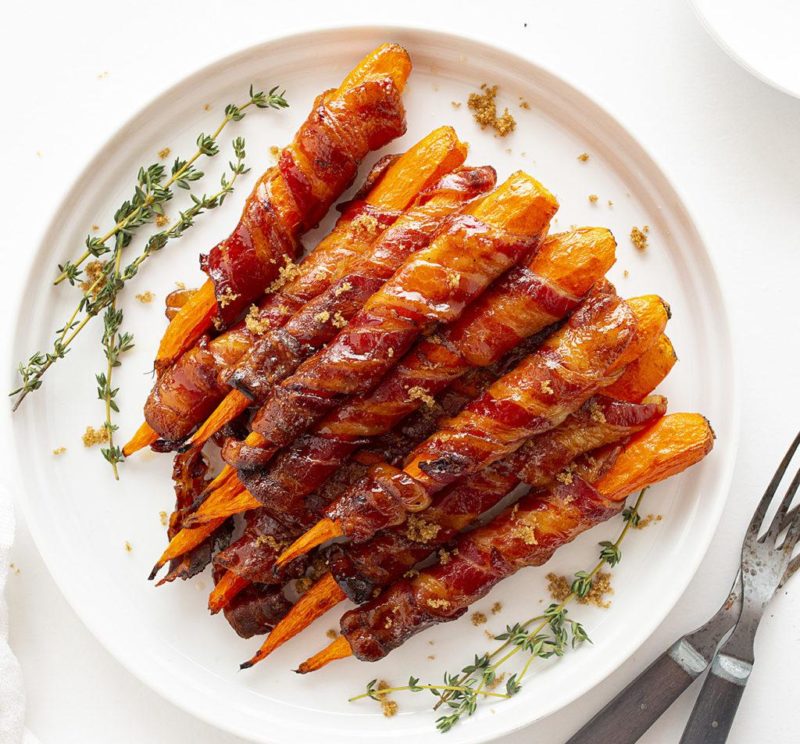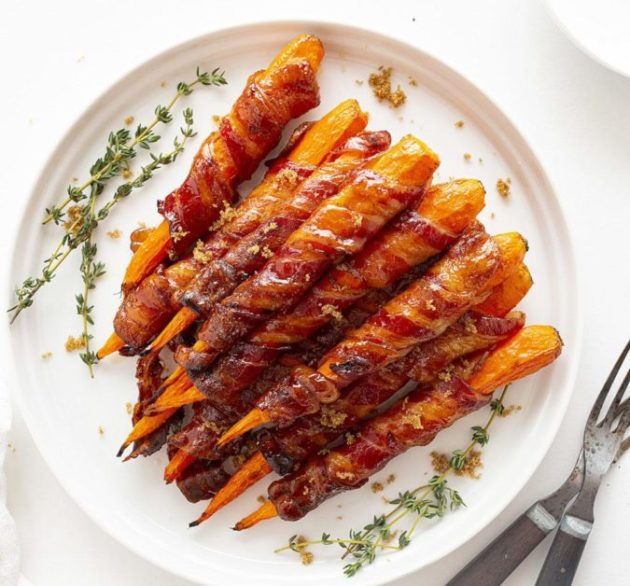 MAPLE BACON CARROTS
It's amazing how maple and bacon have come together to be such a power couple! You've had maple bacon donuts, right? I guess it only makes sense because how many times has your breakfast bacon gotten a little maple syrup on it and you ate it anyway? It's just a perfect combination of sweet and savory. I have even seen maple bacon jam as well as maple bacon brownies. Hey, I should get on that brownie one! I guess adding a carrot to the mix makes it a little less like a guilty pleasure.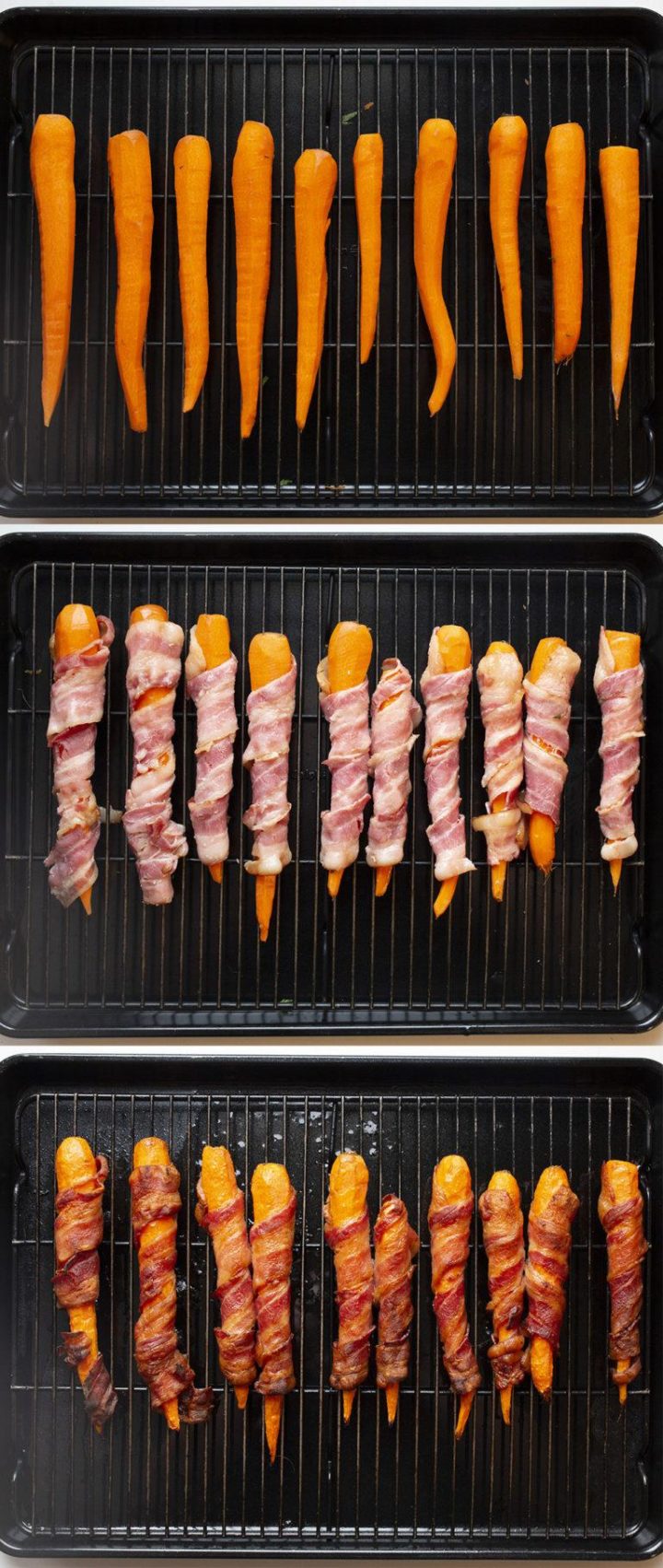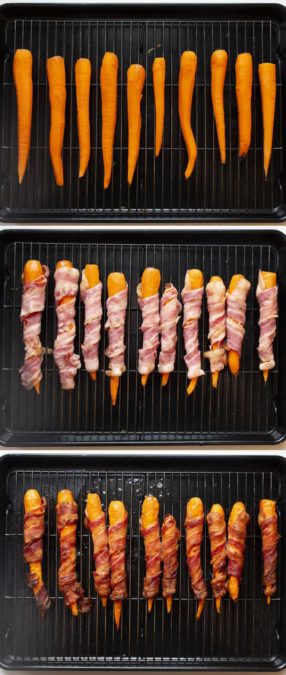 MAPLE BACON CARROTS RECIPE
If you look at the ingredients in this recipe, you know it's probably pretty easy! And, it is! Just like the third time is the charm, three ingredients are the charming and appealing parts of the recipe! Carrots, bacon, and maple syrup are all you need to make this delicious appetizer or side dish. As a bonus, you don't even need to fry the bacon and make that mess. I know, the more I am talking about it, the easier it sounds, right?!? Well, let's get to it!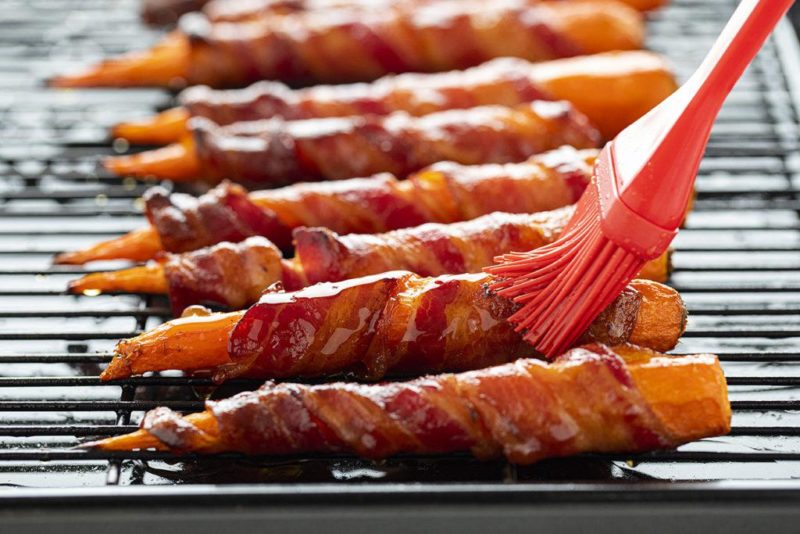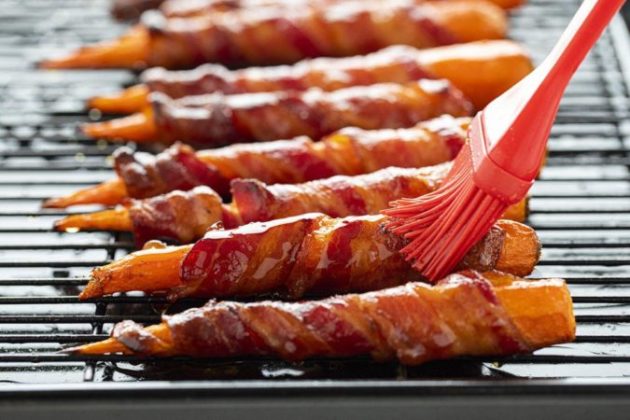 HOW TO MAKE MAPLE BACON CARROTS
First, preheat the oven to 425°F. You will be baking the bacon for about 10 minutes before wrapping it around the carrots. I actually bake a lot of bacon that I use in my recipes, like my Jalapeno Popper Dip and Bacon and Cheese Dip. To bake the bacon, simply lay it flat on a baking sheet (I like to put a layer of tin foil on the baking sheet for easy cleanup). While the bacon is baking, peel the carrots so they are ready to be wrapped. Once the bacon is ready, put the pieces on a paper towel to drain a bit. Then, wrap the carrots with the bacon, trying not to overlap. Be sure to turn down the oven to 400°F at this point. Bake the Maple Bacon Carrots for about 20-25 minutes on a wire rack (over a baking sheet to catch the grease). Then, the final step is to pour the maple syrup over each bacon-wrapped carrot and bake for 5 more minutes. You will have a delicious treat to share and enjoy!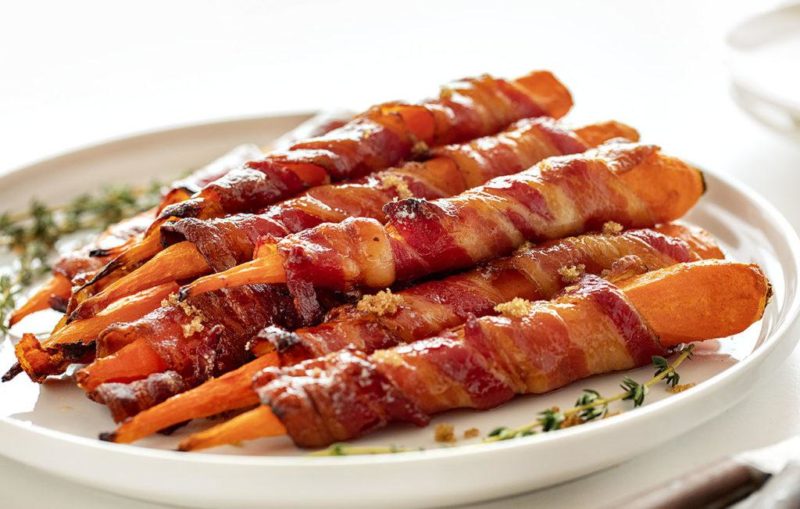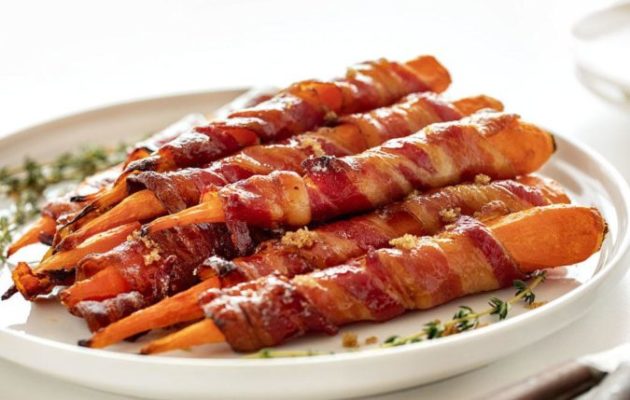 Ingredients
2 pounds carrots, less than ½ inch thick, peeled
1 pound thin-sliced bacon
1/4 cup maple syrup
Instructions
Preheat oven to 425°F.
Place the uncooked bacon on a baking sheet.
Cook the bacon for about 10 minutes. Take out the bacon and place it on paper towel to drain before wrapping around the carrots.
Reduce the oven temperature to 400°F.
Once cooled, wrap one slice of bacon around each carrot (starting at the thick end of the carrot). When wrapping bacon, be careful not to overlap the layers.
Arrange the carrots on a wire rack on a baking sheet.
Bake for 20-25 minutes or until the bacon is crispy and the carrots are tender.
Remove from the oven and carefully glaze all sides with the maple syrup.
Bake for 5 more minutes.
Serve.