Looking for a way to up your dip game? This Homemade Guacamole Recipe combines the creamy smooth texture of avocado with crisp fresh veggies. We completely transform the traditional take on guacamole by adding in crispy chunks of bacon and tangy blue cheese crumbles. This is the mother of all guacamole recipes!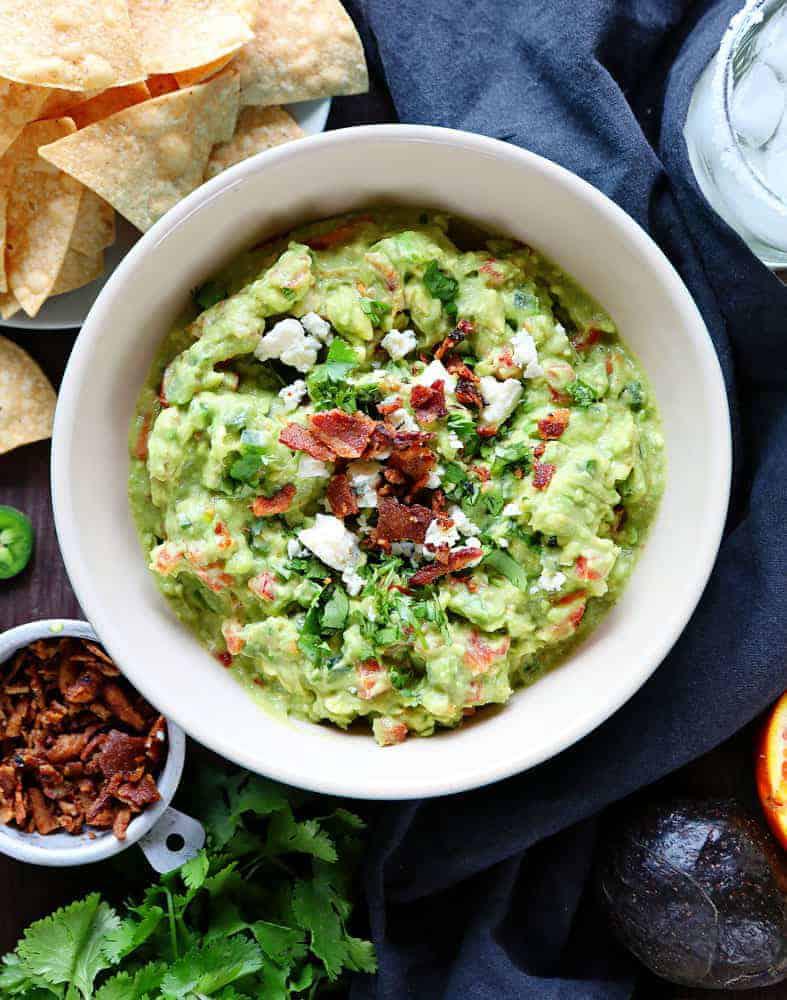 Homemade Guacamole
Fresh, creamy, chunky guacamole is a crowd pleaser and a fan favorite on every appetizer menu. There is really nothing better! Unless of course, you have an ice-cold margarita and some sunshine to go with it.
Our family loves avocados and always have fresh veggies around. (Especially during the summer when the garden is in full bloom!) The ingredients are so simple that this easy guacamole recipe could be thrown together at any time. It really is the perfect appetizer for any occasion. It is even a great snack for any night of the week.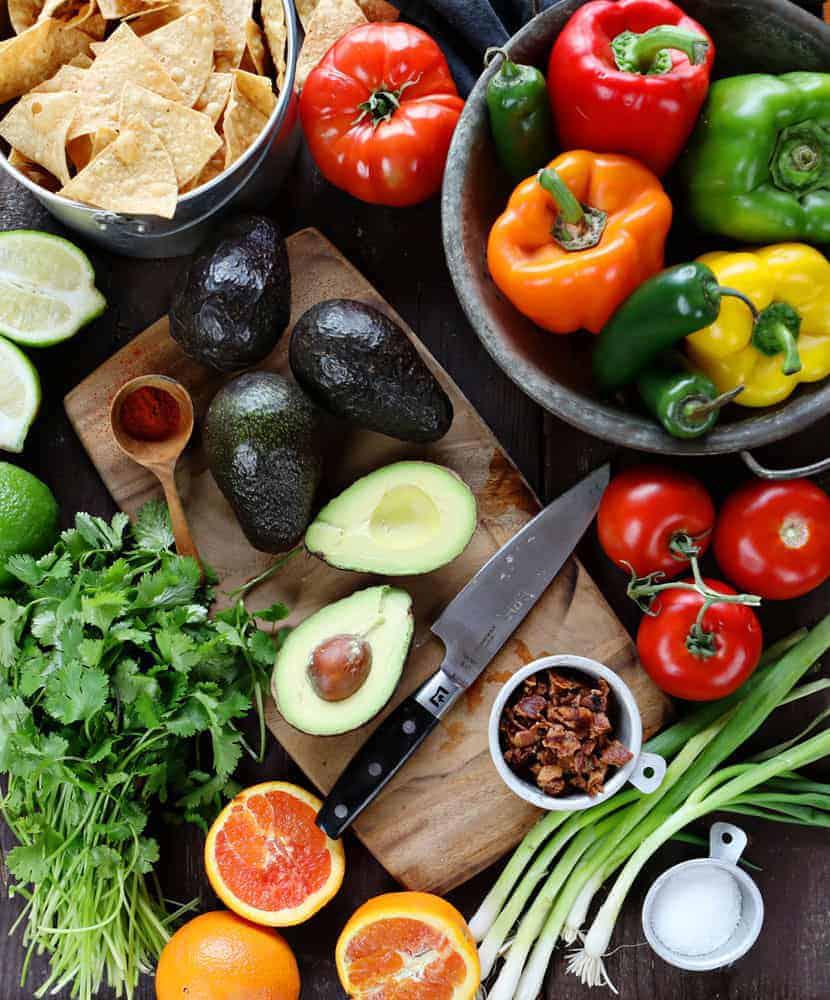 Guacamole Ingredients
Did you catch that super secret ingredient in that picture??? Oranges!
The orange juice adds a unique citrus flavor and compliments the tang in the blue cheese perfectly! Just trust me on this.
When adding your veggies and spices, I like to do a taste test (or three) to make sure I have the right flavor and spice combination. So keep some chips handy during the prep process, but you might want to set a limit for yourself or there is a good chance you will end up with nothing left for your guests.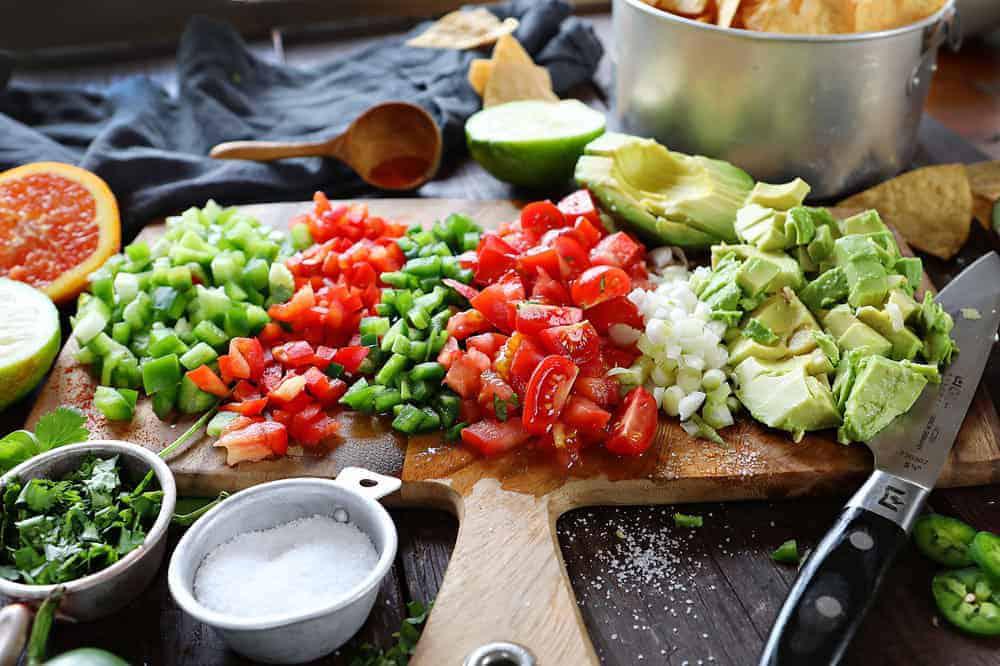 Tips Tricks and Variations
How do I keep my Guacamole from turning brown?
This recipe is great, but how do you keep it that way if you have to make it in advance? The method I like to use involves saving those avocado pits you took out earlier. First set the avocado pit into the center of your dish and lightly press down (you want to be able to easily grab it later). Next, grab some of your leftover lime juice and drizzle a bit over the top of the dish. Finally, grab some plastic wrap and press down on the guacamole. Try to remove as many air pockets as you can. Add a second layer of plastic wrap on top for sealing the sides of the dish. When you are ready to serve, just grab the plastic wrap and avocado pit and toss them in the trash. Good to go!
How do I know when the avocado is ready?
Check under the stem for a sneak peek. Peel back the small stem or cap at the top of the avocado. If it comes away easily and you find green underneath, you've got a good one. That's the kind of fruit you want to take home with you. If it is brown, its past its prime, if the stem doesn't easily pop off, it is not ready yet. Also, the firmness of the avocado is another tell. If you lightly grip the avocado and give it a little squeeze, a good avocado will feel just a little soft.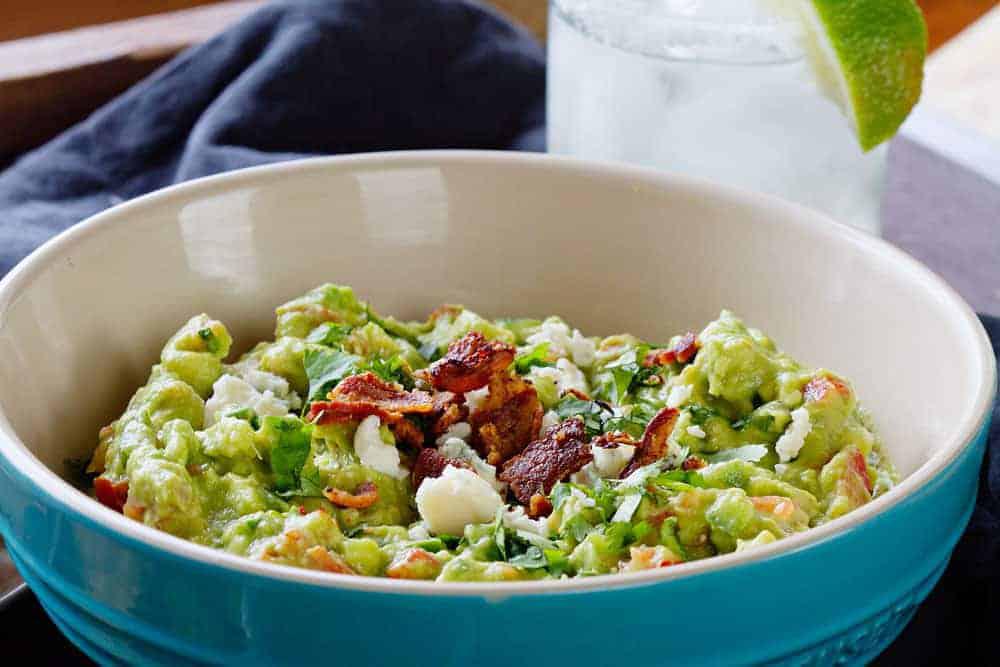 Ingredients
4 Ripe Hass Avocados halved and pitted
1/2 1 oz Lime, juiced
1/2 1 oz Orange, juiced
2 teaspoons kosher salt
1/2 teaspoon cayenne pepper
1 medium tomato diced
1/2 red pepper diced
1/2 green pepper diced
1 jalapeno diced
1/4 cup green onions diced
1/4 cup cilantro finely diced
1/2 cup blue cheese
5 slices thick cut bacon cooked and cooled (about 1/2 cup)
Instructions
Scoop the avocado from the skin and place into a medium bowl or use a Molcajete (mortar and pestle set). Mash the avocado until smooth. You can leave a few chunks for texture.
Stir in the lime juice and orange juice
Add salt, cayenne pepper, tomato, red pepper, green pepper, jalapeno, and green onions and lightly stir
Top with cilantro blue cheese and crumbled bacon