Discover the delightful world of endless indulgence with our Airy Quick-Making Pastry. This recipe is your passport to savoring the lightest, flakiest bites that seem to melt in your mouth. These delicate bow-shaped pastries, known for their whimsical appearance, are not just a treat for your taste buds but also a visual delight. Imagine an exquisite balance between crispy and tender, adorned with a dusting of powdered sugar – it's a feast for the senses. With each bite, you'll find yourself transported to a world of delicate flavors and airy textures.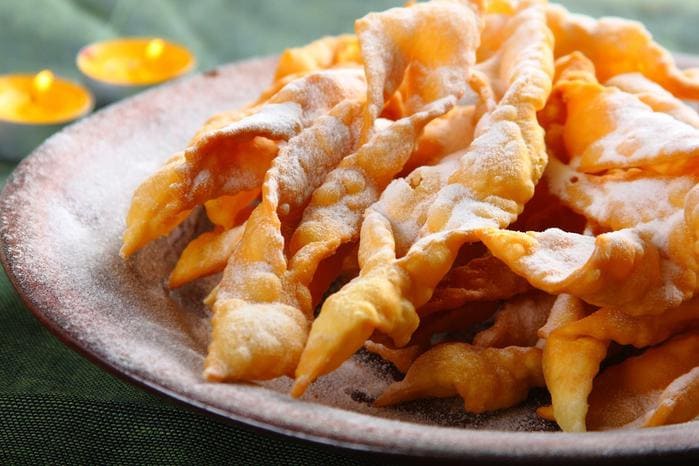 As you explore the realm of this delectable pastry, you'll understand why it's a dish you can enjoy without restraint. So, embrace the art of creating this culinary masterpiece in your own kitchen and savor the enchantment it brings to your palate. Whether it's a special occasion or just a desire for something extraordinary, our Airy Quick-Making Pastry promises a symphony of taste and elegance that's sure to captivate.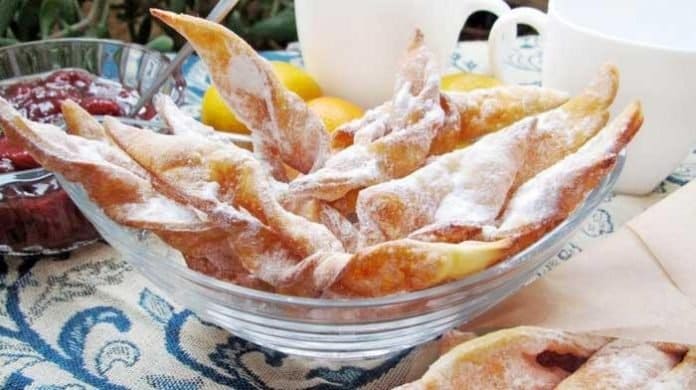 Ingredients:
All-purpose flour – 2.5 cups
Milk – 1.7 oz (50 g)
Eggs – 2
Sour cream – 2.5 oz (70 g)
Vanilla extract – a pinch
Granulated sugar – 1 tablespoon
Vodka – 2 tablespoons
Vinegar
Baking soda
Powdered sugar
Vegetable oil – 10.1 oz (300 ml)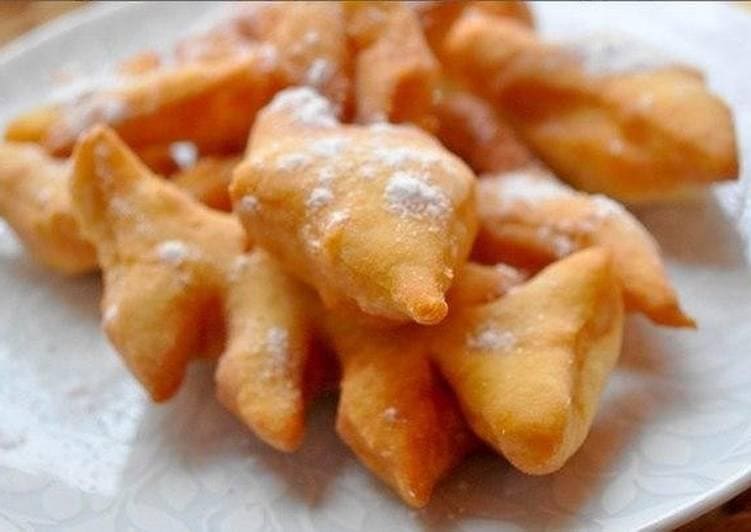 Preparation:
In a bowl, beat eggs with sugar and vanilla extract, then add sour cream, vodka, and mix thoroughly.
Neutralize baking soda with vinegar and add it to the batter. Incorporate the flour and knead until the dough is non-sticky.
Divide the dough into equal portions and roll out each portion thinly. Cut into strips about 3 inches wide and 8-10 inches long. Make a lengthwise incision along the center of each strip, leaving about 0.2 inches uncut at the edges.
Thread one end of the strip through the incision in the center, creating a bow-like shape.
In a deep skillet, heat vegetable oil until bubbles appear.
Carefully place 4-5 bow-shaped dough pieces into the hot oil. Fry evenly on all sides until golden brown.
Remove the fried pastries and place them on a paper towel to remove excess oil. Then transfer them onto a serving plate and dust with powdered sugar.
Bon appétit!