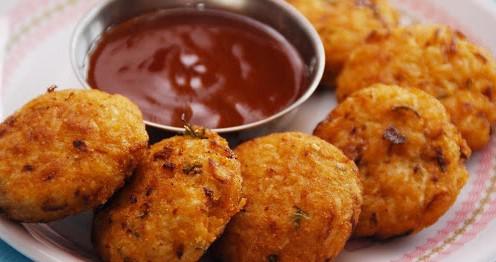 Ingredients
2 medium potatoes, peeled and cut up
1 1/2 T. small curd cottage cheese
1/2 C. pepper jack cheese
1 T. all purpose flour
3 T. cornstarch
1 egg
1 T. water
1/2 tsp. garlic powder
1/2 tsp. smoked paprika
3/4 C. panko breadcrumbs
veg. oil for frying
Directions :
Sauce:
1/3 C. mayo,
1 T. chili sauce,
1/2 tsp. ground horseradish,
1/8 tsp. garlic powder,
1/8 tsp. smoked paprika,
few drops of hot sauce.
Mix well
Cook the potatoes in boiling water till fork tender, drain well and mash with a potato masher (you should have about 1 1/4 cups once mashed).
Let them cool for 20 minutes then stir in the cottage cheese, pepper jack cheese and flour.
Mix well then pinch off small amounts of the potatoes and roll into a ball, place on a plate.
Once you have them all done put them in the fridge for 30 minutes and make the sauce.
When ready to fry, put the cornstarch in a bowl, mix the egg and water together and combine the seasonings and panko in another bowl.
Heat a deep fryer to 350 degrees.
Roll each potato bite in the cornstarch then dip in the egg and then the breadcrumbs.
Once all are done begin to fry them in batches till golden, takes less than a minute.
ENJOY!