Cowboy Caviar is one recipe everyone raves about!
A fresh, simple dip that can be thrown together in under 15 minutes!
This Cowboy Caviar makes a great side dish for any picnic, potluck, or party, and is a great way to use up your summer produce!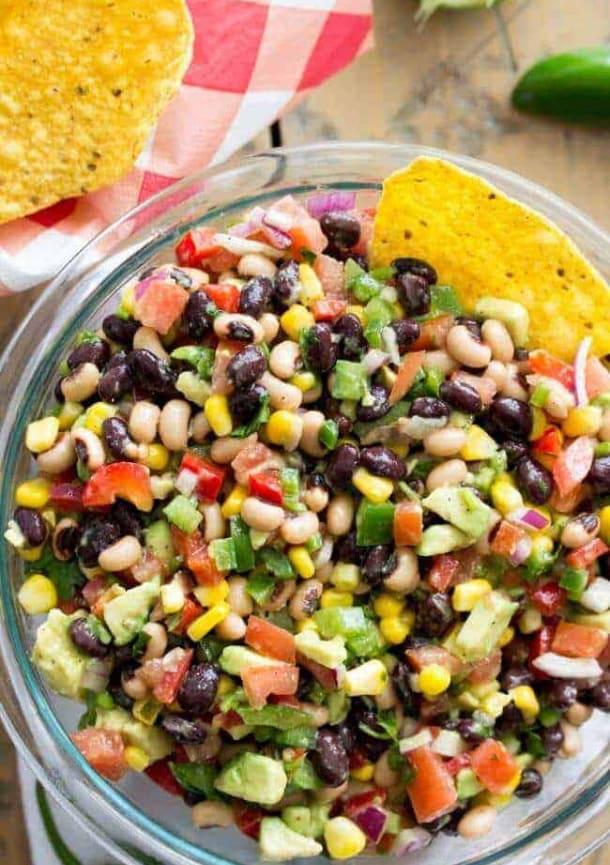 I tried cowboy caviar for the first time at a potluck last summer and was instantly obsessed
I didn't expect it from this unassuming, summery dip that at first glance I confused with chunky salsa or pico de gallo, but one bite and I knew that I was hooked for life.
The saltiness of the chips combined with the freshness of the tomatoes, the crispness of the pepper, the subtle heat of the jalapeno, the faint hint of lime and garlic…. It was heaven.
A replication of the highest order was necessary, and since that first fateful bite last year, I have perfected my own recipe for cowboy caviar and I am so excited to share it with you today.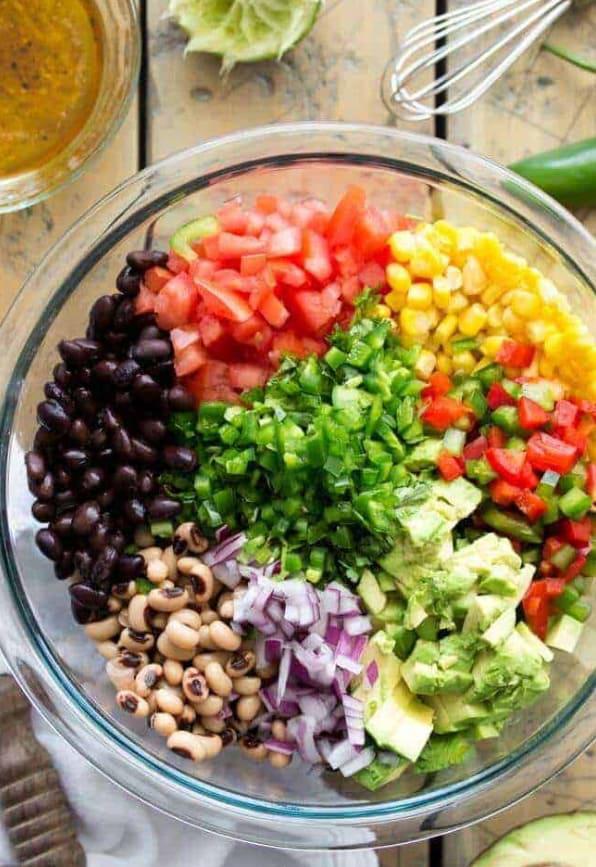 I made this cowboy caviar for my family last weekend for Easter, and after baking both my signature carrot cake and coffee cake for brunch, I wanted something a little less sweet, and definitely something that wouldn't require turning on the oven.
This cowboy caviar is easy to make, just a matter of chopping your veggies and tossing everything together.
If you ask me, the trick to the best possible cowboy caviar is to dice the ingredients that need dicing (the tomatoes, onion, pepper, etc — not the beans!) very small, the smaller the better. Try to keep your tomato and avocado pieces petite rather than big and chunky (about bean-sized works great!). An easy way to do this is with my favorite chopper, including for the tomatoes!
To easily cut my avocado, I like to slice it in half and then score it into small pieces using my knife, then just scoop everything out into the bowl with a large spoon!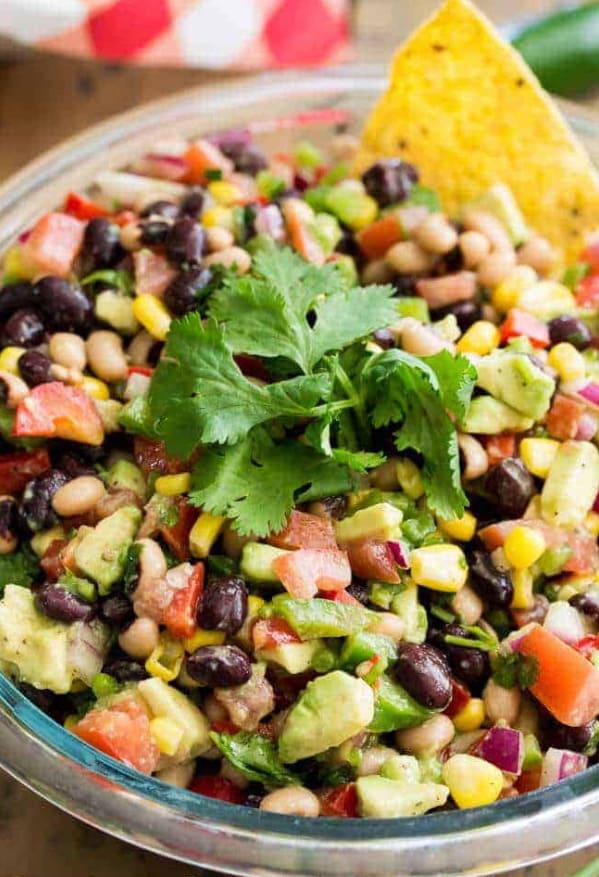 Everyone who tried this cowboy caviar loved it and the bowl was scraped clean in record time.
P.S. As you can see in the pictures, I love serving these with tortilla chips, but cowboy caviar also tastes amazing eaten straight by the spoon!
Ingredients
3 Roma tomatoes seeds removed, diced
2 ripe avocados diced
⅓ cup red onion diced
15 oz black beans rinsed and drained
15 oz black eyed peas rinsed and drained
1 ½ cups frozen sweet corn thawed (I just usually toss it in the salad frozen unless I plan on eating it immediately, it thaws quite quickly)
1 bell pepper diced (I used half a green and half a red, but color doesn't matter)
1 jalapeno pepper seeds removed, diced into very small pieces
⅓ cup Cilantro finely chopped
Dressing
⅓ cup olive oil
2 tablespoons lime juice fresh preferred
2 tablespoons red wine vinegar
1 teaspoon sugar
½ teaspoon salt
½ teaspoon pepper
¼ teaspoon garlic powder
Tortilla chips for serving
Instructions
Combine tomatoes, avocado, onion, black beans, black eyed peas, corn, pepper, jalapeno pepper, and cilantro in a large bowl. Toss/stir well so that ingredients are well-combined.
In a separate bowl, whisk together olive oil, lime juice, red wine vinegar, sugar, salt, pepper, and garlic powder.
Pour dressing over other ingredients and stir/toss very well.
Keep refrigerated. If not serving immediately, be sure to toss/stir well before serving.