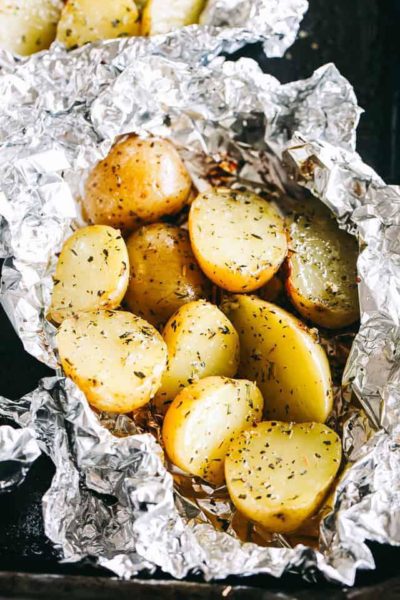 Ingredients :
2 baking potatoes, washed and sliced (and peeled if you want to)
1onion, sliced
1-2 Tbsp
mrs. dash seasoning
minced garlic
butter
toppings: butter, shredded cheese, parsley, sour cream, sliced green onions, bacon bits, whatever you like on your potatoes
salt and pepper
Directions :
Place sliced potatoes with onions and garlic on top in a microwave dish – a plate, pie plate or whatever is a safe microwavable dish.
Cover with a paper towel. Cook on high 20 minutes. (Your cooking time really depends a lot on how thick you cut your potatoes, you really want them about halfway done.)
Rearrange potatoes on plate and cook about 7 more minutes. I use 2 long pieces of aluminum foil, enough to make a nice packet to hold the potatoes.
I lay one lengthwise and one crosswise of that one. Spray with cooking spray.
Place sliced potatoes on foil, put onions on top of potatoes, season with a few pats of butter, Mrs. Dash, salt and pepper.
Fold foil over potatoes making a nice tight packet. Place on top rack of grill and finish cooking while you are cooking your meat, about 20 – 25 minutes, there's no need to turn.
The potatoes are actually steaming in the packet. Remove from grill and while still hot, top with more butter and shredded cheese, add other toppings as desired.
ENJOY!