This is by far the best chocolate maple cake you will ever have, hands down. What makes this recipe the best? First off, it is inspired by my grandma's favorite recipe. She added coffee to her cake which does magical things to chocolate. Second, this is truly a MOIST and flavorful chocolate cake. Is there anything worse than dry cake? Nope. You will never have that problem with this recipe!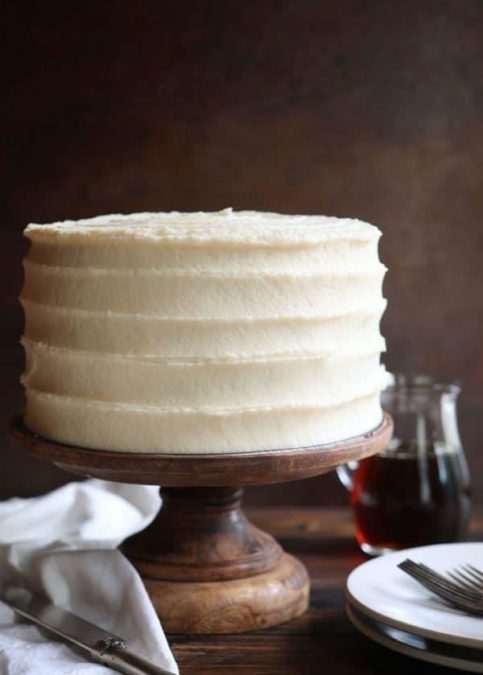 Maple Frosting
I wanted to make sure that frosting had a real maple flavor so I not only added maple syrup, but I added McCormick Maple Extract. The beauty of using the extract in the recipe is that I was able to maintain the consistency and flavor I wanted without turning the frosting into a runny mess. Just be sure to follow the recipe exactly!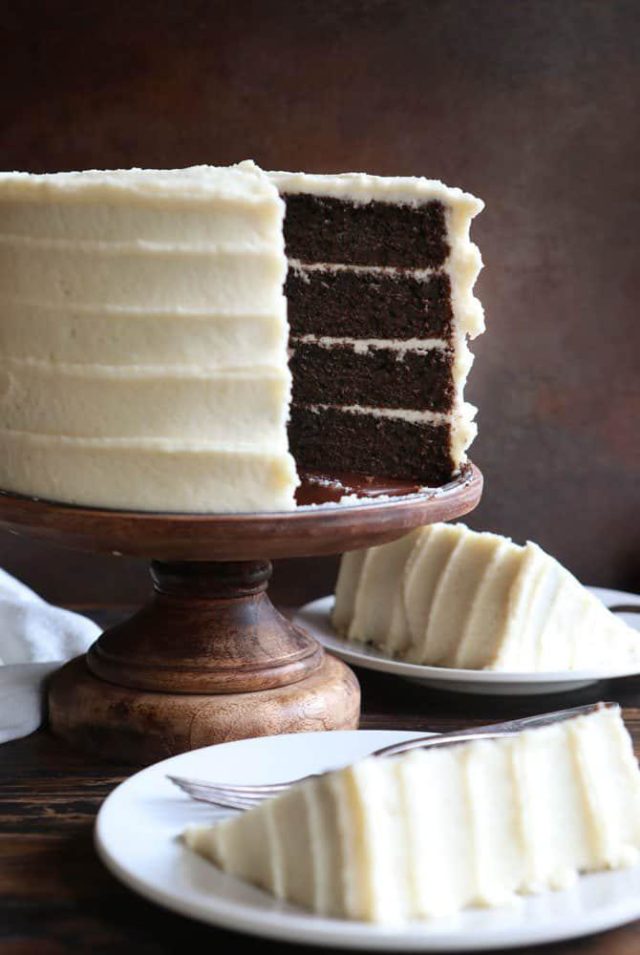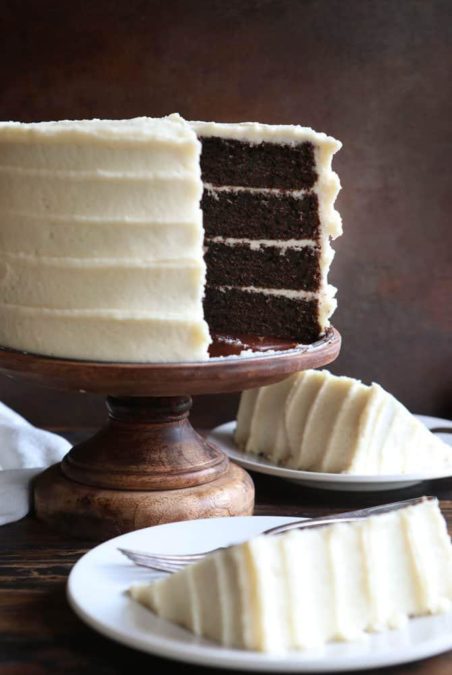 How to Stack a Layer Cake
Chill your layers before assembly. I find that working with a chilled or partially frozen cakes really helps. There is nothing worse than trying to assemble a layer cake and having it fall into pieces in your hands. And you totally know I am speaking from experience.
There are many methods to torting or using frosting in between the layers of your cake. I like to do what is easiest and whatever method requires as few tools as necessary.
Place your first layer on your cake stand. Apply the frosting and use a small offset spatula to make frosting an even layer.
Place your next layer on top. Some frosting should "spill out" the sides and that is exactly what you want. Repeat this process; frosting, layer of cake, frosting, layer of cake, until you have added all your layers.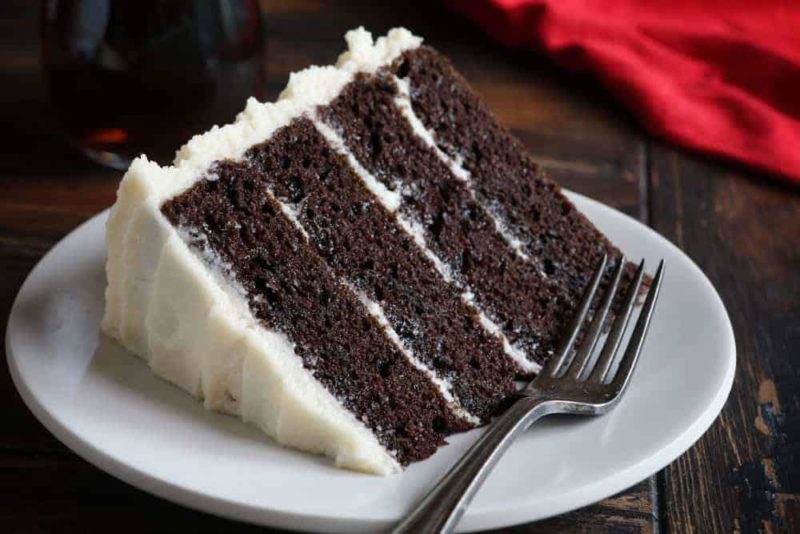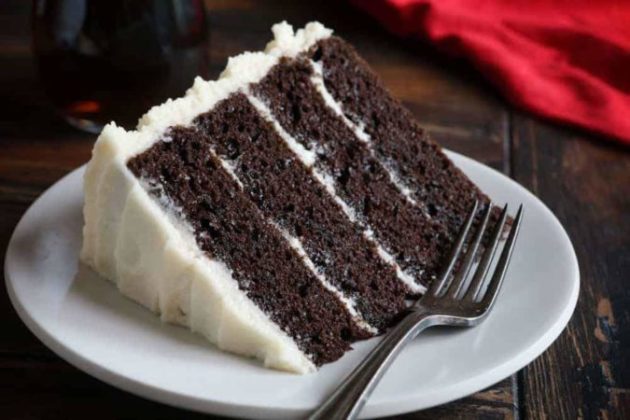 When making a layer cake it is important to do a crumb coat, which is simply a thin layer of frosting applied to a cake. The crumb coat is intended to seal in crumbs, hence the name, crumb coat. Maybe too much frosting spilled out, or your layers may not be perfectly aligned, or maybe your cake is slightly lopsided. Doing a crumb coat is a great opportunity to fill in any problem areas.
Use an offset spatula. I put a dollop on top of the cake and then use the spatula to bring it down over the sides, making sure to get the frosting all the way to bottom.
If you have a rotating cake stand, you can place your spatula flat against the cake and slowly turn the stand. This will help smooth out the frosting and create an even coat. If you see any uneven spots, simply add more frosting to those areas and then repeat with the offset spatula.
Once your cake is covered in the crumb coat, I usually chill it for at least 10 minutes. I like the cake to settle and the frosting to set.
To decorate a cake, I start by putting a smooth layer of frosting on. This is done the same way as the crumb coat. Place a dollop on top of the cake and pull it down over the sides using an offset spatula.
To smooth out the sides, make sure the cake is covered in an even layer of frosting, then place spatula (or bench scraper) flat against the side of the cake. Slowly turning cake, smooth out the layer of frosting until you have polished, even coat. This step takes practice, so don't be too hard on yourself if it doesn't look perfect. Just keep at it until you are comfortable with how your cake looks!
Once you have the sides done, use your spatula to smooth out the top. Starting at the edge, gently press your spatula against the frosting and move in, towards the center of the cake. Repeat this around the entire cake until you have removed excess frosting. You can use the small offset spatula to go around the cake to make the top crisp and clean.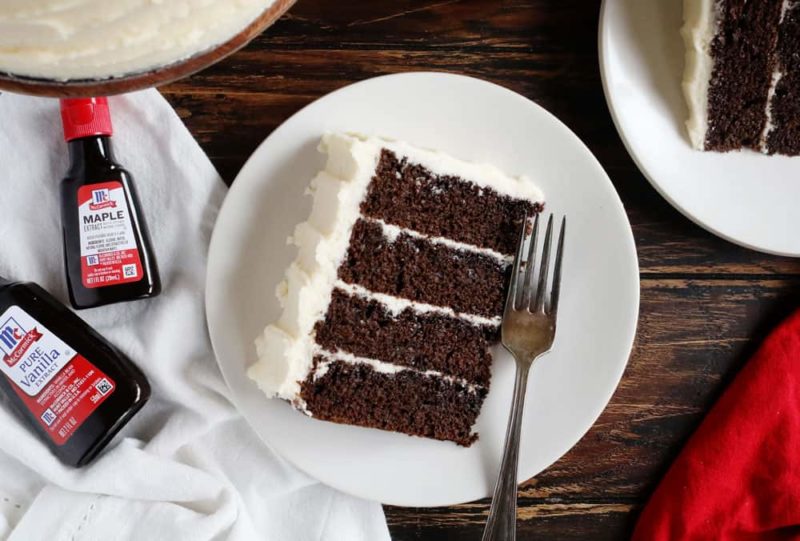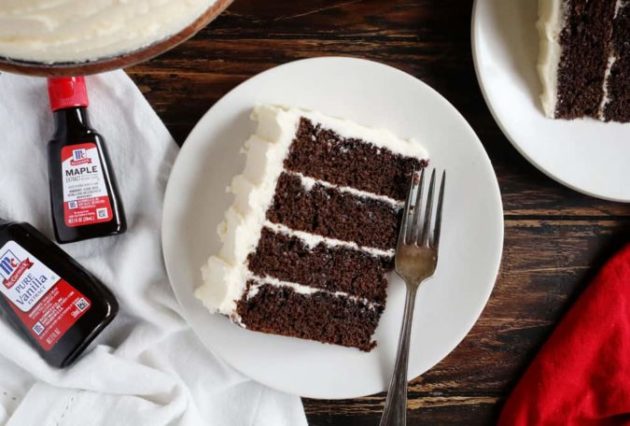 Extracts in Baking
I am a big BIG fan of using extracts in baking and consider them an essential component in baked goods. I use McCormick extracts in almost all of my baking and especially when I want the flavor of the extract to make a big impact. (Quick tip, I even add vanilla extract right into my coffee!)
Extracts are used to add depth and complexity to any baked good. You can add a strong flavor to a cake, as well as to create a subtle flavor that will help to add complexity and quality to a frosting. Extracts, which are concentrated solutions that contain all elements of the product from which they are extracted, are the easiest most effective way to add flavor without compromising your dessert.
This chocolate maple cake includes both vanilla and maple extract. When testing this recipe I made a maple frosting utilizing only maple syrup and found it to be difficult to work with as well as bland. When the syrup was combined with the sugar it almost diluted the maple flavor and was just too sweet. The maple extract allowed me to have the most amazing maple flavor and yet have a frosting that easy to work with when covering the cake. If you want to control the flavor in cakes, cookies, frostings, and desserts I highly recommend grabbing that little bottle with the red cap so you can make your dessert extraordinary!
INGREDIENTS
CHOCOLATE CAKE (MY ORIGINAL CHOCOLATE CAKE RECIPE THAT HAS BEEN DOUBLED)
3 1/2 cups (420g) all-purpose flour
1 tablespoon McCormick Pure Vanilla Extract
4 extra-large eggs at room temperature
1 cup (224g) vegetable oil
2 cup (480g) buttermilk (room temperature)
2 tsp. kosher salt
2 tsp. baking powder
4 tsp. baking soda
1 1/2 cups (180g) unsweetened cocoa powder
4 cups (800g) granulated sugar
2 cups (474g) freshly brewed hot coffee
MAPLE FROSTING
2 cups (4 sticks or 452g) unsalted butter, at room temperature
6-8 cups (750-1000g) confectioners sugar
1 cup maple syrup
1 teaspoon McCormick Maple Extract
2 teaspoons McCormick Vanilla Extract
INSTRUCTIONS
CHOCOLATE CAKE
Sift the flour, sugar, cocoa, baking soda, baking powder, and salt into the bowl and mix until combined.
In another bowl, combine the buttermilk, oil, eggs, and vanilla.
With the mixer on low speed, slowly add the wet ingredients to the dry. With mixer still on low, add the coffee and stir just to combine, scraping the bottom of the bowl with a rubber spatula. Pour the batter into FOUR 8-inch round prepared pans and bake for 30 to 40 minutes at 350°F, until a cake tester or toothpick comes out mostly clean (not wet).
Cool in the pans for 30 minutes, then turn them out onto a cooling rack and cool completely.
MAPLE FROSTING
Add the butter to a stand mixer and using the paddle attachment, beat until lighter in color and fluffy. Add in the confectioner's sugar a couple cups at a time.
With the mixer off, add in the vanilla and maple extracts and then add in the syrup.
Beat on low speed until syrup and sugar are incorporated, about 1 minute.
Increase speed to high and beat until mixture is light and whipped, about 5 minutes.
Use immediately. Refrigerate any leftovers in an airtight container.