Awesome pie, insanely delicious!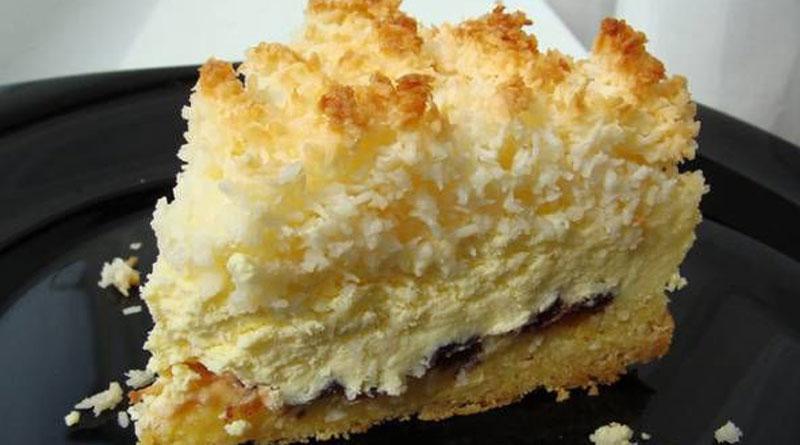 Bake and treat your family!
Ingredients
For the dough:
✓ 100 g butter;
✓ 50 g of granulated sugar;
✓ 1 yolk of a chicken egg;
✓ 1 tsp baking powder or soda
✓ wheat flour – how much will go (if very approximately – 200 grams)
For curd filling:
✓ 0.5 kg of cottage cheese;
✓ 100 g granulated sugar;
✓ zest of one lemon;
✓ a bag of vanilla;
✓ 3 chicken eggs;
✓ 1 tbsp. l starch
For "curls":
✓ 150 g coconut flakes;
✓ 70 g of granulated sugar;
✓ 100 g butter.
For filling:
✓ Any according to your desire: fruits from jam or canned food in syrup (in this case, give the syrup well to drain), prunes or other dried fruits.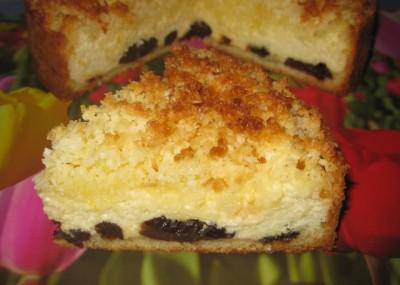 Recipe
Cooking the dough. Remove the butter from the refrigerator in advance to make it soft.
Grind it with granulated sugar, yolk and baking powder or quenched soda.
Add flour gradually, kneading soft dough.
Take a mold with a diameter of 20-25 cm, grease with oil and sprinkle lightly with flour.
Put the dough in the form, flatten on the bottom and make small sides.
Put the form with the dough in the refrigerator for 20-30 minutes.
Having taken out their refrigerator, put on the dough a fruit layer, and on it a curd filling.
Turn on the oven so that it warms up to 180 degrees.
Curd filling: Grind all the ingredients for the filling to a creamy state.
Curls: Mix shavings, butter and granulated sugar, sprinkle pie.
Put in a heated oven and bake for about an hour.
To prevent coconut flakes from becoming too dark (then the cake will be ugly), cover the cake with foil for the first 40 minutes of baking, then remove it.