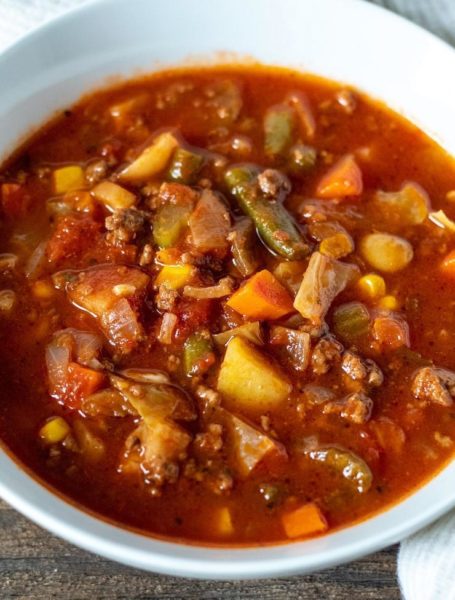 Ingredients :
5 T. butter
2 1/2 – 3 C. cubed beef (I used a flat iron steak)
1 large onion, chopped
3 C. chopped cabbage
14.5 oz. beef broth
15 oz. can crushed tomatoes
1/2 can water, using the empty tomato can
1 pint stewed tomatoes
12 oz. frozen vegetable soup mix
14.5 oz. can field peas& snaps, drained (you can use lima's, or any type of extra beans you might want to add)
1 C. frozen whole kernel corn
salt and pepper to taste
Directions :
Heat 3 T. butter in a dutch oven over high heat.
Add the cubed beef and onions, cooking till meat has browned.
Add the cabbage and cook for 1 minute.
Add the broth, tomatoes, water, soup mix, peas and corn.
Cover and cook on medium heat for 1 hour (if using a tougher cut of meat it may take a little longer), stirring occasionally.
Stir in the remaining butter and salt and pepper to taste
ENJOY!