This classic Reuben Sandwich is a satisfying and filling lunch or dinner. My homemade Russian Dressing is the perfect condiment to the sandwich, with its slightly spicier taste. I also have a Thousand Island Dressing that you could use if you prefer a sweeter tasting Reuben Sandwich.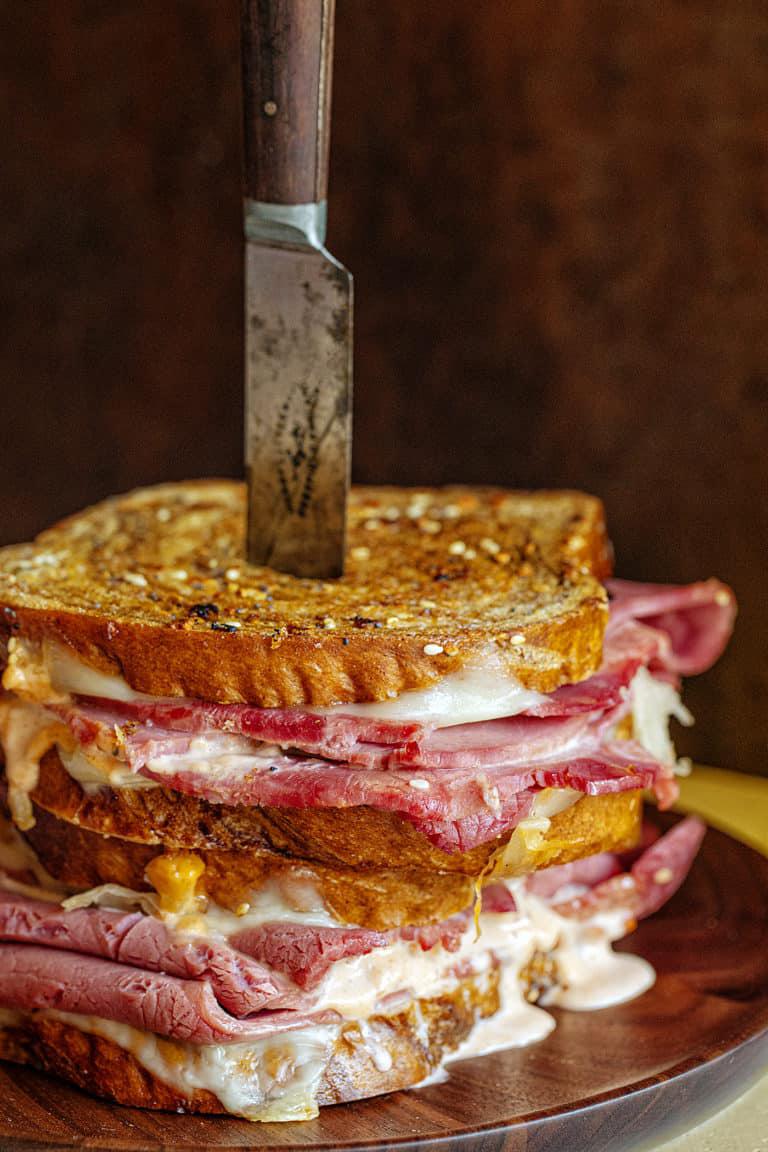 Reuben Sandwich
As a kid, I never liked sauerkraut, so I shied away from ever enjoying this popular Reuben Sandwich. I was definitely missing out! Since my taste buds have decreased (which they do as we get older), I actually have become of fan of sauerkraut's salty and sour flavor! Plus, sauerkraut actually has some health benefits, being that it is a good source of fiber and the fermented cabbage produces probiotics that keep our digestive system on track. Okay, now that I have convinced you to give sauerkraut another chance if you were not already on board, you can pile it on my Reuben Sandwich. I loved this sandwich so much, I went ahead and created Reuben Sliders!
Reuben Sandwich Ingredients
This is a pretty classic take on a Reuben Sandwich, but I think my herbed butter takes it to an even more flavorful level, and it's so easy to make!
Herbed Butter:
Butter
Minced garlic
Minced onion
Sesame seeds
Poppy seeds
Sea salt
Reuben Sandwich:
Corned beef: Deli-style corned beef worked just fine for this sandwich. I prefer a thicker cut and that is what I request at the deli. If you like a thinner cut, it works perfectly in this recipe as well! If corned beef is not your thing, I will have some variations you can try at the end of the recipe.
Marble Rye bread: I bought the marble rye bread from the bakery section at a local grocery store, and it was delicious!
Russian Dressing: As I stated at the beginning of this post, I made my own Russian dressing for the Reuben Sandwich, but you could use store-bought dressing as well.
Sauerkraut: Remember the health benefits of sauerkraut?!? Pile it on your sandwich!
Swiss cheese: Swiss cheese is generally used for a Reuben Sandwich because of its mild flavor. You may also try mozzarella or provolone cheese, two more mild-tasting kinds of cheese.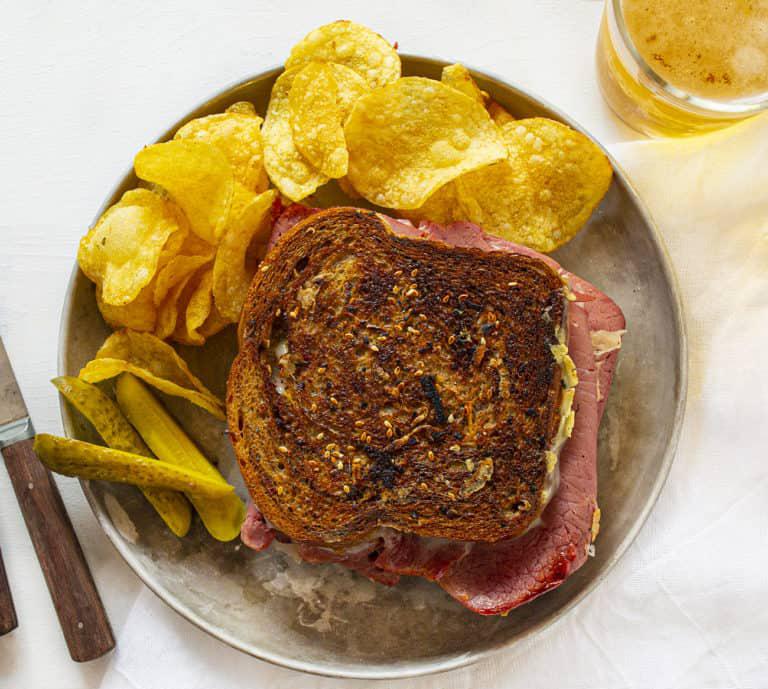 How to Make Reuben Sandwiches
For the herbed butter, simply mix all the ingredients together and set off to the side. This will be the butter you use before grilling the bread. You can use regular butter, but I really think this herbed butter takes the flavor of a classic Reuben to the next level.
Preheat a grill or skillet to medium-low heat while you prepare the corned beef and sauerkraut. To steam the corned beef, place about a quarter-pound of the beef on a damp paper towel and heat in the microwave, on high, for 30 seconds. Next, put the sauerkraut in a covered microwaveable dish and heat for about 30 seconds as well, or until it is heated through.
It's time to pile on the ingredients that make up this classic Reuben Sandwich. Butter one side of two or three pieces of bread, depending on how hungry you are! Place one piece of the bread, butter side down, onto the grill or skillet. Layer the Swiss cheese, corned beef, sauerkraut, Russian dressing, more corned beef, and another slice of cheese and top with another slice of bread (butter side up). Heat for about 2-3 minutes until the cheese begins to melt. Then, flip the sandwich over, heating the other side for another 2-3 minutes. Remove from the heat and enjoy it with some chips and a pickle!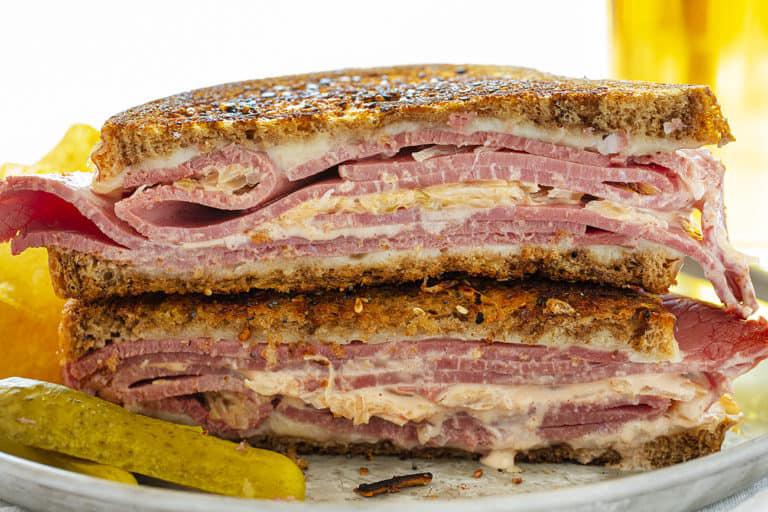 Variations of a Reuben Sandwich
For some variations of this classic Reuben Sandwich, try it with fish, like Walleye, Grouper, or Tilapia! Of course, being in Minnesota, the walleye variation makes total sense to me. You could also replace the corned beef and sauerkraut with pastrami and coleslaw to make the "Rachel" version. Not a meat-eater? You can make this Reuben Sandwich vegetarian style as well. Simply substitute the corned beef with zucchini, cucumbers, or mushrooms.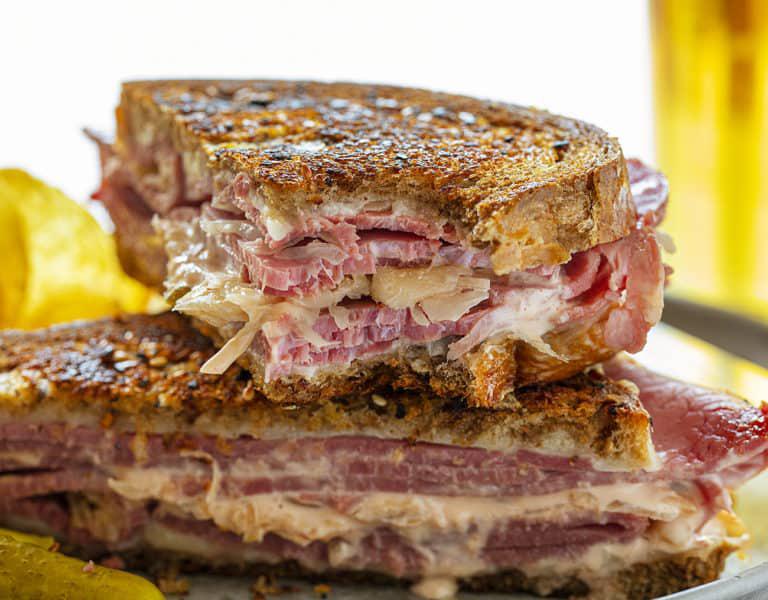 INGREDIENTS
HERBED BUTTER
1/4 cup butter
1/2 teaspoon dried minced garlic
1/2 teaspoon dried minced onion
1/2 teaspoon sesame seeds
1/4 teaspoon poppy seeds
1/2 teaspoon sea salt
REUBEN
1 pound deli corned beef
1 loaf marble rye bread
1 cup Russian Dressing
8 ounces sauerkraut
12 slices Swiss cheese
INSTRUCTIONS
HERBED BUTTER
In a small bowl, mix together butter, garlic, onion, sesame seeds, poppy seeds, and salt. Set aside.
REUBEN
Steam the corned beef by placing a small amount at a time (about 1/4 pound) in a damp paper towel and placing it in the microwave on high for 30 seconds.
Heat the sauerkraut (cover in the microwave for about 30 seconds or until heated through).
Butter one side of each slice of rye bread using the herbed butter. Place 2- 3 slices of buttered bread on heated skillet or grill pan over medium-low heat.
Layer the Swiss cheese, corned beef, sauerkraut, Russian dressing, more corned beef, and another slice of cheese and top with another slice of bread (butter side up).
Heat until bread slightly browned and crispy and cheese melted about 2-3 minutes. Flip and repeat with the opposite side.