This Peach Dessert Salad is a breeze to whip up and a definite crowd pleaser! It's a no-bake sweet dessert that is perfectly refreshing for summer and an easy recipe to make for your next potluck or neighborhood gathering.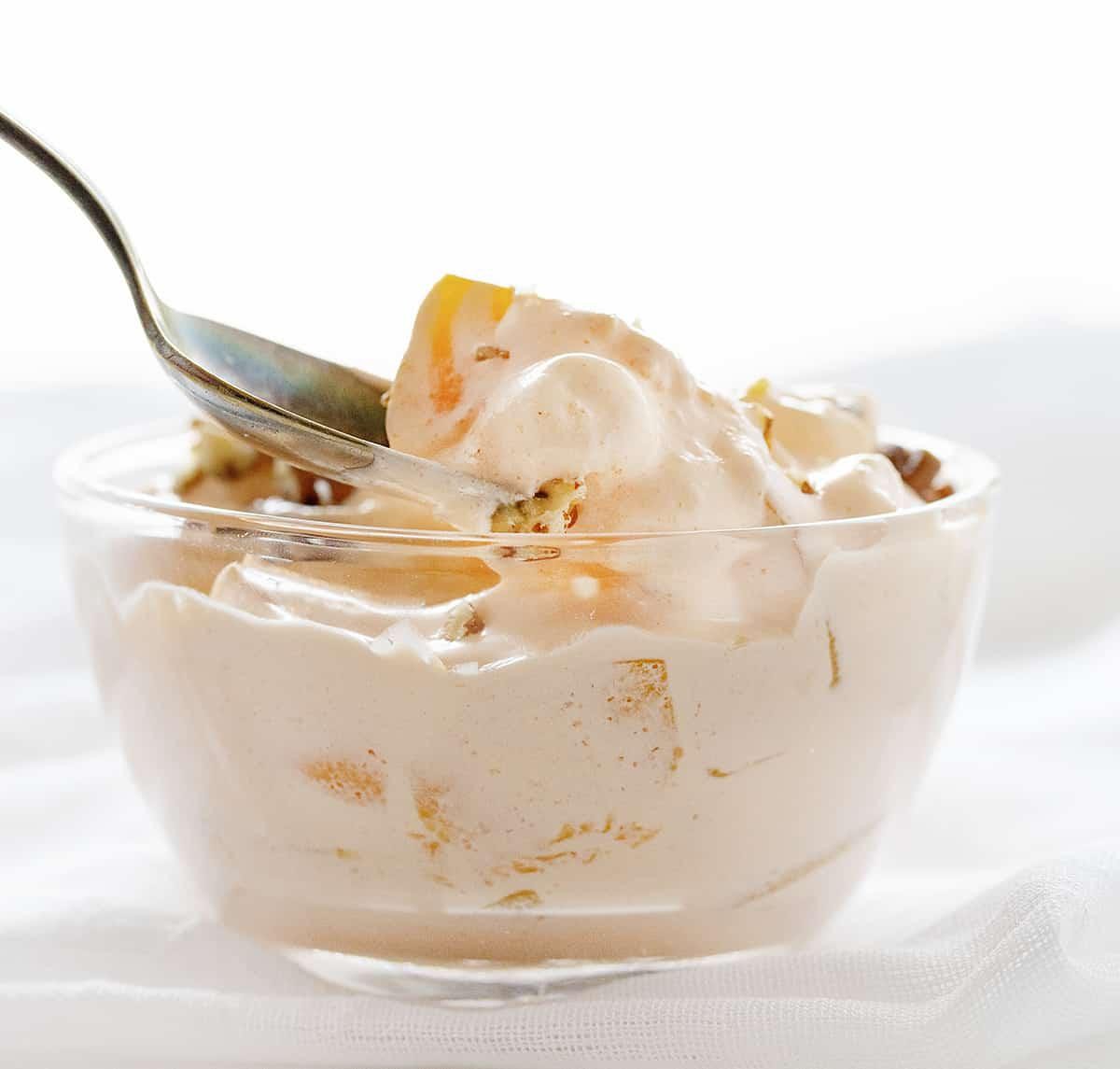 Peach Dessert Salad
Inevitably, there always seems to be a creamy, marshmallowy dessert at every family reunion I have ever attended. I remember the potlucks in the basement of my church where all the adults would talk for hours while I quietly and (maybe not so) patiently waited for the adult conversations to end. Those reunions and gatherings are now fond memories that I cherish, and I am now that adult that will make sure there is some sort of fluff dessert at each potluck I am at!
I have tried quite a few fluff recipes, and the Peach Dessert Salad is my newest flavor to add to the blog. Growing up my mom used to call it Tickle-Me-Peach Dessert. When I asked her why as an adult, she said: "It was that dessert that you always said tickled your tongue!" So apparently that name was only applied in our family! ?
During these hot summer days, this is refreshing to have as a snack or, of course, a dessert!
What is a Fluff recipe?
Typically it is an instant pudding base with whipped topping added to create a lighter and "fluffier" texture. This recipe does not have pudding and utilizes cream cheese. But the final result is the same… a lighter, fluffier, flavor-packed mousse-like recipe that folks can't get enough of!
Peach Salad Dessert Ingredients
There are 7 simple ingredients in this recipe, and it's so easy anyone can make it!
Cream Cheese
Confectioners Sugar
Whipped Topping (cool whip)
Orange Jello
Peaches
Marshmallows
Pecans (optional)
The cream cheese should be room temperature, especially if you are mixing by hand. Plus, when mixing cold cream cheese, you can end up with too many lumps. If you have not had time to let the cream cheese get to room temperature, or simply forgot, there are a couple of tricks you can use. One trick is to take the cream cheese out of its foil wrap and warm it up in the microwave for 15-20 seconds. Another option would be to keep the cream cheese in the foil packaging and cover it with warm water for about 10 minutes.
If you are feeling motivated, why not make your own marshmallows, rather than buy them from the store? I have a Homemade Marshmallow Recipe that you can definitely try.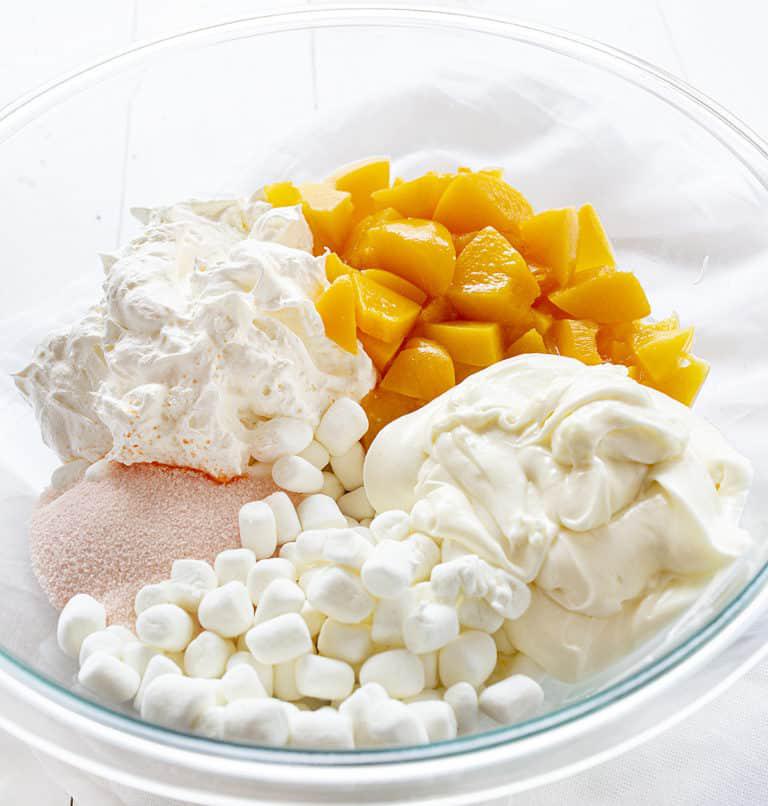 How to Make Peach Dessert Salad
This will be one of the easiest desserts you will make, and you will love it! Start by beating the cream cheese and confectioners sugar together until you have a smooth and fluffy mixture. Add the whipped topping, orange jello, drained, chopped peaches, and mini marshmallows. Stir this well, and put it in the refrigerator to chill for a couple of hours. When you are ready to serve, offer some chopped pecans to top off the dessert. If your place is a nut-free zone, feel free to leave those out!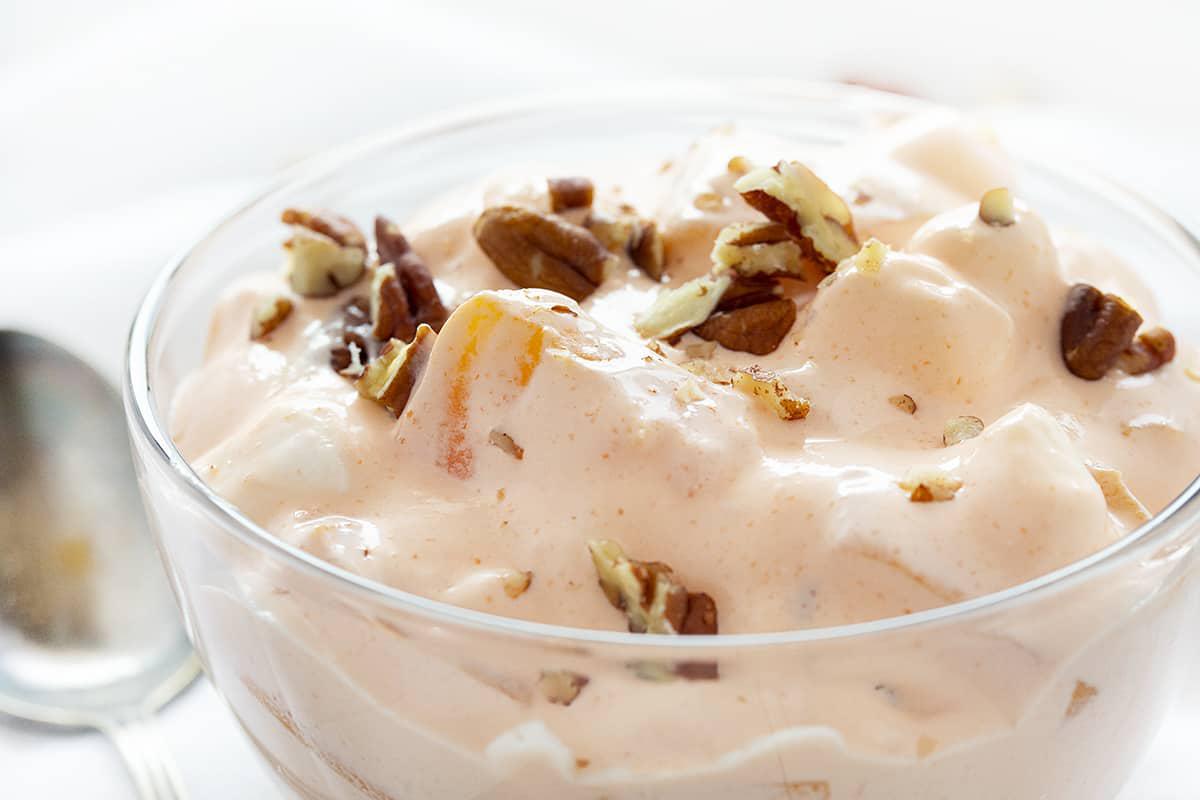 How to Serve Peach Dessert Salad
When attending an event I make Peach Dessert Salad in a big bowl and bring a big spoon. (Who doesn't love a giant helping of a fluff salad?) But when at home I like to serve it in individual bowls. If you want to use fresh peaches, especially in the summer when they are at their peak, add some sliced peaches and a cherry on top to really make a presentation!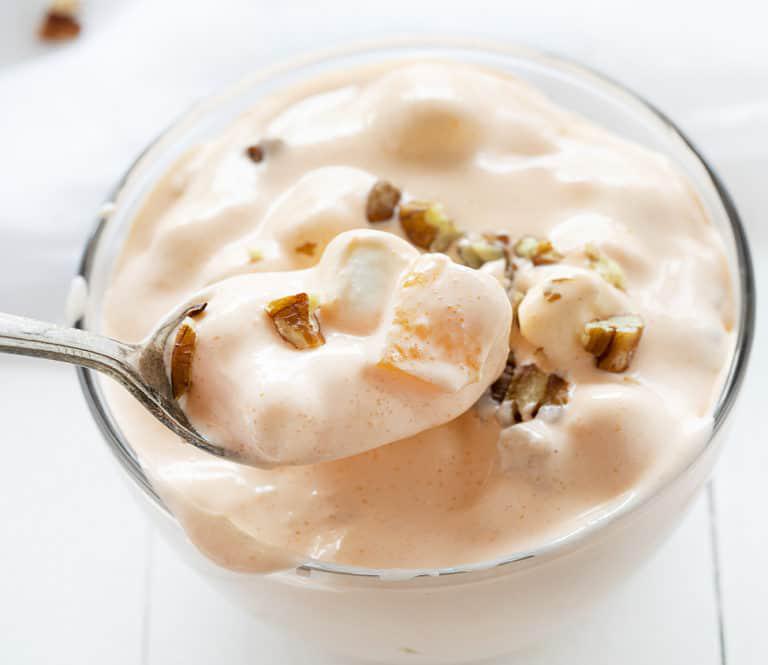 INGREDIENTS
8 ounces cream cheese
1 cup (125g) confectioners sugar
8 ounces whipped topping
1 package (3 ounces) orange jello
2 cans (15 ounces each) peaches, chopped and drained
2 cups (100g) mini marshmallows
1/4 cup (109g) pecans, chopped
INSTRUCTIONS
In a large bowl beat the cream cheese and confectioners sugar together until smooth and fluffy.
Fold in whipped topping, dry jello mix, chopped peaches, and mini marshmallows.
Stir well and then refrigerate for at least 2 hours.
Add chopped pecans right before serving.