Once you try this Bacon and Cream Cheese Stuffed Chicken Breast, you won't want any other kind of chicken. Perfectly seasoned and bursting with cream cheese, mozzarella, and bacon, this will be your new favorite meal!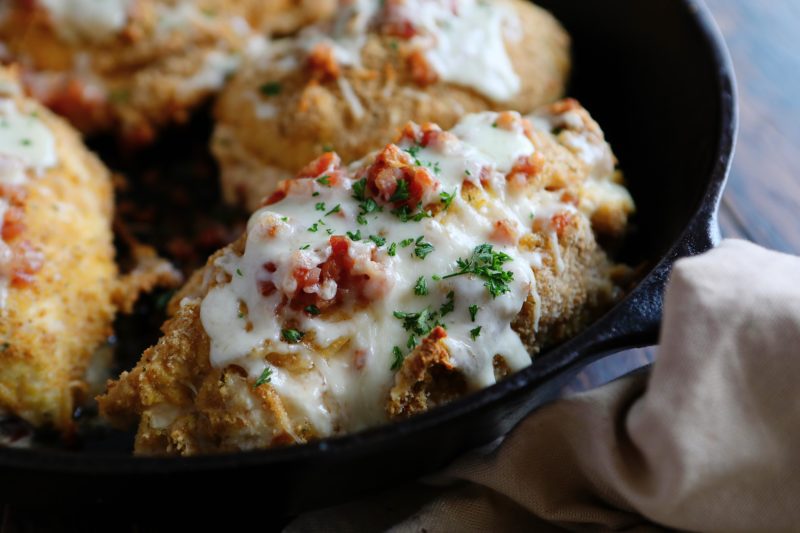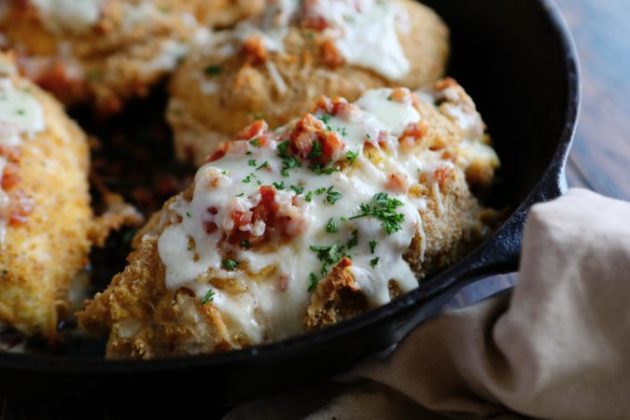 Bacon and Cream Cheese Stuffed Chicken Breast
First of all, bacon and cream cheese stuffed into anything is a winner in my book. If you love bacon and cream cheese, make sure to check out Bacon Jalapeno Poppers and Bacon Ranch Cheese Ball Bites. I have been making appetizers like this for an eternity and I decided that I wanted to add a little more protein to my favorites. So, chicken stuffed with the stuff must be good, right? Right!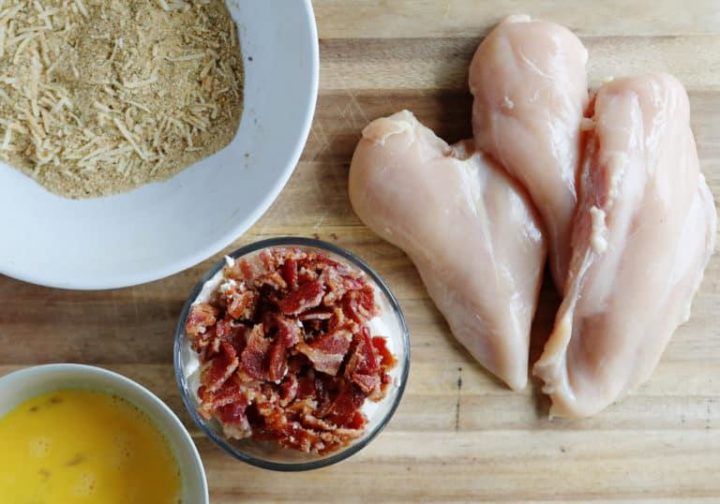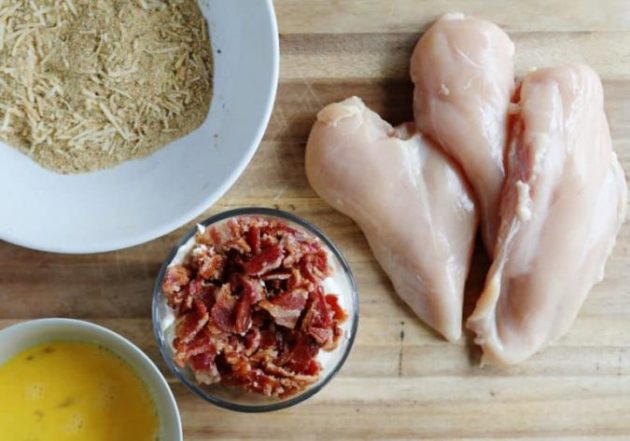 How to Make this Stuffed Chicken Breast Recipe
To make this stuffed chicken recipe, let's start by gathering the necessary equipment. You will need three small bowls, a plate, a whisk, a cutting board, and a sharp knife. Set the three small bowl out. In the first bowl, you will whisk together your eggs. The second bowl will contain bread crumbs, parmesan cheese, and garlic powder. Our final bowl is for our cream cheese mixture (cream cheese, garlic powder, mozzarella, and (my favorite) bacon). The plate (or wide bowl) should contain your flour. Set all of this aside because before you can go any further, you have to butterfly the chicken breasts.
How to Butterfly a Chicken Breast
Starting with the cutting board, we are going to butterfly the chicken. If you have never done this before, there are a couple of options. You can ask the fine employees behind the meat counter to do this for you. They do it for free. Otherwise, you can do it the old-fashioned way, with a knife. Essentially, butterflying a chicken means that you are going to cut the chicken in half without completely separating it. It is basically a way to make the chicken thinner and longer (and way easier to stuff). With one hand on the top of the chicken breast and the other on the knife, gently cut through the thickest part of the chicken, but stop before you cut all of the way through. The top and the bottom of the chicken should stay together, folding out into a butterfly shape.
Stuffed Chicken Breast Prep
Now that you have your set up ready to go, you can prepare the stuffed chicken. Stuff each chicken breast with the cream cheese mixture and close the chicken breast the best you can. I have found that it works just as well to spread the cream cheese mixture out before closing it. You can secure with toothpicks if you want, but you don't need to. Dip and cover each breast in flour, then egg, and finally the breadcrumb mixture. Place each chicken breast on a baking dish and set them in the oven for 30-45 minutes or until a meat thermometer reads 165° F.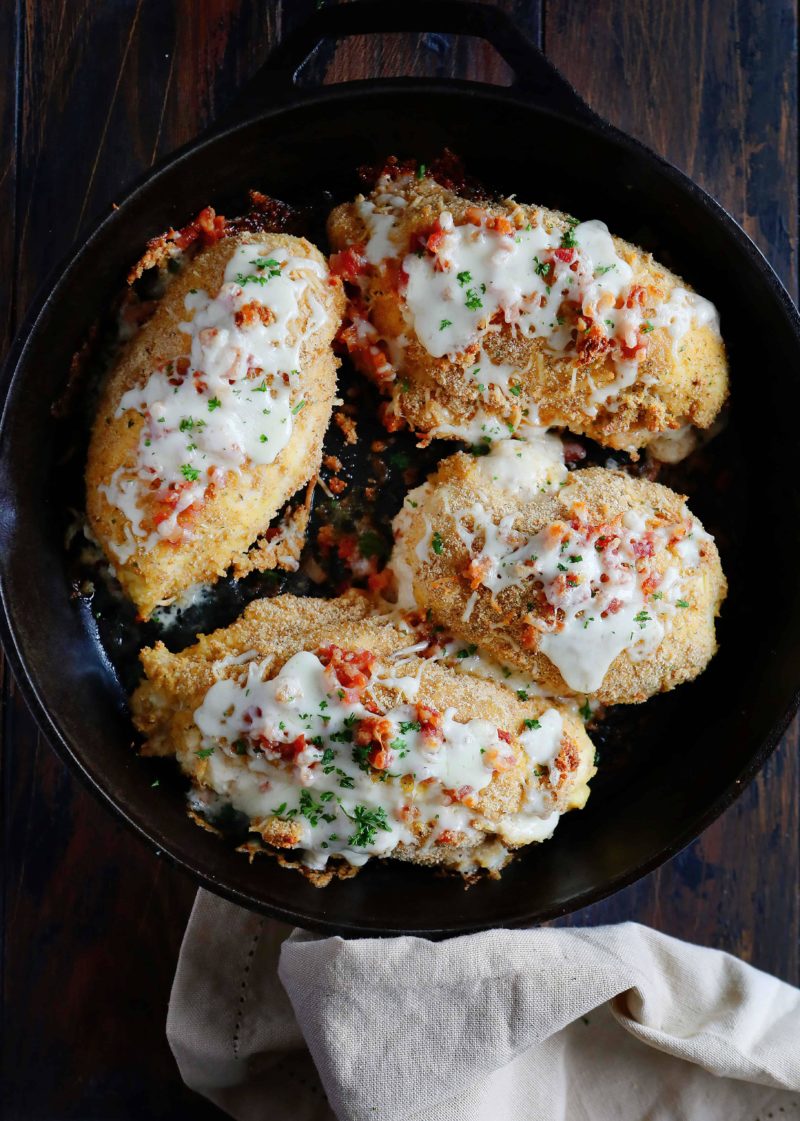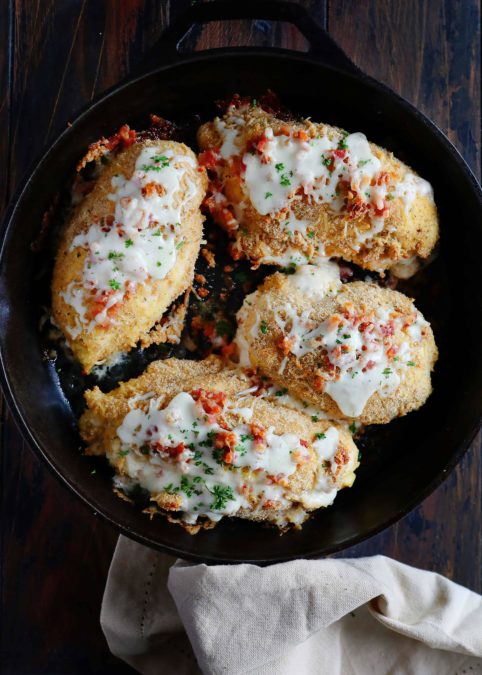 Baked Stuffed Chicken Breast
In my opinion, baking this dish is really the only way to go. The crispy outside of the chicken pairs nicely with the creamy contents baked into the inside of the chicken. Another option would be to wrap the chicken in bacon, in addition to adding it to the filling. You have to be careful with timing doing it this way because depending on the thickness of your bacon, it might come out a little soggy. I have cooked this way and I usually pop the bacon in the oven for about 10 minutes before I wrap it around the chicken. This pre-cooks the bacon, giving it a better chance of crisping up during the baking process. Side note though, I like my bacon crispy.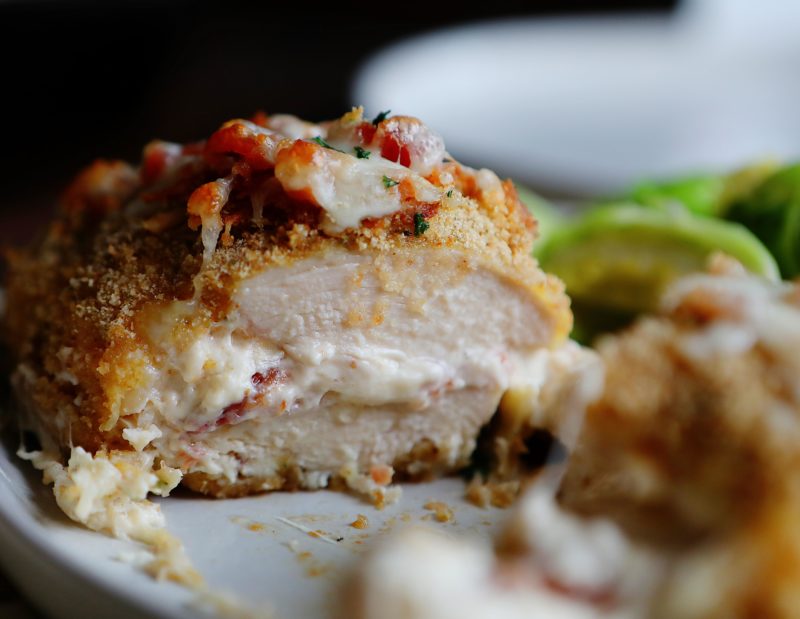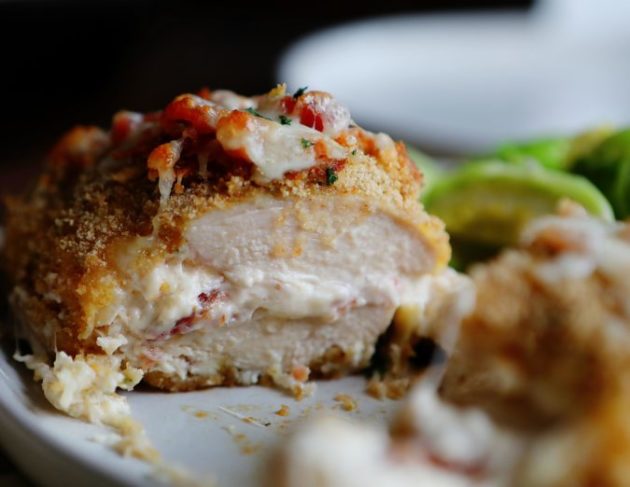 INGREDIENTS
CHICKEN
4 skinless boneless chicken breasts
2 eggs
1 cup (108 g) seasoned bread crumbs
1/2 cup (50 g) parmesan cheese, finely grated
1 teaspoon (2.8 g) garlic powder
1/2 cup (62.5 g) all-purpose flour
CREAM CHEESE MIXTURE
8 ounces (226.8) cream cheese
1 teaspoon (2.8 g) garlic powder
5 slices bacon, cooked and crumbled
1 cup (112 g) mozzarella cheese, shredded
INSTRUCTIONS
Preheat oven to 375°F.
Butterfly each chicken breast. To butterfly, slice into the thick side of the breast and cut towards the thin point, being careful not to cut all the way through to the other side. You should be able to open the chicken breast (resembling the shape of a butterfly).
In a small bowl, whisk eggs.
In a second bowl, combine your bread crumbs, parmesan cheese, and garlic powder.
On a plate or a wide bowl, spread out the flour.
In a third small bowl mix together the cream cheese mixture including cream cheese, garlic powder, crumbled bacon and shredded mozzarella
Divide the cream cheese mixture into your 4 chicken breasts, spreading out to cover, and fold the breast closed.
Roll each breast in flour, dip each stuffed breast carefully in the egg mixture and then roll in your bread-crumb mixture.
Place on baking sheet and bake in the oven for 30-45 minutes (time will vary based on the size of chicken breast).