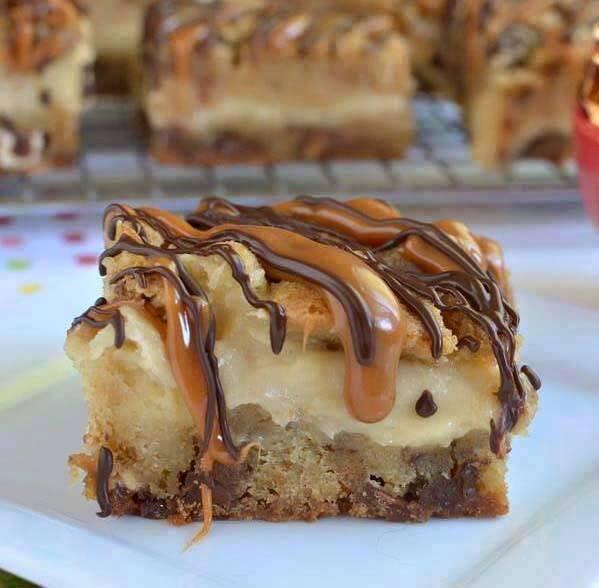 Ingredients :
For the Cookie Layer
1/2 cup butter
1/2 cup shortening
2 Tablespoons sour cream
1/2 cup sugar
1 cup brown sugar
2 eggs
1 teaspoon vanilla
1/2 teaspoon baking soda
1/2 teaspoon salt
2 1/4 cups flour
1/2 cup graham cracker crumbs
2 cups chopped Milky Way candy bars (I used the Caramel Apple ones)
For the Cheesecake Layer
1 – 8 ounce package cream cheese, softened
1/2 cup sugar
1 egg
1/4 cup caramel ice cream topping
2 Tablespoons flour
For the Topping
4 ounces caramel candies (about 14 squares)
4 Tablespoons heavy cream
1/4 cup chocolate chips
1/2 teaspoon shortening
Instructions :
For the Cookie Layer
Cream the butter, shortening, sour cream, and sugars until creamy. Add the eggs and vanilla.
Sift together the flour, crumbs, baking soda, and salt and slowly add to the butter mixture. Stir in the candies by hand. Press half the mixture into a greased 8 inch pan.
Beat the cream cheese and sugar until creamy. Add the egg, caramel, and flour and beat again. Pour the cheesecake mixture on top of the cookie dough in the pan.
Crumble the rest of the cookie dough gently on top of the cheesecake. Bake at 350 degrees for 45 minutes. Let cool on the counter for 1-2 hours. Refrigerate 4-6 hours.
Place the caramels and heavy cream in a small saucepan. Heat and stir until melted and creamy. Drizzle over the top of the cooled bars.
In a small microwave safe bowl, place the chocolate chips and shortening. Heat for 20 seconds. Stir and repeat until melted and smooth. Place in a bag and cut one corner off. Drizzle over the cookie bars. Let set. Cut into 15 squares. Store in a sealed container in the refrigerator
ENJOY!