Normally, to get the pandan flavor, the gelatin is cooked along with pandan leaves. Thank goodness, pandan flavored gelatin is now available at any Filipino store. We all grew up loving buko pandan, a Filipino dessert salad made of young coconut fruit, pandan-flavored gelatin, cream, and milk.
This vibrant green-colored dessert is sweet and delicious and is a firm favorite at Christmas parties and is a treat that is undeniably Filipino. In honor of one of our most beloved Pinoy desserts, here is a recipe of buko pandan for you to easily follow.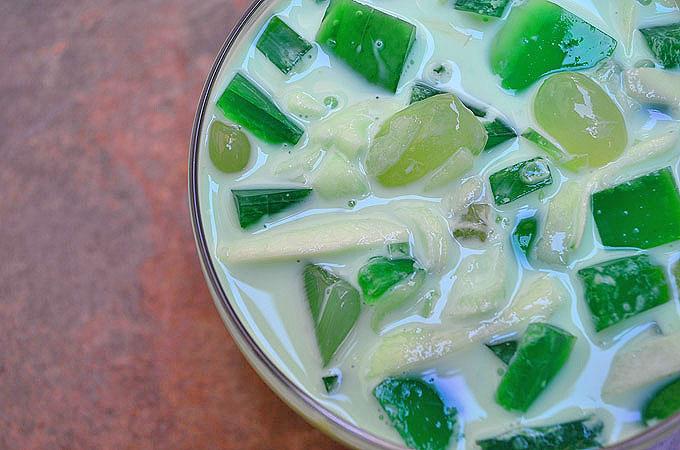 Ingredients
½ kg. young coconut, shredded
2 packs green jelly powder (19g each)
1 cup corn kernels
1 cup cheese, diced
1 cup nata de coco
4 pcs. pandan leaves
2 cans condensed milk (380g each)
1 pack all-purpose cream (250ml)
2.8 liters water
2 tbsp. buko pandan flavor
Instructions
Cook gulaman as per instructions written on the packaging. Add pandan leaves while cooking the gulaman.
Remove the pandan leaves when the gulaman is cooked. Mix-in some buko pandan flavor then remove from heat.
Transfer the gulaman into a shallow container. Let it cool for 30 to 45 minutes.
Slice the gulaman into little cubes.
In a bowl, mix all the remaining ingredients including the prepared gulaman cubes.
Serve chilled. Enjoy your special buko pandan!