Cherry Chicken Pasta is a creamy pasta salad that is full of flavor from red onions, dried cherries, homemade poppyseed dressing, and toasted almonds.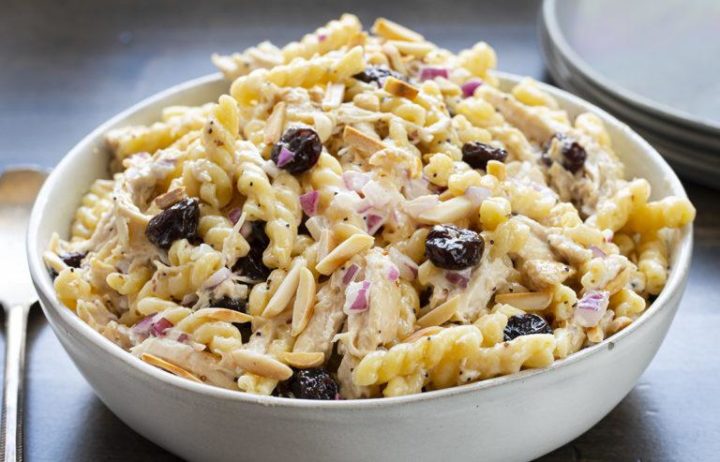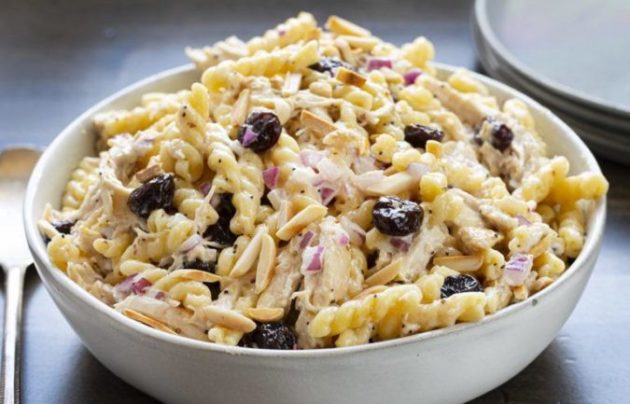 CHERRY CHICKEN PASTA
Cherry Chicken Pasta reminds me of one of my favorite Caribou Coffee pasta salads that they used to sell. I don't think it is on the menu anymore, but I remember loving the combination of flavors all coated in poppyseed dressing.
This recipe is pretty close to the one I remember from the coffee shop, and I absolutely love how it turned out! This cold pasta salad would definitely be a hit at any pot luck or gathering, and it is a great lunch to enjoy, especially in the summer!
CHERRY CHICKEN PASTA RECIPE
This recipe is easy to put together and the chicken adds some protein to make this more of a meal than a side dish.
Ingredients (full recipe below)
Rotisserie chicken–If you can't get one at the store, make your own rotisserie chicken!
Gemelli pasta–Pasta with nooks and crannies are best for cold salads.
Red onion
Dried cherries–Dried cranberries are delicious in the salad as well.
Mayonnaise
Poppyseed dressing
Salt
Black pepper
Almond slivers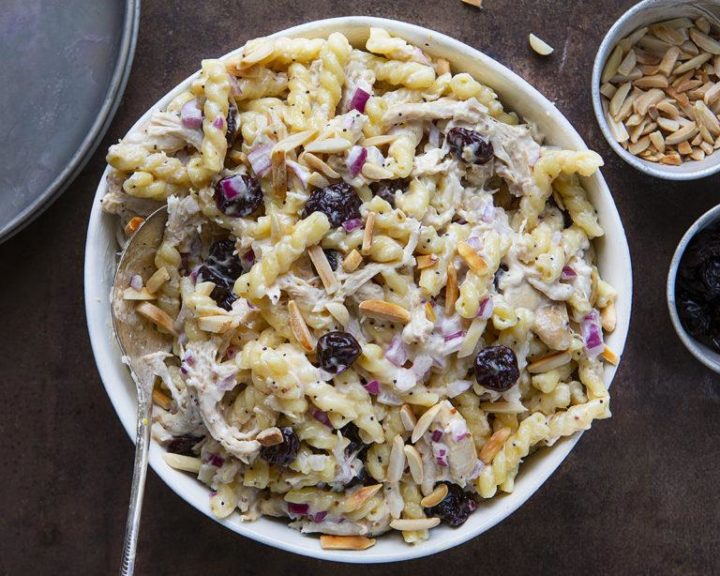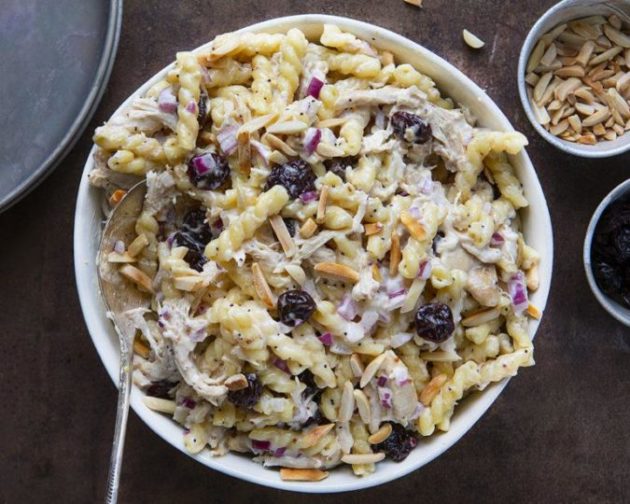 TOASTED ALMOND SLIVERS
I used toasted almonds in this recipe to enhance the flavor of the nuts and add some crunchiness to the salad. There are a few ways to toast almond slivers.
In the oven: To toast sliced almonds, preheat the oven to 350°F and lay a single layer of the almonds on a baking sheet. Bake the almonds for no more than five minutes so they don't burn. Remove the almonds from the oven, mix them around, and put them back in the oven for about 3 more minutes. Transfer the almonds to a plate to cool down. If you leave them on the baking sheet, they may burn.
On the stovetop: Melt 2 tablespoons of butter in a large skillet over medium heat. Add the almonds to the skillet, making sure to coat them evenly with the butter. Roast for 3-4 minutes and transfer them to a plate covered with a paper towel. Let them cool before adding to the salad. (I actually skipped the butter and simply toasted them for a few minutes in the skillet dry.)
In the microwave: Coat the almonds in about 1/2 teaspoon of vegetable oil and place them in a single layer in a microwave-safe container. Cook for 1 minute and take them out of the microwave to stir them. Continue cooking the almonds in 1-minute increments until they turn a golden brown. This could take as long as eight minutes.
I have made this salad without roasting the almonds, and it is still delicious. But, if you have never added toasted almonds to a recipe, I encourage you to try it for this one!
COOKING THE PASTA
When it comes to pasta salad, the kind of pasta you choose does matter. Yes, you can technically use any type of pasta for pasta salads, but pasta that is short and has nooks and crannies is best to absorb all the dressing that is added. In addition, choose dry pasta. Fresh pasta is sometimes too delicate to handle all the ingredients mixed in the dish. Plus, dry pasta is cheaper!
When cooking the pasta for a cold salad, add a little extra salt to the water. Also, cook it just past al dente (maybe an extra minute), but don't let it get mushy. Rinse the pasta in cold water to stop the cooking process and keep it from clumping together. It's now ready to be drenched in all the delicious dressing you are using! (Of course, rinsing pasta is ONLY for cold salads, never when serving it hot.)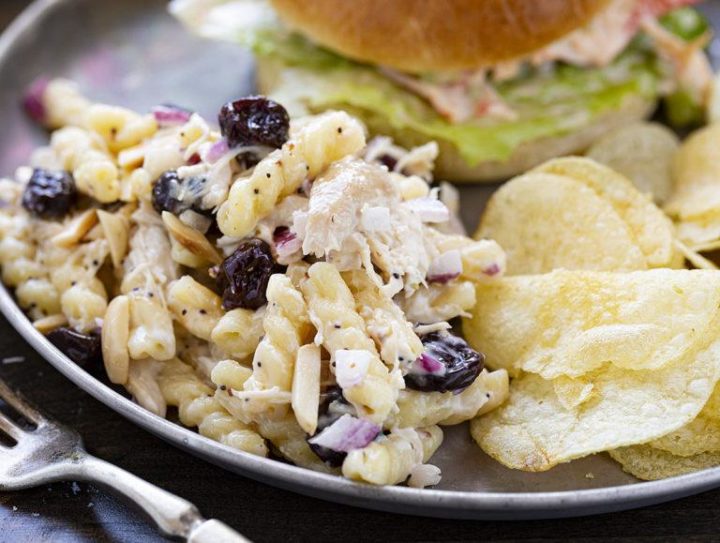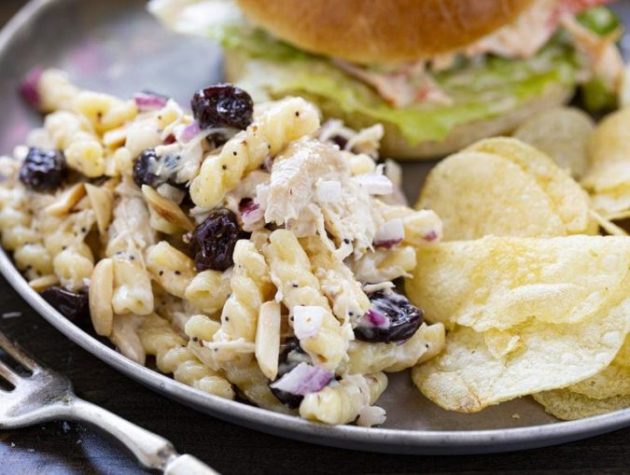 HOW TO MAKE CHERRY CHICKEN PASTA
To make this pasta, combine the shredded chicken, cooked pasta noodles, chopped red onion, and dried cherries in a large bowl. In a separate bowl, combine the mayonnaise, poppyseed dressing, salt, and pepper. Fold the dressing mixture and toasted almonds into the pasta mixture and serve immediately.
If you are not planning to serve the salad immediately, reserve about 1/2 cup of the dressing mixture and almonds to add right before serving. Store the salad, covered, in the refrigerator for up to 5 days. When you are eating the leftovers, you may want to add a little more dressing (even just some more poppyseed dressing) to the salad to make it a little creamier.
Ingredients
Chicken Mixture
2 cups rotisserie chicken, shredded
1 package (16 ounces) Gemelli noodles, cooked al dente per package instructions
3/4 cup red onion, chopped
1 package (5 ounces) dried cherries
Dressing
1 1/2 cups mayonnaise
1 cup poppyseed dressing
2 teaspoons salt
1/4 teaspoon black pepper
Almonds
1/2 cup almond slivers, toasted
Instructions
Chicken Mixture
In a large bowl combine chicken, noodles, onion, and dried cherries.
Dressing
In a separate medium bowl, combine the mayonnaise, poppyseed dressing, salt, and pepper.
Assembly
Fold dressing and toasted almonds into chicken mixture.
Serve immediately.
Recipe Notes
If you are not ready to serve immediately, reserve 1/2 cup of dressing mixture and toasted almonds. Chill and fold in just before you serve.