This Country Fried Pork is a hearty way to enjoy pork chops! Crispy fried pork chops smothered in a smooth homemade gravy means there won't be much conversation at the dinner table.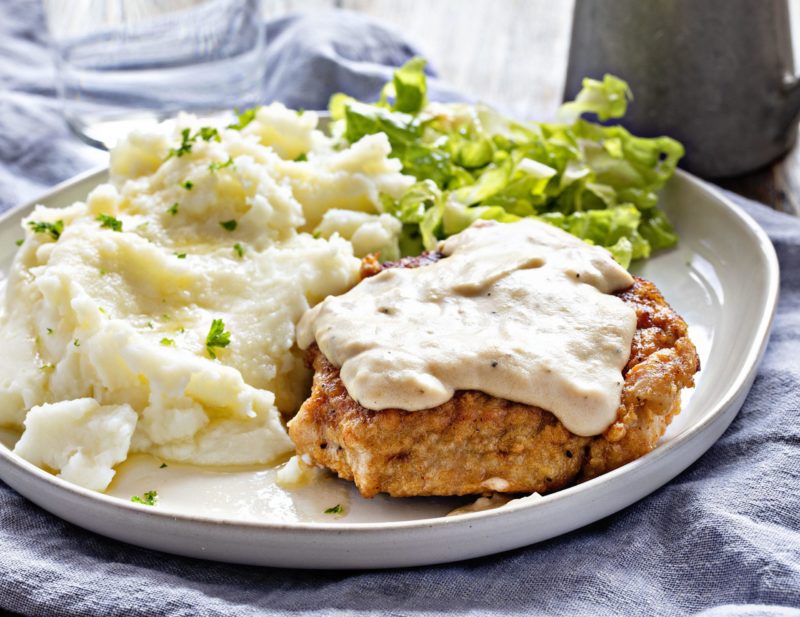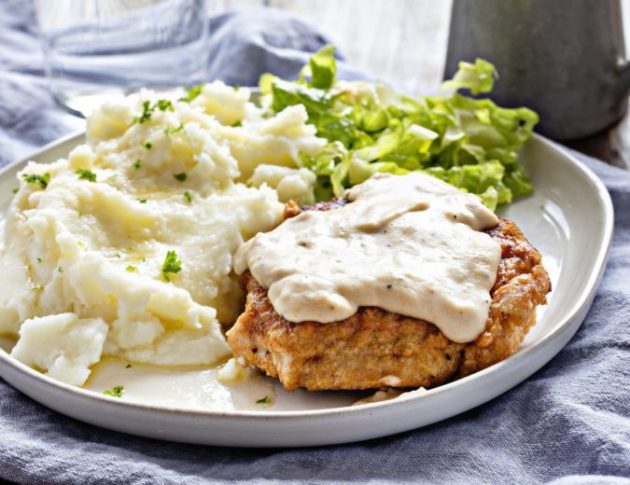 COUNTRY FRIED PORK
If you love fried chicken, you are going to love country fried pork chops. I found myself reflecting over my dinner menu recently and I decided that I just don't make enough pork chops. I have made browned butter pork chops with mushrooms and that is amazing but not everyone loves mushrooms. Baked pork chops are also amazing but not everyone loves onion. Fast forward to Country Fried Pork. Literally, EVERYONE loves this meal. Winning!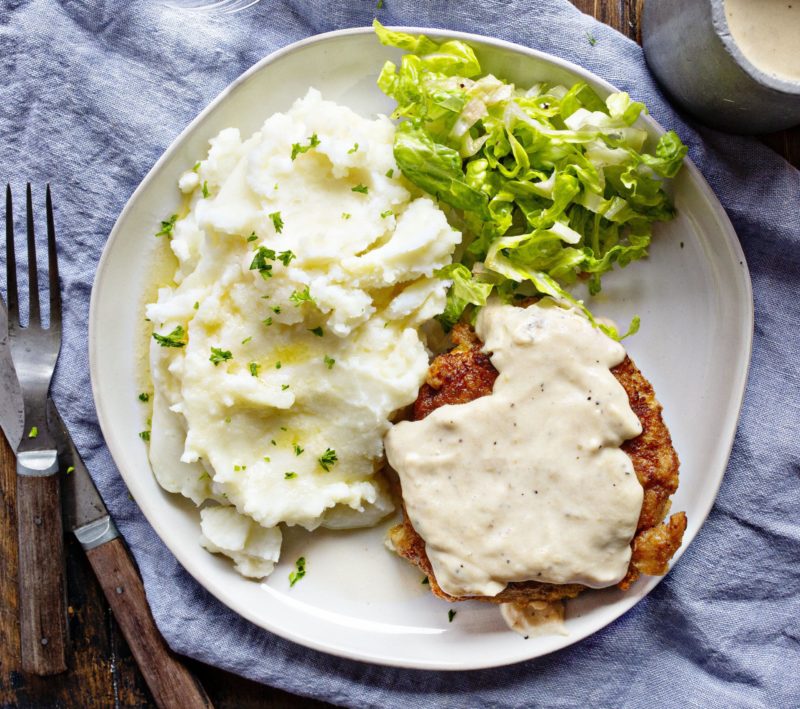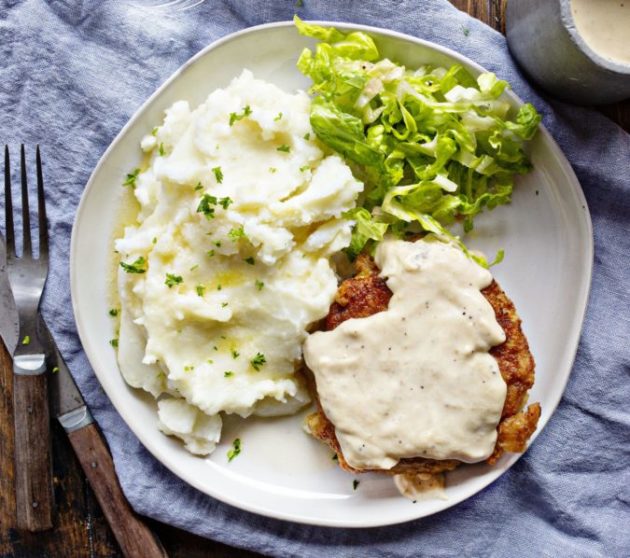 LET'S TALK PORK
Making sure you use the right cut of meat is important. Some pork is thin, some thick, some tough, and some tender. To guarantee your Country Fried Pork Chop comes out as perfect, I want to make sure you are using the right cut of pork. I highly recommend using a boneless chop in this recipe.
WHAT ARE BONELESS CHOPS?
Boneless chops (also called America's cut, pork chops, or pork filets) come from the loin, which runs from the hip to the shoulder and contains the small strip of meat called the tenderloin. They are basically top loin with the bones removed. The meat is lean, with very little fat. Because there is no bone, this cut can be considered less flavorful than their bone-in counterpart. This is not a negative in this recipe because we are adding so much flavor and texture!
PRO TIP: We often buy a large boneless Pork Loin (7-8 pounds) and cut the chops ourselves. It is usually cheaper and will allow you to make sure you get the perfect thickness.
We have also made this with cubed pork and bone-in pork chops. If you opt for bone-in, they do tend to be more flavorful.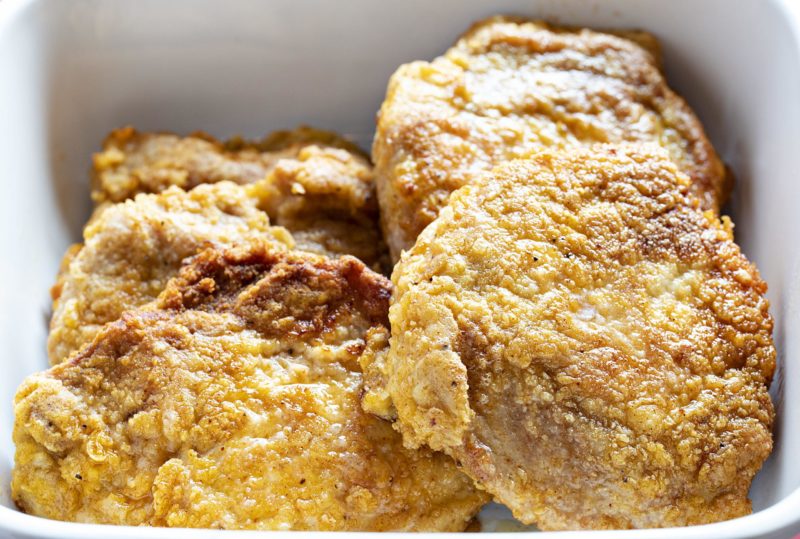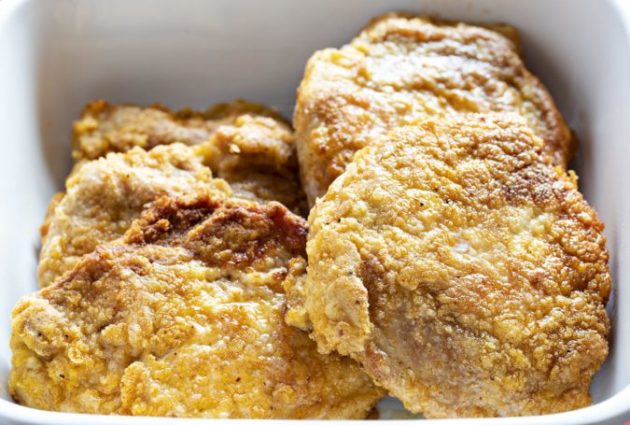 WHAT ELSE DO YOU NEED?
To be perfectly honest, this recipe is relatively simple when it comes to ingredients. Odds are pretty good that you have most of them in your kitchen already! Here is your handy dandy shopping list:
Boneless Pork Chops
Eggs
Flour
Paprika
Salt and Pepper
Vegetable Oil
Milk
This recipe calls for 6 pork chops and my skillet fit four pork chops, so I cooked them in two batches. You can easily reduce the recipe down to 4 total pork chops and just have extra gravy on hand for other dishes like mashed potatoes and homemade buttermilk biscuits!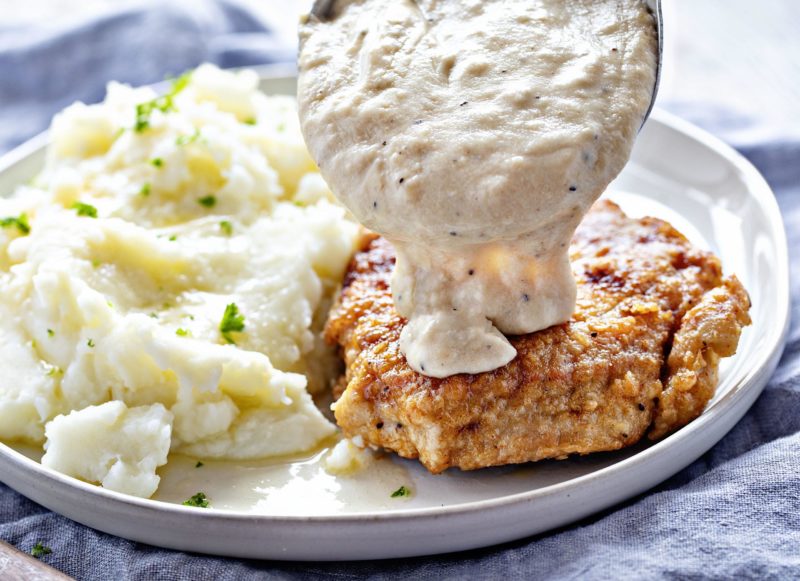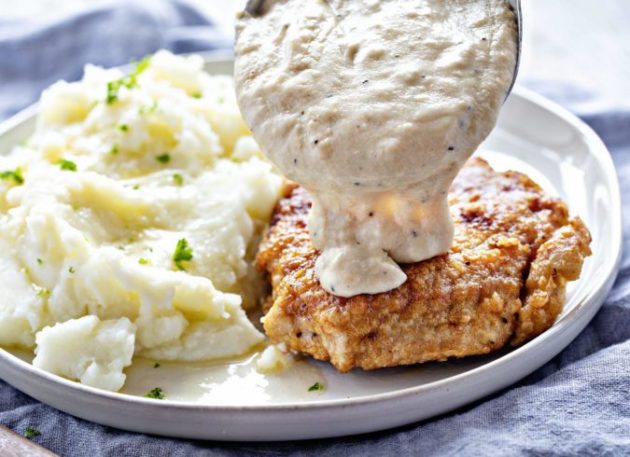 HOW TO MAKE COUNTRY FRIED PORK
This recipe breaks down into two super simple steps.
PORK CHOPS
Start by prepping your work area. You will need two shallow dishes. In the first dish beat the eggs. In the second dish combine the flour, paprika, salt, and pepper. Dip each pork chop into the egg wash and then into the flour mixture. Make sure to coat the pork chop as evenly as you can. Repeat until all pork chops are fully coated.
Next, heat some oil in a skillet and place the pork chops (4 at a time) until they are browned on each side (about 5 minutes). Remove them from the skillet and set them on a paper towel lined plate. Last but not least, DO NOT get rid of the pork chop drippings. We need them in the next step.
GRAVY
In the skillet with the pork chop drippings, add the flour and whisk to combine. Let this cook for about 2 minutes. Slowly pour in the milk and whisk continuously until it starts to thicken (about 3 minutes). Add the salt and pepper.
Serve the chops smothered the gravy and watch the faces around the table light up!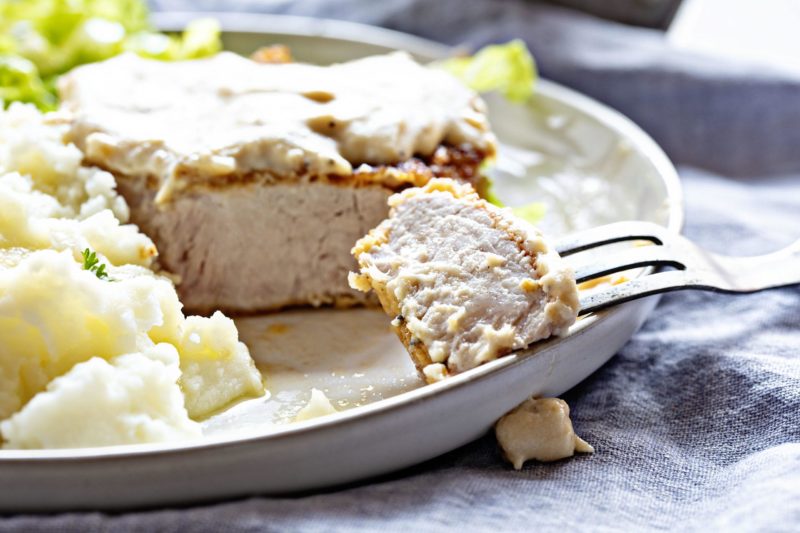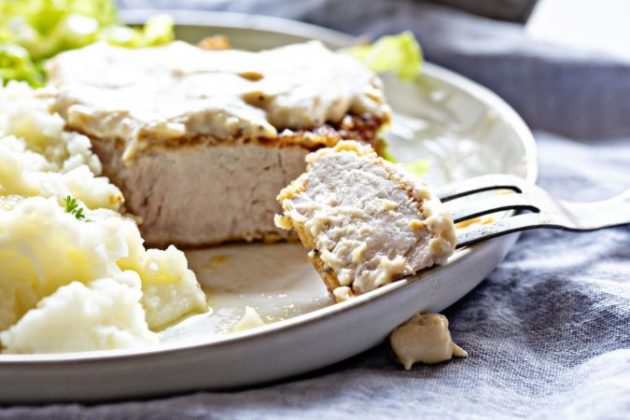 Ingredients
Pork Chops
6 boneless pork chops
2 eggs, beaten
1 cup flour
1 teaspoon paprika
2 teaspoons kosher salt
1 teaspoon black pepper
1/4 cup vegetable oil
Gravy
3 Tablespoons flour
2 1/2 cups milk
1/2 teaspoon kosher salt
1/2 teaspoon black pepper
Instructions
Pork Chops
Beat eggs carefully in a shallow dish. Set aside.
Combine flour with paprika, salt, and pepper in a large bowl and mix to combine. Set aside.
With one hand, dip each pork chop into the egg wash first, letting the excess drip off. Then put the pork chop into the flour mixture, pressing all sides into the flour mixture well. Lift up, shake slightly and set on a plate. Repeat with remaining pork chops.
Heat oil in a large heavy-bottomed skillet over medium-high heat. Place 4 pork chops (or however many will fit comfortably) in the skillet. Cook until browned on both side, about 5 minutes for each side. *SEE NOTES*
Remove from skillet and place onto a plate lined with paper towels. Repeat with remaining pork chops. Remove all pork chops from the skillet but do not clean it out. (We'll use the drippings for the gravy.)
Gravy
Add the flour to the pan drippings in the skillet.
Whisk to combine, and let cook for about 2 minutes.
Slowly pour in the milk, and whisk constantly until mixture has thickened – about 3 minutes. Add the salt and pepper, and season to taste with more if desired.
Serve the chops on a plate and cover with the gravy. Place any remaining gravy in a gravy boat.
Recipe Notes
Your cooking times will vary depending on the thickness of your pork chop. The safest way to prepare pork is to cook it until it reaches an internal temperature of 145°F.