Sausage Jalapeno Poppers are the perfect appetizer! Filled with cream cheese and sausage mixture, these little bite-sized treats are bursting with flavor!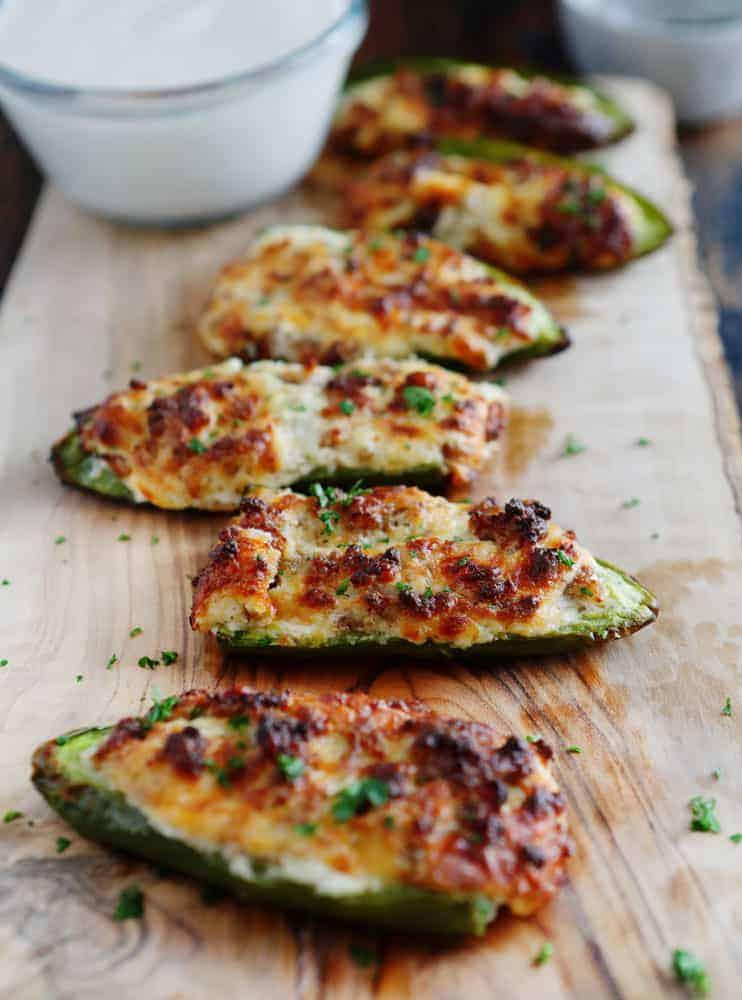 Sausage Jalapeno Poppers
Sausage Jalapeno Poppers are incredibly easy to make and oh so glorious to eat. We like to make them with bacon too, check out this bacon jalapeno popper recipe!
Cheese in Sausage Jalapeno Poppers
I used the classics of cream cheese and Parmesan, but you can certainly change things up depending on your tastes or what you have on hand. I like sharp white cheddar as well as gruyere cheese with these and have even used a jack blend.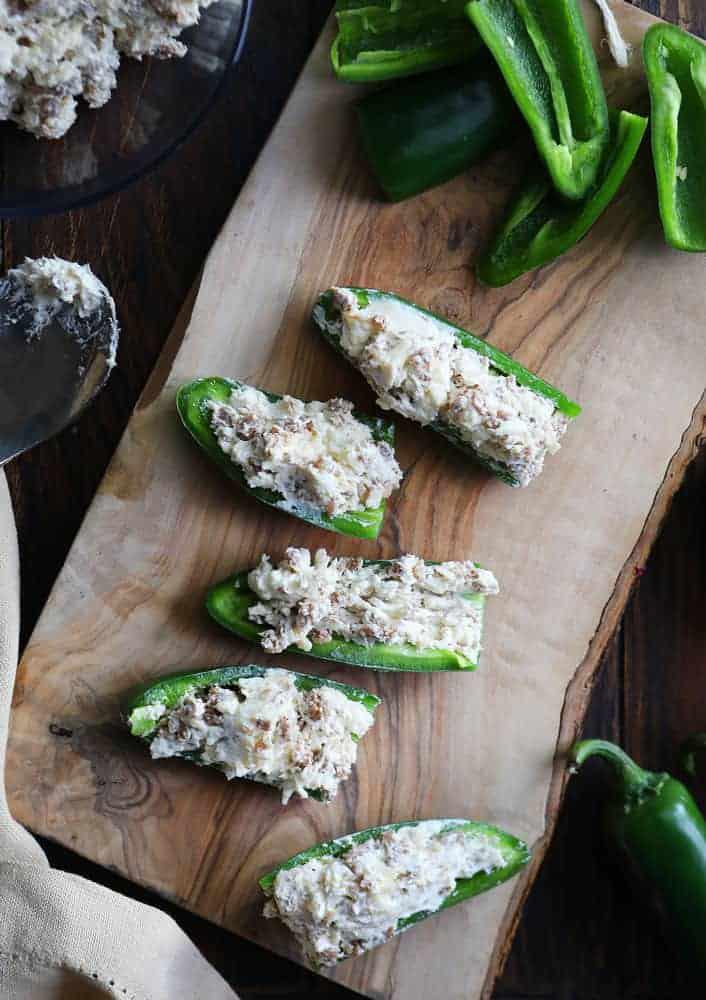 How to Properly Cut Jalapeno Peppers
After cleaning and removing the jalapeno seeds, the rest is a short mixture of chopping and mixing. It really doesn't take long at all! However, removing the seeds from a jalapeno is touchy business, literally speaking. Hopefully, this isn't your first rodeo with cutting a jalapeno, but if so, take my advice from here on out.
Some people think that the seeds hold all of the heat, others think the membrane is the culprit. Knowing how to seed and slice a jalapeno properly will make your life a whole lot easier. If you have ever cut into a jalapeno all willy-nilly you may have experienced accidental eye or nose contact. Trust me, you do not want to experience this.
To avoid this accidental tragedy I suggest wearing gloves or holding the jalapeno with a paper towel while you cut. Make a lengthwise cut, exposing the membranes that hold the seeds in place. Then take a spoon and scrape out the membrane, working from the bottom to the top of the pepper. Scoop the seed directly into the compost. Finally, wash your hands with soap.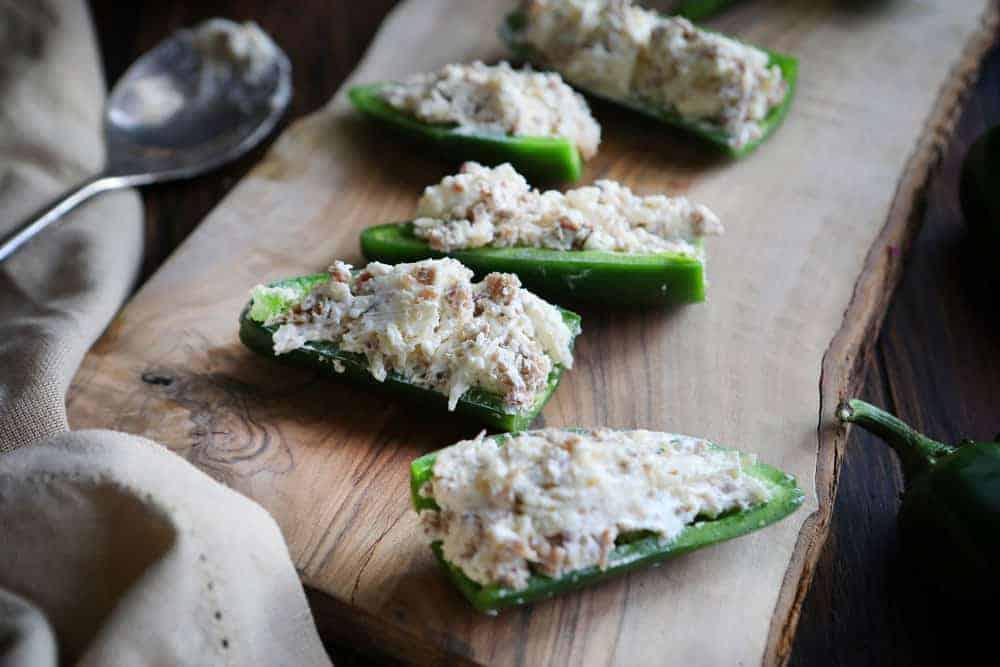 How to Prepare Sausage Jalapeno Poppers
Once you have your jalapenos prepared you can mix everything together, cream cheese, sausage, parmesan cheese and all of the spices. Blend it all up and begin to scoop the mixture into the jalapeno. Don't be shy with this step. If it cooks down over the edge it will still taste amazing.
Assemble your poppers on a lined baking tray and bake for about 20 minutes or until bubbly and lightly browned. That's it! You will want to serve these up right away, and probably shouldn't expect them to last long.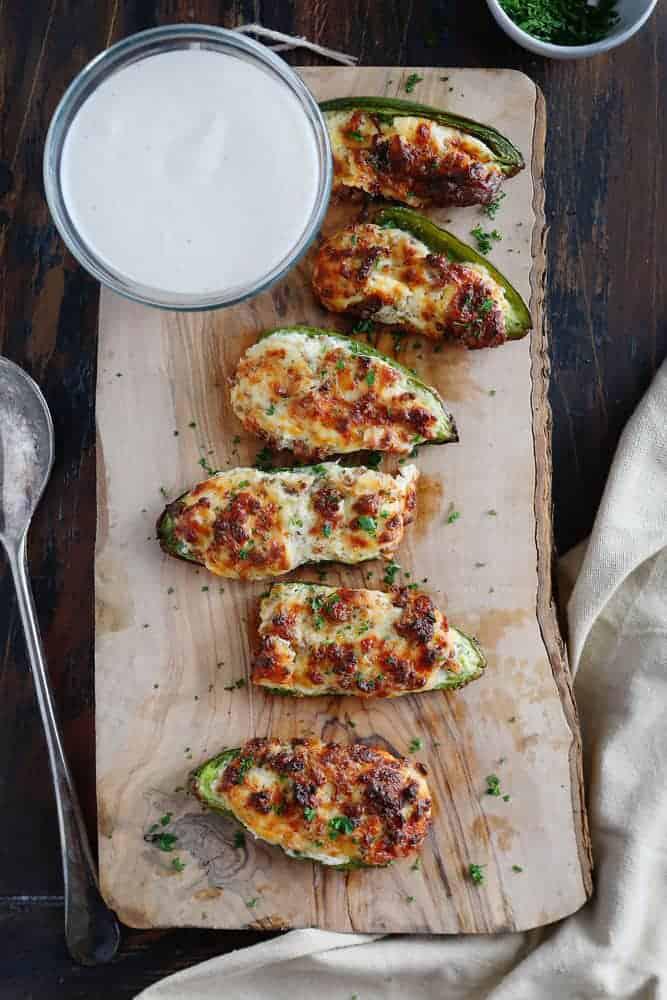 Can you freeze Jalapeno Poppers?
You can! Prepare all the way to the baking step and then stop and freeze. You will want to take steps to make sure they don't stick together. To do this, I recommend placing them side by side on a baking sheet and freezing that way for a couple of hours. Once they are frozen this way, you can put them in a ziplock bag and they won't stick together. Another alternative is to wrap them individually in wax paper. These are good frozen for a couple of months. When you are ready to eat them, let them thaw on the counter for a while before popping them into the oven.
Ingredients
10-12 large fresh jalapeno peppers halved lengthwise and seeded
1 cup ground pork sausage, browned
8 ounces cream cheese, softened
1 cup parmesan cheese, shredded
¼ tsp ground pepper
½ tsp onion powder
Instructions
Preheat the oven to 425°F (220°C).
In a bowl, mix the cooked sausage, cream cheese, Parmesan cheese, pepper, and onion powder.
Spoon about 1 tablespoon of the mixture into each jalapeno half. Arrange stuffed halves on a baking dishes.
Bake 20 minutes in the preheated oven, until bubbly and lightly browned.
Serve immediately.