Buffalo Chicken Stuffed Shells are an easy-to-make dinner idea that is loaded with cheese, chicken, and kicked up a notch with homemade buffalo sauce. If you love stuffed shells, be sure to check out my Three Cheese Stuffed Shells!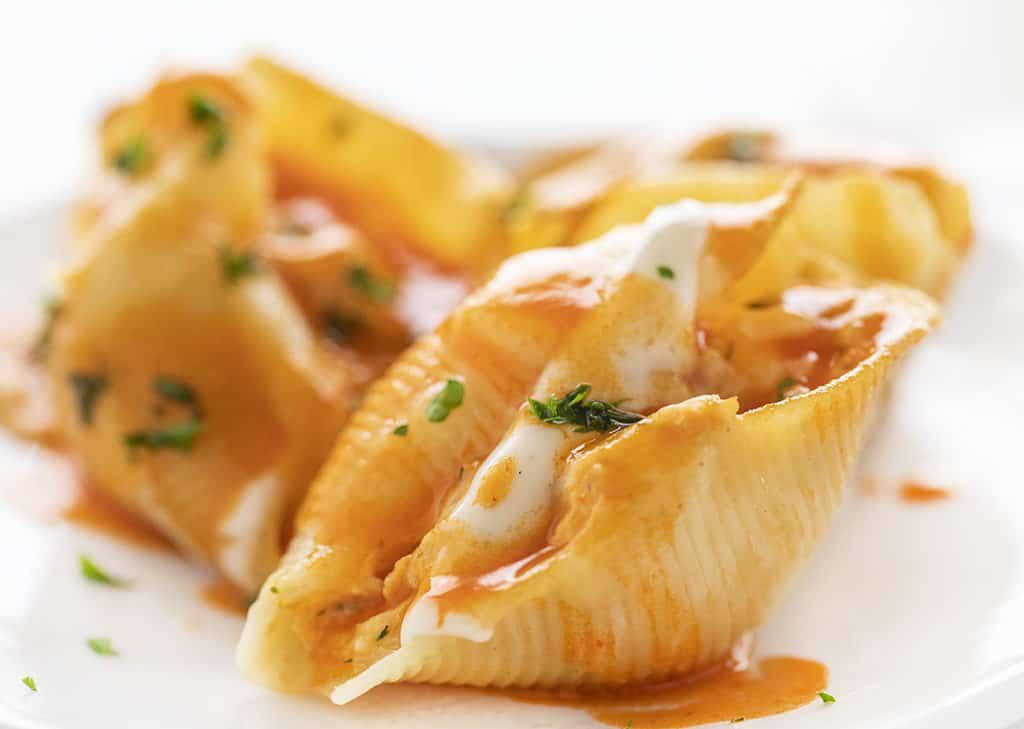 BUFFALO CHICKEN STUFFED SHELLS
As soon as I made and tasted my Buffalo Chicken Macaroni and Cheese, I knew I had to make more pasta loaded with cheese and buffalo chicken! These Buffalo Chicken Stuffed Shells did not disappoint, and they are easy to make! I have been on a stuffed shells kick lately, and these would have to be near, or at, the top of my list of favorites.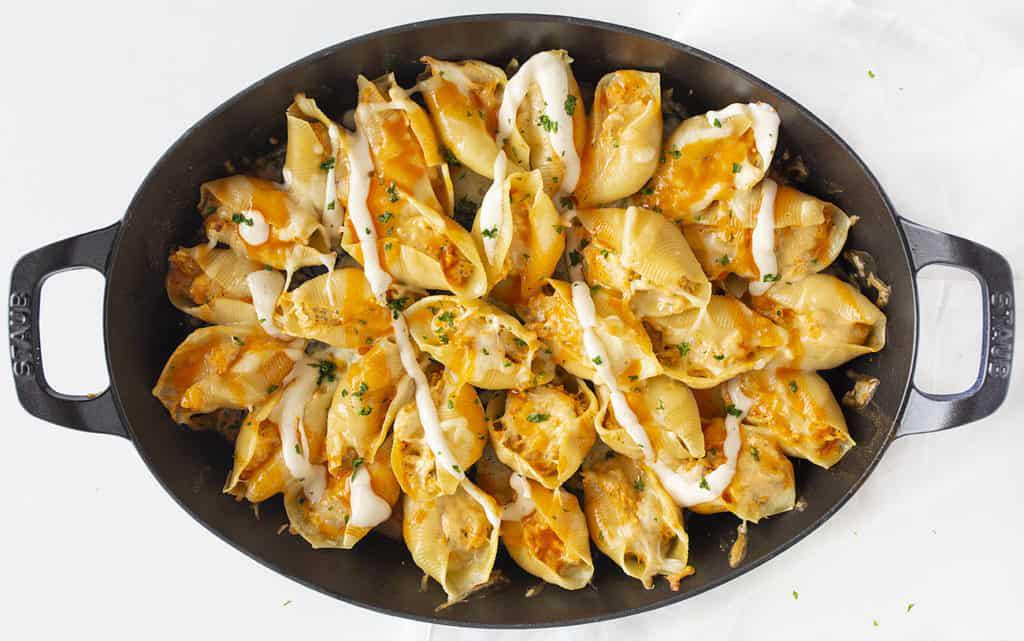 BUFFALO CHICKEN STUFFED SHELLS RECIPE
As I mentioned, this recipe is easy to make and filling enough to satisfy the entire family! It's a matter of cooking the shells, mixing the buffalo chicken mixture, and baking. That's it!
Ingredients
Jumbo pasta shells–Cooking the jumbo shells is probably the trickiest part of the recipe. Make sure to cook them al dente, according to the package directions. You don't want the shells too soft; they need some structure to hold the buffalo chicken.
Rotisserie chicken–I am a huge fan of rotisserie chicken, but sometimes I don't want to shred it myself. I may be the last person to find out that rotisserie chicken is sometimes prepared, already shredded, in the deli! Bonus!
Dry ranch seasoning–I have a homemade ranch seasoning recipe that you should definitely try! If not, about 2 tablespoons of my seasoning are equal to one 1-ounce package of store-bought seasoning.
Buffalo sauce–Be sure to buy buffalo sauce, not simply hot sauce for this recipe. If you want to make your own buffalo sauce, I have the perfect recipe for you! The nice thing about my Buffalo Sauce is it can be made a little hotter or not as hot, depending on your tolerance.
Cream cheese–Get it to room temperature so it is easier to mix it into the chicken mixture.
Mozzarella cheese–Use half the amount of mozzarella cheese for the filling. The other half will go on top before you bake the shells.
Salt
Black pepper
White cheddar cheese–This will be added to the reserved mozzarella cheese to be sprinkled on top right before baking.
Topping
Ranch dressing–I have a homemade ranch dressing that would be wonderful drizzled on the Buffalo Chicken Stuffed Shells. Blue cheese dressing is also a favorite when it comes to buffalo chicken recipes.
Buffalo sauce–If the shells are not hot enough for you, add a little (or a lot) more of the homemade buffalo sauce!
HOW TO MAKE BUFFALO CHICKEN STUFFED SHELLS
There are three main parts to this easy dinner recipe–cooking the pasta shells, stuffing the noodles, and baking the stuffed shells.
Boil the Pasta Shells
The trick with boiling the noodles is that you want them to be "al dente". That basically means you don't want them soggy. A soggy jumbo shell will not hold up to the filling process. You want the noodle to be soft and pliable, but still a little firm. A typical jumbo shell noodle needs to cook for about 9 minutes. You will want them to cool off a bit before you start filling them unless you have a cooking glove, the shells will be hot. One trick is to put a small amount of olive oil over the noodles after draining. Tossing them in the oil will keep them from sticking together.
Stuff the Noodles
While the noodles are cooling down, preheat the oven to 350°F. Meanwhile, mix together the chicken, ranch seasoning, buffalo sauce, cream cheese, half the mozzarella, salt, and pepper. Stuff each shell with the chicken mixture and place them in a greased 9×13-inch pan.
Bake the Stuffed Shells
Before you put them in the oven to bake, top the stuffed noodles with the rest of the mozzarella cheese and all of the white cheddar cheese. Bake for about 15 minutes, or until they are bubbly. Serve with ranch dressing (or blue cheese) and extra buffalo sauce. These would go great with Garlic and Parmesan Roasted Asparagus!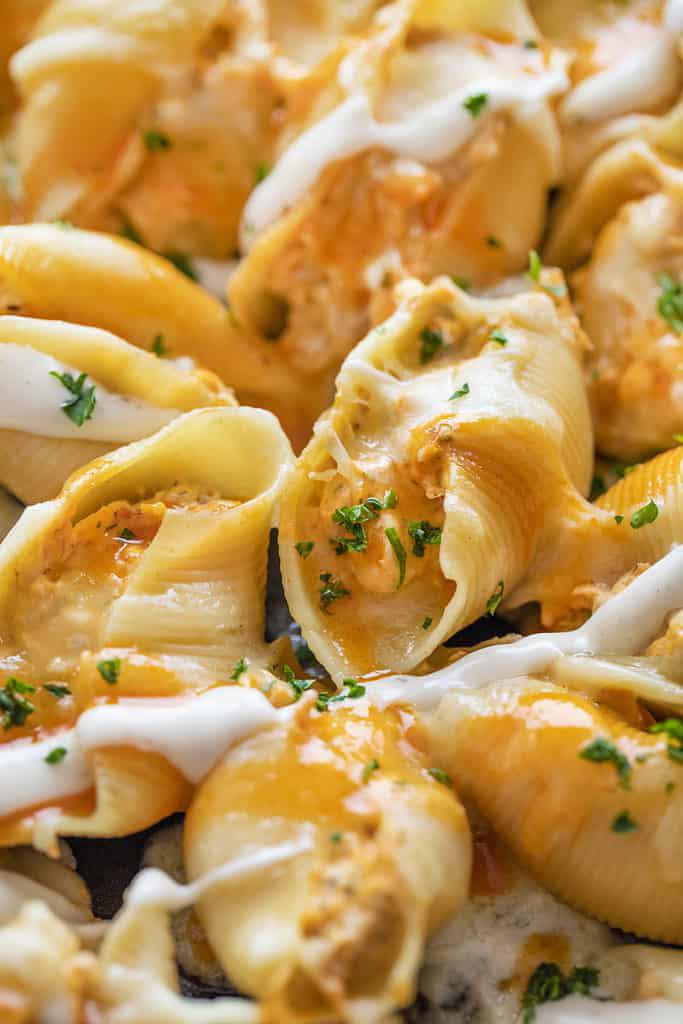 CAN I FREEZE BUFFALO CHICKEN STUFFED SHELLS?
The answer is YES! Isn't it great when you can prepare a meal ahead of time and just take it out of the freezer when you are ready to make it? I feel so accomplished when I have at least one meal prepped for the week! To freeze Buffalo Chicken Stuffed Shells, simply prepare the meal following the instructions (don't drizzle with ranch dressing or buffalo sauce, wait until it's hot to do that!), but don't bake it. The only difference is to place the stuffed shells in a 9×13 inch aluminum pan. Cover it with aluminum foil and don't forget to write the name of the dish and the instructions, along with the date. When you are ready to bake it, take it out of the freezer, uncover it, and bake it for 45-60 minutes at 350°F. This will last up to 3 months in the freezer. Fruire! (Enjoy!)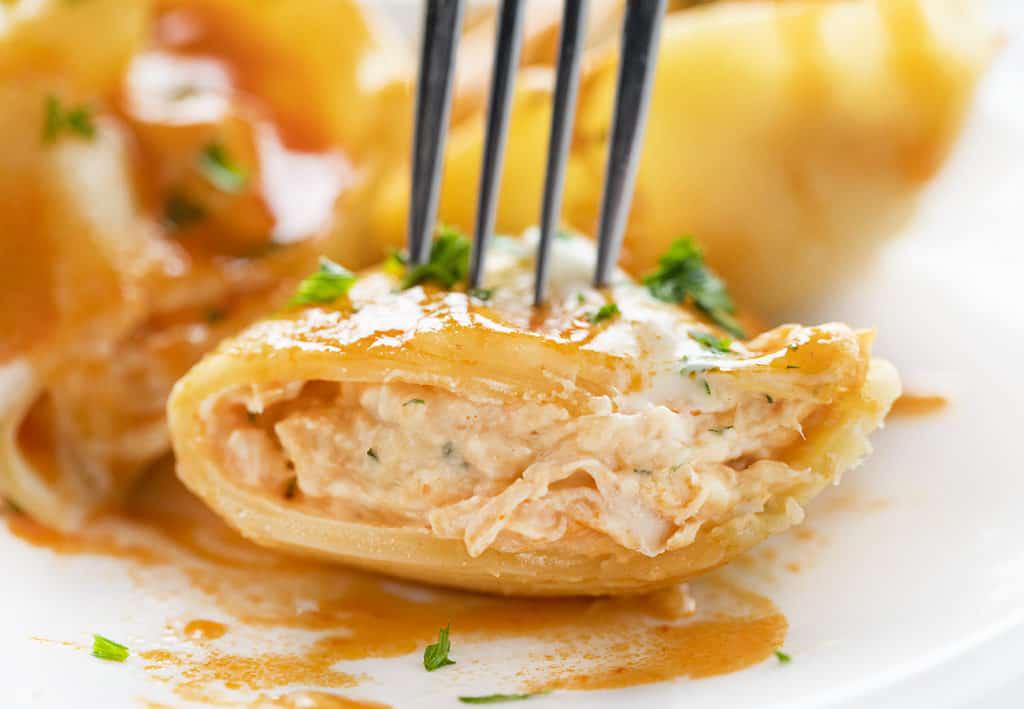 Ingredients
1 package (12 ounces) jumbo shells, cooked al dente
3 cups rotisserie chicken, shredded
3 tablespoons homemade dry ranch seasoning, or 1 1/2 (1-ounce) packages store-bought ranch seasoning
1/2 cup buffalo sauce
8 ounces cream cheese, room temperature
1 cup shredded mozzarella cheese, divided
2 teaspoons salt
1 teaspoon ground black pepper
1 cup shredded white cheddar cheese
2 tablespoons ranch dressing, for topping
2 tablespoons buffalo sauce, for topping
Instructions
Preheat oven to 350°F.
Cook pasta until al dente, per package instructions. Drain.
In a large bowl, mix together the chicken, ranch seasoning, buffalo sauce, cream cheese, half the mozzarella, salt, and pepper until well combined.
Stuff each jumbo shell with the chicken mixture and place in a greased 9×13-inch baking dish.
Top with the reserved mozzarella and white cheddar cheese. Bake for 15-20 minutes, or until they are bubbly.
Drizzle with ranch dressing and buffalo sauce.