This amazing Pumpkin Dessert is a Pumpkin Pound Cake recipe paired with a lovely Cream Cheese Glaze. While both amazing on their own, the cream cheese glaze really takes this dessert to a whole new level of amazing!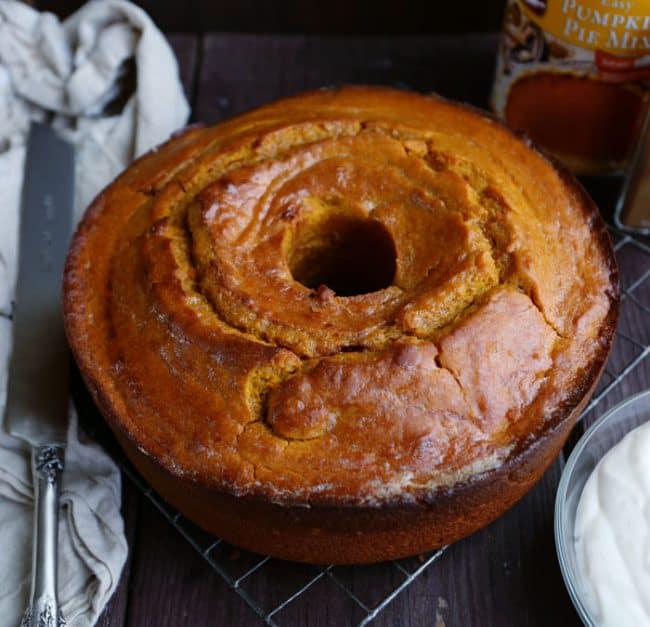 Pumpkin Dessert
Let's start with that cake! It's technically called a pound cake but doesn't technically follow pound cake rules. The definition of a pound cake is "a rich cake containing a pound, or equal weights, of each chief ingredient, typically flour, butter, and sugar", and this recipe does not meet that criteria. However, it does have the amazing density of flavor and texture that a pound cake does.
I absolutely love fall baking. I love the subtle smell of pumpkin spice and the slight crisp in the air. I love when the oven warms the whole house and you don't need to turn on the heat. Is there anything not to love about fall? This recipe happens to one of my favorite ways to usher in fall baking. I serve this glorious Pumpkin Pound Cake with a Cream Cheese Glaze, but I have to admit, I love how this "naked" cake looks. Those deep, rich pumpkin tones with a glistening amber crust… it was hard to not just dig in!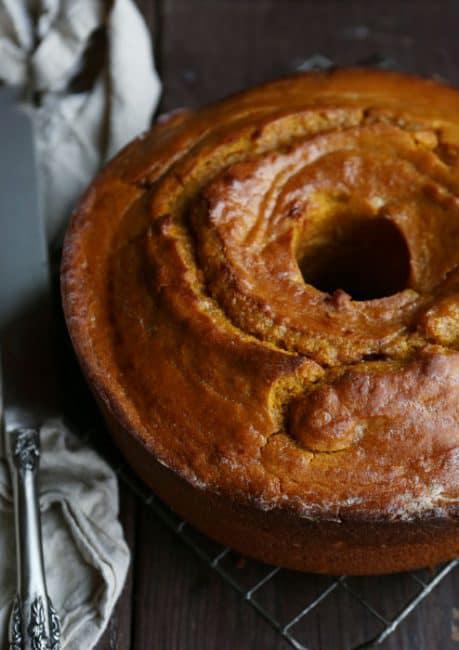 Cream Cheese Glaze
This glaze is totally customizable, but I do encourage you to try it as-is first. However, if you feel like your glaze is too thick, feel free to add more buttermilk to create the consistency you want. I have four options of buttermilk recipes that you could make to have on hand! If you don't happen to have buttermilk on hand, you can use whole milk in place of buttermilk. This will create less depth-of-flavor and will result in a sweeter glaze.
For this recipe, I made the glaze first so that it could cool at room temperature, but I have to warn you. That's dangerous. You will want to grab a spoon and dig in!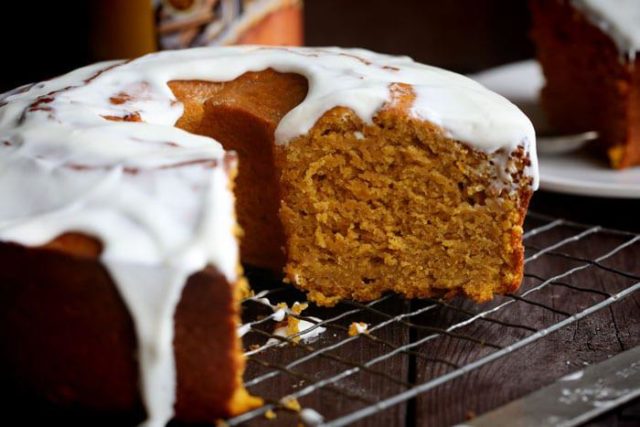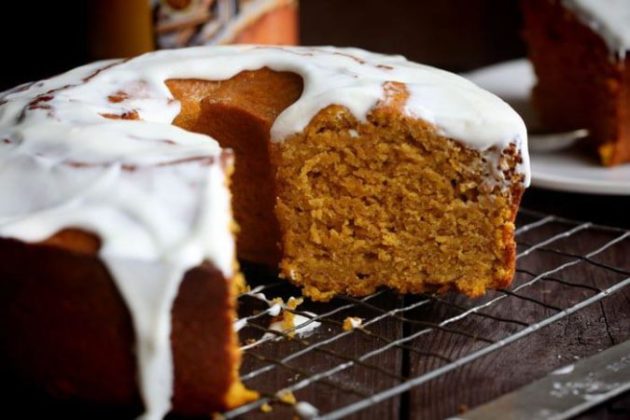 After adding the glaze and watching it spill beautifully over the sides of the cake, you get to cut into it. I have to admit, it was quite a moment!! The cake was still slightly warm in the center so wisps of steam escaped and made their way around the room making sure to visit every nose!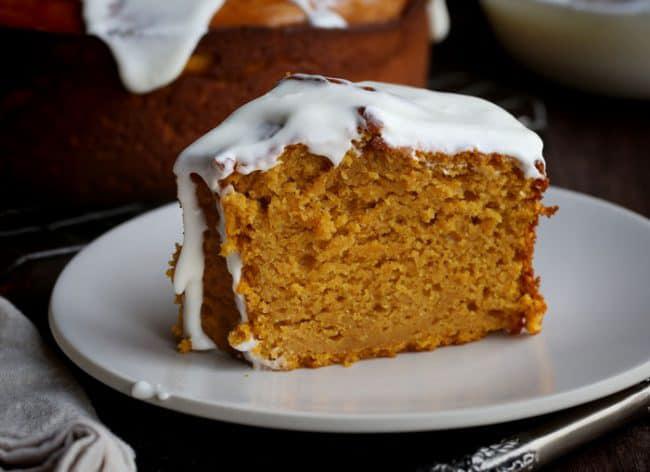 INGREDIENTS
CREAM CHEESE GLAZE
1 tsp. vanilla
1/3 cup buttermilk, room temperature
2/3 cup powdered sugar
5 oz cream cheese, room temperature
PUMPKIN CAKE
1 15-ounce can Pumpkin Pie Filling (not puree)
3/4 cup granulated sugar
3/4 cup brown sugar, packed
1/2 cup (1 stick or 113g) butter, softened
4 large eggs, room temperature
1 tsp. vanilla extract
3 cups all-purpose flour
1/2 tsp. salt
1/2 tsp. baking soda
1 tsp. baking powder
2 tsp. cinnamon
3/4 cup buttermilk, room temperature
INSTRUCTIONS
Preheat oven to 350°F.
GLAZE
Combine all ingredients in a stand mixer until fully incorporated. (About 5 minutes. You want to get all the lumps out) Set aside.
PUMPKIN CAKE
Coat a 10-inch tube pan with cooking spray.
Place granulated sugar, brown sugar, and 1/2 cup butter in a large bowl; beat with a mixer at medium speed for 3-5 minutes or until well blended.
Add eggs, 1 at a time, beating well after each addition.
Stir in pumpkin and vanilla.
Combine flour, cinnamon, baking powder, baking soda, and salt in a bowl, stirring well with a whisk.
Add flour mixture and buttermilk alternately to sugar mixture, beginning and ending with flour mixture.
Spoon batter into prepared pan.
Bake at 350° for 55 minutes or until a wooden pick inserted in center comes out mostly clean (a few crumbs are great!). Cool in pan for 10 minutes on a wire rack. Remove from pan, and cool completely on wire rack.
Drizzle cake with glaze. If you drizzle while the cake is warm the glaze will soak into the cake more. If you drizzle when the cake is cool, the glaze will appear thicker.