SHRIMP CEVICHE
Ceviche is a recipe that marinates or 'cooks' fresh fish in lime juice or lemon juice. There is no heat involved; the acid from the citrus does all the work. I went with precooked shrimp for this recipe, but I still let the shrimp marinate in the lime juice and added lots of fresh vegetables.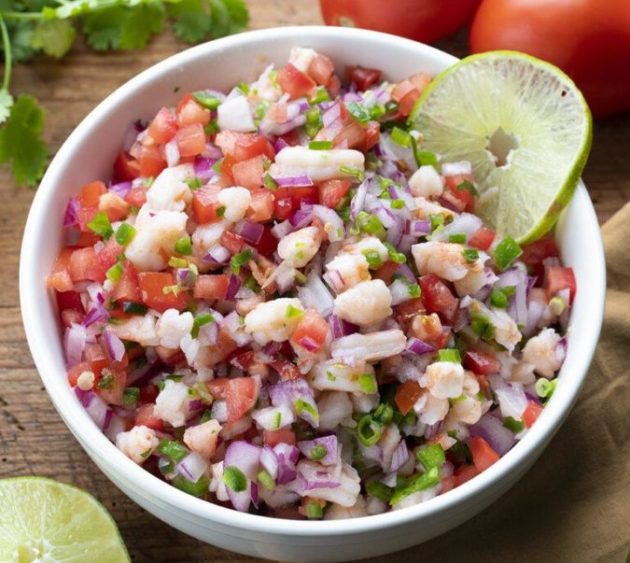 SHRIMP CEVICHE INGREDIENTS
Shrimp: For this recipe, I used pre-cooked shrimp that was peeled, deveined, and had the tail removed. But, you could use raw shrimp. The acid from the lime juice 'cooks' the shrimp just like heat would. Let the raw shrimp sit in the lime juice for about 15 minutes. It is cooked when it turns an opaque white with some pink tints. It will also be firm. Do not eat shrimp if it is gray.
If you are buying fresh shrimp, it is up to you if you decide to devein the shrimp. Deveining is actually based on looks, not any other reason. To peel the shrimp, start underneath. Remove the tail for this recipe.
To devein, make a slit (not too deep) along the back of the shrimp, pulling out the black vein with the tip of a knife. It's really not as intimidating as it would seem. So, if already peeled and deveined shrimp are not an option for you, don't skip on the recipe–try the fresh stuff!
Vegetables: Fresh vegetables are important in ceviche. Add veggies you love, like avocados, corn, olives, or any other favorites! The hardest part of this recipe is probably seeding and dicing the jalapeno peppers.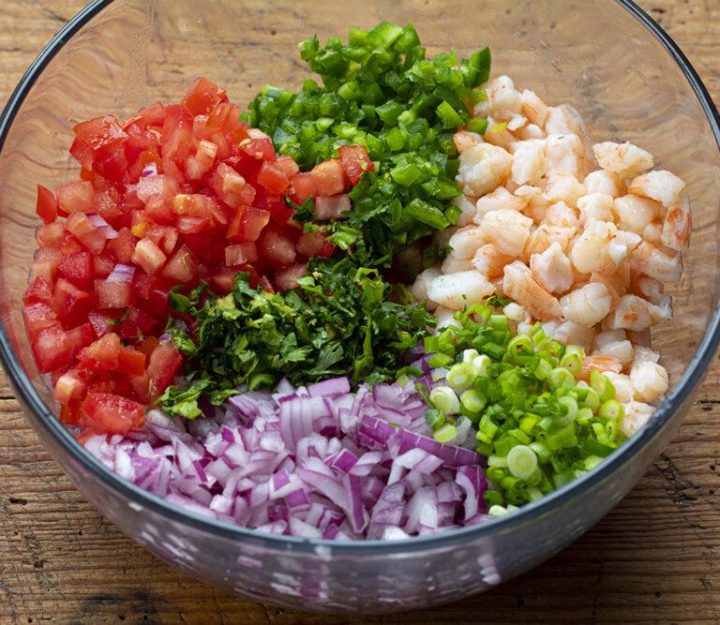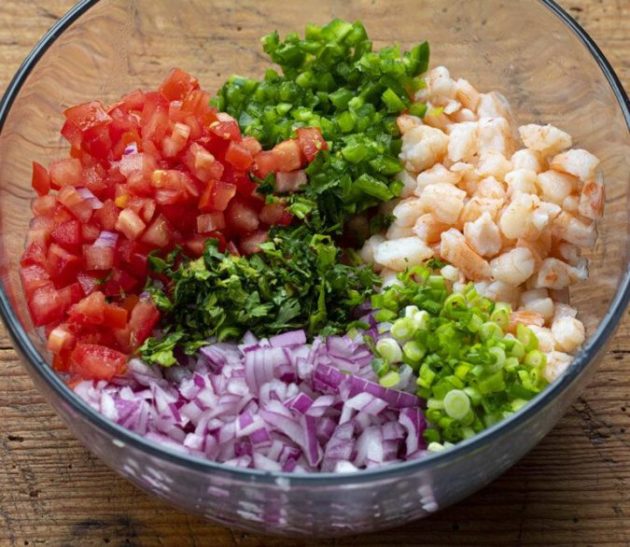 HOW TO SEED AND DICE JALAPENO PEPPERS
Jalapeno peppers are hot peppers, so be careful when you cut them! If you have any cuts on your hands, I would suggest to wear food-safe gloves, or be prepared to feel some pain if some oil gets in those cuts! If you don't have gloves, just be sure to wash your hands with white vinegar and cold water when you are done with the jalapenos.
There are a couple of ways you can seed and cut a jalapeno. One way is to simply slice the jalapeno down the middle, vertically, and carefully remove the seeds with a spoon. Another way to remove the seeds is to hold the jalapeno up by the stem–you can always cut across the bottom of the pepper so it can stand a little flatter– and slice along the sides of the pepper, hopefully leaving the seeds attached to the core.
Then, simply stack the pepper strips and chop them into pieces, throwing away the core and seeds, of course. Remember, the capsaicin (what makes the pepper hot) will be on your hands, so don't touch your fingers to your mouth or eyes until you wash your hands.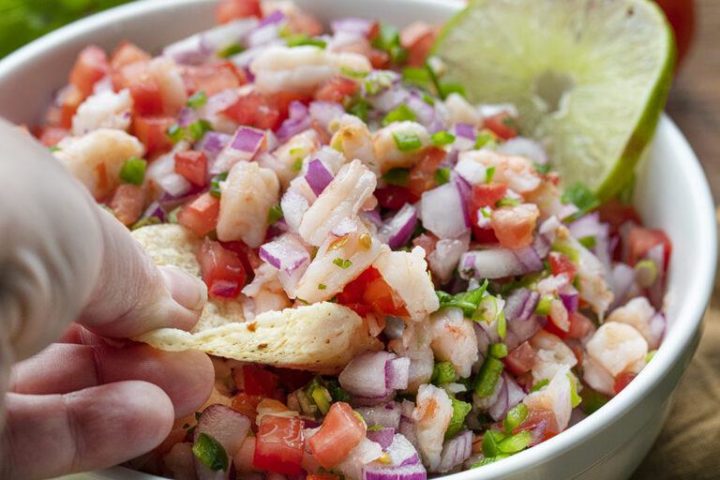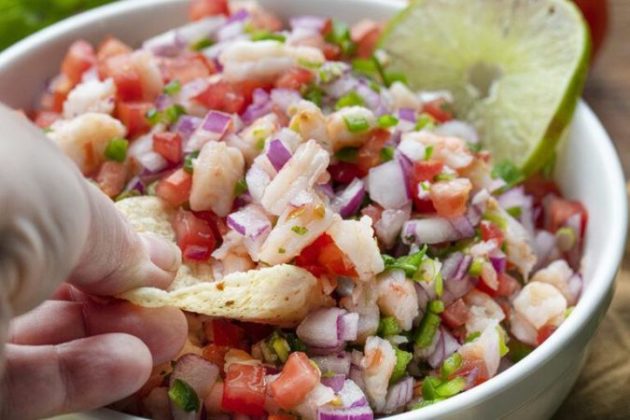 HOW TO MAKE SHRIMP CEVICHE
Shrimp Ceviche is such an easy and refreshing recipe to make, I am wondering why I don't make it more often! To make it, chop up the shrimp and let it marinate in lime juice for about 10 minutes (or a few more minutes if using raw shrimp).
After the shrimp has marinated, add all the fresh vegetables to the bowl. Mix everything together, cover the bowl, and let it chill in the refrigerator for about an hour before serving. I could eat this by the spoonful as a light lunch. It is also wonderful on tortilla chips.
Store Shrimp Ceviche in a sealed container in the refrigerator for up to 3 days.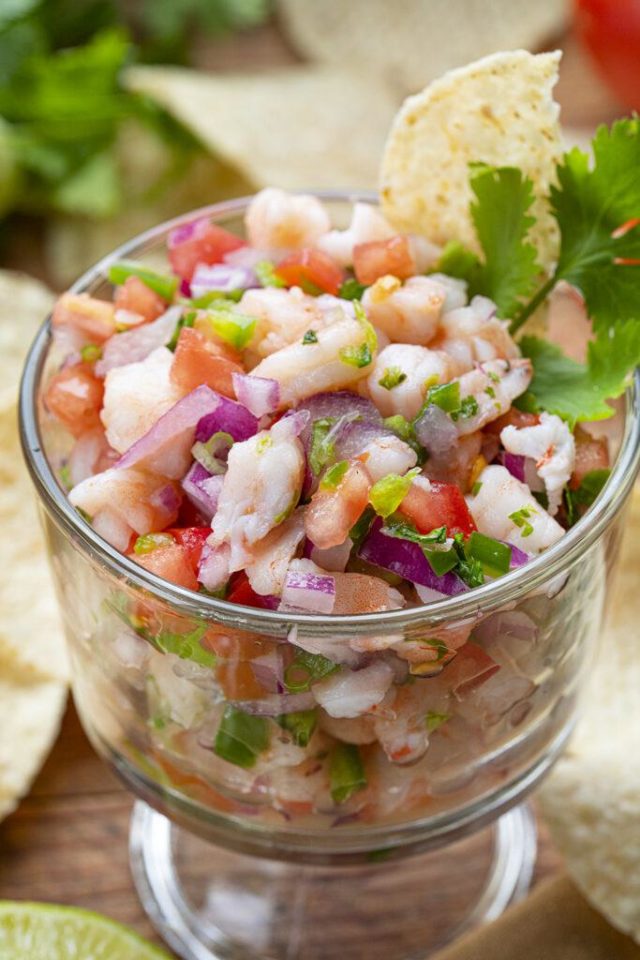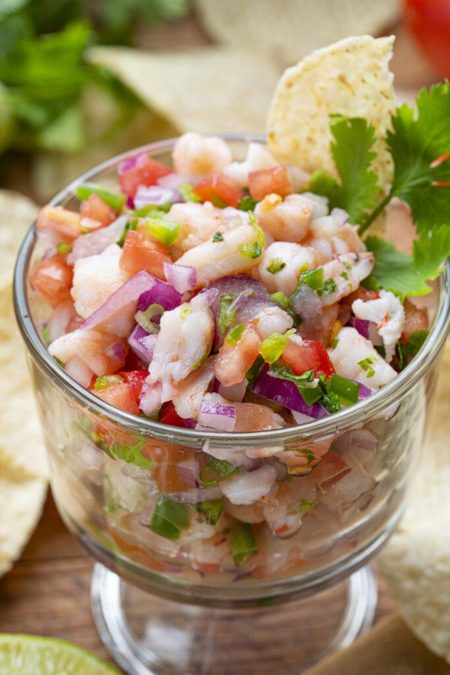 Ingredients
12 ounces cooked shrimp, peeled, deveined, tail removed
½ cup fresh lime juice
2 Roma tomatoes, diced
1 medium red onion, diced
2 medium jalapeno peppers, seeded and diced
¼ cup cilantro
2 green onions, diced
¼ teaspoon salt
Instructions
Chop the shrimp. Place in a medium bowl.
Add lime juice. Toss to coat the shrimp in the lime juice. Let rest for 10 minutes.
Add tomatoes, onion, jalapenos, cilantro, green onions, and salt. Cover and chill for 30 minutes to an hour.
Serve with tortilla chips.